Story and photo by Kerry Phelps Dale
She's as Middleburg as they come. Punkin Lee has lived all but a few years of her life in the Middleburg community. After graduating Hill School, she lived away from her hometown only to attend high school at St. Catherine's in Richmond followed by two years at Centenary University in New Jersey, then graduating college at Florida State University.
As a child she always had horses of her own. "I had two ponies to take care of before I went to school. I would ride one before school and when I'd come home I'd ride the other one."
"We would ride all weekend, riding wherever," says Punkin about the way she and her friends spent their spare time. "We would ride over to somebody's house, pick up somebody else, ride into town. You didn't come down the road, you would just cut through farms."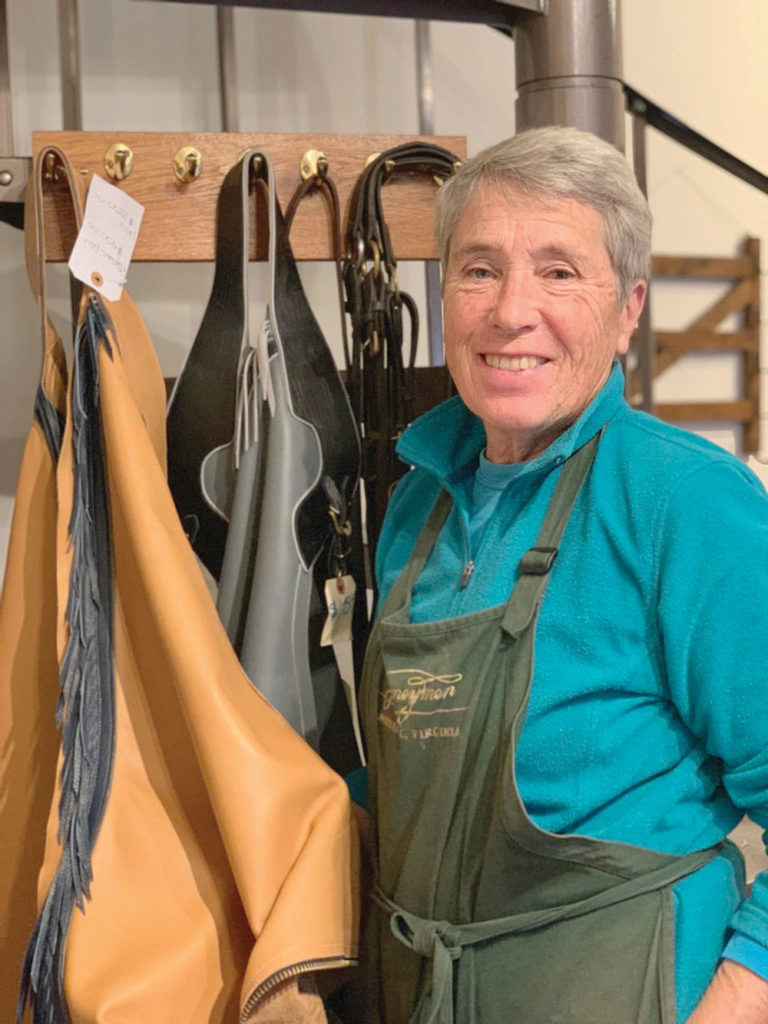 "When I was home from high school and college, I'd ride a horse during my lunch break and jump in with the hunt and then drop out and go back to work," recalls Punkin who also fox hunted and showed horses. Clearly, the town has changed over the years, "It's gotten bigger and busier." But the reason Punkin has made Middleburg her lifelong home is the one thing that's remained the same. "Community. It's a great place to live if you get involved in things."
Punkin's involvement in Middleburg has centered around keeping it healthy for businesses and residents while preserving the history and heritage that make Middleburg so unique. Volunteering as the Middleburg Business and Professional Association president, serving on town landscape and Historic District Review committees, and whatever else comes up in the community, keeps her busy when she's not at Journeymen Saddlers on Madison Street.
While most people have jumped around from one job to another throughout their careers, Punkin leaves the jumping to her customers. She has owned and operated her shop that specializes in custom riding chaps and belts with finished needlepoint, and repairs to saddles, boots, tack and strap goods for 41 years. Her staying power is matched closely by the majority of her colleagues, most of whom have been with Journeymen Saddlers since the beginning years.
In her shop, there are leather goods everywhere—bridles and halters lie in heaps on the floor, rolled hides stand at the ready in different departments, saddles rest on stands, chaps hang on hooks, boots set on the floor, dog collars are displayed on a board. The intoxicating smell of leather hangs in the air and its soft feel is always within reach.
Leather is organic, artistic, practical and magical in its possibilities. "You take half a hide and you create. You cut it, you strip it," says Punkin. "And then it's something," At Journeymen, that something is beautiful, functional and of the highest quality. The store's reputation draws people from afar and keeps customers coming back year after year. The professionals, the really good horsemen and women, make up the bulk of Punkin's business, but the weekend horse riders appreciate the craftsmanship of her workshop, too.
A customer came in the shop and wanted to order custom chaps for her very tall boyfriend who was to stop by later to be measured last month. She handled a chain of leather samples of every color and finish imaginable, her fingers ran over the smoothness of the squares. "These are so cool," she said as she flipped through the selection over and over again.
Leather repair and custom repair work require a pair of human hands. Little of the work can be accomplished by a machine alone, though the treadle sewing machine in the corner is an indispensable tool. Like many trades, there aren't many young people interested in learning leather work. "We'd like to continue as long as we're healthy," says Punkin of herself and her employees. "What else are you going to do? I'm not a sitter."
Not a sitter at all, Punkin runs regularly. "We run on Landmark (School Road) a lot, eight miles to the Y and back, 17 hills," she added. "But, who's counting, right?" She and her group of women friends have been running together for more than 20 years and have completed an Ultra Marathon, a marathon, several half marathons and countless shorter races. She said they always run as a group and have picked out a marathon to run next fall in Nags Head, North Carolina. "If we're going to do one, go flat. If you train on the hills here, you ought to be able to crank that out on the flat."
Committed, consistent and hard-working, Punkin is a stayer. A get up and go person who is happy to stay put in Middleburg, a life choice our community is all the better for.
This article first appeared in the December 2018 issue of Middleburg Life.