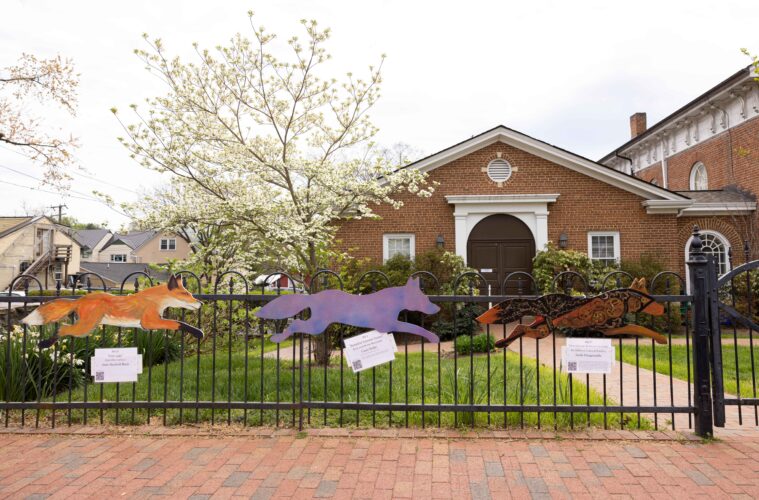 Written by Willow Podraza | Photos by Callie Broaddus
Last month, the streets of Middleburg underwent a stunning transformation. The return of the beloved annual event Foxes on the Fence brought a menagerie of butterflies, marine life, bunnies, and more to East Washington Street. As the installation wrapped on May 13, two artists shared what the event meant to them.
Foxes on the Fence is a celebration that brings together artists, residents, and businesses in a shared vision of promoting the arts and beautifying Middleburg. The installations are not only admired but also auctioned off, with the proceeds supporting various projects that beautify the town and promote the arts. This commitment to community and to nurturing the local arts scene is what attracts so many artists year after year. Lydia M.E. Schraeder, a returning artist, explains, "I love participating in Foxes on the Fence because it's a positive and public-facing event that encourages the arts. In Roger Scruton's 'Beauty' he says 'art moves us because it is beautiful, and it is beautiful in part because it means something. It can be meaningful without being beautiful; but to be beautiful it must be meaningful.' I think this perfectly captures why I continue to donate my art to this cause — because it's meaningful."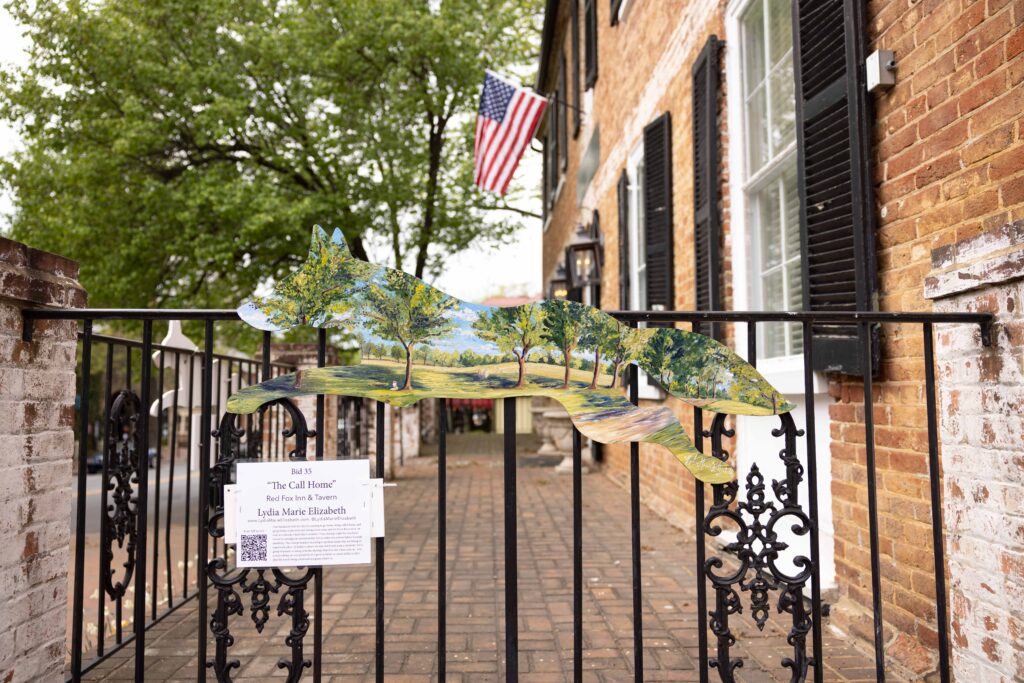 Schraeder's entry "The Call Home" is a meditation on the community that raised her and on the meaning she as an artist finds in home. This year, Schraeder was sponsored by The Red Fox Inn and took the opportunity to express the depth of what the Inn symbolizes to her: home. She says, "Middleburg is my own glimpse of Heaven … painting Hunt Country is one of the greatest honors of my life.… This particular painting for the Foxes on the Fence depicts the roads I ran and walked throughout my years in Virginia — through childhood and into adulthood … that have made such an incredible impression on my life."
Another returning artist, Margaret Caroll has been participating in Foxes on the Fence since its inception in 2017. Her first entry was a landscape-adorned fox, and since then she has strived to embrace more creativity in her art. This year, her Beatrix Potter-esque hare did just that. Her entry was composed of "three little paintings in one" in which bunnies dine in their burrow, hedgehogs do their laundry, and a duck strolls through the garden with a smartly suited fox. Like Schraeder, Caroll finds Middleburg to be a well of artistic inspiration. She describes her entry as "a peek into the lives of those who live under Middleburg." "There is so much going on in the town, but there is also so much happening underneath the town as well," says Carroll.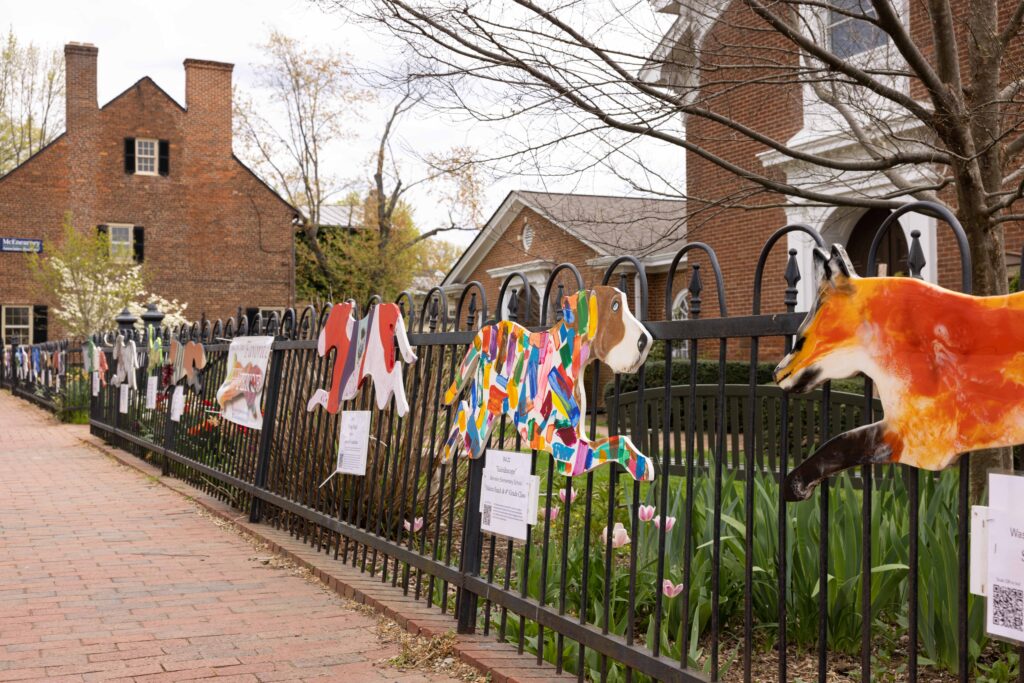 However, Caroll sees Foxes on the Fence as more than just an art installation. She emphasizes the event's ability to draw in artists of all ages and is continually impressed by the contributions of young artists. She believes the "whole community embraces the youth pulse" and recognizes the importance of nurturing and showcasing young talent. In her opinion, it is the young artists who infuse the annual event with a sense of freshness. Malena Beach's fourth-grade class and their "Kaleidoscope Hound" are just one example of some of Middleburg's youngest artists embracing the opportunity to contribute their creativity. Their abstract design was the result of a group effort, in which each student painted their own swatch of color, epitomizing the community-minded spirit that lies at the heart of the event and makes Foxes on the Fence such a meaningful event for artists and residents.
More 2023 Foxes on the Fence entries: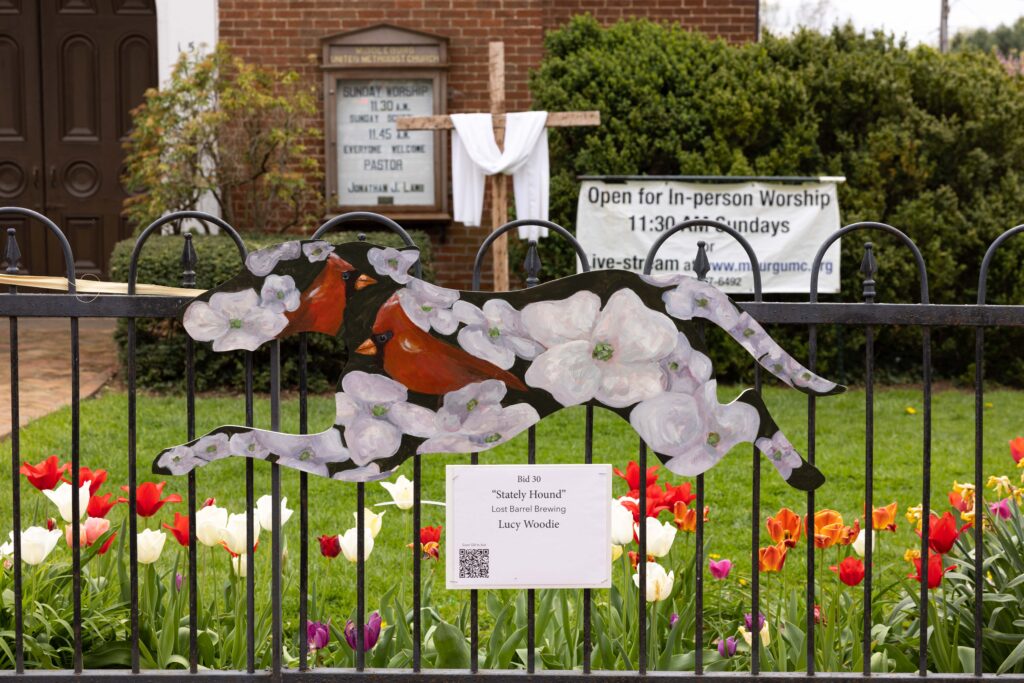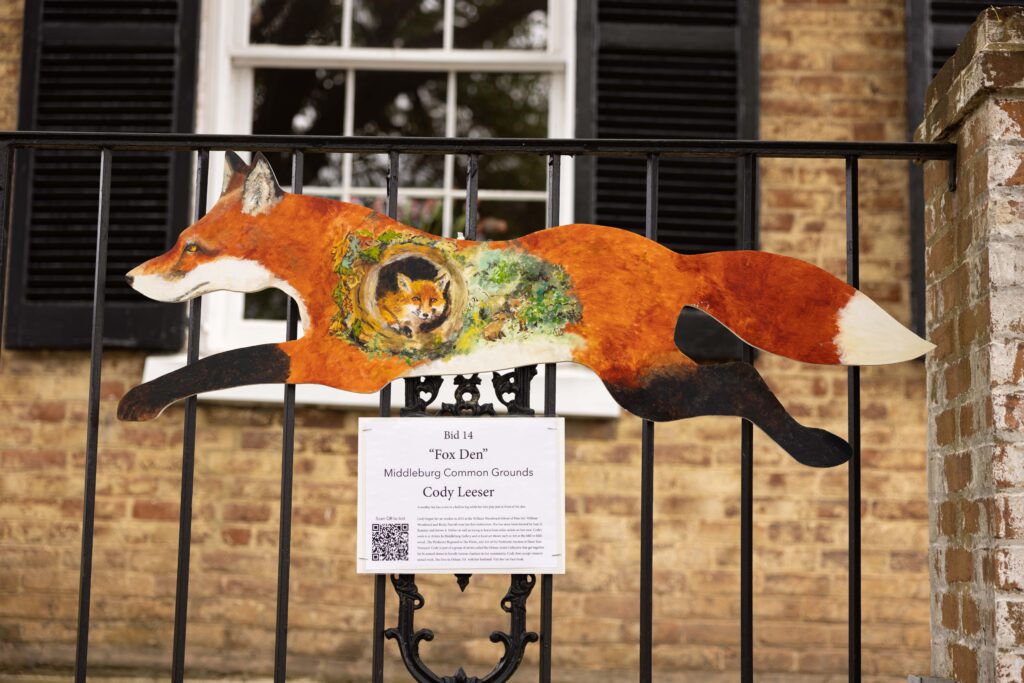 Posted on June 1, 2023