by Brian Yost
There is something a little different going on just across the mountains in the Shenandoah Valley. Veramar Vineyard has initiated what it calls an "enhanced tasting." They're still doing a standard public tasting, but also have instituted a program that takes a deeper dive into some of their best wines in a guided, small-group setting.
If you're unfamiliar with Veramar Vineyard, the Bogaty family owns it along with Bogati Bodega in Round Hill and James Charles Winery and Vineyard a little further west in Winchester. In addition to producing wine, James Charles and Bogati winemaker Justin Bogaty also does custom crush for a handful of other Virginia wineries. The quality of the family's wine is highly regarded throughout the Commonwealth.
I was invited to the first of these tastings in March, so I arrived at the appointed time and waited in the tasting room for the rest of the group to assemble. The small groups are limit- ed to a maximum of eight people. After everyone arrived, we were ushered into a private tasting room just off the main public space.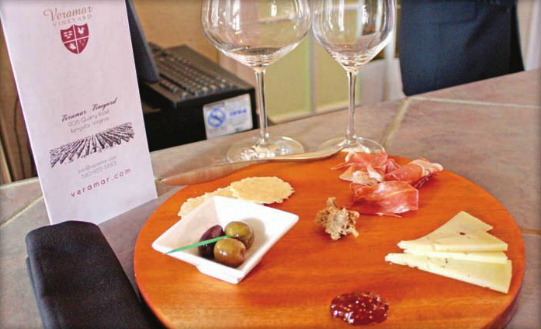 Once inside, we were seated at a tasting bar. At each seat there were a pair of wine glasses and a plate of excellent Charcuterie. Behind the bar was Tom Donegan, Veramar's wine specialist, who conducts many of the winery's special events. Posted on the wall behind him was a board listing the four wines that comprised the day's tasting.
I love the format. There are other wineries in the Commonwealth that do food and wine pairings, but they're done either as a part of the regular tasting or as special events conducted for the wine club. To my knowledge, this is the only winery in the state that has a regular food and wine-pairing program that is available on a regular basis for the general public. In addition, these are reserve or club wines that are being poured. In other words, they are Veramar's premier wines.
After a brief introduction and an explanation of how things would proceed, Tom began to step us through the wines. We started with a Fume Blanc, which is
a style of Sauvignon Blanc. Paired with French olives, the wine itself was excellent with bright fruit and perfect balance. It was probably my favorite of the entire event and I took bottles home.

After that great start, we moved on to a Chambourcin dry-style Rosé that was pared with Prosciutto. The acidity of the wine was perfect alongside the saltiness of the cured meat. Then on to a Merlot that had a nose you could get lost in. The red fruit of the wine was expertly paired with a very rich duck rillette. We finished
with the Veramar Rooster Red, which is a Bordeaux blend of Cabernet Sauvignon, Cabernet Franc and Merlot. The dark fruit of the blend was featured alongside a won- derful aged Manchego and fig jam.

The formal tasting lasted about a hour. Tom did a great job leading us through the wines and for anyone learning about wine, the pairing format is a great educational opportunity.

I also found a certain sense of camaraderie among the members of our group and I very much enjoyed interacting with them. After the event ended, there was no attempt to shuffle us back out of the room. We were afforded an opportunity to purchase glasses or bottles of wine and there was time to socialize and trade notes with other members of the group.

>If you're interested in attending one of these sessions, you'll need to check the Veramar website for times. The enhanced tastings are conducted just a couple Saturdays a month and require an advance reservation. I should also point out that the tasting list will vary from session to session. So it may be possible to attend more than one and taste a different line- up. In any case, I walked away a huge fan of the program and the Veramar wines. I strongly recommend checking it out for yourself.