Story and Photos by Katie Johnson
Tucked away on Middleburg's quiet, tree-lined Madison Street, the Wisdom Gallery has stood the test of time.

Full to the brim of carefully selected greeting cards, artwork, unique furnishings and lighting, jewelry, and all manner of interesting collectibles, this little shop makes for a cozy retreat from the cool winter weather.
Owner Pauline Wisdom says business has always been good in her corner of the town, though with a few empty storefronts on the street these days, things have gotten a bit quieter. Still, she loves her job. "I'm meeting wonderful people," she says. "I really am, and I have for thirty years."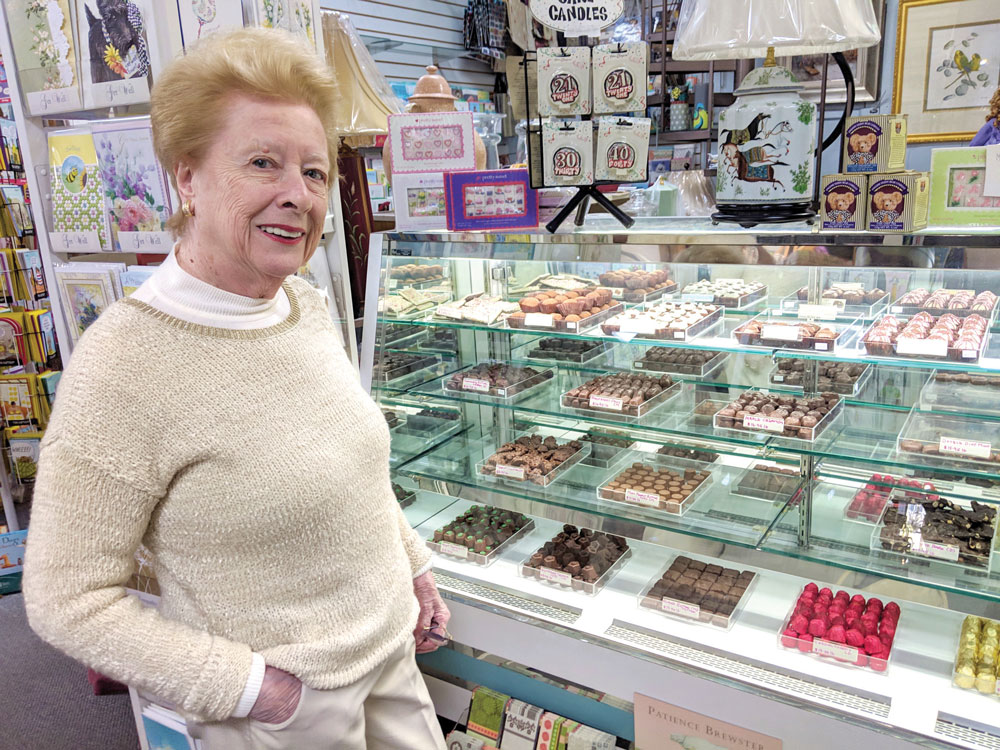 When Pauline, a native of East London who speaks with a distinct and charming British clip, initially visited Middleburg as a tourist, she thought the town could really use a good English tea shop. She chose a storefront and signed a lease, but when her plans for a tea shop fell through, she opened the Wisdom Gallery instead.
Having operated an antique shop of the same name when she lived California, it felt like an easy choice. Soon after that, she acquired a papery and stationery shop in town. To consolidate the two locations into one and simplify her business operations, she eventually purchased her current building, and set about turning the one-time dress shop into the eclectic business it is today.
A stroll through the Wisdom Gallery's first level will lead customers to a showcase in the back full of beautiful chocolates. "I just love it," says Pauline of this sweet collection, and smiles as she remembers how choosing the chocolates she carries was "the roughest job I ever had."
She features confections from two suppliers, one specializing in a more home-made, simple style, and the other in giant, decadent truffles. These, she advises, are very rich, and can be cut into four pieces and enjoyed with friends. Her personal favorites are the coconut creams, but it's the sea salt caramels that fly off the shelves. So quickly, in fact, the she has to double order them to keep them in stock.
"I've always had good luck with my chocolate," she says. Upstairs, Pauline keeps an assortment of fine stationery, supplied by Crane and William Arthur.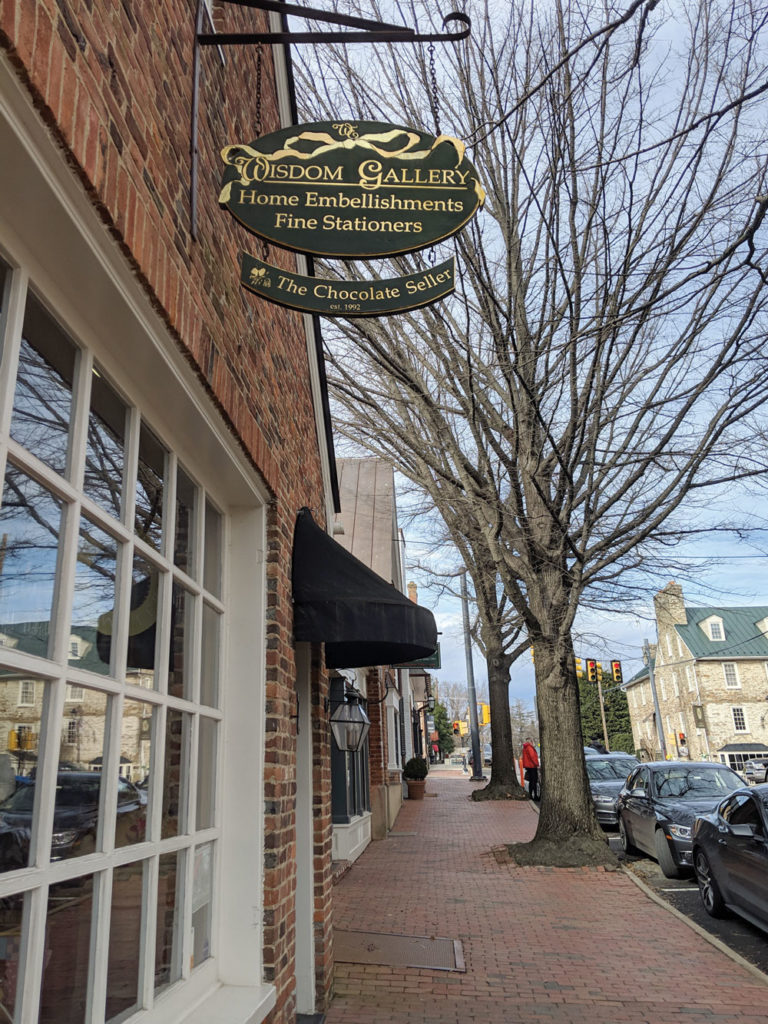 She notes that people do still send handwritten letters, and she's happy to be of service to those looking for special announcements and invitations. When she began selling personalized stationery and cards, she was nervous. She knew that she wanted to get everything just right for her customers, and she's been successful.

Her stationery business really picks up during wedding season, she says, particularly for June brides, who generally come to her six months ahead of time. "You have to be so careful to do everything correctly," she says. After so many years in business, though, Pauline is confident.
"People have come to me because I know what I'm doing," she confides. She pauses for a moment and jokes, "Sometimes I know what I'm doing."
Over the years, Pauline has seen many vendors come and go, and she's always sad to say goodbye to her favorite lines. Now, it's her shop that's on the market.

"I have fun," she says, "but I'm having to give it up because of a wonky knee." Her building has been for sale, on and off, for about two years, and she would love to find a buyer who could carry on the business as it is. Her customers have asked for the same. She's willing to help for a few months, once the right buyer comes along, to ensure the transition goes smoothly. Then, she says, she'll focus on "just being here, and taking care of my one puppy that I've got left."

In the meantime, Pauline is glad to be part of the Middleburg community. She speaks highly of the businesses in town and often recommends other shops to her customers, especially if they're looking for something she doesn't carry. "We're all here in the same community," she says. "We need to work together and not against one another."
It's that sense of collaboration and impeccable customer service she'd like people to remember after they visit the Wisdom Gallery. Her goal is simply to offer customers a pleasant, peaceful, and fun experience when they stop in to look around.

"We all get to work and we're lucky if we get out and do anything else," she says. "I don't like to pressure people. That's not what I'm here for."
This article first appeared in the February issue of Middleburg Life.