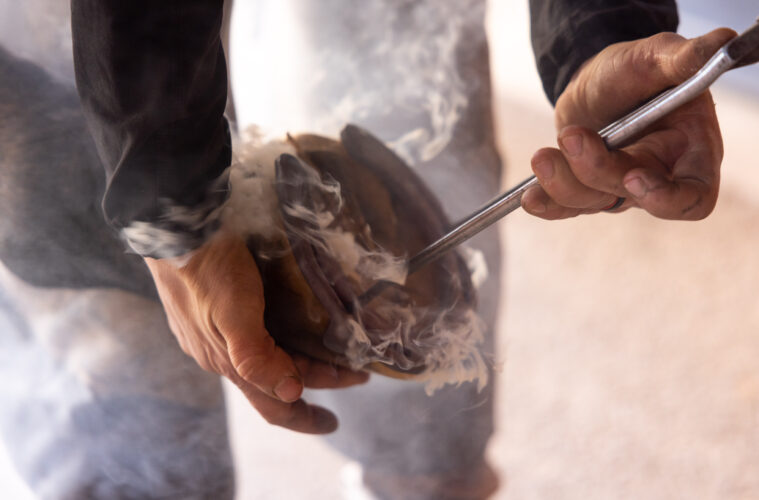 Written by Bill Kent / Photos by Callie Broaddus
Thirty horseshoes hang on a wall in Gwen Nardi's Rixeyville rancher, which she shares with her wife Katy, two horses, and as many as seven rescue dogs.
Instead of luck, each horseshoe comes from a horse whose life Nardi helped prolong and improve. Nardi either detected an illness early so a vet could treat it in time, or made a special shoe that corrected a problem that, without it, would have made the horse lame.
"It's about making things better for the horse, the client, the rider — everyone," she says. "That, and a feeling and a knowledge of doing the job right. Being a farrier is an art as much as any other, and this is my art."
And yet, at 34, having practiced her art professionally for more than a decade, Nardi readily acknowledges the challenges. "This can be a thankless job. Only about five percent of the apprentices who train to be farriers are still working after five years," she notes. "Very few last more than 25 years. You can tell the older ones because their legs are stiff from squatting and they stand hunched over from bending their backs."
Not to mention swollen thumbs and fingers from those moments when they did not hit the nail precisely on the head, or scarred skin on the hands and forearms from red-hot metal particles that fly into the air while the farrier hammers a shoe into shape.
However, Nardi persists even after a horse's hoof broke her jaw and battered her skull a few years ago. After a month of sipping meals through a straw, she was back to work, treating and shoeing eight horses a day during Hunt Country's summer hunting and jumping season.
And she does not pay attention to those who think — wrongly — that women farriers can't do the job as well as men.
"It's true that there are more male farriers than women, and that women tend to have less body mass, that our hands are smaller. But the farrier's art goes back to Celtic times and there's evidence that women farriers have worked since then."
Nardi's tool rig sits inside a custom-made trailer that includes racks of pre-made horseshoes, bars of metal she can shape into a custom shoe, an anvil, and a toaster-oven-sized forge that burns at 2000 degrees Fahrenheit and can "heat a can of soup in record time."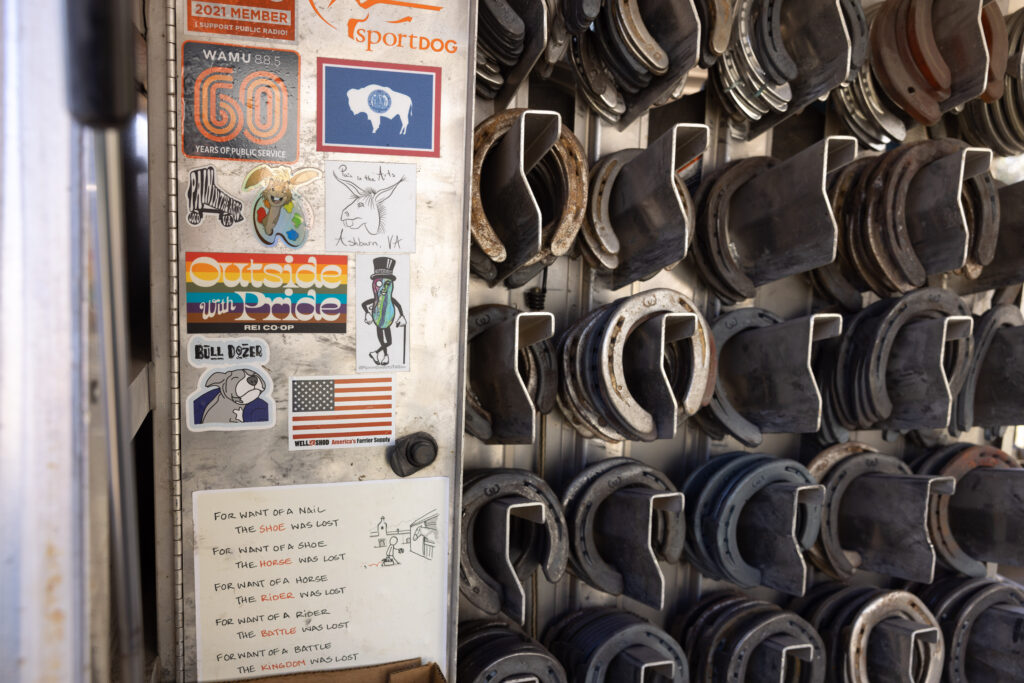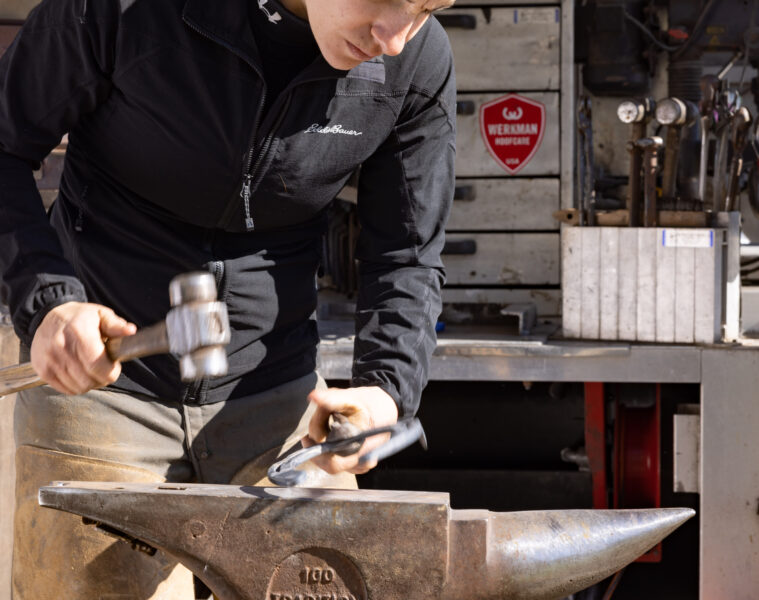 But Nardi doesn't eat lunch. She works a full eight to 10 hours on a 32-ounce Yeti mug of coffee.
After taking a sip, she holds up a pair of nippers. "These used to come in one size. Now, because there are so many farriers, and some of us have smaller hands, this is made with an intermediate-sized grip."
When the hardships of the job threaten her resolve, she looks at the horseshoes hanging on her home's wall, or she calls one of her mentors, Professor Travis Burns, chief of Farrier Services at Virginia Tech. "We commiserate about the job, and I learn more every time we talk," she notes.
"Most farriers leave the profession for many reasons," Burns says. "Some of those include the physical toll of the job, difficult clients and horses. Gwen has dedication and a work ethic that is unmatched," he adds. "She is relentless in her commitment to increasing her knowledge and skills to make her the best possible farrier she can be."
The word "farrier," a person who shoes horses, comes from the Latin word "ferrus," for iron. Today, steel is the preferred metal for shoes, with aluminum also employed for a lighter fit.
For centuries, making horseshoes was one more job for a blacksmith. The farrier's task was cleaning and trimming the hoof, and attaching the shoe. To shape the shoe more precisely to the hoof, farriers acquired the skill of metalworking.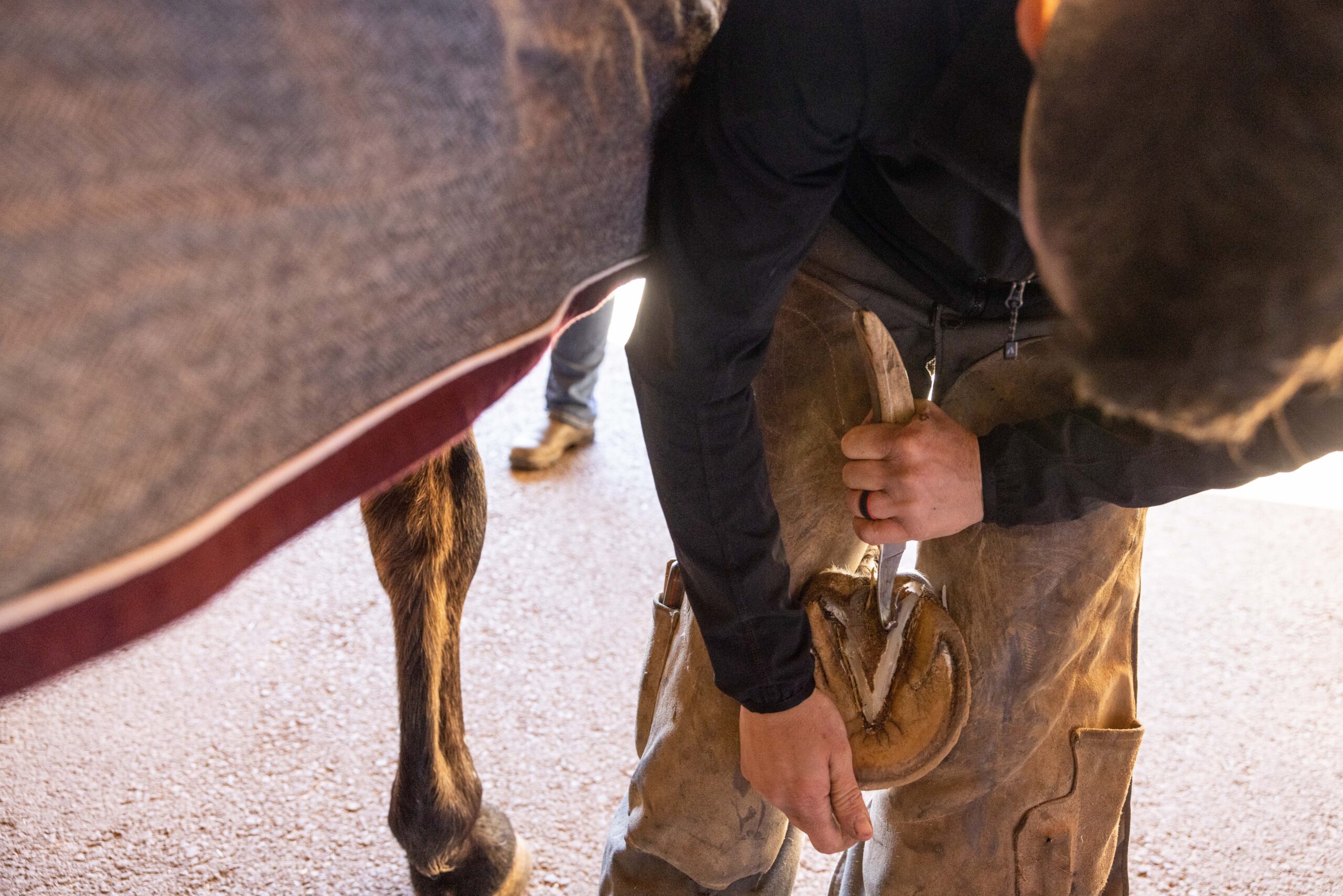 As the breeding, care, uses, and competitive roles of horses became more sophisticated, so did the farrier's job. Organizations such as the United Kingdom's Worshipful Company of Farriers (founded in 1356) and the much younger American Farriers Association (founded in 1971) now mandate proficiency examinations and apprenticeships that expand the farrier's ability to identify and correct problems relating to the hoof.
However, in the United States, a farrier need not have any formal training, pass a test, or earn a certification in order to work with horses. It's impossible to say how many American farriers are not certified or achieve journeyman status. Nardi has an added therapeutic endorsement qualifying her to make special shoes to accommodate injuries and illnesses. Within the year, she plans to complete her UK certification.
"It is the toughest and strictest in the world," she says. Why pile on distinctions? "I'm proud of what I do."
Born in New York state to a family of five, Nardi and her twin sister rode their first horses shortly after their father died. They were 6 years old.
"My mother encouraged us to ride as a way to help us deal with our loss, and it worked." At the stable, Nardi was the farrier's shadow and liked their manner and characteristic leather apron. "I liked its clean lines, and I think I knew, even at that early age, that I had found my life's work," she explains.
The sisters supported their riding passion by caring for others' horses. After high school, Nardi decided to attend the Kentucky Horseshoeing School's 22-week workshop where, in addition to learning to always open the soup can before you heat it on the forge, she slept very little and worked hard to graduate with the highest distinction.
Her apprenticeship to the late, legendary Paul Goodness at Forging Ahead in Round Hill brought her to Hunt Country, where, with the exception of seasonal working trips to Florida, she has remained, mentoring younger farriers and, on days off, going for hikes at the Manassas Battlefield and "other places where it isn't too crowded."
During the height of the pandemic, Nardi actually worked harder, seeing her clients more often as those with horses found themselves with the time, if not the means, to give them even more attention. "People used the barn to escape their homes and confinement," Nardi remembers.
But the post-COVID inflationary rise in prices has affected her costs. Prices for just about everything she uses, from the metal for her shoes to the propane that fires her forge, have gone up.
"So I work harder," she says stoically.
Terri Turner Smith has known Nardi longer than most of her horses. The trainer and owner of TS Show Stables, Smith is one of 70 Hunt Country clients and owns 15 of the 210 horses that Nardi visits every four to six weeks, more often during the summer jumper and hunting season.
Smith first hired Nardi nine years ago on the recommendation of her veterinarian. She cites that Nardi's "attention to detail and pride in her work make her stand out in her profession. Her knowledge base and ability to work with veterinarians while understanding the anatomy and pathology of the horses is an invaluable asset. She is as important to the health and success of my horses as my veterinarian."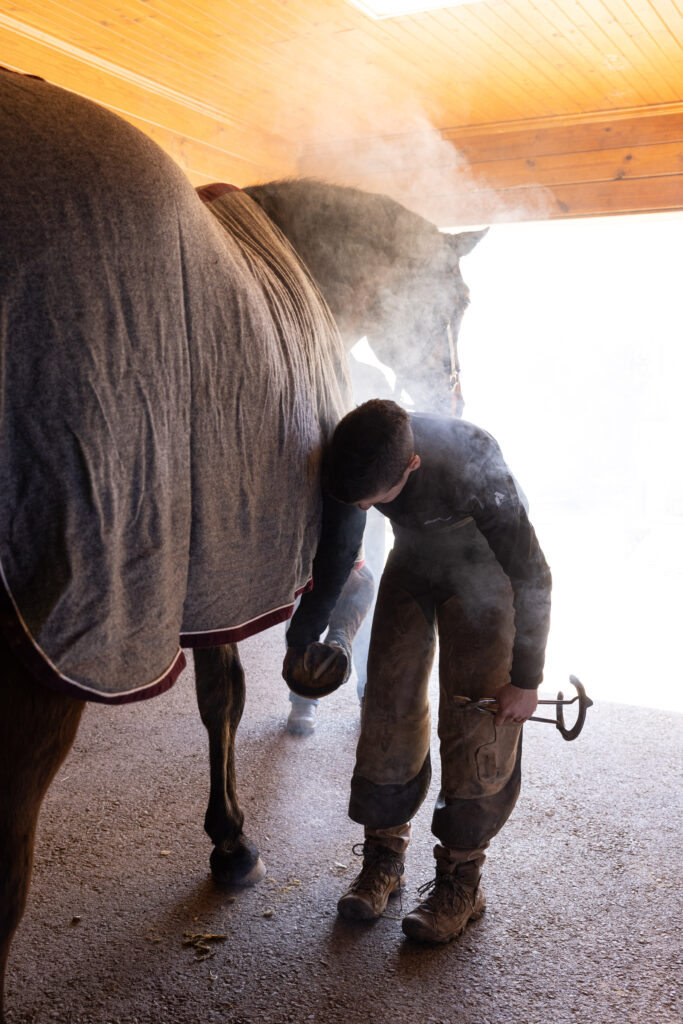 Dr. Paul Anikis, a veterinarian with Piedmont Equine, learned of Nardi's work when she was apprenticed to Paul Goodness. Since then, all 14 of Piedmont Equine's vets have worked with Nardi in treating hoof pathologies.
"We have had a lot of cases where infections to the foot will require the removal of the majority of the hoof wall," Dr. Anikis says. "Depending how much we take off, the horse can lose the stability and integrity of the foot. Gwen can make a special shoe with a Kevlar cuff that will restore some of this stability and prevent further injury while the foot is healing."
The dimensions, construction, and installation of the shoe must be extraordinarily precise. Errors in these hospital plates or other special shoes for horses surviving white line disease, keratomas, laminitis, or injuries resulting in deep cracks in the hoof, can lame a horse. When the shoe fits and the horse gets proper care, the animal's longevity and quality of life can be greatly improved. And Gwen Nardi will add another shoe to her home's wall. ML
Published in the March 2023 issue of Middleburg Life.