Story by Victoria Peace
In January 2022, I took one of Clay Morris' winter foraging classes at the Salamander Resort & Spa. I came away from the experience amazed at how much the natural world had to offer during a time of year that I usually consider to be extremely barren. You can read the article I wrote about my experience and about Morris' background here.
Six months later when I was invited to participate in one of Morris' summer foraging classes, I jumped at the opportunity. I couldn't wait to see what new and exciting foods and flavors came along with the changing of the seasons.
Morris starts each one of his foraging classes with a walk through the grounds of the Salamander Resort & Spa. He likes to teach his classes there because it's a very diverse habitat in a small area. Morris explained that the months of June and July are what he calls "the vegetable stage" of the year. All of the plants that emerged in the spring have started producing flowers, berries, pods, and vegetables.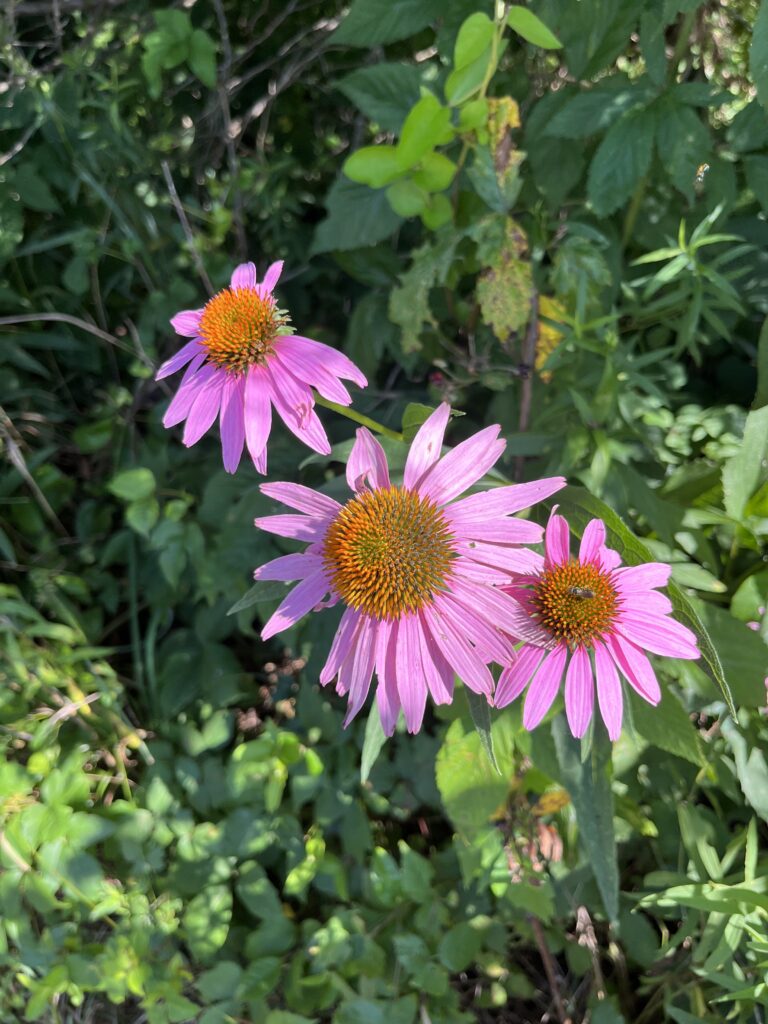 The Walk
On our summer foraging walk, we discovered a wide variety of plants and trees including black locust, milkweed, chicory, wild grapes, wild berries, overcup, poke, walnut trees, sumac, coneflowers, cattails, juniper, and heirloom pear trees. Their qualities ranged from utilitarian to delicious — and often, encompassed both the same time.
One plant that Morris identified as seamlessly blending utility and culinary value is overcup. Its large leaves curl in such a way that they create a cup which acts as a condenser for any mist in the air. When water collects in these cups, it provides a place for hummingbirds, bees, butterflies, and other pollinators to stay hydrated. Morris likes to blanch overcup leaves and use them to make a roulade, which he proudly calls "his version of sushi."
Cattails are another plant Morris pointed out which serves a wide variety of functions. Native Americans used their fluff to stuff diapers and their leaves to make mats. However, the stem of the cattail can also be eaten — it tastes similar to a cucumber. After our walk, we were able to sample both raw cattail stem and a cattail root and tomato relish that Morris prepared.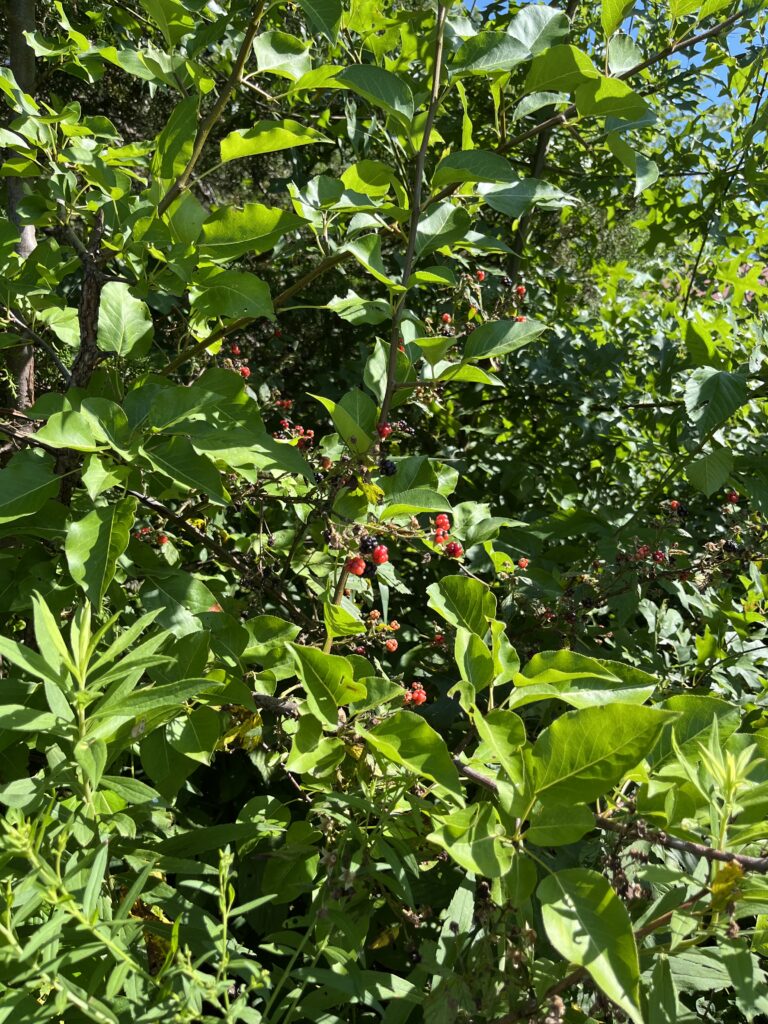 On our walk, Morris underscored the importance of being in tune with seasonal and environmental changes in order to know the right time to harvest different plants. Windows of opportunities can be small, and once you miss them, they're gone. For example, every bit of the milkweed plant can be eaten if prepared properly. However, it has to be harvested within a very specific timeframe. When the plant first starts to emerge in the spring, the stems can be eaten like asparagus. Before it flowers, it looks a bit like broccoli rabe, and can be sautéed or dried and stored for later use. The pods can be blanched and taste similar to okra, however, you have to make sure you catch them when they are very small or else they are poisonous. And finally, when the flower opens, it can be made into a cordial for a refreshing summer drink.
The Tasting
After our walk, we had the chance to sample a milkweed flower cordial along with a variety of other dishes made with foraged ingredients. Morris prepares these dishes in advance so participants can better understand how the flavors and textures of foraged food can fit into our typical everyday diet. His goal is not just to make foraged food edible, but delicious.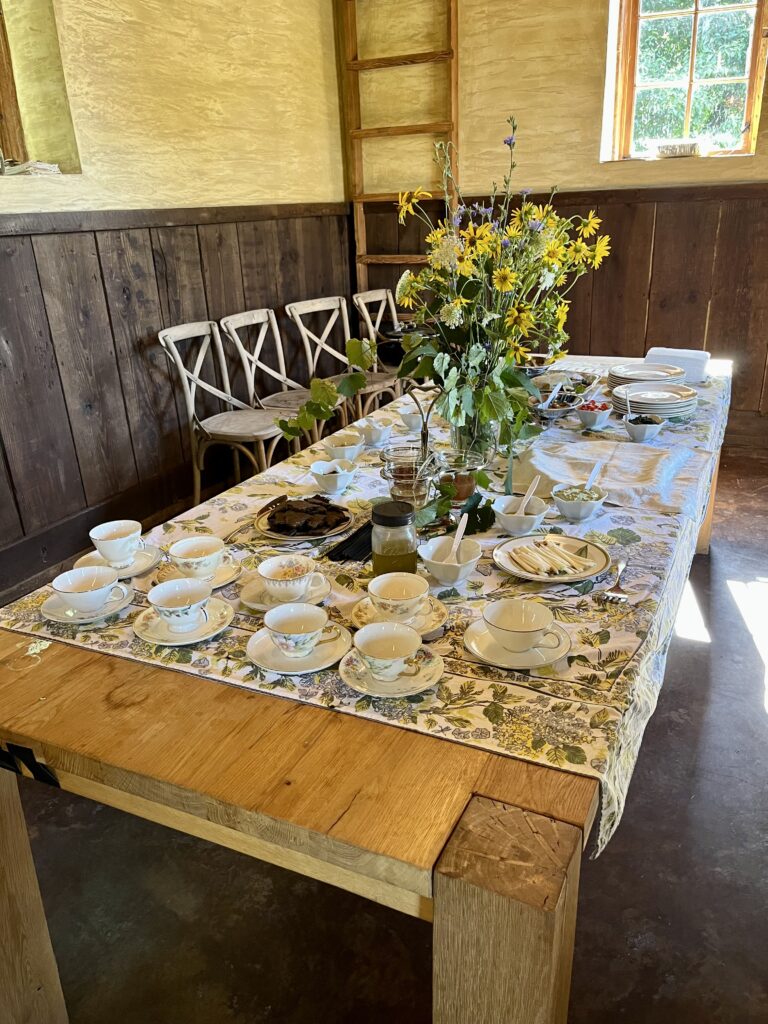 The menu that I sampled included lots of picked items, which are traditional for both the season and the region we live in. There were pickled, spice keeper pears, pickled wild onion flowers, and pickled mini pine cones. The pickled mini pine cones were probably my favorite bite of the day because their flavor was unlike anything I had ever tasted before. It was simultaneously, tangy, minty, and spicy, with just a hint of sweetness.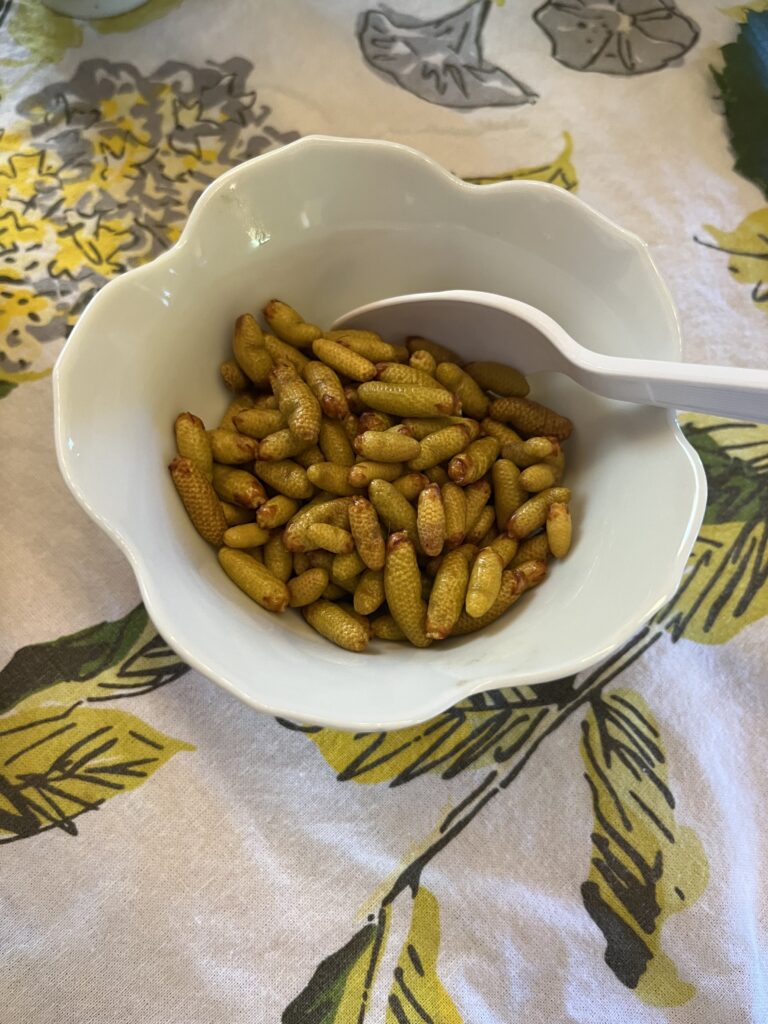 For more savory offerings, Morris prepared fermented grape leaves filled with creole rice and a lambs quarters callaloo. The callaloo, a traditional Caribbean dish, was inspired by one of Chef Kwame Onwuachi's recipes. Onwuachi will be hosting The Family Reunion at Salamander later this month. Lambs quarters is a fast-growing weed which can be used as a spinach substitute and has a significantly less slimy texture when cooked.
As discussed previously, every part of the milkweed plant can be eaten at the right time of year. During our class, the pods were in season. Morris prepared them by lightly frying them in a tempura batter. They tasted similar to okra and had a fascinating texture — the inside was almost like mozzarella cheese.
While the milkweed pods were a more adventurous snack, Morris also created a beautiful charcuterie spread so that guests could make their own canapés using mix of familiar and foreign ingredients. Garlic mustard pesto, cattail root relish, wild greens aioli, and fermented elderberry capers could all be paired with more typical meats and cheeses to create unique bites. "Play with it, there's no wrong way to do it," Morris encouraged.
I am already looking forward to seeing what Morris has in store for his fall classes — the focus will be on roots and nuts. To sign up, please visit Salamander Resort & Spa's website. To be put on Morris' mailing list, please reach out to [email protected]. ML