"The plan is Catoctins tomorrow. I do not have high hopes even though a colleague saw 25 at my focal den in [redacted] on Wednesday when I was at a South Mtn, Pennsylvania site and got skunked…Forecast is for upper 30s tonight and I think it may push those Catoctin snakes under. However, if I don't get out there it is just idle speculation. Having seen over 20,000 rattlesnakes plus about 1000 litters, figuring out exactly what is going on is more important to me than seeing a pile of rattlesnakes."— An excerpt from Marty Martin's email to me and other field-ready friends on October 8, 2020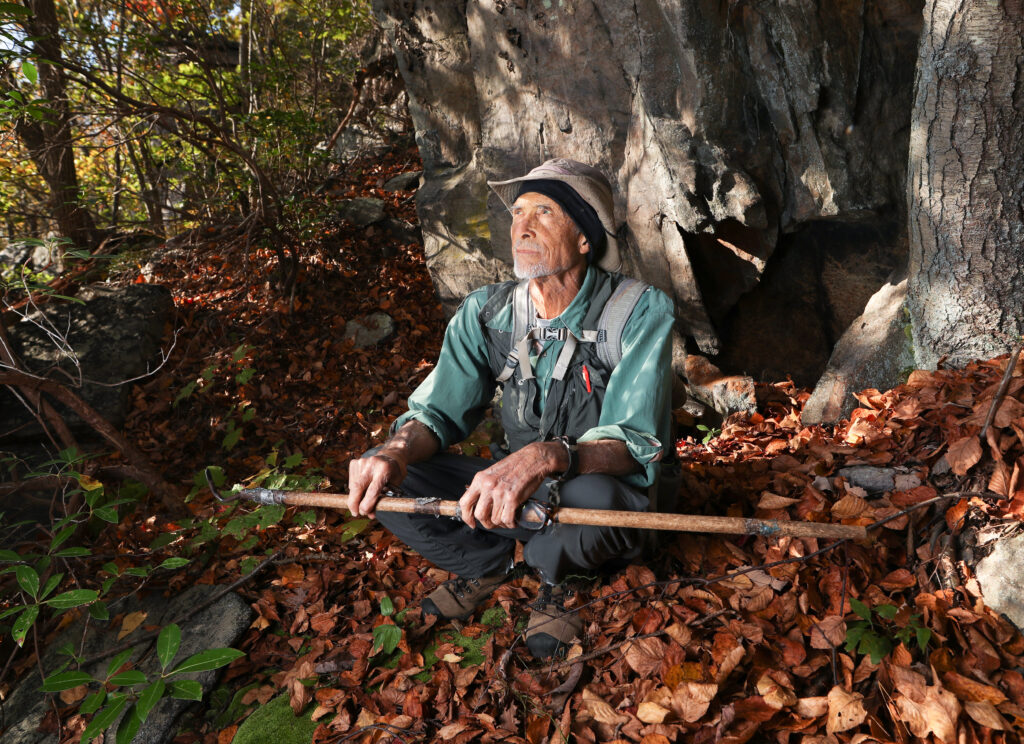 William Henry "Marty" Martin III was known as the world's authority on Timber Rattlesnakes—a species of pit viper native to mountainous areas throughout the east coast and as far west as Texas. He unexpectedly passed away on August 3, surrounded by his wife and daughters, after receiving a bite from one of his captive rattlesnakes.
Born in Leesburg, VA on December 24, 1941, Martin discovered den sites, studied behavior, and monitored the populations of these often-vilified creatures with dogged consistency for decades. At 80 years old, he was still pursuing his research with an eye to the species' future, documenting the impacts of habitat loss, climate change, and other human pressures on his study populations while trying to instill a love for venomous snakes in the next generation.
"Marty was a guest educator for our Herpetology camps for the past 23 years and inspired countless budding herpetologists," says Michael Kieffer, the longtime Executive Director of the Bull Run Mountains Conservancy. "While his research firmly establishes his legacy as a conservationist for Timber Rattlesnakes in the Eastern U.S., his work with kids will have lasting benefits, inspiring conservationists of the future. He was a dear friend."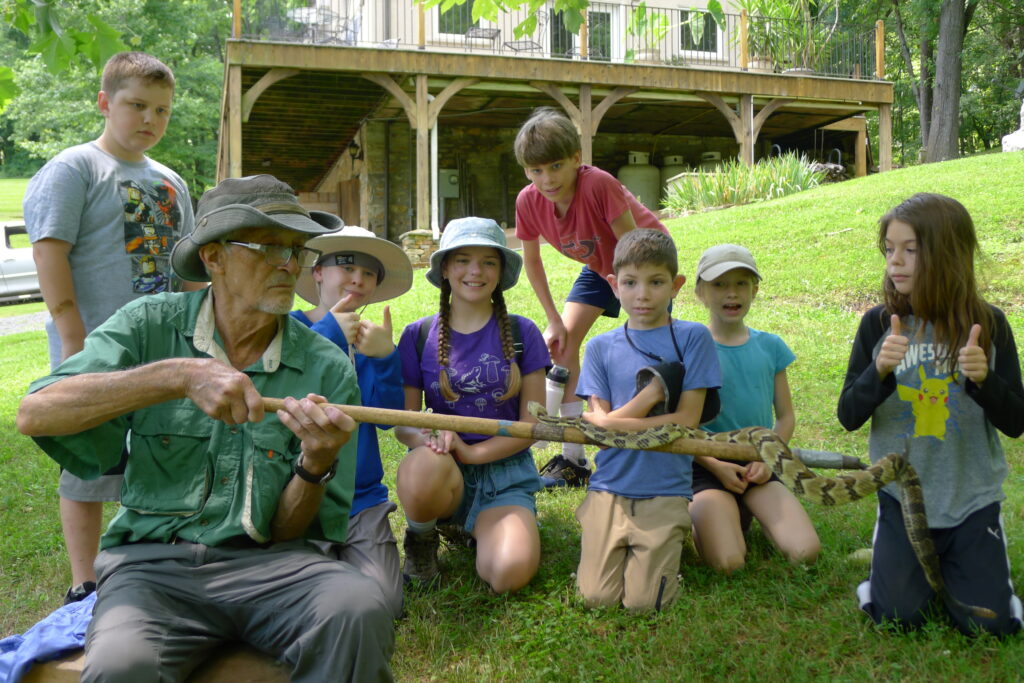 Martin's own journey as a naturalist began as a young boy; by the age of 13, he had already made his first mark on the scientific community, proving the existence of a Timber Rattlesnake population in the Bull Run Mountains. At 17, he was a founding member of the Virginia Herpetological Society. He put his scientific career on hold to join the military, fighting for his country in the Vietnam War as a paratrooper for the Army's 101st Airborne Division and for his armed service division as a bantamweight boxer.But when this chapter in his life ended, Martin returned to study snakes—and he never stopped.
He received his biology degree from the University of South Florida before traveling the world to conduct independent research on venomous snakes in Africa and South America. His travels would become fodder for conversation later in life, and those who spent time in the field with Martin were treated to storybook-style tales—escaping a Colombian prison by traveling on foot through the rainforest to Ecuador, escaping the epicenter of the first Ebola outbreak in the dead of night, witnessing the start of a civil war in Somalia, narrowly avoiding a deadly plane crash, bringing Australian TV host Steve Irwin to one of his Shenandoah den sites for an episode of "The Crocodile Hunter," receiving his first and second rattlesnake bites—the list goes on.
While the spirit of adventure and his passion for all venomous snakes took Martin around the world, it was his hometown habitat that comprised the bulk of his life's work and made him known throughout the herpetological community as a leading expert on Timber Rattlesnakes. "A human of mythic proportions," writes Joe Villari, Preserve Manager at VOF's Bull Run Mountains Natural Area Preserve, in his touching personal tribute to Martin. "His love for snakes connected him with humanity, and he connected so many of us to the beauty and joy of rattle snakes."
Martin continued to work independently, preferring his own strictly field-based research methods to a life in academia, and spent more than four decades visiting the same den sites over, and over, and over again. He learned to predict how weather patterns could influence snake behavior. He saw den sites diminish and ultimately disappear due to human disturbance. And he saw how climate change was altering even the most reliable den locations.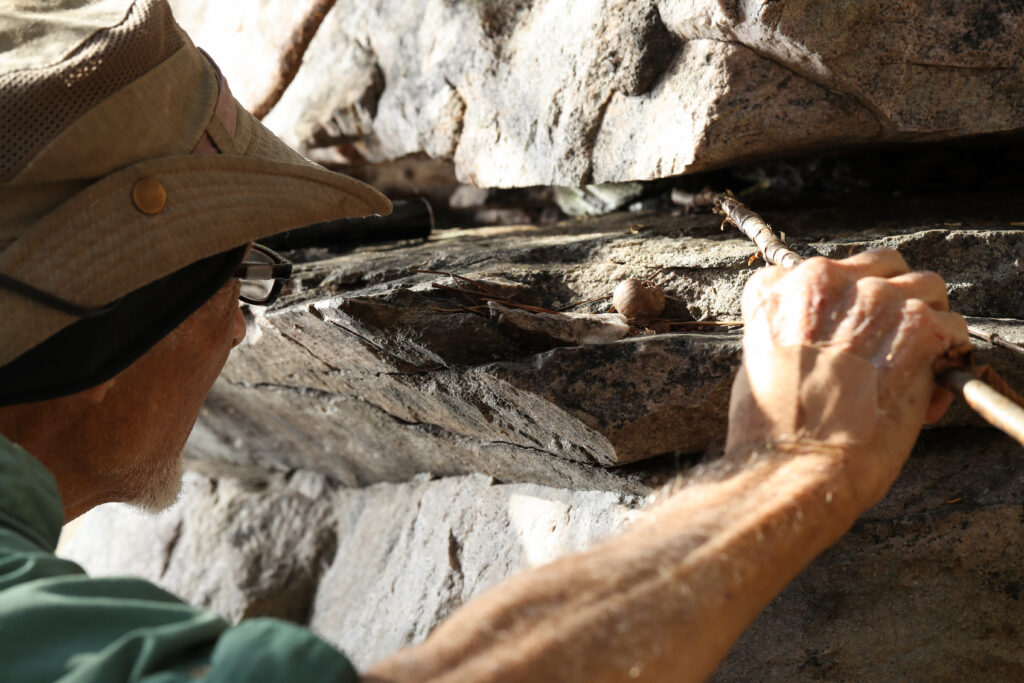 Much of Martin's knowledge has been published; he contributed to rattlesnake conservation as a member of the Timber Rattlesnake task force for the International Union for the Conservation of Nature for 30 years, and in 2021, Martin co-authored the 475-page book, "The Timber Rattlesnake: Life History, Distribution, Status, and Conservation Action Plan," with the Partners in Amphibian and Reptile Conservation. But he recorded his raw data the old-fashioned way—in decades of small, spiral-bound notebooks—and researchers will likely continue to learn from the late great herpetologist long into the future.
While he will certainly be remembered for his contributions to science, those who knew him will never forget the deep reverence he held for nature and the passion that drove his work. BRMC founder Andrea Currier recalls turning to Martin at an evening event on a beautiful hilltop in Front Royal and remarking, "Isn't this pretty perfect?" Martin replied, "Actually, no," and explained, "There are no rattlesnakes here!"
"Marty's happiness was intrinsically tied to the presence and well-being of venomous snake populations," explains Villari, "especially his beloved timbers."
---
A celebration of Marty Martin's life will be held at Morgan's Grove Park in Shepherdstown, WV on September 25th at 1 PM. In lieu of flowers, the family asks that donations be made to the Catoctin Land Trust (catoctinlandtrust.org) or the Bull Run Mountains Conservancy (brmconservancy.org).
This article first appeared in the September 2022 Issue.