Written by Laticia Headings
To many, Penny Denegre is considered a Renaissance woman in the equestrian community. She has worn many hats, and helmets, over the past four decades and proved herself an exceptional equestrian, leader, colleague, and friend.
Still, there is a prevailing humility about Denegre and her achievements. "To be honest, I don't see myself that way. I guess I'm a well-traveled and well-schooled amateur," Denegre says. "I think it's that I've been involved in so many disciplines and being multifaceted isn't as common anymore. People today are very specialized." She continues, laughing, "Part of it is that I can't say no to the things I care about. I want to see them succeed because they are important and have value."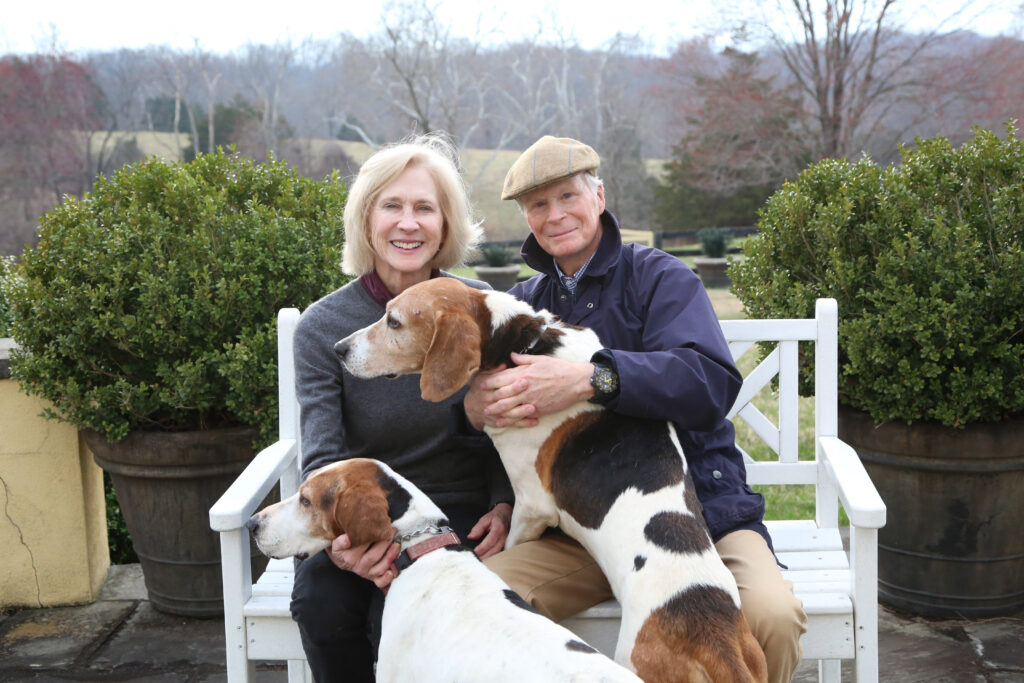 For the past 30 years, the Middleburg Hunt has known her as their stalwart Joint-Master of Foxhounds (MFH). Her fellow equestrians know her as a 12-time National Ladies' Sidesaddle Champion. The Devon Horse Show recently bestowed the title of "Devon Legend" on Denegre.
In January of 2024, Denegre will be inaugurated as president of the Master of Foxhounds Association of North America (MFHA), a position previously held by only two other women.
Her early connection with horses began when her mother put her in a saddle at age 4. "The relationship is built in the barn in the special moments of caretaking and feeding. To recognize how the horse is feeling, you need that kind of time with them," she says. "There's a partnership, the learning and growing together. There's nothing better."
As a child, Denegre and her older sister, Hillary Rogers Brooks, took riding lessons from Jane Marshall Dillon, who operated a riding school in Vienna, Virginia. It was here that Denegre learned proper equitation and grooming techniques, plus Dillon's philosophy of horse care. "She taught us how to treat animals with the respect they deserve," says Denegre. "The horse and pony's comfort always comes first, before your own."
When the family moved from Vienna to Middleburg, Denegre and her sister were regulars on the Middleburg horse show circuit. A nod to her future role, Denegre became a Junior Joint-MFH of the Fairfax Hunt at age 14.
In addition to her love of horses, music has been a steady passion in Denegre's life. She started learning the piano at 7, took lessons throughout her teens, and sang in her high school and church choirs.
Denegre continued to explore her love of music at Duke University, where she majored in history and French. She joined the Duke Chapel Choir and found great inspiration. "We did the entire Messiah every year … and had some phenomenal voices," she says. "I had never sung with a choir of that caliber before. I really enjoyed and loved being part of it."
"When I got out of college, I took a job helping to organize a special political dinner in Washington and then, from there, I got a job at a political fundraising advertising company who, at the time, was on the forefront of direct mail and considered cutting edge," says Denegre. She worked at the Springfield-based firm for nearly a decade, where she became a company vice president.
In 1981, the businesswoman married John Denegre. "He's incredibly supportive of my pursuits. We share a love of so many things — horses, hounds, foxhunting, sailing, music, history, to name a few…. But I don't ride in his race car," she laughs, pointing out her husband's penchant for fast cars.
It was their shared love of horses that called them to the countryside. They moved to Middleburg in 1984, purchasing a farm just outside of town. Two years later, their daughter Alden was born.
Over several years, the Denegres built a house and barn on the property. "It took more than two years to put the cropland back into pasture, a long process to do correctly," Denegre says. "As we worked the fields, we picked up tons of rocks and stones, and a resident fox showed up regularly to hunt mice, hence the name Foxstone Farm."
Moving to Middleburg allowed Denegre more time to ride. She continued training sidesaddle, a sport she became fascinated with as a teenager because of its historical roots dating back to the 14th century. "It's a touchstone to foxhunting. Sidesaddle was the only acceptable way for women to ride until the 1920s," she says. "It can be very dangerous. It's hard to come out of the saddle, but if you do, it's catastrophic."
Denegre rode with the Middleburg Hunt for 12 years before she was elected Joint-MFH, joining Jeffrey Blue and Melissa Cantacuzene in 1994. "You're basically the CEO of the organization overseeing personnel, managing landowner relations, which is huge, raising funds, and setting the tone for the organization," Denegre explains.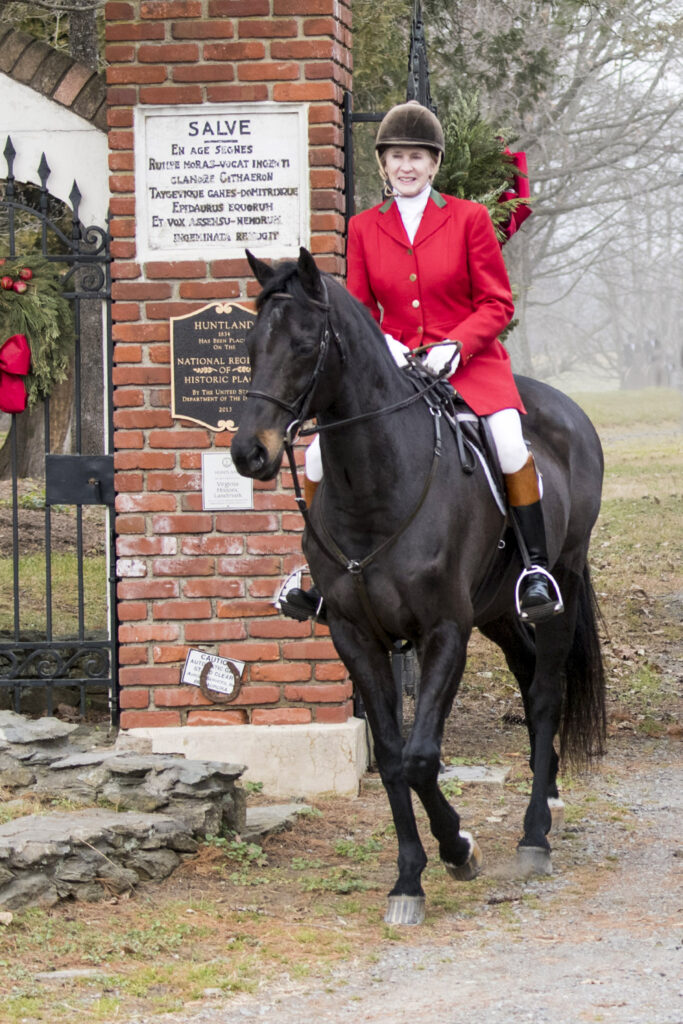 Blue and Denegre have been Joint-MFH together for nearly three decades. She describes their successful partnership as one of mutual respect, brutal honesty, open dialogue, and a commitment to present a united front, even when they disagree. "I couldn't have done this with just anybody; it's a rare gift," she says.
In 2017, Denegre had a serious accident in the hunting field which resulted in a broken pelvis, eight broken ribs, and a punctured lung, among other injuries. Her athleticism was a major factor in making a full recovery after many months. "I didn't know whether I should get back on a horse or not, so I decided that I'd let my body tell me," she says.
Her first time back in the saddle was on one of Blue's older horses named Gentry. "I can remember the feeling of 'I'm home' and how great it felt," she says, tearing up. "I told the horse, 'If you get me back, you've got a home for life,' and he did." Now retired, Gentry lives at Foxstone along with the 11 other resident horses.
Despite the risks, Denegre remains committed to the Middleburg Hunt, and wants to preserve its storied history into the future.
"I've been doing this for a long time and work hard at it. I appreciate all the staff and subscribers in the hunt putting their hearts into it, from feeding all these hounds … to keeping the country open," she says.
A community leader to her core, Denegre is a staunch advocate for land preservation. She is currently on the advisory board for the Land Trust of Virginia, a past board member for Goose Creek Association, and works closely with the Piedmont Environmental Council. "Foxhunters have done a lot to preserve the farmland in the country," says Denegre.
Of her eight years on the Goose Creek Association board, she says, "It gave me an appreciation for the river itself and how important the water is to the wildlife." She continues, "They've been able to improve the quality of the water so that for the first time there are actually eagles on Goose Creek."
Denegre, whose own 100-acre farm is in conservation easement, says, "It's important to everybody even if you don't hunt. Many people out here have horses, and for that you need land. It's also the sheer beauty of this area. To me, it would be a crime to see all of this gorgeous country covered in houses and development."
Despite a busy schedule, Denegre still finds time to stay connected to the show ring. She is on the board of the Upperville Colt & Horse Show and is a regular at various shows from Virginia to Florida when time allows. She says, "I love the history. Showing is one touchstone to the hunting field. It initially gave people something to do with their hunter [horses] in the summertime."
Her horse, String of Pearls, was the 2022 Adult Amateur Hunter Champion at Upperville.
In 2019, Denegre and Pearl were among the top 30 horses to qualify for the Adult Amateur Hunter Championship at the Washington International Horse Show in Washington, D.C. "Pearl was a star. It's a two-round competition and she won the whole thing. I was over the moon!" exclaims Denegre.
A sidesaddle regular at the Devon Horse Show in Pennsylvania, her treasured horse True Blue was the Ladies' Hunter Sidesaddle Champion for seven of the 10 years they showed. "The fact that he showed for 10 years is remarkable," says Denegre.
Her horse, Garnet, was also Ladies' Hunter Sidesaddle Champion for five years at Devon, making Denegre one of the most decorated sidesaddle riders in the country. "Devon has always had a special place in my heart, especially because both my horses did so well there. They just loved it, the whole atmosphere is electric," she says.
Though racking up blue ribbons and trophies is familiar to Denegre, her Devon Legend award came as a surprise. Denegre laughs, "I was joking with a friend that I thought you had to be dead to be a legend!"
Denegre's upcoming MFHA presidency will mark a nine-year commitment in total: three years each as second vice president, first vice president, and president. "I'm a little nervous but excited. When I originally talked it over with John, we both agreed that this was my chance to give back," Denegre says. "The MFHA does important work, not only in preserving the sport and keeping the [hounds] studbook, but they also do great research on things like tick-borne diseases."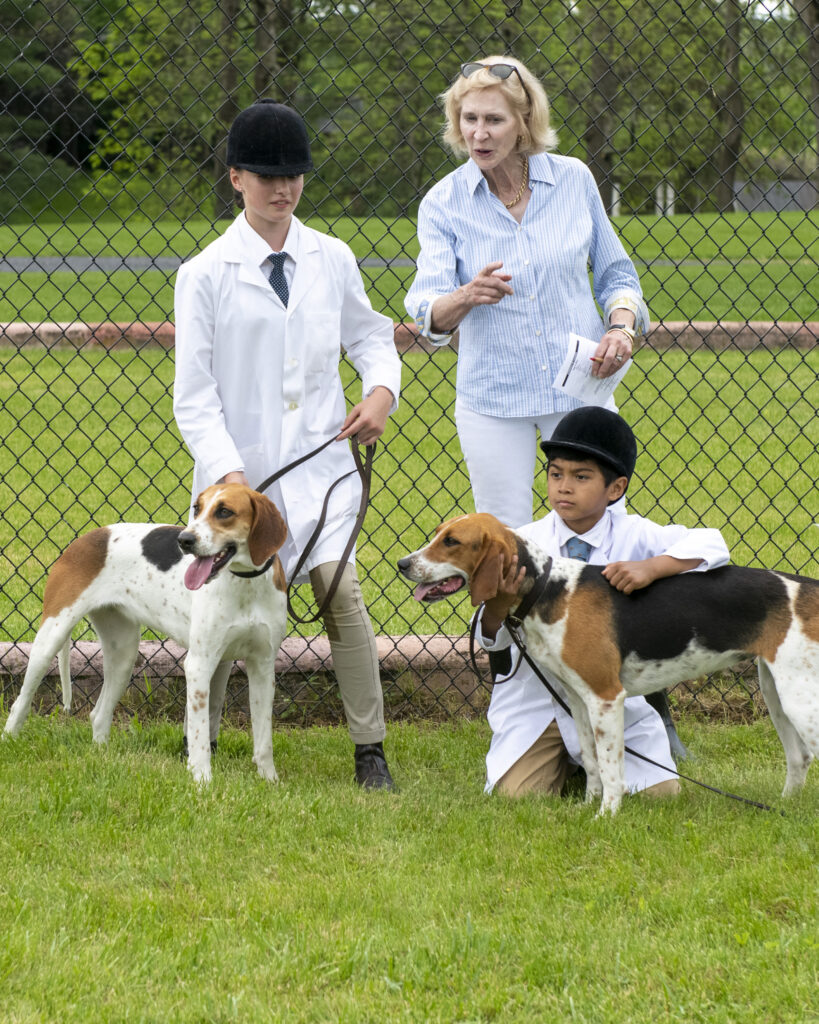 For now, Denegre is focused on the Middleburg Hunt Point-to-Point races on April 30th. "It's an exciting day. We get to run our point-to-point at one of the nicest steeplechase courses in the country. Glenwood is one of the only courses where the horses never go out of sight," she says.
Though she has many titles, the ones she is most comfortable with are the ones closest to her heart. To her husband, she is a wife of over 40 years. She is a loving mother to her daughter, Alden, and son-in-law, Gavin. And to her four- and six-year-old granddaughters, she is affectionately known as "Penny." "The thing I'm most proud of is my family," she says. She is also grateful to the animals she's dedicated her life to, saying, "I've been so lucky with the horses I've had who have taken me on this incredible journey." ML
Published in the April 2023 issue of Middleburg Life.