Written by Will Thompson / Photos by Michael Butcher
Boundaries are meant to be pushed. Rules are made to be broken. Expectations are set to be exceeded. So why can't an undershirt be the most self-expressive article in a wardrobe?
Long the unsung, load-bearing heroes of a smart ensemble, a decent undershirt can soften the touch of stiff fabrics, extend the life of dress shirts, and, a friend in all seasons, wick sweat in the heat and provide a layer of extra warmth in the cold. Despite their comfort and utility, the undershirt has varied very little over collective couture memory from being a stark, plain white T-shirt. To call the undershirt downright boring would not be undeserved.
Bored Rebel, a Haymarket-based startup, is spinning a new thread in the garment game, turning the humble undershirt into an avenue for self-expression, humor, and empowerment.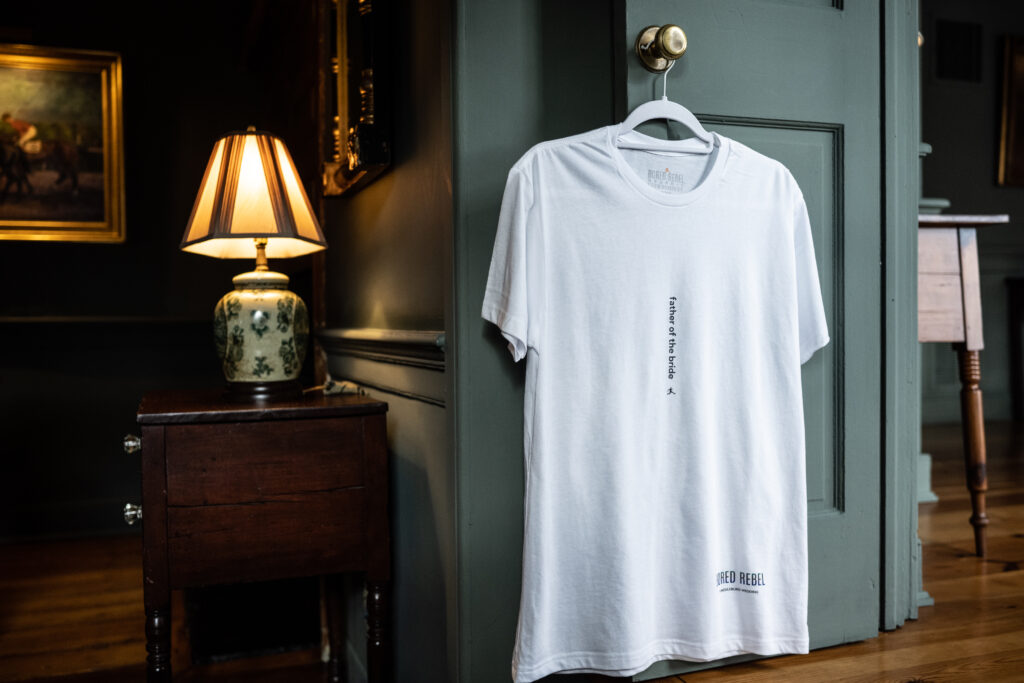 In the rebel spirit, Bored Rebel is the first of its kind: a graphic undershirt company. Adorning the ultra-soft fabric of each shirt is a hidden message designed to sit behind the placket — the row of buttons on a dress shirt — which won't show through even the whitest button-up. The slogans range from the inspirational (for example "Unleash Your Inner Superhero"), to the comedic ("Smartest Person in the Zoom"), to the downright irreverent ("My Boss Sucks"). By placing the words on an undergarment, these messages are for the wearer, their own personal postmodern mantra to help them laugh off workplace strife, get through a mountain of chores, or even to mark special occasions.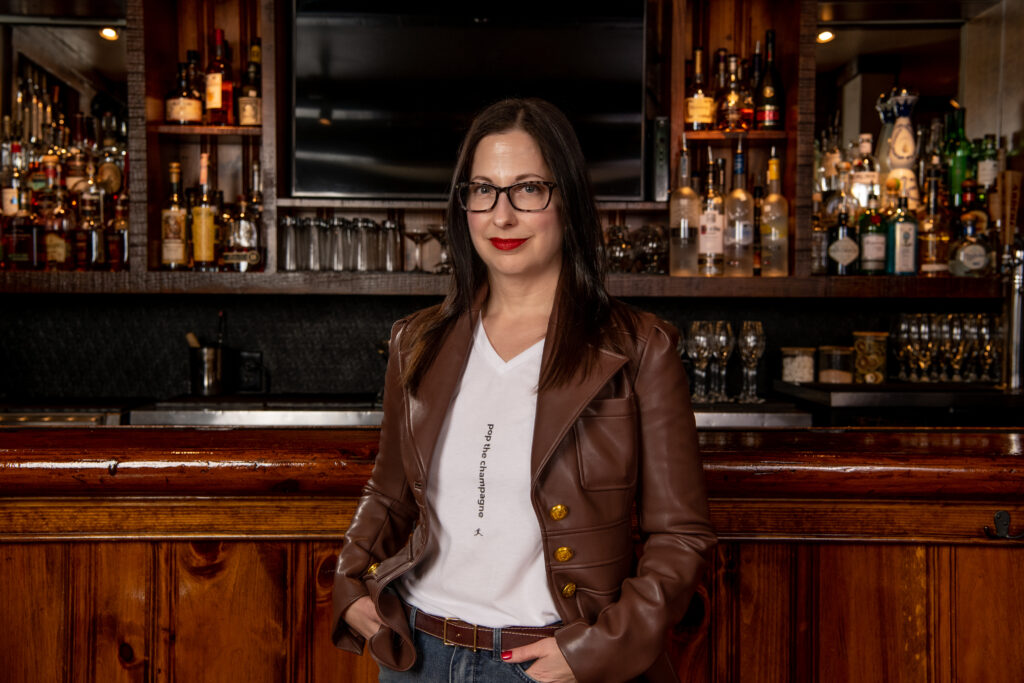 Bored Rebel's founder, Stacy Flax, began the graphic undershirt company after spending time in the corporate world delving into executive strategy, marketing, business development, and strategic partnerships consulting. Suffering from severe burnout and searching for an endeavor that would feed her creative side, Flax's stroke of genius came when her husband all-too-frequently left his undergarments on the bathroom floor. "The boxers all had fun designs on them. I looked at his undershirts and wondered why they were so boring," says Flax. Like a true rebel, Stacy challenged that status quo, and Bored Rebel was born.
Since its earliest days, Bored Rebel has now grown to offer a wide range of personalized graphic undershirts. Shoppers can combine 54 messages with three different ink colors ("Not So Corporate Grey," "Bcc: Blue," and "Punt it Purple") to create their unique garment. Shoppers in Middleburg can also find an exclusive design, "Get the Fox Out," at Highcliffe Clothiers on West Washington Street. Along with our hometown fashion scene, Bored Rebel shirts will soon be gracing the red carpet, being part of the famous Oscars gift bag given to nominees at the upcoming 95th Academy Awards in March.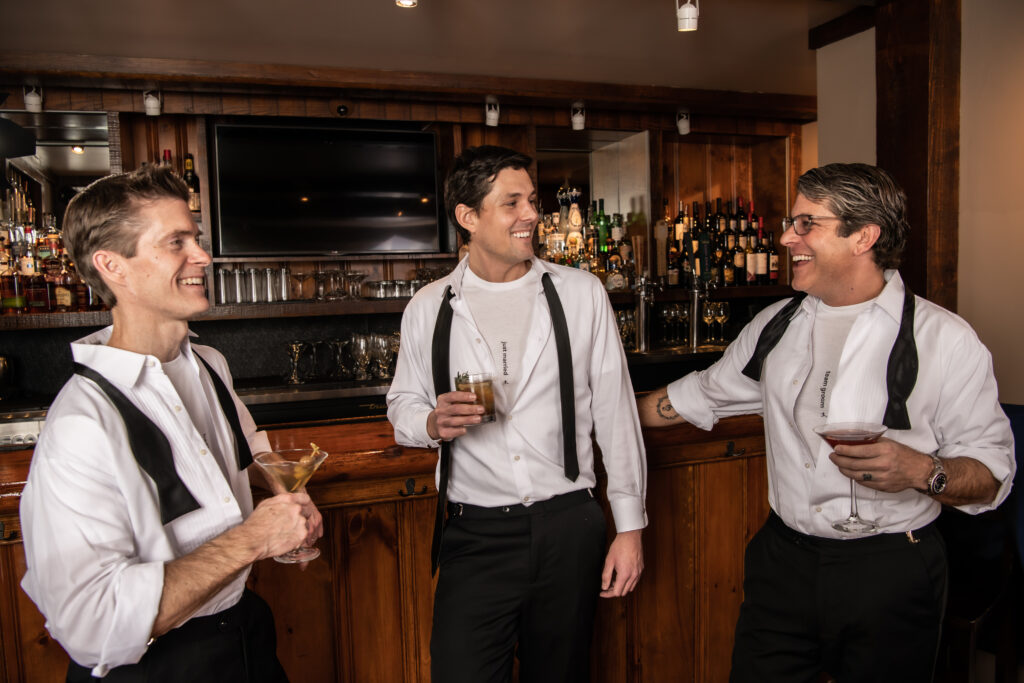 In early 2023, Bored Rebel also launched a wedding collection featuring more than 100 different wedding-themed slogans and a space on each shirt for customizable text to commemorate the event. The shirts, with slogans such as "Groom Squad," "Happy AF For You Two," and the perhaps inversely related "Here for the Open Bar" and "I'll Behave" can make fun bonding experiences and keepsakes for wedding parties, and will add a celebratory personal touch to a wedding outfit.
The shirts themselves are an incredibly soft blend of cotton and moisture-wicking synthetic fibers. When designing the first prototypes, Flax sampled almost 300 different fabrics to find just the right material to make a shirt that is soft, comfortable, breathable, and durable. The longer cut of the shirts will ensure that they stay tucked and flatter every figure. "They're very comfortable," says Mark Metzger, owner of Highcliffe Clothiers. "You hardly know that you have them on. It's a fun play on something that most men take for granted." Bored Rebel tees are highly functional as an undershirt, yet of high enough quality and cut to be worn alone as outerwear T-shirts.
"Printing on an undershirt instantly felt rebellious," says Flax, explaining how the name Bored Rebel was created to reflect the company's goal to disrupt the classic, boring undershirt. "Many people say to me, 'I'm a bored rebel!'" she continues. "It's a bit like art; people identify with the name, but they take from it what they want."
In terms of Flax's own journey, leaving the corporate world to create an entirely new fashion product in an entrepreneurial landscape where only 3% of venture capital goes to women-run businesses was an act of rebellion. "It's incredibly hard," she explains. "This is an unpaved road, and you're building it as you're going, and you're constantly having to deal with issues and challenges. But that creative problem-solving is fun. It's the best kind of hard."
Bored Rebel and Flax's entrepreneurial journey are reminders that with creativity — and perhaps a bit of rebellion — the seemingly mundane, expected, or overlooked can be transformed to something exciting, vibrant, and even treasured. "Every day is a leap of faith," says Flax. "The risks are real and scary. But I'm more afraid of not doing this."
Bored Rebel shirts, including the wedding line, are available at boredrebel.com. The company donates 10% of its profits through in-kind gifts of their "You've Got This" shirts to Washington, D.C.-area workforce development nonprofit organizations, including A Wider Circle and D.C. Central Kitchen. ML
Suits supplied by Highcliffe Clothiers
Cocktails supplied by Anna Adams at The Red Fox Inn & Tavern
Published in the February 2023 issue of Middleburg Life.