Wakefield School in The Plains begins the long-awaited process of creating its new theater – out of a gym.
The Plains, VA, April 2, 2021 – Everyone's heard of a groundbreaking–but on February 22 and 23, Wakefield School launched the renovation of its Lower School gym into a new theater space with something different: a wall-breaking.
As the first official act of demolition of the campus's original gymnasium and multi-purpose room, significant contributors to the "Act Now" Capital Campaign were invited to campus to lend a hand, wielding modestly-proportioned sledgehammers and thwacking a gold target painted onto a wall of the gym, at a spot destined to be breached with a door in the exciting new theater to come.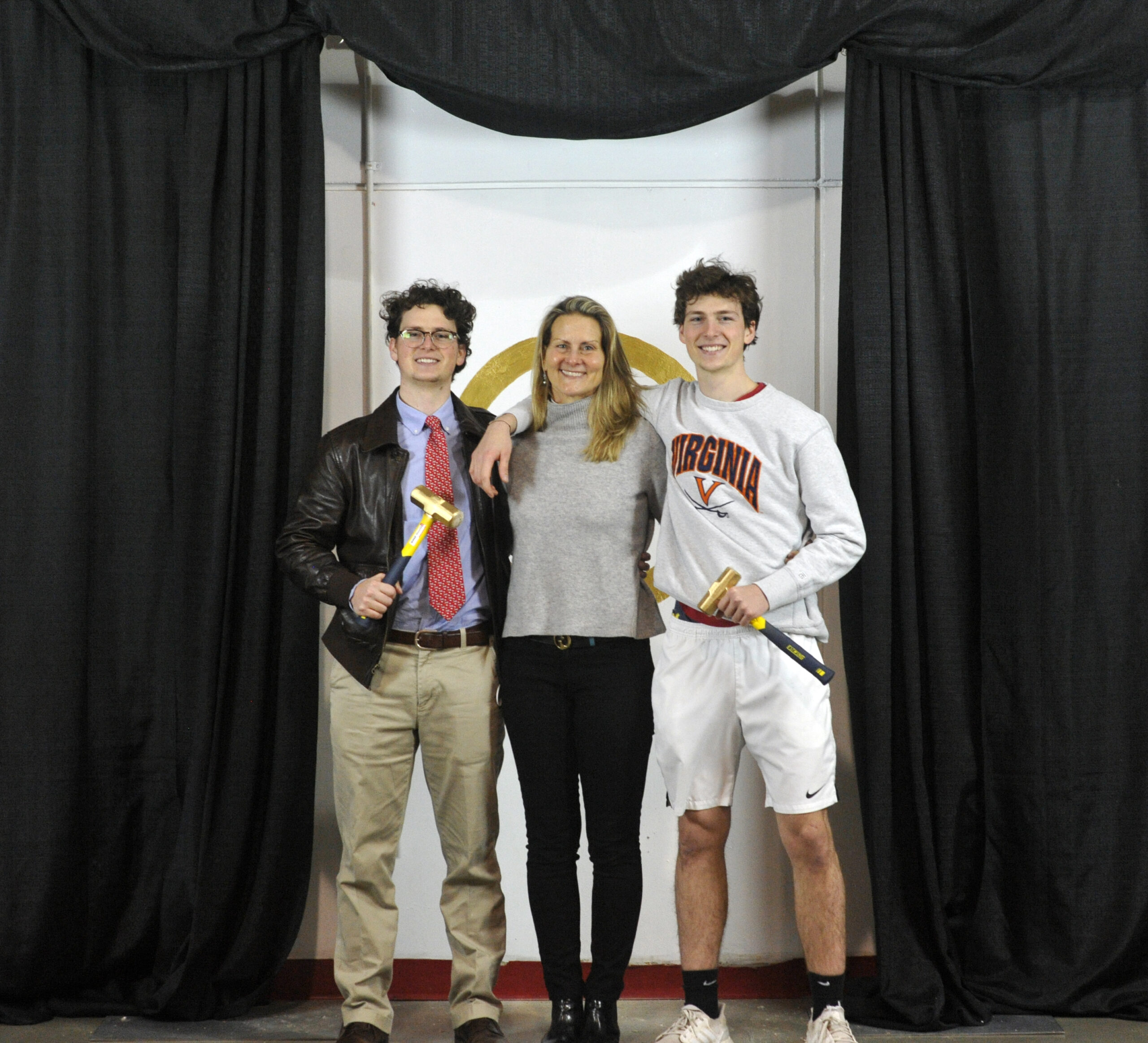 Linda Rich with sons Walker and Will, Class of 2021
That theater, The George L. Ohrstrom Jr. Theater & Auditorium, represents the long-awaited final phase of Wakefield School's 25-year build-out of its campus in The Plains. The theater's opening next academic year will coincide with the 50th anniversary of the school's founding. Without any significant changes in the academic building to which the current gym is connected, the renovation will create a fully-functioning theater, complete with a proscenium stage, a box-office, set and costume shops, wing space and overhead rigging to manipulate scenery and hang lighting, dressing rooms, bathrooms, and acoustic modifications. It will also feature a raked seating system that is fully retractable, allowing the new theater to continue to fulfill many of the current gym's "multi-purpose room" functions, such as staging academic displays like a science fair or History Night and hosting special dinners and community gatherings.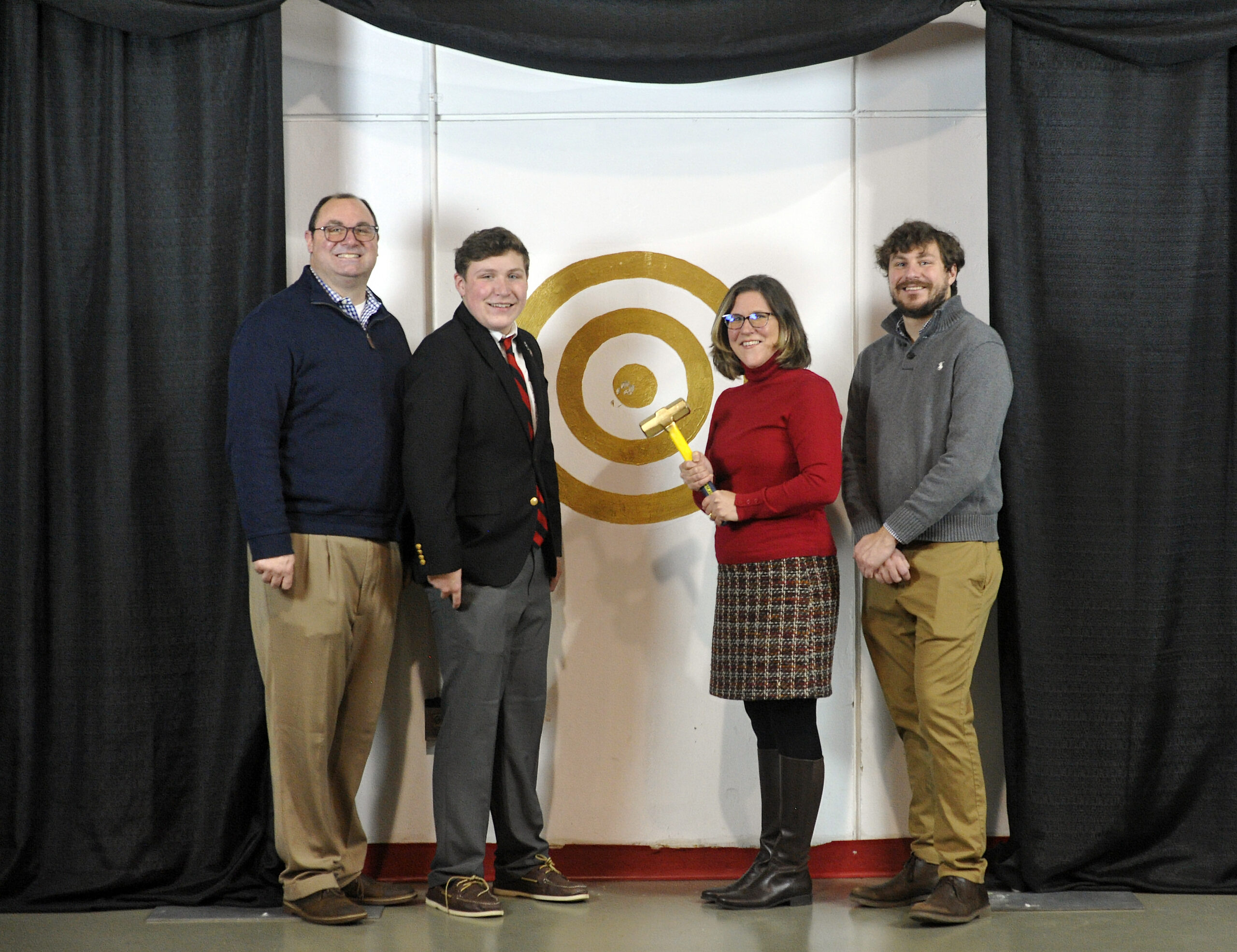 Head of School Ashley Harper with husband Doug and sons Riley (Class of 2024) and Jack Harper.
The new theater is also the realization of the career-spanning aspirations of Wakefield's
longtime Director of Development and Community Relations, Ann-Charlotte Robinson. Mrs. Robinson is a passionate supporter of theater from both on and off the stage, and she's been championing this initiative for years.
"Those who came to help us 'smash the wall' at our event have contributed 'time, talent, and treasure' to this much-needed addition to our campus and community," she says. "Our students
and theater faculty have created award-winning theater in a gym for 25 years! They so deserve
the gift of a state-of-the-art facility to match their ambitions, and the community has truly
stepped up to make it happen. Wakefield especially wishes to express its gratitude to the family
of Mr. George Ohrstrom Jr. for the key gift that has made this wonderful addition to the campus
possible."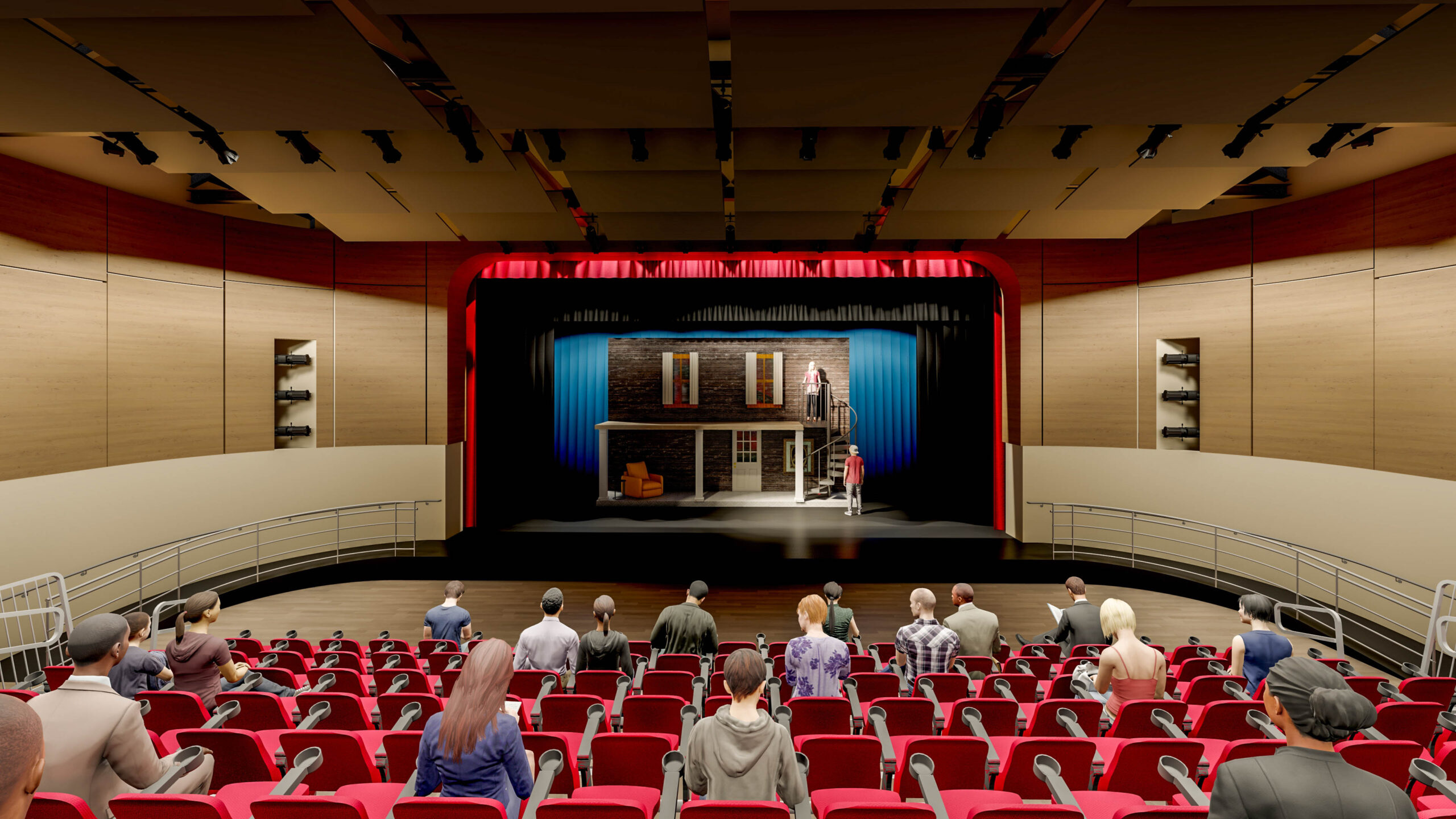 Renderings of theater.
Wakefield parent and Trustee Piers Carey, who chairs the Board's Development Committee and has also been a fixture in Wakefield's "community theater" productions, has spearheaded the project. "No celebration of the beginning of construction would be complete without acknowledging the dedication and resourcefulness of our Development Chair Piers Carey," says Wakefield's Head of School Ashley Harper. "It is not an overstatement to say that we would not be where we are with this project without his skilled and indefatigable leadership–always delivered with his renowned sense of humor."
To complete the circle of full community support for the new theater, on the day after donors got to take a swing at the gold bull's-eye, Lower School student volunteers also had the opportunity to don construction helmets and do their part.