Hat expert provides tips for a winning hat on race day.
THE PLAINS, VA – One of the nation's oldest and largest steeplechase events, the Virginia Gold Cup, celebrates its 98th anniversary this year on Saturday, May 6, at Great Meadow in The Plains. One of the hallmarks of the legendary event is its hat contest that draws dozens of contenders vying to win one of the five contest categories: most glamorous or elegant; best racing theme; funniest or most outrageous hat; best child's hat; and best men's hat. Celebrity judges will decide whose hats are the most impressive and competition is fierce.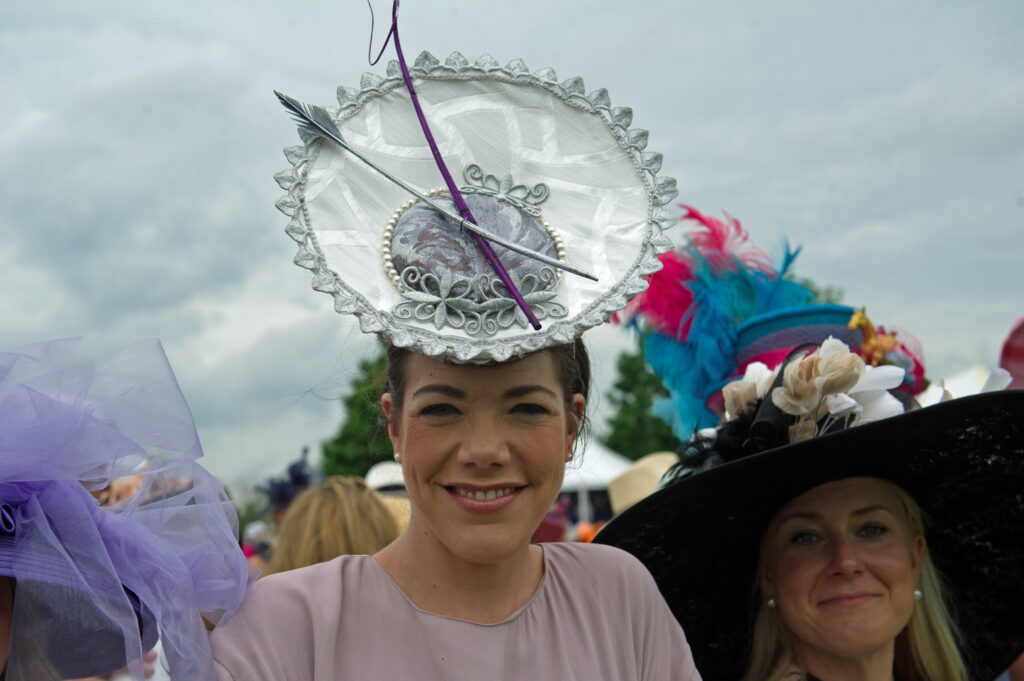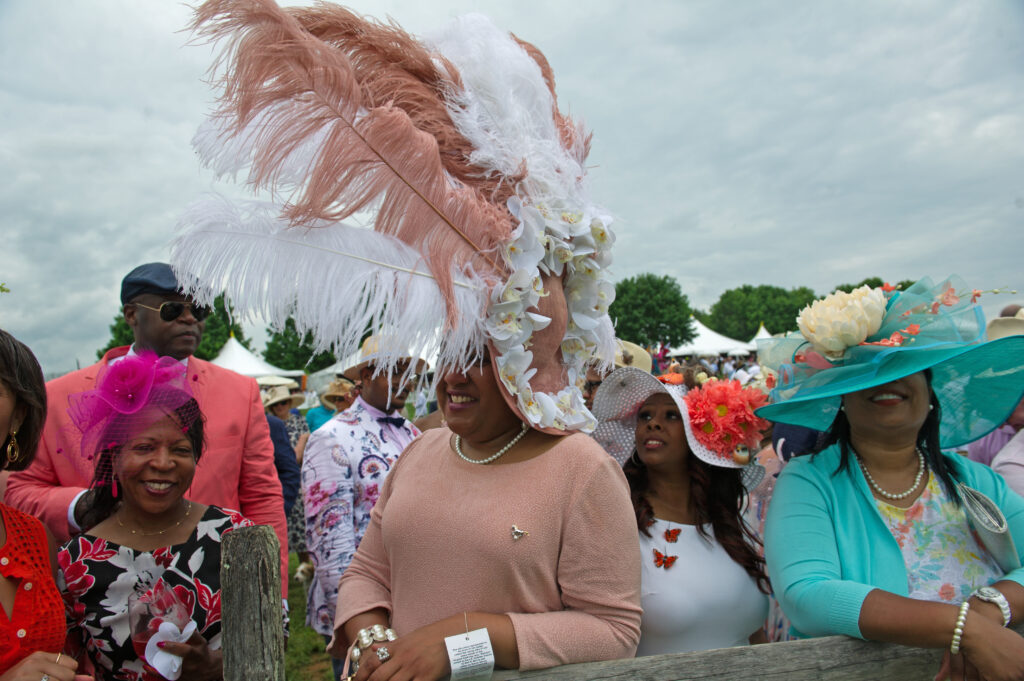 Devon Zebrovious has won the Virginia Gold Cup hat contest's "most glamorous" hat for multiple years. This year, she's helping others organize their hats. Zebrovious has been competing in hat contests at races in the mid-Atlantic region since 2004 with wins at more than five different race locations. In 2018, she started designing and making her own hats. Soon, friends were coming to her to borrow hats. Her hats have been to the Kentucky Derby, Breeders' Cup, and Saratoga races with her friends.
When asked what makes for a winning hat, Zebrovious provides the following tips:
Decide on your dress or suit first, then select your hat. Your millinery should be part of your outfit, and it's far easier to find or make a hat to go with the outfit than vice versa. Bigger brimmed hats typically work best with more fitted clothes. If you have a dress with statement sleeves, you want the hat to work with them, not battle them for supremacy, in your overall style.
Don't choose a hat you can't confidently wear, either in size or design. Bigger isn't always better! Fascinators, hatinators, and crowns are all excellent options, in addition to a wide-brimmed hat.
Choose a hat in appropriate materials for the season. Straw, sinamay, and light fabrics are for spring and summer racing. Felt, leather, and heavier fabrics are for fall and winter racing.
Don't forget to consider the weather! If it is pouring rain on race day and you will need to carry an umbrella as an essential accessory, don't wear a hat that can't fit underneath it and stay dry.
Play around with the position of the hat on your head to find the best angle, or the best side on which to place a fascinator, that will suit your facial structure. Don't hide your eyes!
Don't forget to think about your hairstyle! Unless going for a boho or casual look, an updo will usually be the best choice to finish your look, rather than having your hair down. If your hat has an elastic, having a bun around which you can wrap it will help keep it secure on your head.
If it is breezy, remember to use a hat pin, or an attached elastic, to keep your hat on your head. Chasing your loose hat around or having to have a death grip on the brim is not how one wants to spend the day!
"Many may think that the Virginia Gold Cup is all about horse racing, but there are a good number of attendees who are more focused on the social aspect of the event," explains Zebrovious. "The hat contest is one of the day's most anticipated events."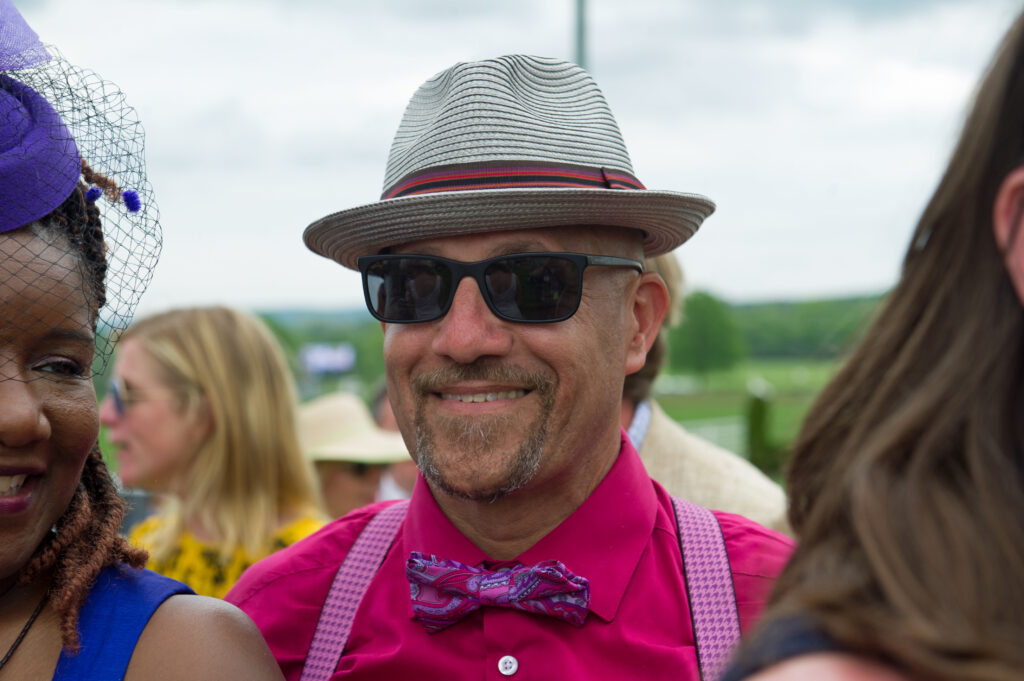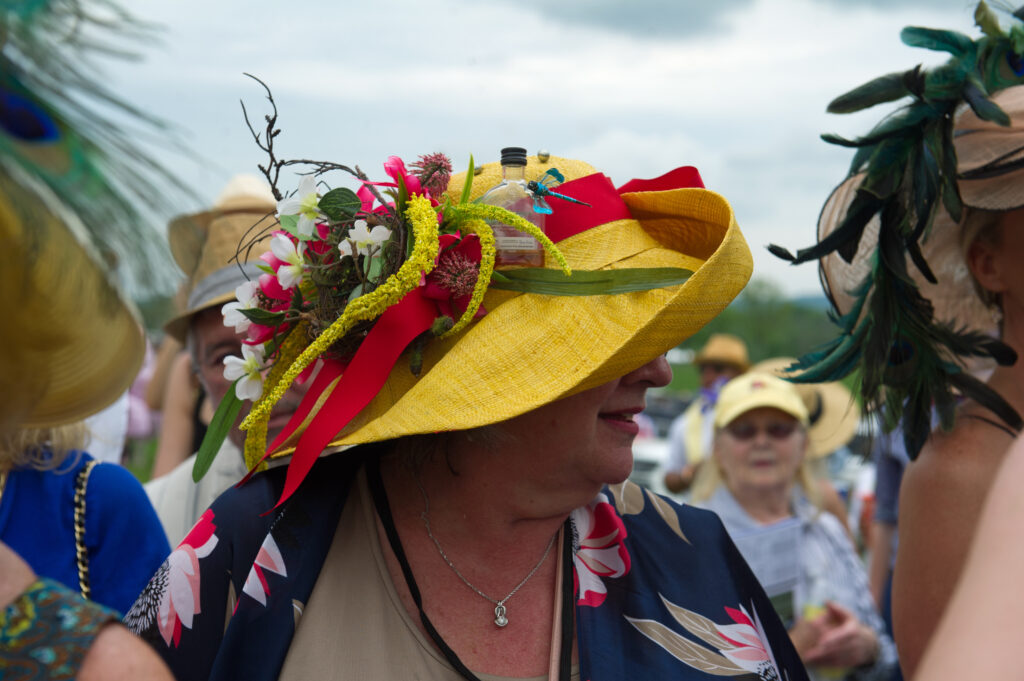 The Gold Cup's long-standing tradition beckons to national celebrities, local VIPs, D.C. politicians, as well as visitors from around the world. Characterized by fancy hats, lavish tailgate spreads, sleek thoroughbreds, and exciting hoof-pounding competition, many individuals and companies have capitalized on what the day has to offer by getting involved with sponsorships, purchasing tents to entertain, and some actually end up doing business there.
The 98th Annual Running of the Virginia Gold Cup will take place on Saturday, May 6, at Great Meadow in The Plains. Gates open at 10 a.m. with the national anthem and color guard pre-race at 12:30 p.m. The tailgate contest judging begins at 12:45 p.m. and the first of eight horse races will be underway at 1 p.m.
Tailgate packages, which now include tents in most areas, and Members Hill entertaining tents are available. Purchases can be made online at vagoldcup.com or by calling 540-347-2612. General admission ticketing has returned for 2023.
Great Meadow is located just 45 minutes west of Washington, D.C., and is in close proximity to Dulles International Airport. To get there from Washington, D.C., take I-66 west to The Plains exit. Turn left at the end of the ramp onto The Plains Road (Route 245 south), and follow signs to Great Meadow which will be on your left. Call 540-347-2612 for additional information or visit the web site at vagoldcup.com.
The 2023 Virginia Gold Cup Races are presented by Atlantic Union Bank, Brown Advisory, Virginia Equine Alliance, VHBPA, Charles Schwab, and the Virginia Thoroughbred Association.
Photos by Richard Clay.
Posted on: March 22, 2023