By Chelsea Rose Moore
Can you catch the wind? Imagine teaching your child about the wind. It isn't visible, but its traces are all around us. It engages our senses; we hear it rustling through leaves, we see it moving branches, we feel it on our faces. But what is it? What if we made a flag to catch it?
How? Let's find an old sheet, cut it into a triangle, and paint the fabric. Once it's decorated, we'll attach the flag to a stick and then head outside.
Give your child the space to experiment with the flag. Hold it up in the wind, spin around with it, dance with it. Maybe it will become a billowing flag atop an imaginary castle. Maybe it will become a magic wand. Whatever it becomes, it will serve as an activity that engages the senses, cultivates curiosity, and acts as a simple physics lesson.
What if childhood days were filled with more hands-on activities, like sensory-filled nature walks or opportunities to build pine-cone palaces for birds? Tinkergarten is working to make this a reality for families. An organization with chapters across all fifty states, and local groups in and around Loudoun County, Tinkergarten's goal is to get more families outside together.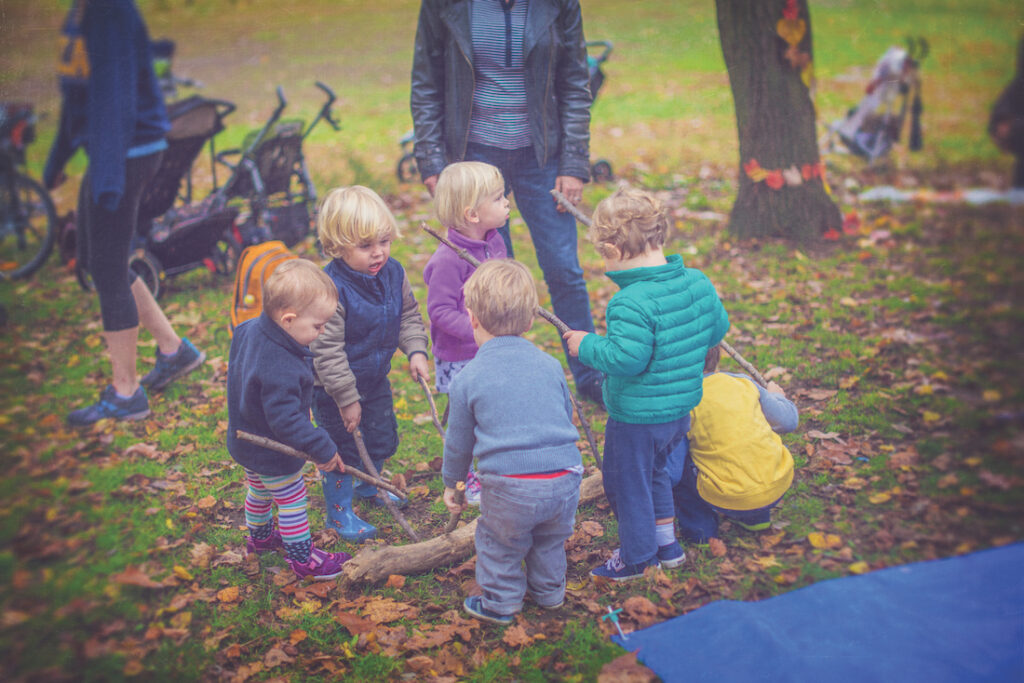 Leigh Anne Mullins, a local Tinkergarten instructor, holds classes on her five-acre Aldie farm. Before having kids, she worked in the ER as a registered nurse, and today she's a homeschooling mother of five children. Tinkergarten fits beautifully into her homeschool philosophy, one in which learning is not confined to the hours of 8 a.m. to 3 p.m., but happens all day long.
She has loved watching Tinkergarten equip parents to lead their children in play. "Kids are outside 15 minutes a day and they really should be out four hours a day," she said, "It's good for our lungs, our eyes, our imaginations. [TV] doesn't get our bodies moving or our brains working." And being outdoors is best for kids' mental health, she noted.
The Mullins family owns horses, chickens, a pot-bellied pig, and rabbits. Because Tinkergarten classes are held on their farm, the animals are incorporated into classes and kids can pet and observe the animals. The farm animals add a unique component to Mullins' classes. "You can go to my class or somebody else's class down the road and get a different experience," she said.
Sarah Sheneman is another local instructor and is something of a Tinkergarten-veteran. Currently teaching her 14th Tinkergarten season, she holds classes at the Virginia State Arboretum. She homeschools her three boys and also finds that the curriculum fits perfectly into her homeschool life.
"Tinkergarten was a perfect match for my plan of raising my kids," she said, "There's simple play, outdoor time, beautiful materials. The mission is to educate the families about free play. It's about educating the parents on the difference between free play and guided play because the kids [already] know everything. They know how to play."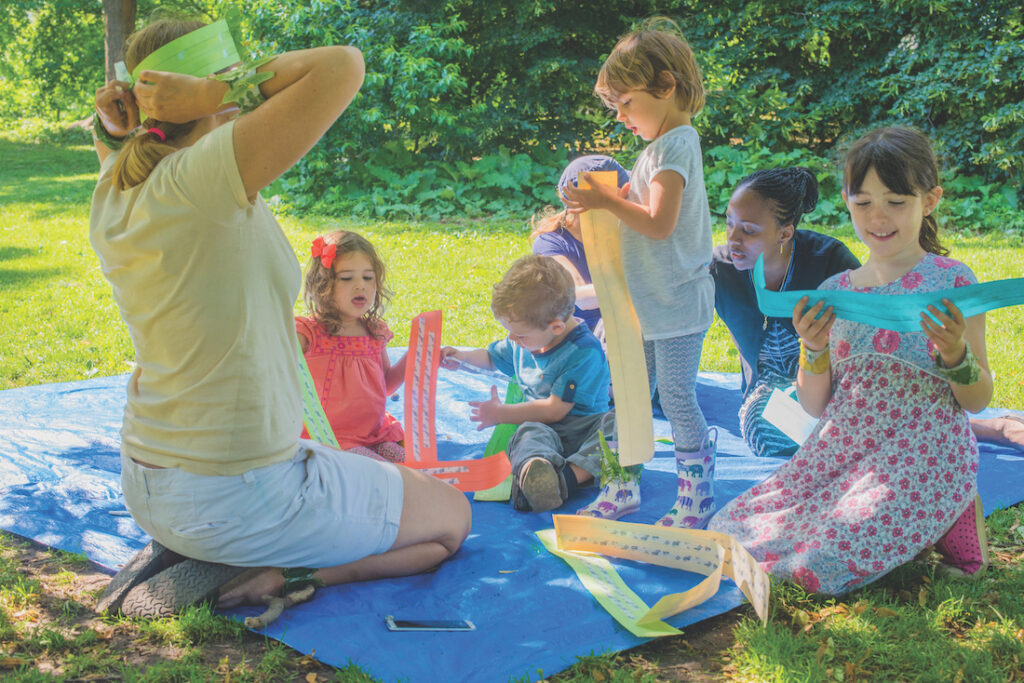 With a fine arts degree and a concentration in fibers, Sheneman weaves, spins, and crochets and makes a lot of her own materials for Tinkergarten classes. She has a background in Waldorf education and early childhood development and loves hands-on learning and artistic activities. She lives near the Paris mountain on five acres, with a duck pond in her yard.
"I think [Tinkergarten] is a great alternative to the traditional preschool classes," she said. Classes teach motor skills, "from fine motor skills to gross motor skills. Just playing with nature items, mixing mud, pouring water, all of these things are so important to these skills."
Kids bloom socially too. Sheneman noted that when kids start classes with her, they are saying one or two words at first, but by the time they've taken a few classes, they are actively communicating with her and other adults in the class.
Because classes require a parent or guardian to attend with the child, it encourages kids to pick up social cues from parents. Classes are designed for children 6 months to 8 years old, with a curriculum focused on building confidence, curiosity, and creativity in kids. Tinkergarten's classes are held outdoors and develop early STEM (Science, Technology, Engineering, and Mathematics) concepts through play-based learning.
Tinkergarten classes are based around seasonal activities, with each season focusing on a different skill set. Winter 2020 was centered around persistence and grit, whereas spring classes will be about creativity.
The Tinkergarten founders, husband-wife team Brian and Meghan Fitzgerald, noticed that today's kids are spending more time in front of a screen, rather than playing outside. The Fitzgeralds recognized that play is simply the best way for young kids to learn. And what better way to help facilitate play than to encourage families to get outside together? ML
Spring classes are enrolling now! To read more about Tinkergarten, register for local classes, or find outdoor activities to do with your child, visit tinkergarten.com.
This article first appeared in the March 2020 issue of Middleburg Life.