Three Dishes To Impress Your Guests at Your Next Summer Soirée
Calling all aspiring home chefs! We're bringing you three show-stopping dishes to make your guests feel like they are dining at a Michelin-starred restaurant.
If your idea of dinner is something quick and simple, you may be in over your head with these recipes. But don't fret if it's too much work for you — the professionals who created these masterpieces are available to offer their services locally.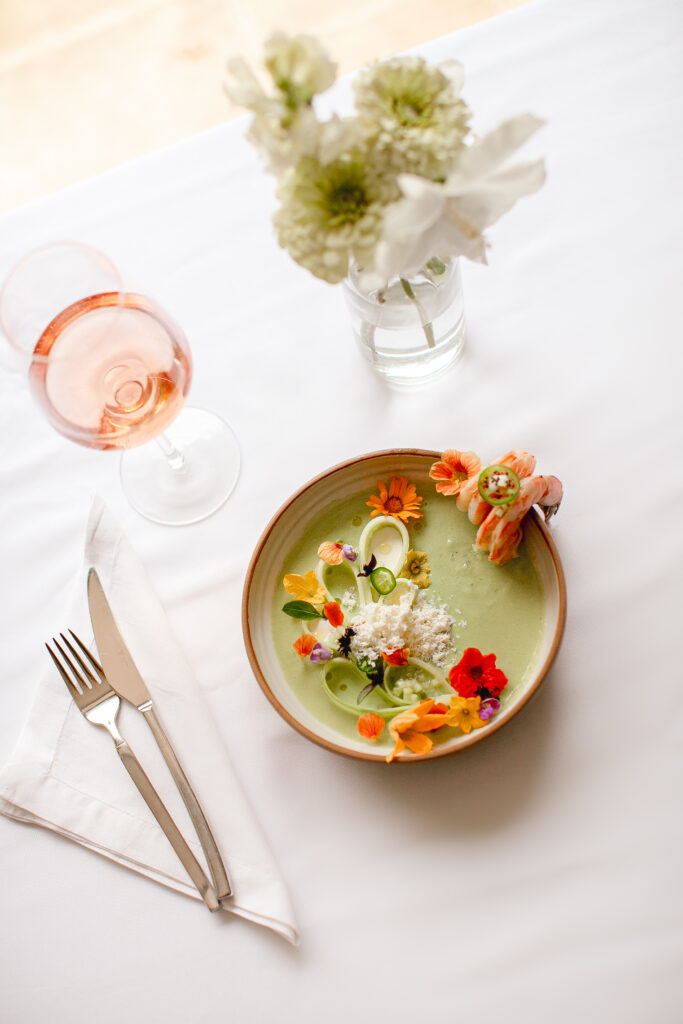 Cucumber-Tomatillo-Melon Gazpacho with Poached Prawns and Crème fraîche Snow
Recipe by Jessica Shields | Photos by Jennifer Gray
Serves 4
This zingy and refreshing soup is perfect for a hot summer day. A wonderful first-course for a garden party or a healthy midweek simple supper.
For the gazpacho:
• 4 small tomatillos, husks removed and rinsed
• 1 English cucumber, peeled and deseeded, chopped
• 1 1⁄2 cups, chopped honeydew melon
• 1⁄2 poblano pepper, deseeded
• 1⁄2 bunch of green onions, green parts only, chopped
• 1⁄4 cup mint leaves, picked
• 1 lime, juiced
• 1 tablespoon Champagne vinegar
• 1 1⁄2 tablespoons extra virgin olive oil • Salt and pepper to taste
• 1⁄4 cup crème fraîche
First, line a small bowl with wax paper or plastic wrap, add the crème fraîche and fold the wax paper or plastic wrap over the top of the crème fraîche and place in the freezer until solid.
Then, put all ingredients in a high-powered blender and blend until smooth. Taste and adjust seasoning as needed. If it is too sour from the tomatillos, add more melon. If it is too sweet, add some more cucumber and tomatillos. Once you have reached the desired taste, pour into a container and cover, storing in the fridge to chill thoroughly.
For the prawns:
8-12 large peeled and deveined shrimp
1 cup rose wine
1 cup water
1 fennel bulb chopped
1 shallot chopped
1 clove of garlic, smashed
1 tsp black peppercorns
1 lemon half
1 tablespoon olive oil
1 half of a lemon, juiced
Salt and pepper to taste
Put all ingredients except the shrimp in a small or medium-sized pot and put on high heat to bring to a boil. Once boiling, add shrimp and reduce heat to a simmer. Cook until just cooked through —the shrimp will be bright pink, about 5 mins. While the shrimp are cooking, make an ice water bath and set it aside. Once shrimp are cooked, add them to the ice water bath to rapidly stop the cooking process. Remove from the ice bath to a small bowl and add the olive oil, lemon juice, and salt, and pepper. Toss to coat and set aside.
When ready to serve, pour or ladle some of the gazpacho into a cup or bowl. Garnish with additional diced cucumber or melon if desired, and any edible flowers or herbs such as mint or cilantro. Place two to three prawns either on the edge of the bowl to dip in the soup or place in the center of each bowl, whichever works best for your cups or bowls. Then remove the crème fraîche from the freezer and with a microplane or fine grater, grate the frozen crème fraîche over the chilled soup for a wonderful creamy cold garnish that is perfect with the acidic and slightly sweet soup. Enjoy immediately!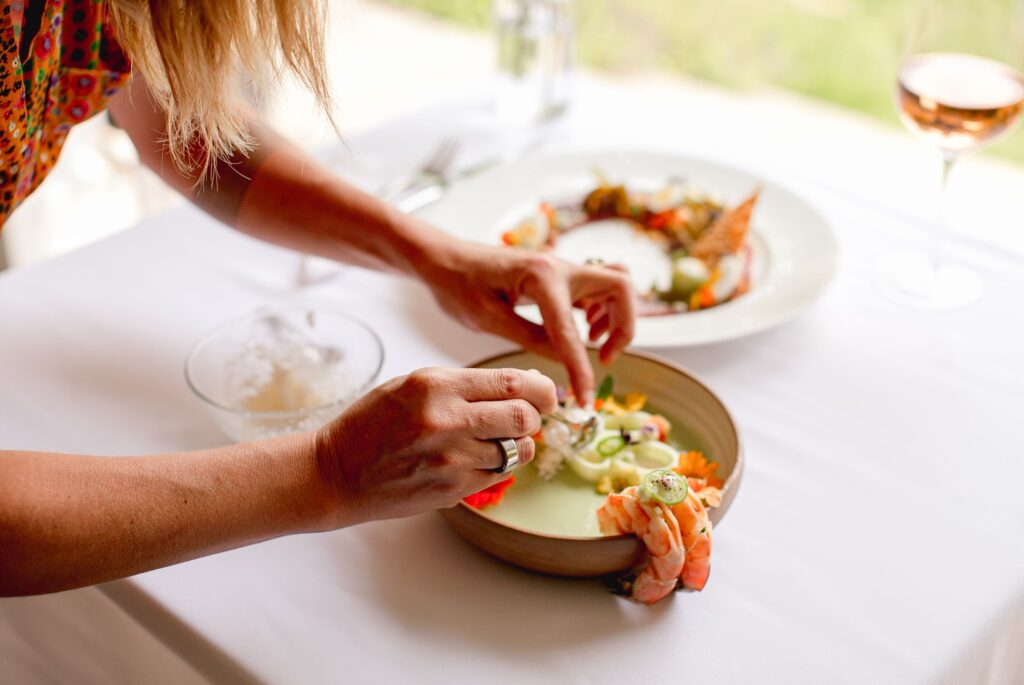 Beef Carpaccio With Grilled Romaine Hearts Anchovy-Horseradish Remoulade Sauce, Parmesan Crisps, Quail Eggs, and Tomato Confit
Recipe by Jessica Shields
Photos by Jennifer Gray
Serves 4
This dish is a beautiful play on a grilled caesar salad which pairs perfectly with very thin beef carpaccio, creating a memorable dish for any special gathering.
• 1 sirloin steak, about 10 oz., preferably local and organic
• 2 baby heads of romaine, outer leaves removed
• 8 quail eggs, hard-boiled
• 2 tablespoons sourdough crumble
• 6-8 girkins, sliced lengthwise
• 12-16 cherry tomatoes, confit, recipe follows
• 2 tablespoons remoulade sauce, recipe follows
• 1 parmesan crisp
• Edible flowers and herbs to garnish
• Flaky sea salt, such as Maldon, to finish
• Extra virgin olive oil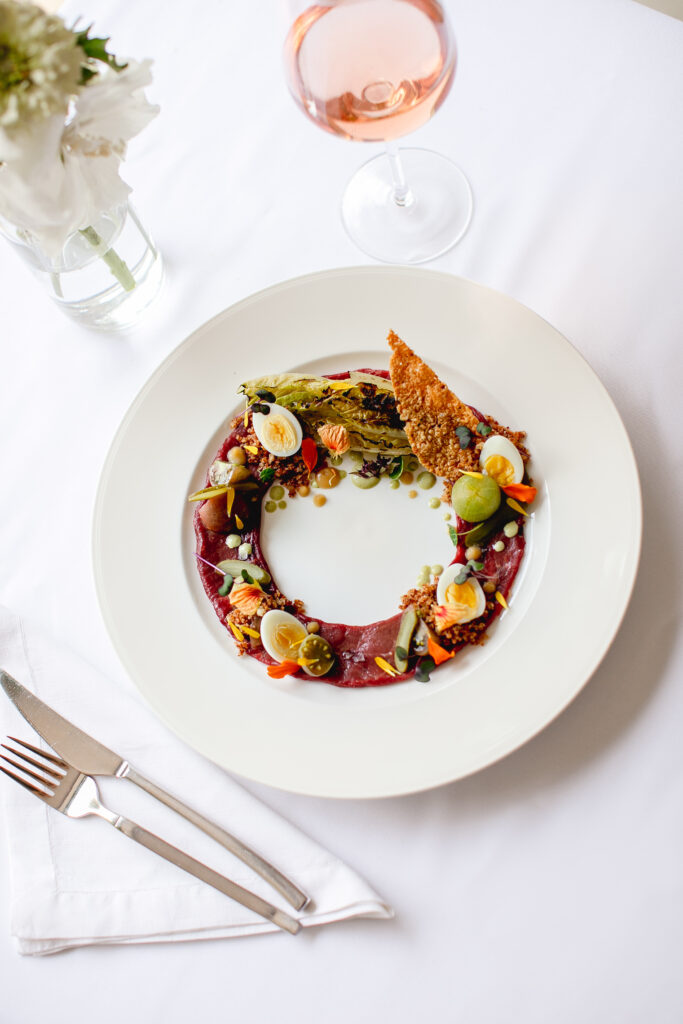 For the carpaccio:
Slice the steak horizontally in thirds, creating three thin steaks. Place a layer of plastic wrap over a large cutting board and place the three steaks on top of the plastic. Place an additional layer of plastic over the steaks to cover and tuck the plastic under the cutting board to secure. With a meat tenderizer/mallet, pound the steaks until evenly thin, about 1⁄8 inch. Do not worry too much about the shape of the steak as you can trip and shape it later.
Once the steak is evenly pounded and very thin, decide what plate you will be serving on. The easiest way to plate it is to do a thin layer, fitting pieces of steak together, over the entire center of the plate, and then place all garnish-es on top of the steak. We chose to do a ring of carpaccio for this recipe, which is beautiful but labor-intensive. Use a sharp ring mold or hand cut the center circle of the carpaccio and use those pieces to continue to make the ring on the next plate. Once all the plates have the desired carpaccio shape, brush the beef with some olive oil and cover it with plastic wrap and refrigerate it while preparing the other ingredients.
Hard-Boiled Quail Eggs:
Place a small pot of water on high heat and bring to a boil. Place the quail eggs in the boiling water carefully with a slotted spoon and cook for 4 mins. While the eggs are cooking, prepare an ice-water bath and set it aside. When 4 mins are up, using the slotted spoon, place the cooked eggs in the ice-water bath to stop the cooking process. Peel and slice in half lengthwise and set aside.
Parmesan Crisps:
Using a micro plane or fine grater, grate 1 cup of parmesan cheese. Using a Silpat pad on a sheet tray, sprinkle a thin layer of parmesan in any desired shape (disc, rectangle, etc) and bake at 350 degrees until light and golden, about 5-8 mins. Allow to cool and set aside until ready to use.
Remoulade Sauce:
3/4 cup good mayonnaise
1 1/2 tablespoons finely chopped cornichon
1 teaspoon capers, finely chopped
1 tablespoon freshly squeezed lemon juice
1 tablespoon dijon mustard
2 teaspoons finely chopped parsley
1/4 teaspoon fresh or dried tarragon
2 tablespoons fresh horseradish, grated on a microplane
1-2 anchovy fillets, minced
1 dash hot sauce, or to taste
Kosher salt, to taste
Mix all ingredients together and season to taste.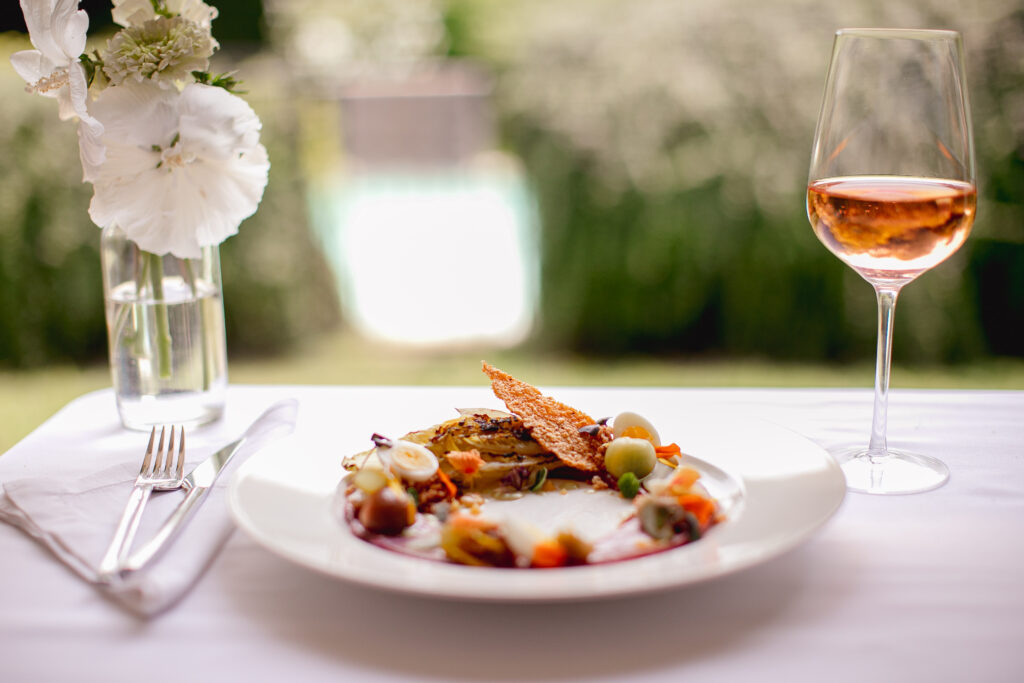 Sourdough Crumble:
Cut the crust off of some nice sourdough bread. Tear into small pieces, and toss with a good amount of olive oil. Season with salt and pepper. Bake on a sheet tray at 350 degrees until beautifully golden brown and crunchy. Allow to cool. In a food processor, pulse the croutons until a nice golden, crunchy crumble forms. Put in a small bowl and hold until needed.
Tomato Confit:
Put a small pot of salted water on high heat. Slice a tiny "X" on the bottom of the cherry tomatoes. Once water is boiling, Place the tomatoes in the water for about 1 minute until the skin begins to peel off. Make an ice water bath, and shock the tomatoes in the ice water. Then one by one, peel the skin off of the tomatoes. In the same small pot that the water was in, clean it and add about an inch of good olive oil to it. Add a couple of cloves of crushed garlic, a sprig of rosemary, and thyme, and place the tomatoes into the oil. Place on very low heat and simmer for about 30 minutes. Allow to cool. At this point, the tomatoes can be used or stored in a jar with the oil for up to a month.
Grilled Romaine Hearts:
Slice the romaine hearts in half lengthwise, peel off outer leaves until you have a small, tight romaine heart. Brush these with olive oil and season with salt and pepper. Heat a grill on high heat, and grill the romaine on the sliced side until charred. Remove from the grill and set aside until needed.
Plating:
Remove the plates with the steak carpaccio from the refrigerator. Season the beef liberally with finishing salt and fresh cracked pepper. Arrange 1 half romaine heart on the plate, followed by a few quail eggs, a few cherry tomatoes, some sourdough crumbles, and some remoulade sauce. Garnish with a parmesan crisp, some edible flowers and herbs, and sliced gherkins. Serve immediately and Enjoy!
Contact local private chef and event planner Jessica Shields at [email protected]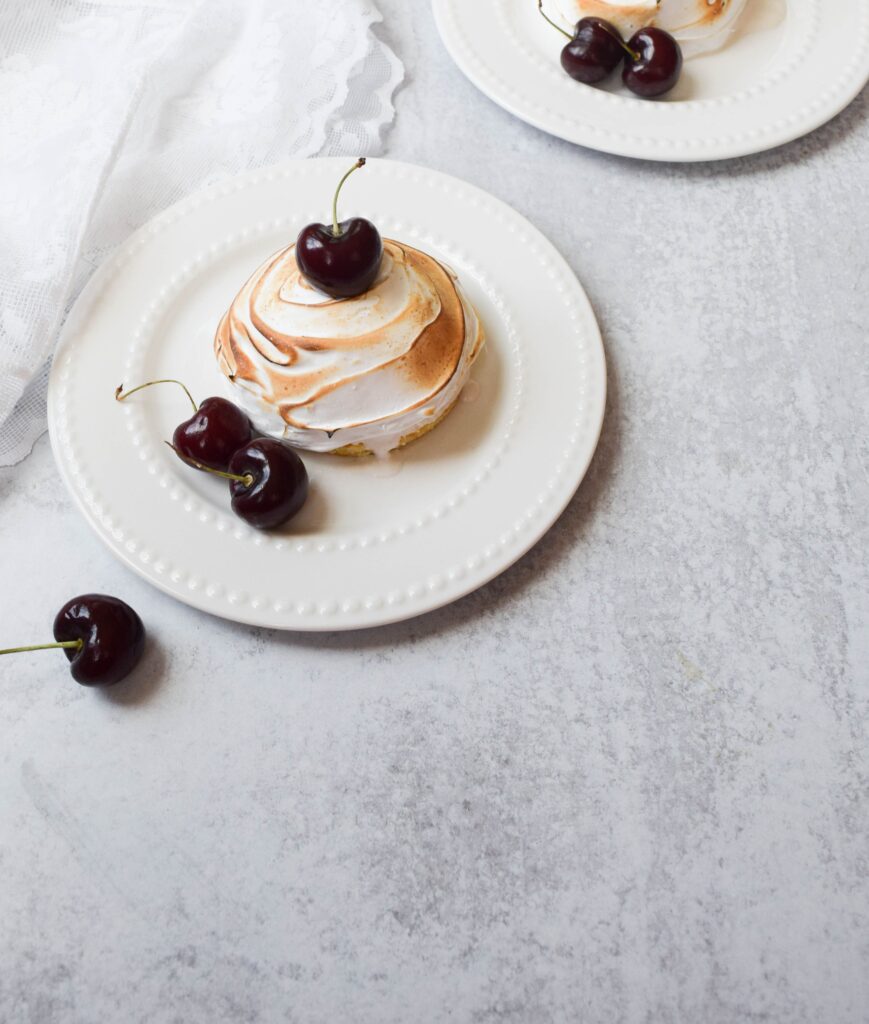 Individual Cherry Almond Baked Alaska
Recipe and photos by Kaitlin Hill
Velvety ice cream, delicate sponge cake, and toasty meringue are all the makers of a memorable dessert. My version of Baked Alaska starts with a no-churn, homemade, cherry ripple ice cream that sits on a delicate almond cake and is topped with a generous slathering of marshmallow meringue. You can make this into one large cake, but minis are much more manageable to assemble and add an element of elegance when serving at a dinner party. Make and toast the meringue just before serving to ensure an extra-crisp exterior and cloud-like interior. Top the Baked Alaskas with edible flowers or fresh cherries for a celebration of summer on a plate.

Serves: 10
Time: 1 hour, plus freezing overnight
Ingredients:
Cherry Ripple Ice Cream:
• 1 1/3 cups of frozen, pitted cherries
• 3 tablespoons of granulated sugar
• 2 cups of heavy whipping cream
• 1 (14 ounce) can of sweetened condensed milk
• 1 cup of whole milk
• 2 teaspoons of vanilla extract
• 1⁄4 teaspoon of salt
Almond Cake:
300 grams of almond paste
2/3 cup of sugar
11 tablespoons of butter, at room temperature
4 eggs, at room temperature
2/3 cup of all-purpose flour
¼ teaspoon of salt
Meringue:
3 eggs white
¾ cup of granulated sugar
½ teaspoon of vanilla
¼ teaspoon of cream of tartar
Special Equipment: 1.5 inches deep by 3 inches in diameter dome silicone molds
Directions:
First, make the ice cream. In a small saucepan, combine the frozen cherries and sugar. Cook for 8–10 minutes over medium-low heat, stirring occasionally. When the cherries are thick and jam-like, set aside to cool completely.
To make the ice cream base, beat the
heavy whipping cream in a large bowl until stiff peaks form. In a separate bowl, whisk the whole milk, sweetened condensed milk, and vanilla together until combined. Gently fold the milk mixture into the whipped cream, being careful not to deflate the whipped cream. Next fold in the cooled cherry jam.
Scoop the cherry ice cream into the round silicone molds (mine were 2-inch rounds), leaving a quarter-inch of space at the top. Transfer the silicon molds to the freezer and freeze overnight.
The next day, spray a rimmed half sheet pan or 14×9 inch jelly roll pan with nonstick spray and line it with parchment. Preheat your oven to
375°F.
Using a hand or stand mixer, cream together the almond paste, sugar, and butter until light and fluffy, about 3 – 4 minutes. With the mixer speed on low, add in the eggs one at a time scraping down the sides of the bowl with a spatula after each addition. Add in the vanilla. Mix in the flour and salt until just combined. Pour the batter into the prepared pan and spread it out evenly to the edges.
Place the pan in the preheated oven and bake for 15 – 18 minutes until it springs back to the touch and is lightly golden. Set aside to cool. When the cake has cooled, take a round cookie cutter that matches the diameter of the molds and cut circles of cake to place on top of the ice cream in the silicone molds. Press down gently.
Return the ice cream to the freezer while you make the meringue. Place a few inches of water into a medium-sized saucepan and bring to a boil. Set a heatproof bowl over the pot with water and add the egg whites and sugar to the bowl. Whisk vigorously until the egg whites are fluffy and warm to the touch. Now, using a hand or stand mixer with a whisk attachment, begin to whip the egg whites on medium speed. Add the vanilla and cream of tartar, and turn the speed to high. Beat the egg whites for 6 – 8 minutes until soft peaks form.
Preheat the broiler.
Remove the ice cream from the freezer, and pop each baked Alaska out of its mold. Arrange them on a cookie tray and cover each with a scoop of meringue. Using an offset spatula spread the meringue around the ice cream covering it entirely. Transfer the individual baked Alaskas to the oven and broil for 2 – 3 minutes until the meringue is toasted. Don't walk away during this step or they might burn.
Once toasted, serve immediately!
Cook's notes:
If you don't have domed silicone molds, you can freeze the ice cream in muffin trays lined with muffin liners. Once frozen, just peel the liners off and proceed with adding the almond cake bottoms. Alternatively, you can freeze the ice cream in a bread pan and use a two-inch ice cream scoop to top the almond cakes with a mound of ice cream before covering with meringue. ML
This article first appeared in the August 2021 Issue.