Written by Diane Helentjaris
"I'm not much for ceremony… We'll probably have cupcakes," shares Berk Lee, owner of The Tack Box, Inc. This July marks a major milestone for the equine supply store — the 75th anniversary of its founding by Lee's father, John B. "Chub" Lee.
Back in 1947, Chub Lee began selling tack out of the back of his Chevy panel truck. He grew up around horses, rode his pony to school, and ran a horse transport service. His mother, Dorothy Lee, was the catalyst to start the shop. "She showed horses, foxhunted, rode sidesaddle, and kept other people's horses." Dorothy also trained racehorses. Her stable was located where the Middleburg Community Center now stands.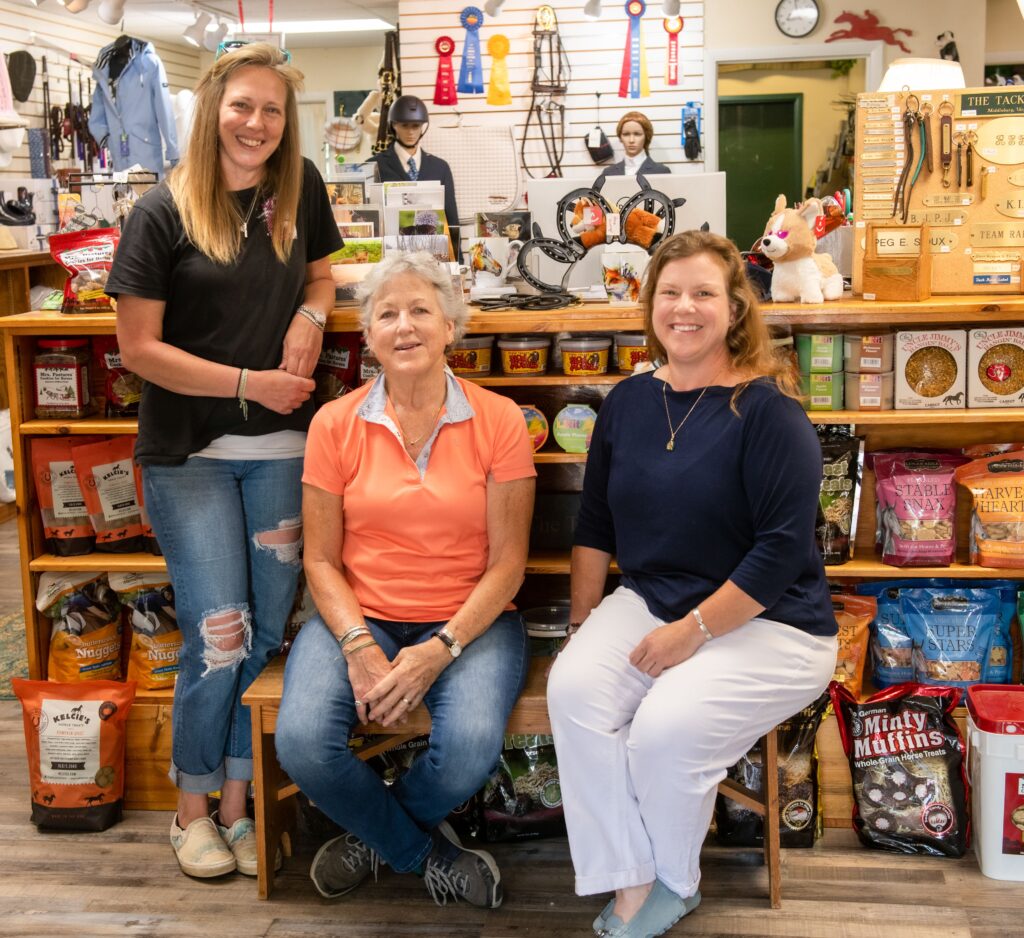 Laura Furr, Berk Lee, and Rachel Efird. Photo by Joanne Maisano.
Within three years, The Tack Box's business outgrew Chub Lee's Chevy truck. He hired a saddler and opened a shop in an old carriage garage on Liberty Street in Middleburg which he shared with Wilson Horse Transportation.
In 1978, Lee began working at her father's shop. In 1985, The Tack Box moved to its current location at 7 West Federal Street, Chub retired, and Lee assumed leadership. Today, she oversees five employees carrying on her father's legacy.
"It's kind of cool because it's all I know. Horses are all I know. I grew up in it [and have] been deeply immersed all my life…Glad to carry it on because it's what I know," Lee shares.
She takes pride in offering the goods and a multitude of services needed for horse care. Horse people can outfit their barn, pick up leather soap, purchase half-inch elastic bands for braiding their horse's manes, get fitted for custom riding boots, and browse leashes for their dog at The Tack Box. "Horses and dogs go together, they just do. Anyone who has a horse usually has a dog," Lee explains. She herself has two Corgi rescues to go along with the nine horses she boards.
Lee takes a common sense approach. She would like customers to know that "we are a practical horse store with good, usable stuff. I'm kind of a quality snob…[who would] rather spend $200 on something that lasts 20 years than $100 for something that lasts 10 years." She also emphasizes that the best piece of equipment is not necessarily the most expensive. "I really believe what is tried and true is more simple. Don't think you can beat it." She notes some modern tack might appear more fashionable but that is not a guarantee it is more functional.
If The Tack Box doesn't have what you are looking for, staff will find it for you. After 75 years of customer service, they know the suppliers. Lee's stepdaughter Laura Furr has worked at The Tack Box for 19 years. She is the "head honcho [who] does all the ordering for the store. She's the ordering sleuth. If we need it, she finds it," Lee says.
Lee emphasizes the ability to accommodate customizations in their services — whether fitting boots on a rider or personalizing a fancy sheet for a horse. Lee can often be found attaching personalized metal name plates to leatherwork. The store offers such niche services as vacuum repair and the cleaning and repair of horse blankets. And, The Tack Box's staff can make recommendations uniquely suited to the needs of horses and riders in the Virginia Piedmont based on the region's environment and climate.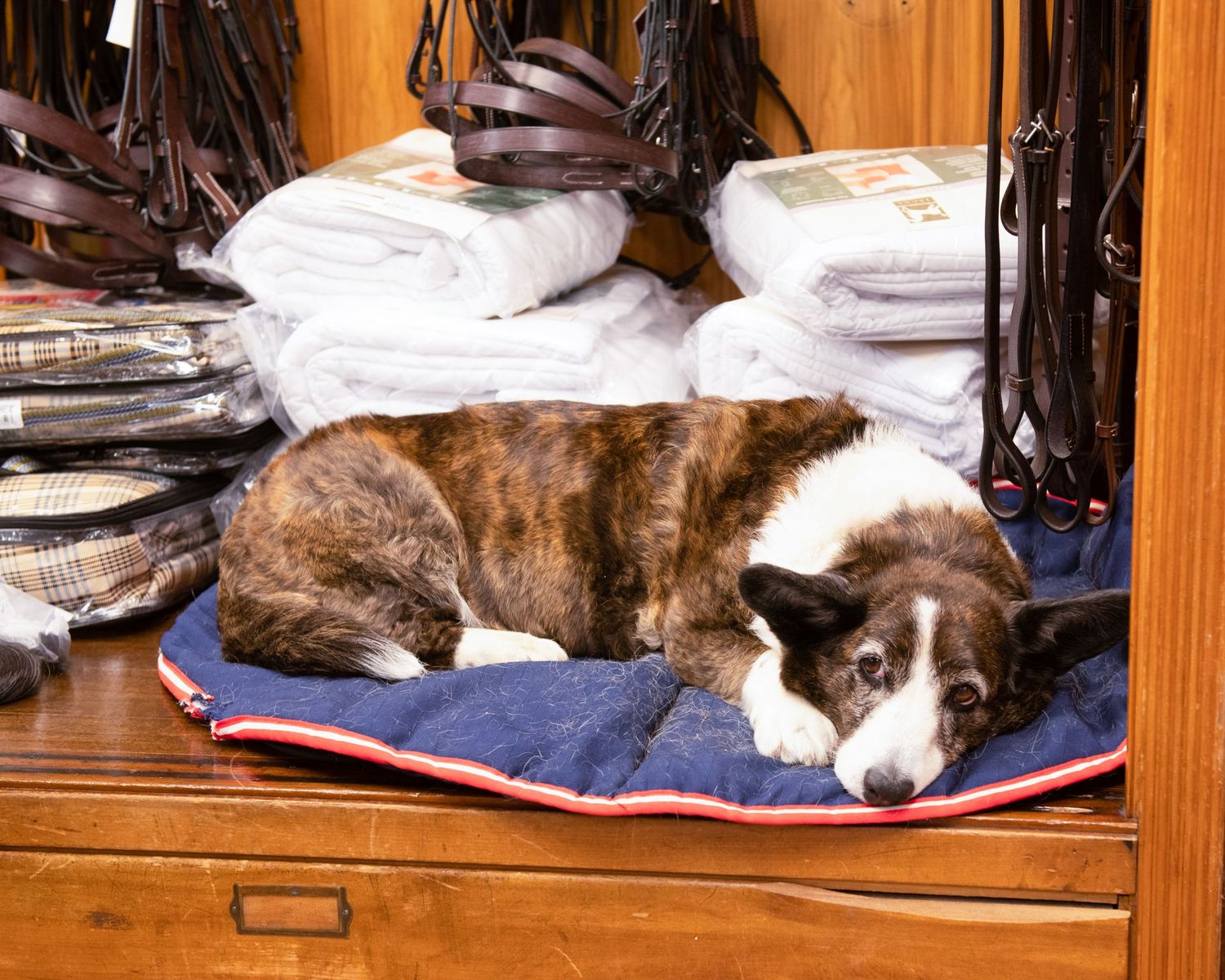 Left: Ruby, a fixture at the store. Photo by Joanne Maisano. Right: The Tack Box, Inc. interior. Photo by Callie Broaddus.
Many academics theorize about why some businesses survive and others fail. A recent Harvard Business Review article may explain The Tack Box's success. In a study of companies which have survived a century, researchers observed that these companies were all "radically traditional — with a stable core, but a disruptive edge."
Few things could be more traditional than selling English leather bridles to foxhunters. Yet, The Tack Box also participates in "disruptive edge" activities. Lee notes the constant quest for new ideas, new supplies, and new ways to do things. Her staff listens carefully to customer requests. Lee believes if one person wants something, someone else might want it too.
The Tack Box is about more than horse care. It's about traditional services, quality products, and consideration of customers. For 75 years, thousands of horses and riders have experienced the excellence that is synonymous with The Tack Box. As Lee puts it, "I just try to provide a good service and leave it at that." ML
The Tack Box, 7 West Federal Street, Middleburg, Virginia 20117. Telephone: (540) 687-3231. Website: thetackboxinc.com.
This article first appeared in the July 2022 Issue.