Written by Richard Hooper
Among the paintings on display at the National Sporting Library & Museum in the exhibition Identity & Restraint: Art of the Dog Collar is one titled "Alexander and Diogenes." The original was by Sir Edwin Landseer; first shown at the Royal Academy in London in 1848, it now hangs in the Tate Gallery. The one in the exhibition at the NSLM originated from Landseer's studio.
At first glance, the painting is a gathering of dogs posed around a wooden barrel. The snarling dog inside the barrel represents Diogenes, the Greek philosopher. In reality, at one period during his life Diogenes did reside in a large clay vessel. He embraced poverty and was highly critical of Greek society and human foibles and folly in general. In the painting, the lantern in the lower left depicts the one he would carry in daylight in search of an honest man. Beside it are a few simple tools representing self-reliance, and potatoes representing his sparse diet. He was included in a group of philosophers known as Cynics. The word cynic comes from the Greek kynikos, meaning "dog-like," and it was applied to them due in large part to their behavior. Diogenes, reaching the pinnacle of such display, was singularly referred to as a dog, kynos. Quarrelsome and annoying, yet extremely clever and imaginative at times, he was known to publicly behave in disgusting ways, unashamedly, as could a dog.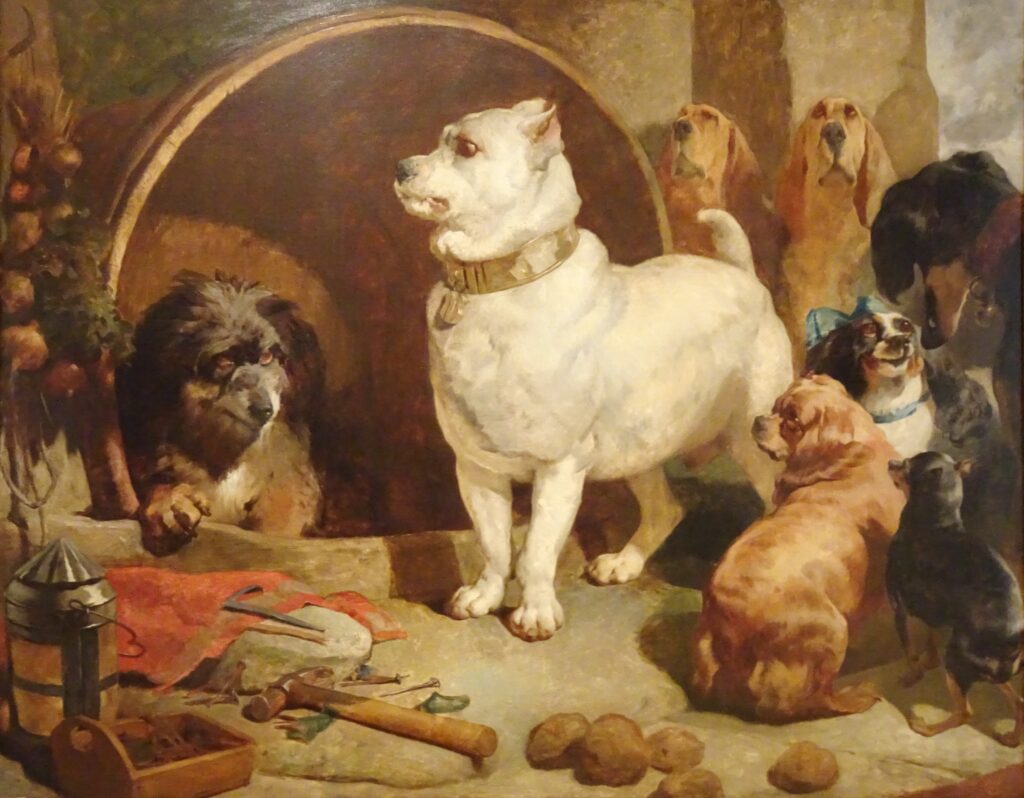 The story goes that one day Alexander the Great came across Diogenes. Actually pleased to meet the philosopher, Alexander asked if there was anything he could do for him. Impertinently, Diogenes responded along the lines of, "Yes, stand to the side; you are blocking the warmth of the sun." This is the moment the painting captures. Alexander, the imposing white bulldog or bull terrier type of dog at the center of the painting, has his head pulled back in surprise, and the sycophantic entourage of other breeds are all looking askance with shock and indignation. Attempting to soothe the situation with magnanimity, Alexander stated that, "If I were not Alexander, I would wish to be Diogenes." Unimpressed and beyond the lure of flattery, Diogenes responded, "If I were not Diogenes, I would still wish to be Diogenes."
The exhibit will be open at the NSLM until March 26. It then will travel to New York to the AKC Museum of the Dog (the home of the painting) where it will be on display from April 5 through September 4, and then to Pebble Hill Plantation in Thomasville, Georgia, where it will be on display from November 3 until May 3, 2024.
Posted on: March 10, 2023