Written by Shayda Windle
Shopping in Hunt Country is a bit different than elsewhere. When people visit, they are looking for something unique and one-of-a-kind; something that speaks to the history of the area. One could argue that the retail options that best showcase this heritage are the many and much-loved antique shops in Hunt Country. In that spirit, here are some local favorites offering their take on heirloom treasures. As you navigate the antique scene, be sure to take the time to look around — you never know what hidden gems you might find.
Middleburg Antique Gallery & Antiques on Washington St.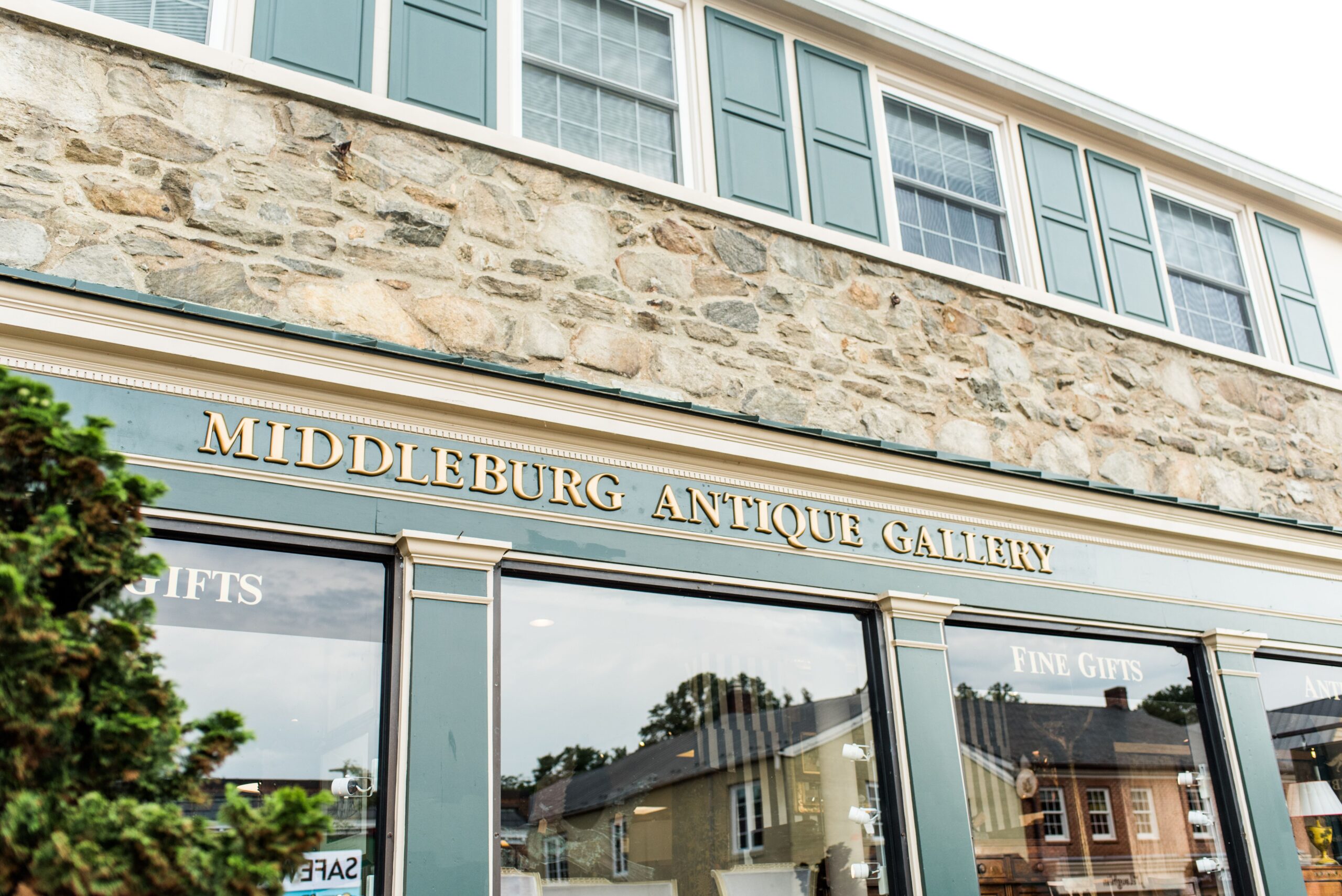 With its treasure trove of fox hunting and horse racing-themed antiques, Middleburg Antique Gallery has been a staple of the Hunt Country antique scene for the past three decades. As owner Linda Mason says, there's "something for everyone here." Last year, Mason and Lisa Vella, co-owners of Baileywyck in The Plains, joined forces to open Antiques on Washington, an extension of the two shops. Mason and Vella each have distinct tastes when it comes to antiques which allows patrons to find a little bit of everything at Antiques on Washington including French provincial, Swedish furnishings, American antiques, home goods, and fine art. Mason says, "It's a little bit old and new here. I like the fun stuff, the things that are a little bit different. We work with local artists and go to auctions. Lisa gets things from all over the world." Fresh inventory is arriving all the time, so be sure and stop by — both stores are located right on Washington Street in Middleburg.

Middleburg Antique Gallery: 107 W. Washington St, Middleburg, Virginia 20117, 540-687-8680
Antiques on Washington: 3 W. Washington St, Middleburg, Virginia 20117, 540-687-8680
Marshall Curated
The small town of Marshall has a number of antique and consignment shops to visit, and Marshall Curated is a local favorite. With 14 permanent vendors and over 100 consignors, the shop is more of a "museum" than anything else according to owner Rosanna Funiciello. Though she constantly moves merchandise in and out of the shop, her vendors are a carefully selected group of antiques dealers, decorators, and creatives that offer a variety of vintage and new home furnishings and gifts. She adds, "I feel like an ambassador for these vintage pieces. I help to convey their story and give them renewed purpose. At the heart of it, we are recyclers of beautiful and useful things." Marshall Curated is open Thursday through Monday, 10:30 a.m. to 5 p.m. You can also check them out on Instagram at @MarshallCurated.
8371 W Main St, Marshall, Virginia 20115, 571-921-0356

Mercer Tavern Antiques
This popular antique shop in the village of Aldie is filled with 19th and 20th-century furniture, paintings, baskets, china, and much more. Originally built in 1939, the little white house has had its share of facelifts over the years. Roughly 30 years ago, owner Mary Ann Withers decided to transform the tavern into an antique shop. And in 2020, she renovated the store inside and out. Each week, she brings in new items and posts them on Instagram and Facebook. Withers shares, "Everything I source is within an hour radius of Aldie so what you see here are local products [from] online auctions, live auctions, and getting called to go into people's houses locally." Withers and her husband Tucker also own nearby Little River Inn which is celebrating its 40th anniversary this month. Mercer Tavern Antiques is open 11 a.m. to 5 p.m. Monday through Friday. For more information, follow the shop's Instagram at @mercertavernantiques.

39359 John Mosby Hwy, Aldie, Virginia 20105, 703-618-3169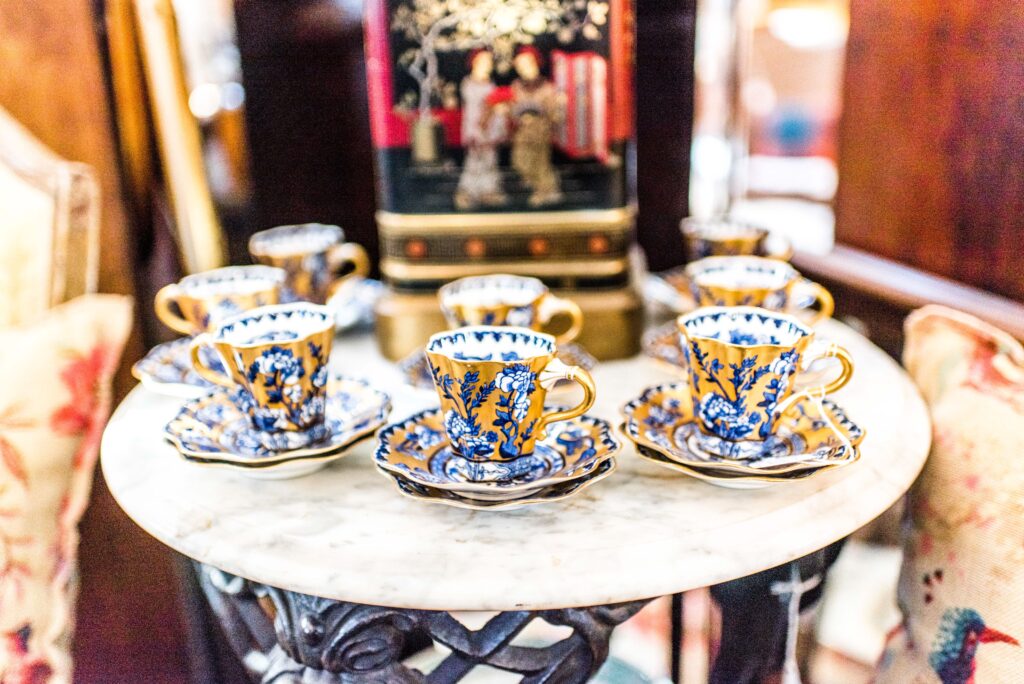 Vintage Marshall
Vintage Marshall is the latest antique store to hit Hunt Country territory. The shop, which opened in February, is the brainchild of husband-and-wife team Julien and Cassandra Lacaze who were previously vendors at Marshall Curated. "We both love wine, travel, and all things vintage and wanted to bring that concept to Marshall," Julien Lacaze shares. He frequently travels to France to source vintage and antique furniture and home decor items directly, which are then shipped to the store in Marshall. They also offer wine for a unique twist. Lacaze says, "We recently picked a wine from Buzet, which many people are not familiar with, but this is the same region where we are picking most of the French [antique] finds. We wanted to incorporate wine with the furniture, and that's why we chose the name Vintage. It can refer to items that are older or it can refer to the year in which a wine was made." Stop in to see them in person for a fabulous French furnishing or glass of wine and be sure to check their Instagram at @Vintagemarshallva.

4238 Frost St, Marshall, Virginia 20115, 540 454-2000
Red Schoolhouse Antiques
Red Schoolhouse Antiques in Millwood, Virginia, has been in business for 32 years. Owners Lorraine and Robin Murray live on their farm in Scotland and stock the store with their unique finds sourced from all over Europe. Manager Mary Kinnie and Associate Dealer Troy Pittenger work on-site warmly welcoming antique seekers. The shop is known for its traditional and contemporary furniture and accessories. Lorraine, who grew up in Clarke County, comments, "I love coming back to Virginia. It's the best of both worlds — bonnie Galloway in Scotland and gorgeous Hunt Country, Virginia. Seeing friends old and new adds to the enjoyment of every visit." Find them on Instagram at @redschoolhouseantique.
1014 Bishop Meade Rd, Millwood, Virginia 22646, 540-837-3033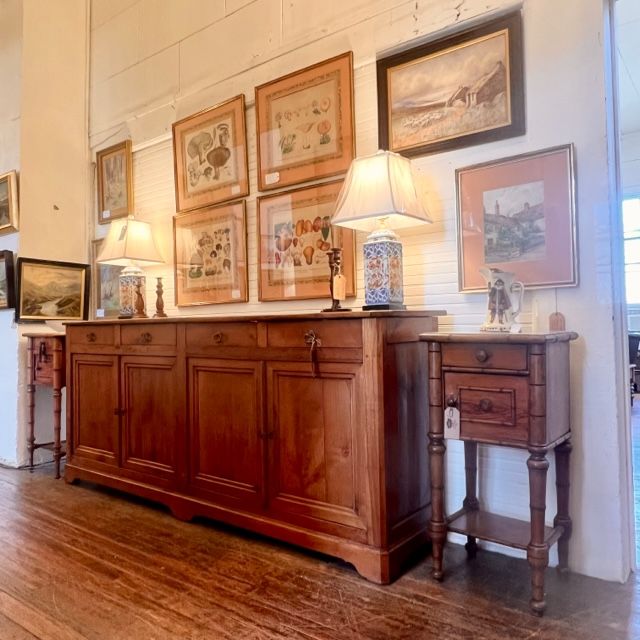 JPN Antiquities
Patrick Newell, owner of JPN Antiquities in Warrenton, began buying and selling antiques in college while pursuing his business degree. He recalls, "I realized I could do something [relating to antiques] with my degree so I opened up a store in Old Town, Alexandria." Since its early days in Old Town, JPN Antiquities has held several locations throughout Northern Virginia and now calls Warrenton home. Right across the street from Horse Country in Warrenton, the tiny shop boasts "offbeat and funky" pieces devoted to horses, foxes, cows, and chickens. Newell also sells his antiques online through Facebook and Instagram and updates his shop daily with new items. You can find his store on Instagram at @jpn_antiquities, on Facebook at @thepaupergentleman, and on Etsy using this link: etsy.com/shop/thepaupergentleman. ML

17 Horner St, Warrenton, Virginia 20186, 540-219-1952
This article first appeared in the June 2022 Issue.