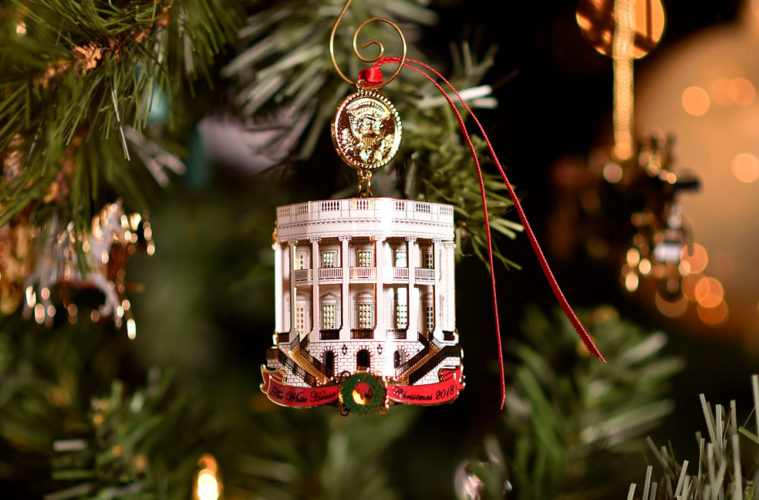 Story by Kaitlin Hill | Photos by Randy Litzinger
The tradition of decorating Christmas trees can often turn into a walk down memory lane, with each ornament acting as a ghost of Christmases past. Since ornaments are often given as gifts, the markers of special occasions or, sometimes embarrassing, reminders of now-grown children's elementary artistic pursuits, they hold their own unique histories and serve as jolly juggernauts of nostalgia. Add string lights, weaving ribbon or twinkling tinsel, and the finished fir can tell the intimate story of a family, a new couple or a set of lifelong friends.
As Americans, our shared history is boldly and beautifully told across the country, and right here in Middleburg, on towering trees and magnificent mantels that are bedecked in Official White House Christmas Ornaments. For local Nancy Novak McMahon, the ornaments are both patriotic and personal. She orders multiples each year and has the entire collection—all 37—which she displays every Christmas. She received her first as a gift from a co-worker after moving to Virginia from Chicago.
"I had a new co-worker who, the first Christmas that we worked together, as a kind of welcome to the Northern Virginia, Washington, D.C. area, gave me the White House Christmas Ornament, which I had never even known existed." She continues, "I just thought it was the neatest thing and every year for eight or ten years, she always gave me an ornament as my Christmas present." To Nancy, the ornament is special because of its ties to the Washington region and friends she made while living here.
Even since moving to Middleburg, McMahon carries on ritual by buying one for herself, and giving them as gifts, too. She even sends two as far as Holland, one to a close friend and the other to her friend's in-laws, who recently downsized.
"They let me know, the ornaments made the cut…the [current] ornament is still up every year and has a place of honor in their new apartment." They watch for McMahon's package with the newly released ornament each year. She laughs, "It's quite the tradition."The ornaments started as part of an outreach initiative by the White House Historical Association (WHHA). Founded by Jacqueline Kennedy in 1961, the non-profit and purposefully non-partisan association was created as a means to educate Americans about the rich history of the White House. Twenty years and six presidents later, including her husband Ronald, former first lady Nancy Reagan launched the White House Ornaments as a continuation of Kennedy's focus on historical preservation and education.
The first ornament was released in 1981, a two-dimensional golden angel with outstretched wings and a festive horn. It bears a simple inscription, "Christmas 1981. The White House." Over the years, the ornaments became more elaborate, including colors, three-dimensional designs and even moving pieces.
In 1984, the fourth ornament is the first to depict a president's face. Thomas Jefferson sits regally in a circle of gold, called "Jefferson's Medal of Peace." And in 1987, the first touches of color are added—evergreen wreaths with Christmas red ribbons adorn the "White House Doors." The 1999 Lincoln-inspired collectible is a golden book inlaid with a pensive looking Honest Abe that even opens. The portrait was painted by George Healy and still hangs in the State Dining Room.
Not only do these annually revealed Christmas treasures showcase specific presidents, but they also capture moments in time and executive mansion memories that may have been forgotten. The 2016 edition is a gleaming red and gold miniature representation of the fire trucks that responded to the 1929 Christmas Eve blaze at the White House during a children's gathering. Herbert Hoover, who was president at the time, invited the same children back the following year and presented them all with toy versions of the red engine as a keepsake.Each year, a new designer is selected to conceptualize the ornament. Stewart McLaurin, president of the White House Historical Association says, "Over the years we have used various sources of design. We have had a competition among professional designers, a competition among design school students and we have used the design team at the manufacturer of our ornaments in Rhode Island." He adds, "From time to time we even receive an unsolicited design."
The process of choosing a design is collaborative. "We talk it through as a staff and with members of our board of directors and react to several designs," McLaurin said. Sometimes the WHHA even asks artists to team up. "Occasionally, we will like a couple things from one design and a couple of things from another design and we will ask those designers to work together."
As for selecting which president to feature each year, that decision was made long ago. "Fortunately for us, back in the Reagan administration when the idea was first presented to Mrs. Reagan to do a Christmas ornament, the decision was made then that we would feature a different president each year and we would do it sequentially." He continues, "It started with Washington and we have now worked our way up to Harry Truman. That takes the politics out of it, that takes any favoritism out of it when we know that the next year, it's the next president."
As McLaurin mentioned, 2018's ornament honors Harry S. Truman, and highlights the renovations he made to the White House while in office. The front of this delicate white and gold ornament features the Truman Balcony added between 1947 and 1948. On the flipside, you'll find The Blue Room, complete with an extravagantly decorated Christmas tree. Perhaps the most significant of Truman-era changes is seen in the Presidential Seal. Prior to Truman's presidency, the American eagle's gaze focused on instruments of war clutched in his left talon. Truman shifted the eagle's focus to its right talon, which grasp olive branches of peace.Once a concept is selected, ChemArt, a veteran-owned small business—the same manufacturer that has produced every ornament from the start—is trusted to bring the vision to life. McLaurin says, "They have worked with us since the ornament started. They know us. They know the ornaments."
Customers know the ornaments, too. And as McLaurin tells it, collectors are often eager to purchase the next in line. "There is a big excitement about what the ornament is going to be." He adds, "Once you start collecting, you have the one the next year. Even more than that, once you start giving them as gifts, the recipient expects to receive one next year."  Tracking down the ornaments is easily done, and if you happen to miss a year, don't worry. The entire collection is available for order on the White House Historical Association's website; shop.whitehousehistory.org.
The Christmas Sleigh in Middleburg is one of the only shops in Virginia to carry the entire collection. "We are the largest supplier of this ornament in Virginia. We carry the entire series and we have them in stock all the time," said Linda Tripp Rausch, who owns the Christmas Sleigh with her husband, Dieter Rausch. They are one of the store's most popular sellers, and it is not difficult to understand why. In fact, the store had to reorder before Thanksgiving. "People are getting something that is unique, it's historic, it's a collectible and the proceeds go to a cause," McLaurin said.
Their philanthropic nature reflects the holiday season's focus on giving, but moreover, the ornaments themselves are manifestations of the true American spirit. A spirit that is undeniably patriotic, built by veterans and loved by both sides of the aisle. They speak to the class, elegance and majesty associated with the White House, and remind us of those who have come before us to make this Christmas, and those that follow, possible.
Lighting up the Night for All to See
Photos by Randy Litzinger
Joyce Mullins, owner of Mullwyck Manor in Upperville, Virginia, shares her love of Christmas with her friends, her family and even strangers. Joyce graciously offered her home, Mullwyck Manor, as the backdrop for this month's cover shot. Although her home already featured three Christmas trees and decorations in every room, she offered her den as the backdrop for our Hunt Country Christmas tree which was designed and decorated by Linda Tripp Rausch and Diane Spreadbury of the Christmas Sleigh in Middleburg.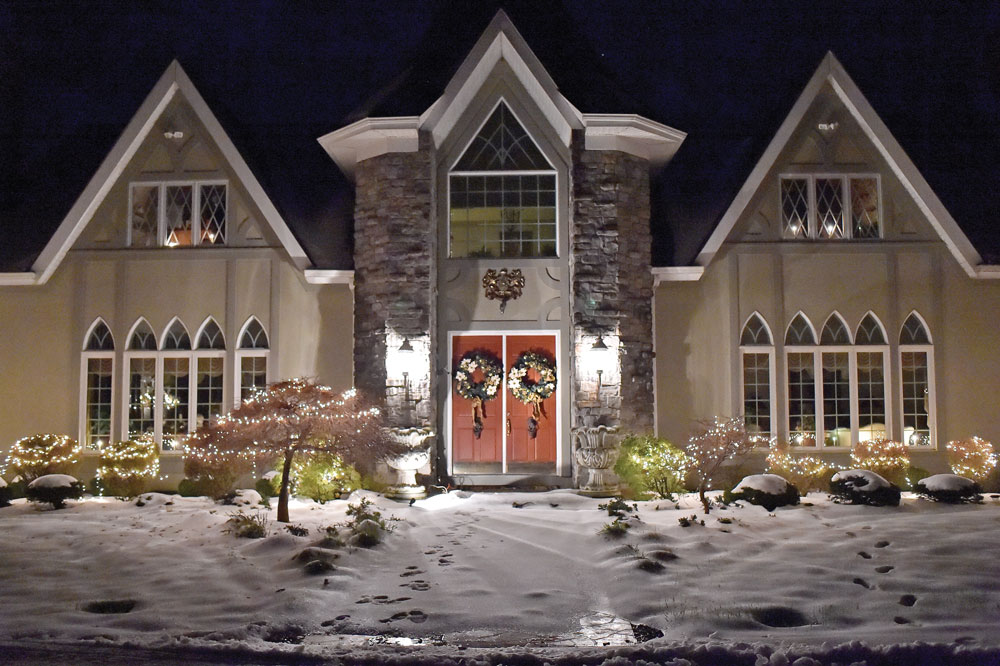 The Christmas tree features two complete sets of collectible White House Ornaments, a nod to our nation's history and our close proximity to Washington, D.C. However, what's under the tree makes it distinctly Hunt Country. Look closely. The hostess went room to room and gathered her personal treasures to help get that perfect Hunt Country feel. She even added two of her own wrapped gifts alongside the beautifully decorated ones Linda designed and brought for the shoot.
Mullins, along with her son, Rick, creates her own spectacular decoration display that takes a week to put up and tear down for friends, neighbors and strangers to enjoy each year. Most notably, Rick decorates their pond every Christmas with dazzling lights that can be seen from the road. She gives him full creative liberty with the pond. "He just goes wild," she says.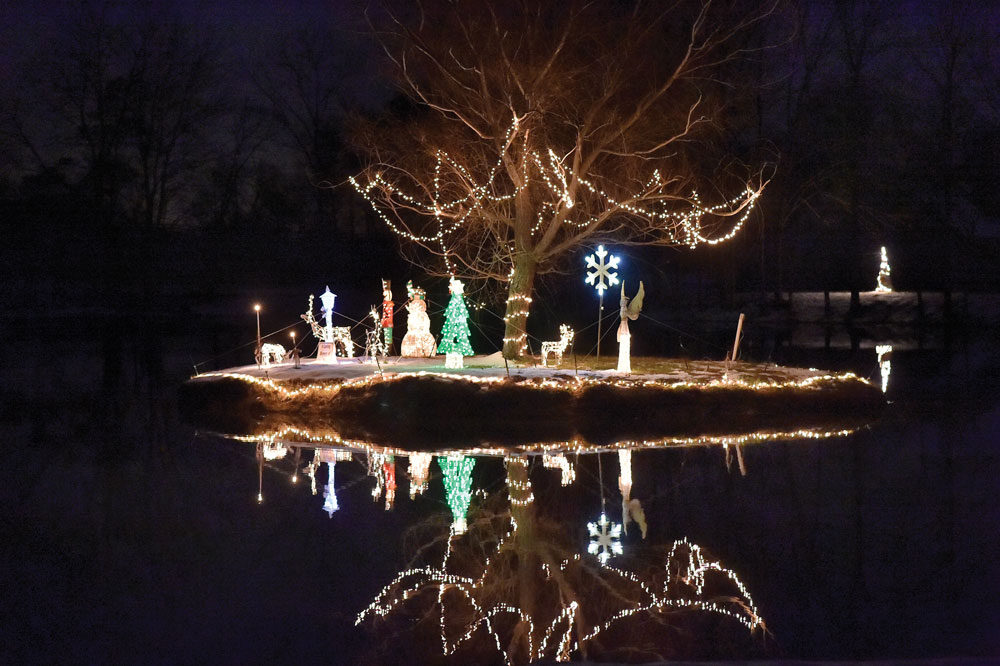 Each year, the Christmas light elf tries to up the ante as he knows passersby are excited to see the latest installment. "It's to make people smile as they go to and from work. Even when I am putting it up, they beep and wave. They expect it."
If you happen to drive through Upperville as the sun goes down, be sure to keep an eye out for Mullwyck Manor. This seasonal spectacle is one of the community's favorite traditions and is not to be missed.
This article first appeared in the December 2018 issue of Middleburg Life.