Notable Moments From Middleburg Film Festival 2021
Written by Kaitlin Hill
Photos by Shannon Finney
Celebrating its ninth year and a return to fully in-person screenings, the 2021 Middleburg Film Festival did not disappoint. Passholders and ticket buyers were treated to celebrity appearances, fascinating Q&As, special spotlight events, well-deserved tributes to some of Hollywood's finest, and, as always, a wonderfully diverse set of films with something for everyone. Here is a look back at some of the highlights from the mid-October weekend hosted by Sheila Johnson. 
Left: Women in Film luncheon hosted by Greenhill Winery with Red Rocket cast, Brittney Rodriguez, Suzanna Son, and Bree Elrod. Right: Women in Film luncheon hosted by Greenhill Winery with composer Kathryn Bostic, songwriter Diane Warren, actor Ann Dowd, and composers Lesley Barber and Amie Doherty.
BIG NAMES HEADLINE THE WEEKEND
Past Middleburg Film Festivals have always hosted their share of celebrities, and this year was no exception. Day two of the festival opened with a screening of "The Lost Daughter" at The Salamander Resort and Spa, followed by a tribute to lead actress Dakota Johnson. During the tribute and conversation, Johnson was awarded the actor spotlight award for her role opposite Academy Award winner Olivia Colman.
Also on-site throughout the weekend was actress Ann Dowd, perhaps best known for her role as the brutal Aunt Lydia in Hulu's "The Handmaid's Tale." Dowd attended the film festival as a representative of the film "Mass," which debuted Friday afternoon at The Hill School. Dowd not only attended the post-screening tribute to her, but she also mixed, mingled, and posed for photos at the Women in Film luncheon at Greenhill Winery.
"Capote" (2005) and "Star Trek" (2009) fans will have recognized actor Clifton Collins Jr. who showed up to present his new film "Jockey" in which he plays the main character, Jackson Silva. In a post-screening conversation with Clayton Davis from Variety, Collins Jr. delighted viewers with anecdotes from filming on a live track with real jockeys. "I got there a week and a half early to hang out with the jockeys – spending all day with them, helping them with the horses, whatever I needed to do," he says. "I didn't want to be 'the actor.' I told [my producer] I don't care if my house has burned down. I don't want to know until I wrap because I have to be here." His dedication to the project earned him a standing ovation as the credits rolled and the distinguished performance award.
Left: Lead actress Dakota Johnson "The Lost Daughter" at The Salamander Resort and Spa, MFF.
Right: Post-screening conversation with actor Clifton Collins Jr. from "Jockey."
A highly anticipated appearance of the weekend was that of actor, director, and five-time Academy Award nominee, Kenneth Branagh who came to Middleburg to showcase his autobiographical hit "Belfast." "Belfast" was the sold-out centerpiece film of Saturday night with moviegoers eager to view the film following its success in Telluride and hear from Branagh in the subsequent Q&A session. Branagh also greeted festival attendees Sunday morning on the Salamander Resort Middleburg Terrace for a well-deserved and illuminating tribute. Those up early enough were treated to an artfully crafted highlight reel of Branagh's best work from "Othello" to "Harry Potter and the Chamber of Secrets." Additionally, Branagh sat down with festival advisory board member John Horn for a conversation covering Branagh's life and career where he described his latest project about childhood in Northern Ireland as "tender." He also regaled the crowd with some of his favorite on-set moments with cast members Jamie Dornan, Caitriona Balfe, Judi Dench, Ciarán Hinds, Gerard Horan, and Jude Hill. For his work as the film's director, Branagh was awarded the director spotlight award by Sheila Johnson.
RECOGNITION OF WOMEN IN FILM
Another bright spot of the weekend was the attention given to women in the film industry. Saturday morning's Women in Film Music Conversation at the Salamander Resort Middleburg Terrace highlighted four talented film composers and songwriters including Kathryn Bostic ("Who We Are: A Chronicle of Racism in America"), Dianne Warren ("Four Good Days"), Lesley Barber ("Manchester by the Sea"), and Amie Doherty ("Spirit Untamed") in a panel hosted by Jazz Tangcay, Variety's Senior
Artisans Editor. Women took the spotlight again at the Women in Film luncheon hosted by Greenhill Winery. The afternoon event was attended by Britney Rodriguez, Suzanna Son, and Bree Elrod from the film "Red Rocket," as well as Ann Dowd from "Mass" who shared with attendees the realities of being a woman in the business.
Beyond luncheons and panels, notable women dominated the screen in the films on dock through the weekend. "Spencer" and "Julia" told the tales of real-life icons Princess Diana and Julia Childs. And "Passing," "Prayers for the Stolen," "Petit Maman," and "The Lost Daughter" centered around female figures as well, powerfully sharing their stories.
But the theme of powerful women perhaps most notably extended to the awards granted throughout the weekend. In addition to Dakota Johnson's actor spotlight award, Ann Dowd was recognized with the Agnès Varda trailblazing film artist award, and "The Power of the Dog" cinematographer Ari Wegner was awarded the distinguished cinematographer award.
Left: John Horn, a host on KPCC and a member of the festival's advisory board, with Kenneth Branagh on stage at Salamander. Middle: Tim Gordon (from DC Radio/Keeping it Real with Film Gordon/co-President of the Washington Area Film Critics Association), Benjamin Price from Kids First! and Washington Post Chief Film Critic Ann Hornaday. Right: Filmgoers at MFF.
A HEARTWARMING WINNER
As always, attendees were given the chance to rate each film with one, two, three, or four stars immediately after viewing by ripping a slip of paper and returning it to one of the festival's many helpful volunteers. Of the 34 films representing every genre, including documentaries and international entries, Kenneth Branagh's "Belfast" was awarded the audience's highest honor of top narrative prize. The film, which was sold out for both screenings, documents Branagh's Northern Irish upbringing through the character "Buddy," played by Jude Hill. Set in the 1960s, at the beginning of The Troubles, the black and white film blends meaningful humor with moments of tense violence, for a well-rounded film deserving of every laugh, tear, and standing ovation it received.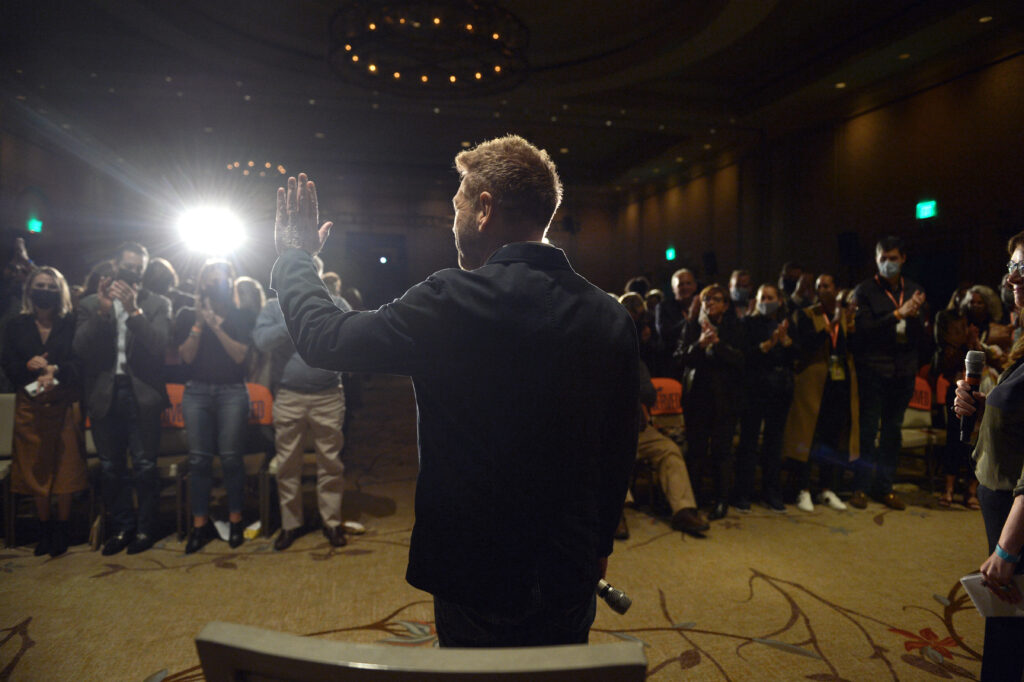 Branagh described the film best in his Sunday morning conversation with John Horn. He said writing this story was, "something riddled with pain and difficulty and loss, but through which there must be some way to find hope and a future. The film seems to be opening a portal for other people's experiences of their own childhood. And that is the big thrill." ML
This article first appeared in the November 2021 Issue.