Learn the Basics for Getting Your Child Started with Horses
Written by Sarah Hickner
Summer is upon us, and as the ponies shed out their winter coats, new riders are clamoring to pursue their equine dreams. When you are ready to finally give in to your child's begging — or simply want to offer an outdoor activity in the warmer months — there are some essential things you will need to know and have.
First, let's talk about finding the perfect barn for you and your kid. Barns come in all styles, disciplines, and age groups. Some of them are kid factories, running little ones through the program like a well-oiled machine, producing equestrians with efficiency. Some barns are laid back, with a "come-and-stay-awhile-and-join-the-family" atmosphere.
Also, most places will focus on a single discipline or two. Does the idea of your kid galloping cross country and jumping unmoving obstacles get you pulling out your checkbook or make you grasp for a vomit bag? This is something to keep in mind. It may seem harmless when they take their first lesson and learn to trot on a cute pony at the end of a lead line. But if your kid loves riding, they will likely want to pursue whatever competitive outlets those around them are doing.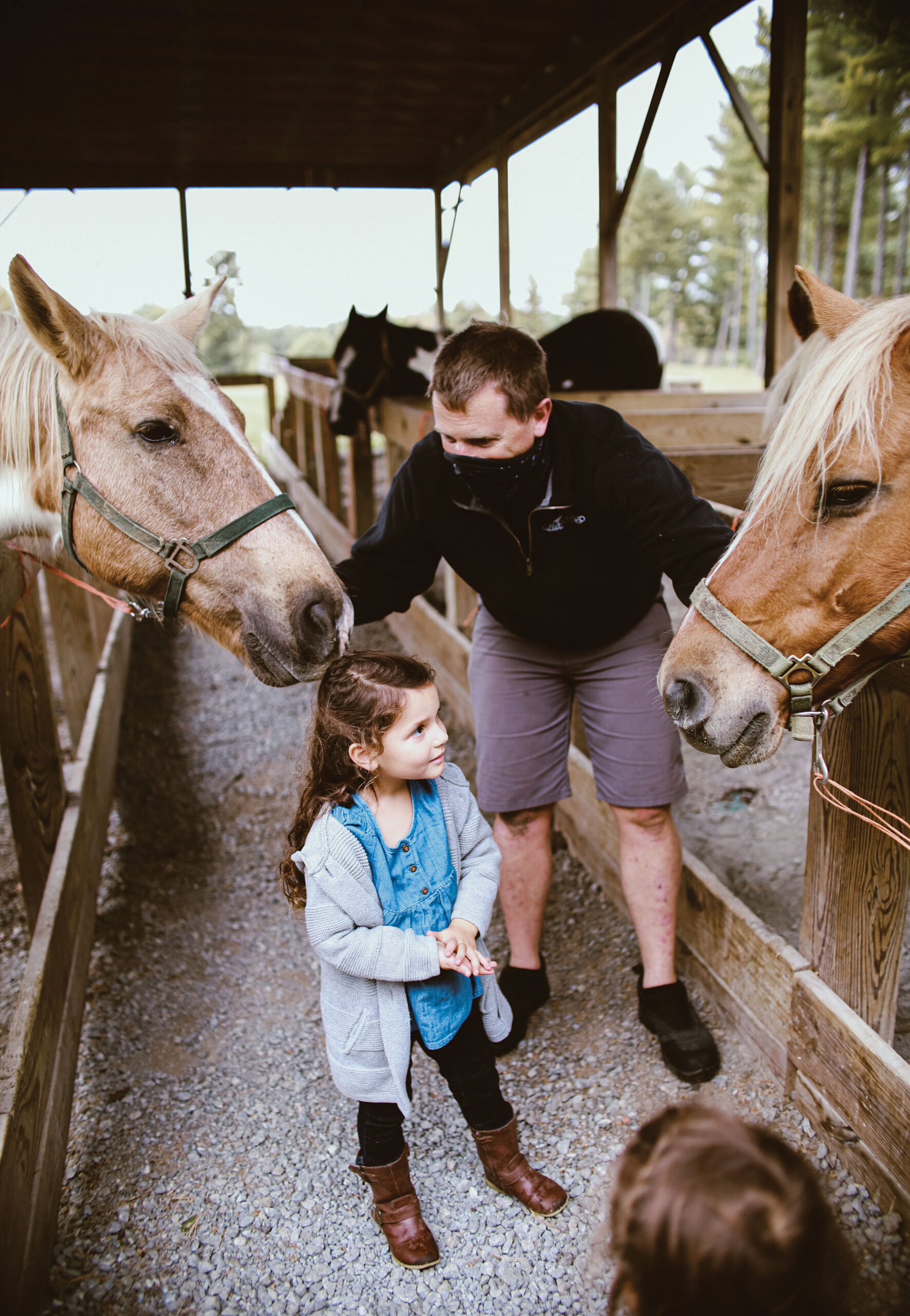 Photo by Jennifer Gray. Taken at Camp Highroad, Middleburg, Va.
We are blessed to live in an area with a lot of options. From natural horsemanship to chasing cows to jumping, you can probably find it here.
If thinking beyond this summer gives you hives, just find a place that feels like a good fit now and know that you can change barns in the future. Just like finding the right pediatrician or preschool, some people might like to shop around when looking for a suitable barn. Here are a few questions I recommend asking if you're looking for more information:
At what age does your lesson program start?
Do you offer summer camps?
Will my kid start in private lessons or groups?
Do kids learn to groom and tack up as well, or just ride?
Are there opportunities to ride outside of the ring when he/she is ready?
Does your barn compete? If so, what discipline?
I prefer a barn that teaches kids to take care of the horses. However, if I am paying for a thirty-minute lesson, half of that time will easily be spent on the ground learning to pick feet and groom until my kid knows it well enough to show up early and do it before her riding time.
What to Bring
Beginner riders only need two things: a riding helmet and boots with a heel. A heel helps keep the rider's foot from sliding through the stirrup and getting stuck. Most barns don't care if your kid is wearing red glitter cowboy boots from Target or proper paddock boots, as long as there is a heel and nothing extra to get stuck in straps or rub sores.
As tack stores gear up for summer riding camps, they often offer new rider specials featuring a helmet and boots for around $70. The second-hand tack stores have tons of boots in good condition, ready for a new rider. There is always more gear you can purchase, and as your young rider improves, more gear will be needed, but you don't need much for beginners.
What to Expect
It's finally the big day! Make sure your kid is wearing comfortable long pants that aren't too slippery. Arrive several minutes early, introduce yourself to the trainer, and ask if you can do anything to help or if there are any papers to fill out. Then ask the trainer if she wants you to hang out with your kid or get out of the way. Every program is different. This could be your chance to learn more about horses and spend some quality time with your kid, or you might get to sit by the arena with a good book for a few minutes.
Bonus tip: Even if you're not riding, wear long pants to the barn. Large animals attract bugs, and it's pretty annoying to feel like something is attempting to suck your blood constantly. ML
For more info on being a horse mom, check out novabarnmom.com.
Published in the May 2021 issue of Middleburg Life.