Story by Heidi Baumstark
"Going out on a limb" is defined as putting oneself in a risky, extreme, or precarious situation.
That's just what one Civil War soldier did as he literally clung to the branch of an old black walnut tree hiding from Union troops on the hunt for him. His name? None other than John Singleton Mosby. Climbing out of an upper bedroom window of a house in The Plains, he hung on to that tree the night of June 8, 1863, at a property called Old Denton.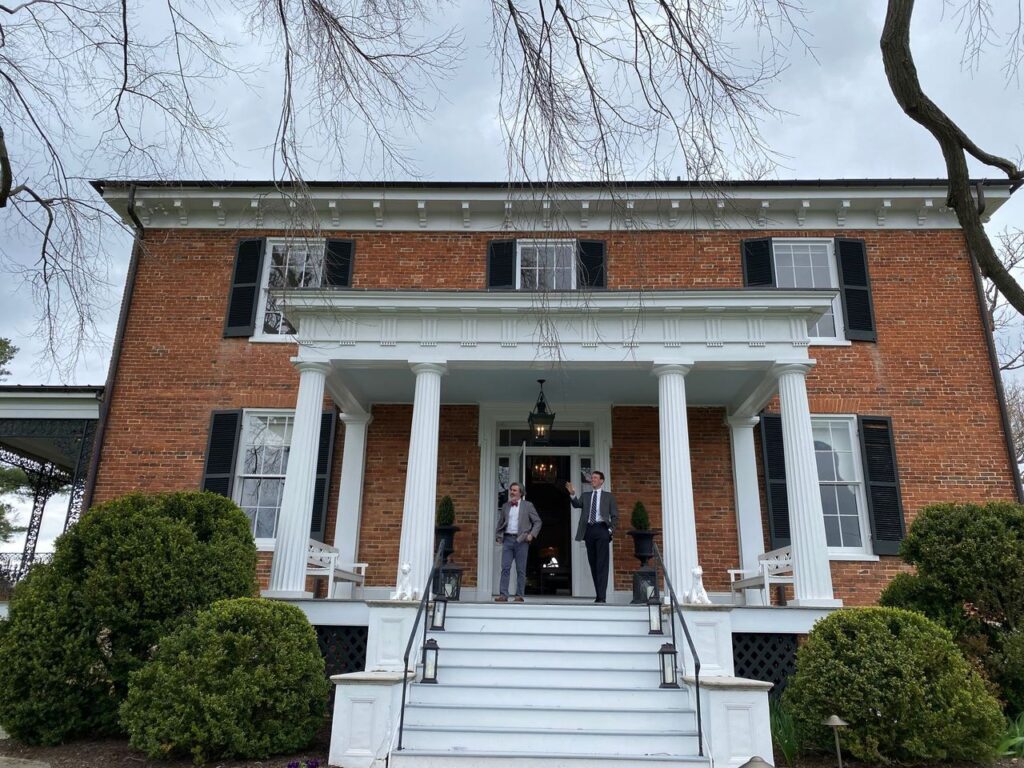 This spring, the Virginia Piedmont Historical Area Association (VPHAA) sponsored a program at Old Denton, a 58-acre property owned by VPHAA members Garon and Donna Stutzman who graciously opened their home and grounds for tours, complete with hors d'oeuvres and cocktails near the fire pit — and next to the old black walnut tree.
That black walnut tree still stands on the northeast side of the main brick house, which was built circa 1860. Under that tree, guests gathered for a brief history lesson. VPHAA's chair, C. Dulany Morison, welcomed guests and thanked the Stutzmans for their hospitality. Morison introduced VPHAA's director of education, Travis Shaw, who delivered his talk about the property.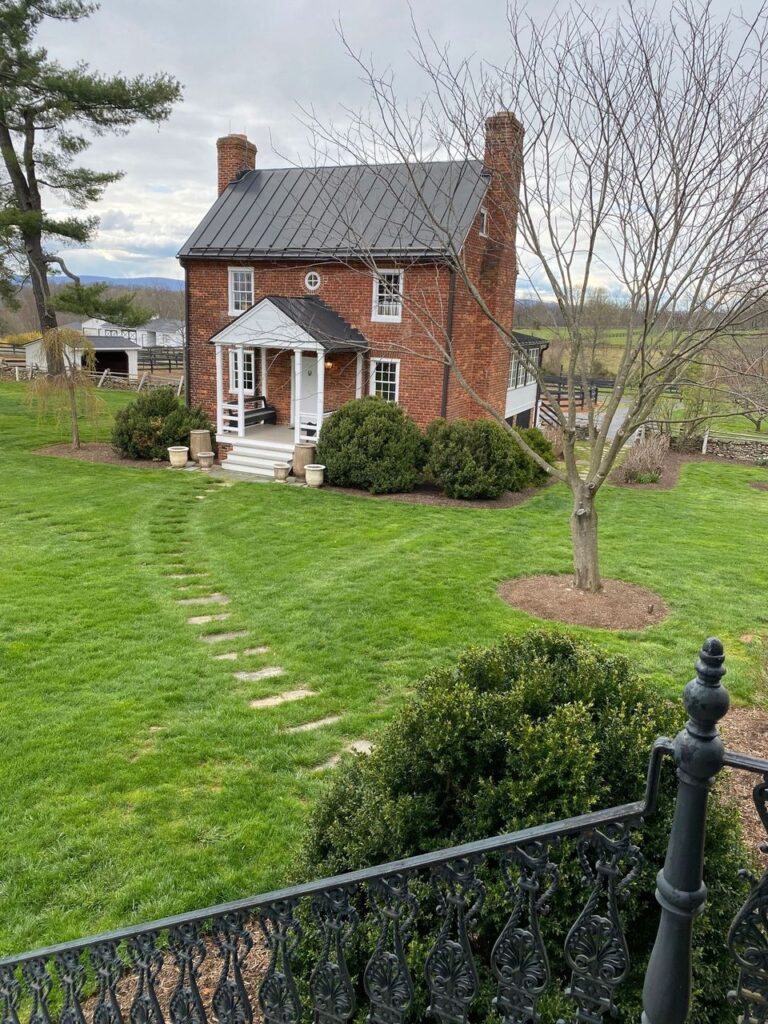 Story of Old Denton, Originally Known as Western View
In 1796, James Adams purchased the property and a vernacular brick house dating to 1820 was built for him. He lived with his two daughters, Mary Jane and Elizabeth. Old Denton was completed by James Henry Hathaway. He constructed his house in front of Adams' house who became his father-in-law when Hathaway married Mary Jane.
In 1854, Mary Jane succumbed to typhoid fever. Three years later, James married her sister, Elizabeth. Originally, Old Denton was named Western View by the Hathaways for its view of the Blue Ridge Mountains. It stands as one of the last grand homes in Fauquier County built during Virginia's late antebellum period (1832-1860) before the start of the Civil War.
Initially the house was stuccoed, which was later removed to expose the red brick exterior. A prosperous farmer, Hathaway sold agricultural supplies in the Landmark area southeast of Middleburg. Shaw explains, "This home is one of a kind in Fauquier County with its Greek revival and Italianate style which reflects Hathaway's economic status." A brick meat house circa 1860 is still on the property near the infamous "Mosby Tree."
During the Civil War, this house would be a favored spot for Confederate meetings. In 1863, Mosby (known as the "Gray Ghost") was visiting the Hathaways, and on June 8, 1863, Mosby's wife, Pauline, had come to Old Denton to be with her husband. But someone tipped off a contingent of the 1st New York Cavalry that Mosby was there.
That evening, Union troops searched the property in the middle of the night forcing Mosby to climb out of the bedroom window and balance himself on the tree's branch until the early morning. He left on June 9, and a little over 24 hours later, he formed the 43rd Virginia Cavalry Battalion (known as Mosby's Rangers) in the parlor of the Caleb Rector House in Marshall, now the headquarters of the VPHAA.
After the war, James Hathaway successfully navigated the economic realities of the Reconstruction era (1865-1877) and was an important figure in upper Fauquier with his stylish home, which he owned until his death in 1893. Entering the 20th century, George and Sara Roszel acquired the home in 1906 and renamed it Denton after their home in England.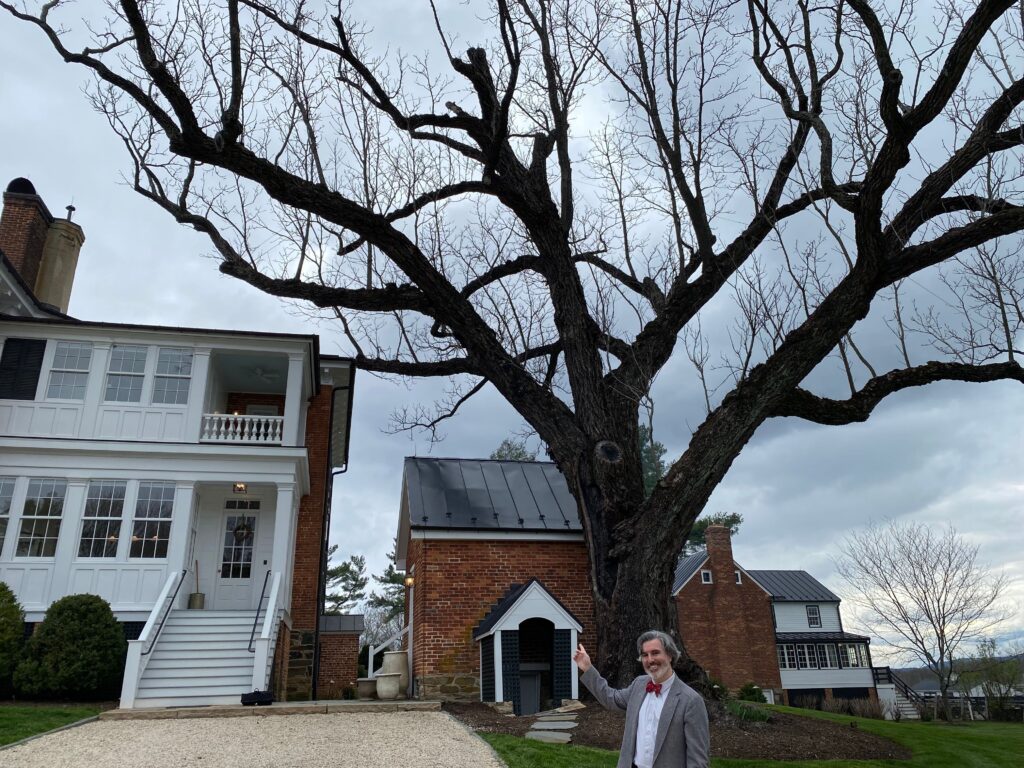 New Batch of New Yorkers on the Hunt
Old Denton became a popular site in the early 20th century for many who engaged in the Piedmont's growing fox hunting scene.
"By the 1930s, this area was becoming the epicenter of American Hunt Country," Shaw says. In 1937, Old Denton was purchased by Robert Bonnell Young and his wife, Sybil Whigham Young. Both were wealthy New Yorkers drawn here by the equestrian culture.
As an avid foxhunter and field master of the Orange County Hounds (OCH), Young transformed his property to reflect the family's passion for the sport. This foxhunting legacy continued to the next generation as his son, James ("Jimmy") L. Young, served as master of OCH for decades. The Young's tenure at Old Denton stands as the longest ownership in the property's history. The Youngs were also passionate about the rural preservation movement in the Middleburg area, raising cattle and thoroughbred horses.
Old Denton's Next Chapter
Old Denton was listed on the National Register of Historic Places in 2012 and purchased by the Stutzmans in 2019. They beautifully renovated and furnished the original 1820s structure — now a guest house — and the 1860s Old Denton manor house. The couple share a passion for gracious country living, horses, mules, and fox hunting.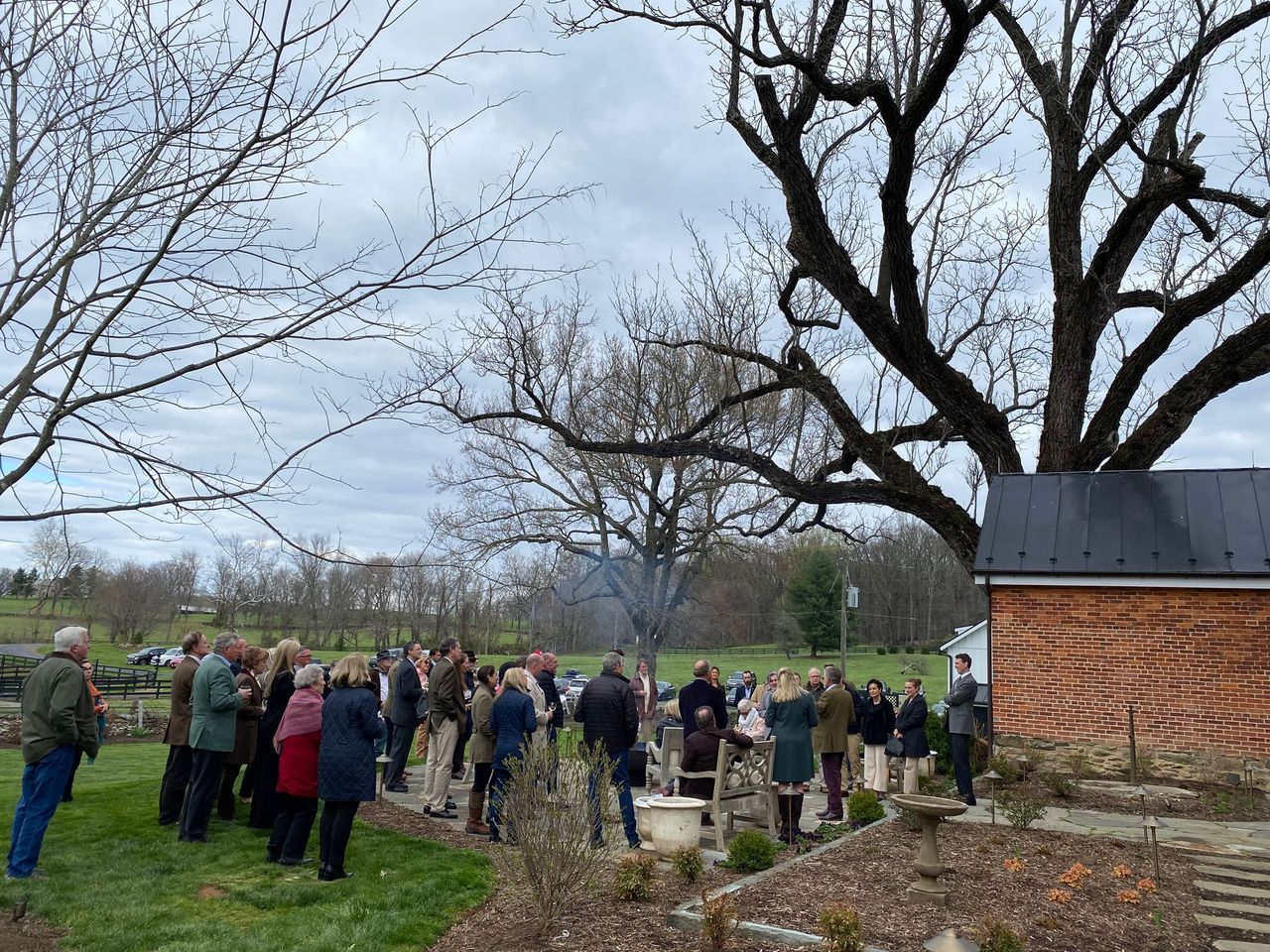 VPHAA Members and Foxhunting Fans Celebrate the Historic Property
Bill Wilkin, an appointed member of the Loudoun County Heritage Commission, comments that "opening this property for others is a public service."
Mark Crowley of Bluemont attended the program with Judy Sleeter Kane of Winchester. Crowley remarks, "We're becoming real VPHAA groupies. We love their programs. The last one we attended was at Foxcroft School in Middleburg."
As the evening sky darkened, a young couple, Matt Berg and Caitlin Tabachka, walked out on the back porch. Middleburg resident Berg reminisced, "I used to sleep on this porch when the Youngs lived here in the 1990s; I was friends with Rob Young."
Tabachka grew up in a foxhunting family and her father was huntsman for the Middleburg Hunt. Today, she lives in a cabin in Millwood that dates back to 1810. "We're lovers of preservation," she says. "Growing up with foxhunting has given me an appreciation for the country and history, which has become part of my values."
And whatever happened to the actual tree limb? It's no longer there, but the tree — and its story — live on. ML
VPHAA is dedicated to their mission of "preservation through education." They work to keep communities involved in preservation by their educational programs, engaging a 1,000-plus membership base and a board of volunteers. For more information on membership and programs, visit VPHAA at piedmontheritage.org.
This article first appeared in the June 2022 Issue.