Story and Photos by Ashley Bommer Singh
There never seems to be enough time. My friends and I have been following Jamie Oliver's 5 Ingredients cookbook for dinner to try to pare down the chaos in our lives. Why try to do it all when you can simplify? Oliver focuses on five ingredients that come together beautifully and quickly to make things fun like super green spaghetti with just garlic, greens like cavolo nero or kale, parmesan and ricotta. Yum.
This got me thinking about the gardens. What could we do with just five items to beautify our spaces? Could we make our gardens look more natural in less time? The Chelsea Garden Show in the UK comes together in just weeks; but they have armies of people and volunteers and money for thousands of plants to make it happen. Could some gardening be made as simple as putting dinner together in 30 minutes or less? With this in mind, I took a walk around our property.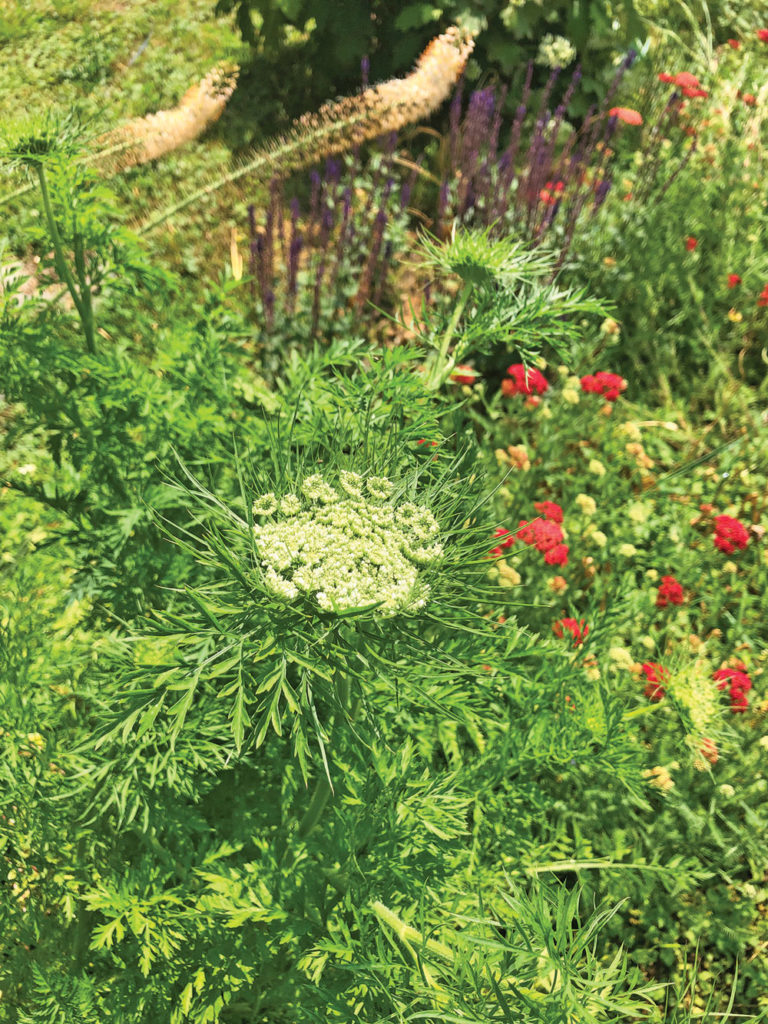 The vegetable garden had found its own rhythm mostly because I let winter things go to seed during a busy spring. Carrots were in flower and the rocket lettuce is almost three feet tall covered in seed pods. The wildness is charming and quite beautiful against the red paprika yarrow. But in truth I've been dreading days of work to ensure a summer harvest. Using Jamie's approach, I decided that we don't need to plant the entire garden center or seed catalogue. What five vegetables do we really want in the summer garden and on our dinner plates? For me it was: tomatoes, zucchini, squash, runner beans and peppers.
After reading A Garden Can Be Anywhere, Lauri Kranz's great resource for creating edible gardens, I appreciated the author's desire to add pollinator friendly plants to all her vegetable gardens. My yarrow and carrots gone wild certainly fit that bill, as do the purple salvia nemorosa and statuesque foxtails. The author suggested adding African basil which she noted is the heart of all her vegetable gardens.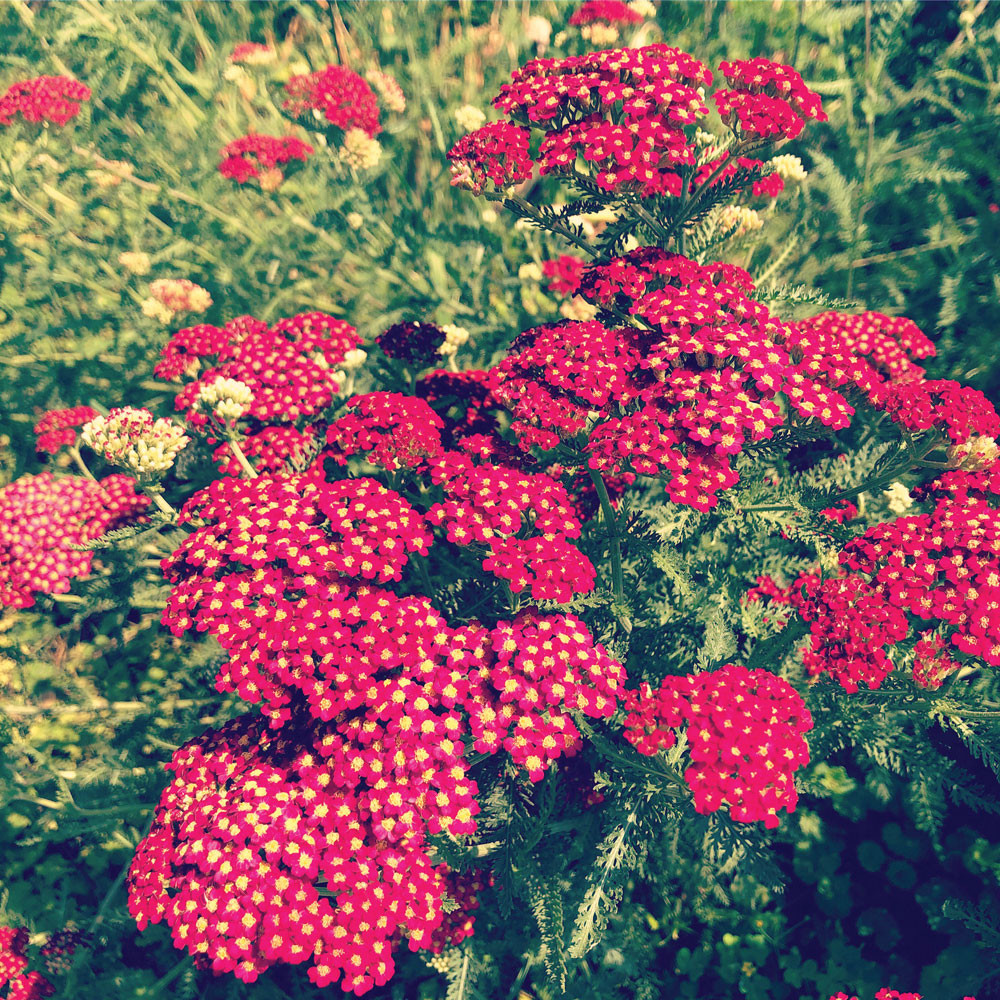 Keeping it simple, I thought I should add just five flowers to the vegetable area: zinnias and cosmos and three edible flowers nasturtium, anise hyssop, and Orange Gem marigolds (the only marigolds you can eat!). My herbs mostly stick around year after year – oregano, thyme, chives, and mint. I add as much basil as I can plant. I like to make pesto.
Five plants for our new brick garden? A combination of asters, Karl Foerster grass, echinacea, agastache and white catmint. To spice up your entrance, you can't go wrong with roses, boxwood, and dwarf hydrangeas with geranium and catmint to soften the edges. A shade garden? Try astilbe, Japanese painted ferns, hostas, hellebores and columbine.
Now, the pots. The spring annuals such as pansies and violas are done. It is time to fill with perennials or summer annuals. Can five ingredients apply to the pots as well? David and Diane at Abernethy & Spencer Greenhouses think so. They make pots in minutes drawing on about 20 plants. A good top five would be dusty miller, dipladenia, melampodium, sweet potato vine and wave petunias. Or do just three: dipladenia, diamond frost and English ivy. Tell them what colors you want and throw things together. Use good quality potting soil with peat moss, add some compost on top and water regularly to keep patios and balconies brilliant.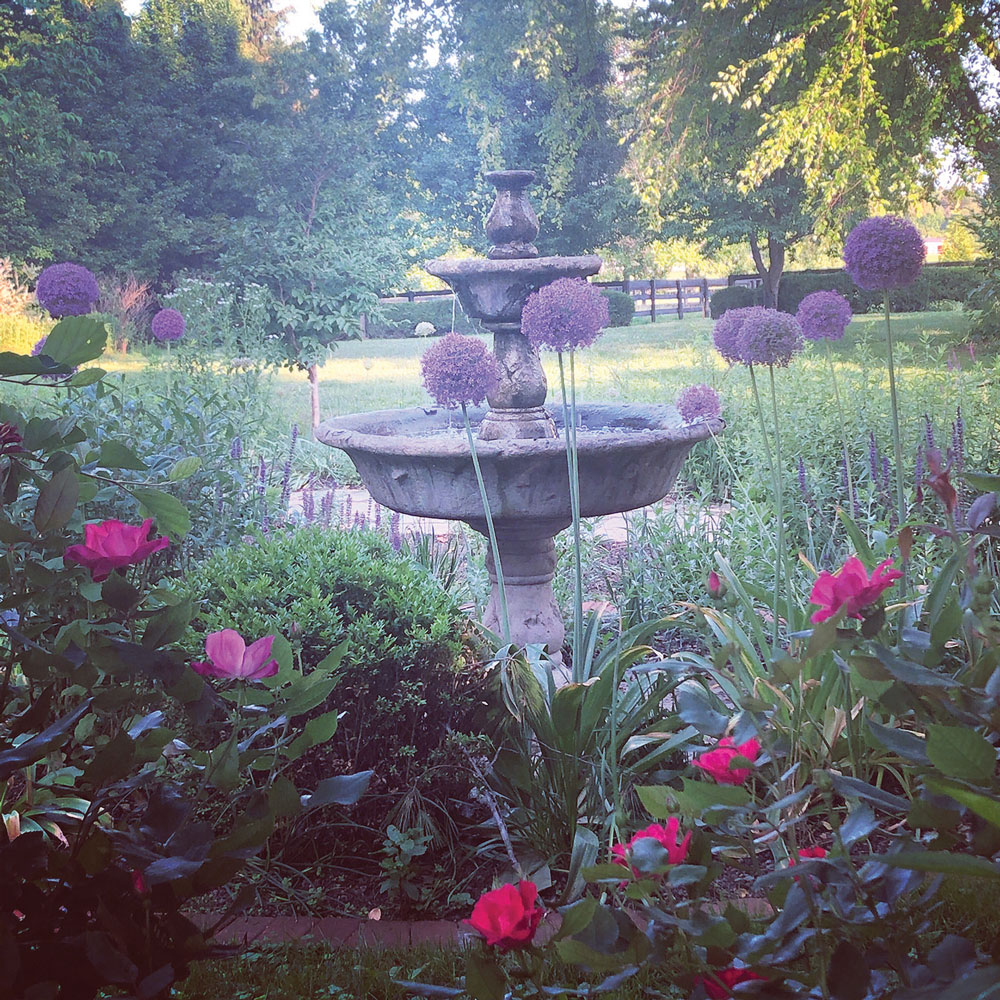 And don't forget about fall bulbs. Summer is the best time to order for November delivery. My five favorites: alliums (my favorites are ambassador, nigrum, and drumstick), Sir Winston Churchill daffodils, parrot tulips, grape hyacinth for borders, and Camassia for under the apple trees. I have a lot of gardens, but thinking about five key ingredients makes each one more manageable.
Whether you have a dozen areas or a few pots on the patio, try to simplify and stick to what works. Pay attention to plant preferences. Shade plants should be in the shade. No azaleas in full sun, please, and likewise move the asters to the sun. Once you have things under control, you can layer on your gardens every year, but thinking about five ingredients is a pretty good – and manageable – way to get started.
This article first appeared in the June 2019 issue of Middleburg Life.