By Chelsea Rose Moore | Photos by Jennifer Gray
Hill School alumni now attending Foxcroft, Middleburg Academy and Loudoun Valley share stories of the final semester they'll never have.
For high school seniors, May is usually filled with AP exams and proms, while graduation parties, senior banquets and baccalaureate ceremonies grow closer. Caps and gowns hang in the closet, ready to be worn for the ceremonious walk across the stage. But the coronavirus has cancelled all such traditional events for the class of 2020 and is requiring them to find unique ways to commemorate their senior year.
Middleburg Life worked with Hill School to find three high school seniors to feature as representatives for the class of 2020. Since each senior attended Hill School (which offers K-8) in Middleburg, we planned a socially distant photoshoot at the campus. It might not be the ending these students had expected, but we hope this allows each senior to feel celebrated for their accomplishments, discipline and hard work.
Abby All, a senior at Foxcroft School, says one of the hardest things about this time is the lack of closure. Foxcroft typically celebrates seniors in the spring with special events rewarding them for their hard work and allowing them to "pass on the torch" to underclassmen.
Foxcroft is tentatively planning a modified graduation ceremony in August, as well as alumni celebrations next year, when the class of 2020 could return and be rewarded for their accomplishments. In the meantime, they're finding other ways to celebrate today, with activities such as a virtual senior slide show and Bingo game.
Left: Abby All. Right: Grayson Alto.
As head of the Activities Committee, All is involved in planning the Bingo game, which has prompts such as "attend an online meeting with a teacher," "bake something," "send a letter to a senior," and "add a recipe to the Foxcroft cookbook." All has been brainstorming other prompts that encourage girls to "do stuff that's not online or on Zoom," like reading a book or spending time outside. Winners will receive e-gift cards.
"I keep telling all my friends that we can make the best of what is in our control, because there is so much that's not in our control," she says. "Sending this Bingo out, I feel like I accomplished something."
All is involved in many leadership roles on campus, from Hound Captain to student council member. Now, she's found creative ways to stay connected with friends by writing snail mail letters and participating in virtual hangouts and Zoom calls. She and her family have been playing board games at night, and she's been running at the Hill School campus.
"My heart breaks for all the seniors everywhere, college and high school," she says. "It's so easy to get bogged down on your graduation being cancelled, but it's almost comforting to know you're not alone in this because it's affecting so many seniors just like you. We've all worked so hard to get to this point in our lives, and we all have those special things we're missing, but we're also all grieving together, and we'll get through it together."
Foxcroft's goal is to raise strong women who are leaders in the world, and the COVID-19 pandemic has given All and her classmates an opportunity to put what they've learned into practice. "At first we were devastated, but now we're saying, 'How can we make the best of it?' " says All, who will be attending Randolph-Macon College in Ashland, Virginia, in the fall.
Below: Charlotte Ruth Zaback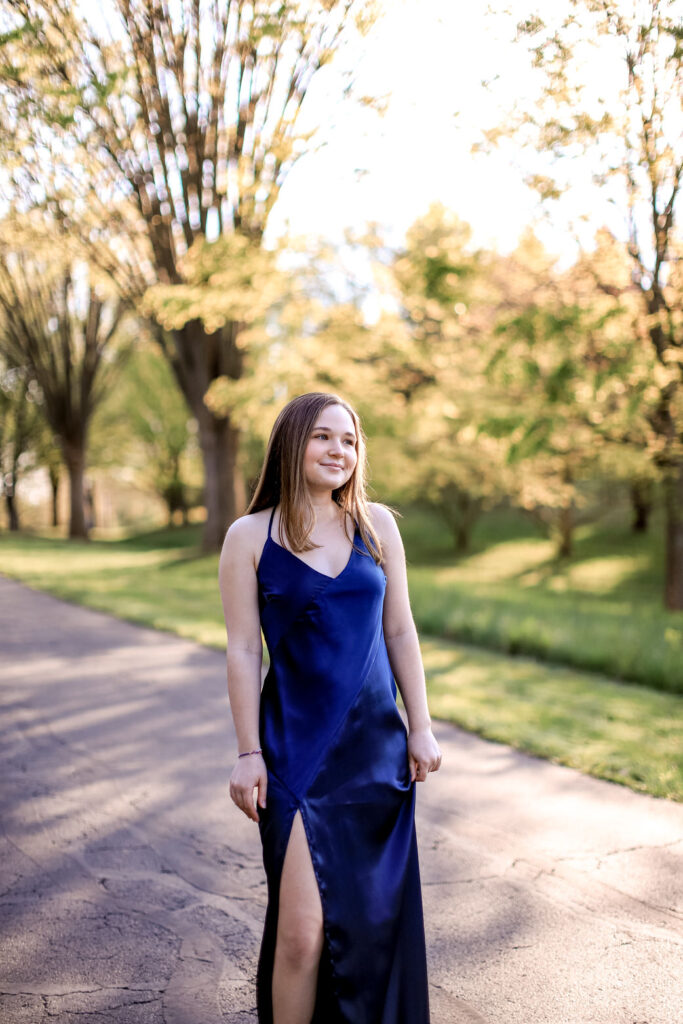 Grayson Alto, a senior at Loudoun Valley High School, is captain of the tennis team and is the Loudoun Valley DECA President. He says the thing he's missing most is his sense of team.
"There's definitely no closure with the people around me," he says. "I was expecting to at least have a few more months with the people at my school. The team was really important to me, and that got cancelled."
Alto is one of five siblings, and his family has found a good rhythm in working together around the house. Alto has been mowing the lawn, while one of his brothers cooks meals; his sisters bake, and his other brother does wood working.
"I'm definitely happy to be home and be able to relax and spend time with my family," he says. "The burden is eased for my parents. The kids are taking care of them." He says Loudoun County has promised seniors an in-person graduation ceremony during the summer before he heads to Clemson University in South Carolina this fall.
Charlotte Ruth Zaback, a senior at Middleburg Academy, has played tennis for the last four years and soccer for the last three years. She co-founded and has co-led the school photography club and is on the prom committee. She was accepted to her first-choice college, University of St. Andrews in Scotland, and she says it's "pretty likely" she'll attend in the fall.
Middleburg Academy recently informed seniors that teachers will make and send videos about each of them. The Headmaster and Academic Dean are giving each senior the choice of having a diploma delivered to their home or meeting at the school to receive them.
"Speaking from the perspective of a senior in high school, it's definitely not how any of us would expect the year to end," she says. "[I'm] missing the last bit of being on campus with my friends. In some ways, you are doing the same things [like coursework and college preparation], which is nice. [Schools] have been doing virtual tours for colleges."
Although Middleburg Academy officially cancelled this year's prom, students have been speaking about possibly putting together their own prom over the summer.
While many students have been making the best of this time, their parents have been mourning this lost season as well. What was supposed to be a time to celebrate their child's accomplishments has been replaced with cancellations and uncertainty.
In her piece published on Grown & Flown, Jennifer Handford, a Wakefield School teacher and mom of three Wakefield students (two of whom are seniors), shared her own disappointment while encouraging her readers not to lose heart.
She writes, "We might get what we want, and we might not. My girls might get a graduation in June, the middle of the summer, next fall, or they might not get one at all. Not losing heart means accepting whatever outcome we get with the knowledge that our happiness doesn't hinge on a condition."
Class of 2020, we are proud of you for weathering this storm with grace. We are certain that together you will come out stronger when this is all over. ML
This article first appeared in the May 2020 issue of Middleburg Life.