By Kaitlin Hill | Photos by Joanne Maisano  
Lifelong equestrian experts and longtime friends, Maryalice Larkin Matheson-Thomas and Luke Berg opened Larkins Leather Repair in Marshall on February 21, 2020. At their Main Street shop, they specialize in restoration, custom design and quick turnaround times—even during the evolving COVID-19 situation. 
Matheson-Thomas explains, "This was a dream of mine from a long time ago, but I did other things. As I got older, I thought, 'Maybe I better start thinking ahead a little bit.'" 
"Other things" includes 30-plus years as a household name in the equestrian community, including time as the head trainer at Bowler Hill and a field master of the Orange County Hunt. Her knowledge of all things equestrian, especially equipment, made opening Larkins a natural next step. Matheson-Thomas continues, "I saw the building for rent, and I got on the phone and conned Luke into coming up here."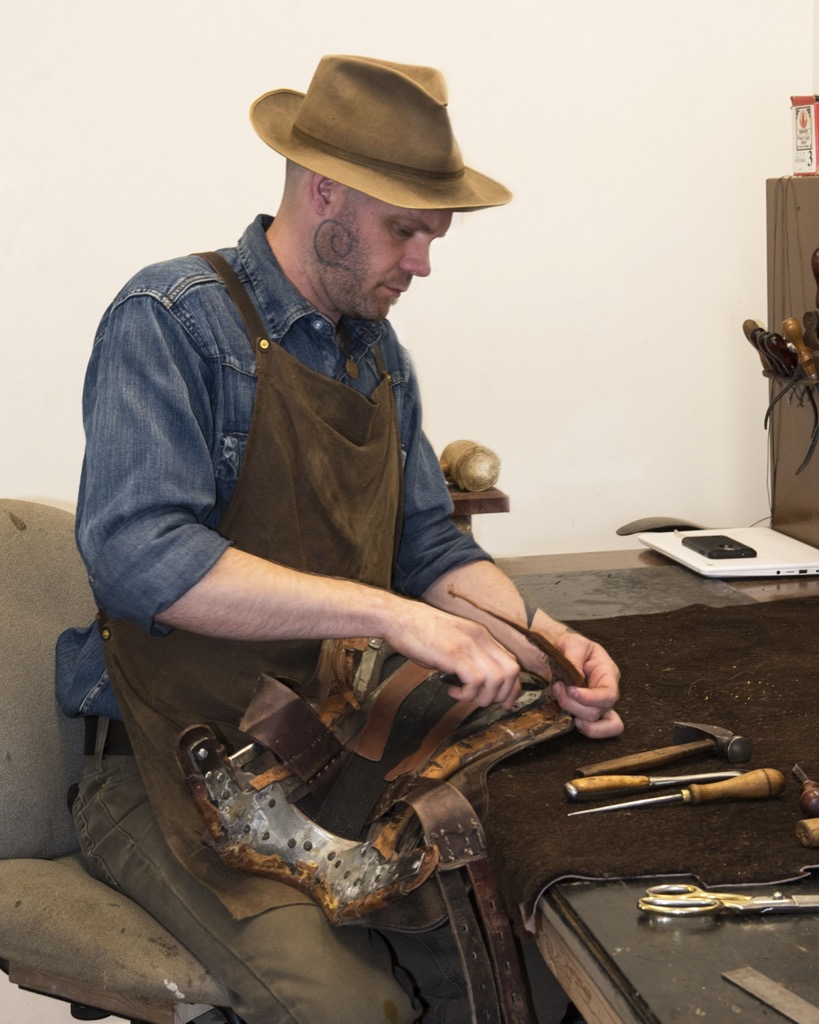 Luke Berg
Berg is similarly well known in the horse sports world for his work as a master saddler. For Berg, it's a labor of love and longevity. He says, "There is multigenerational saddle making in my family. I worked with my father since age 5. This is all I've ever done and all I ever wanted to do."
As for what he can do? The sky's the limit in terms of repair and custom creations. "We do a full gambit of leather repair and custom leather items, everything from new saddle seats, new knee pads, boot repair, blanket repair," he says. "Pretty much any custom leather items you can think of, we can produce."
Not only can the team at Larkins handle a multitude of projects, but their swift turnarounds are also impressive.  "Luke is an extreme professional who does beautiful work, and we can get it out to the client very quickly," says Matheson-Thomas. "If someone comes in with an emergency, we'll tell them to go next door and get a cup of coffee and something to eat, and we'll have it done by the time they get back."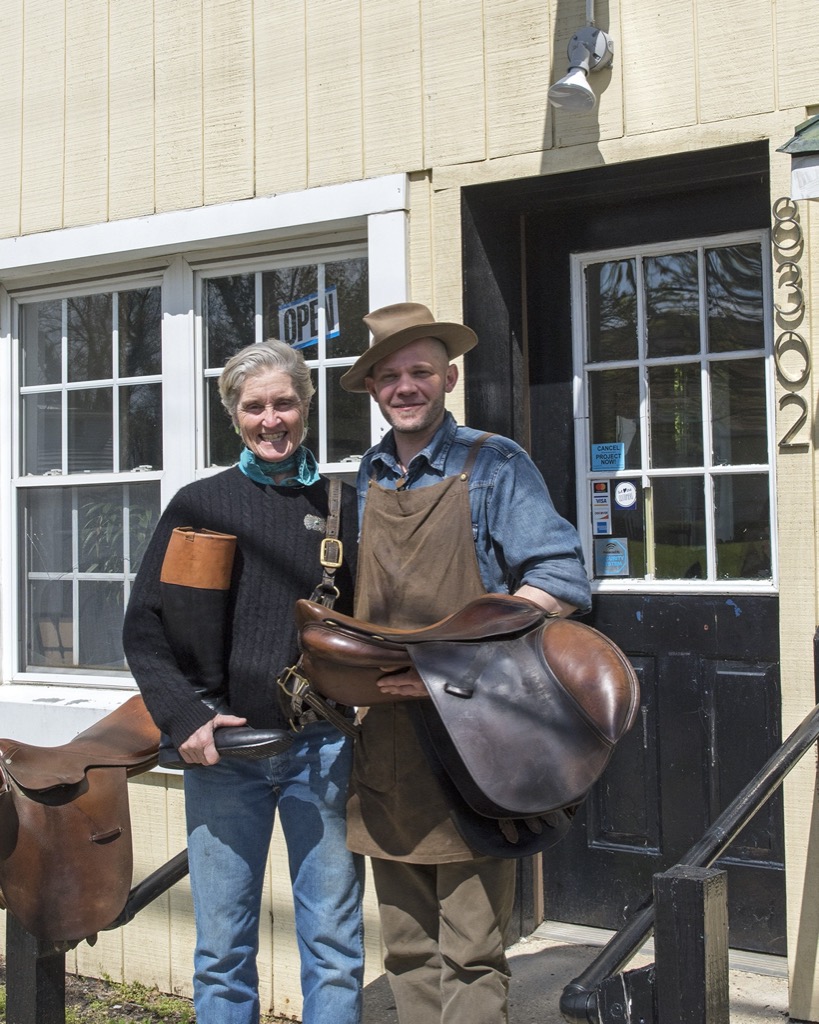 Maryalice Larkin Matheson-Thomas and Luke Berg
Their brand of customer service also includes adaptability, which is especially important in light of the COVID-19 outbreak. "When [customers] call, we tell them that if they are hesitant to come in, they can just leave [their item] outside the door, and we will go out and get it," Matheson-Thomas explains.
Shipping is an option, too. Matheson-Thomas says, "We will take shipped items in. Luke is pretty well known, and I'm sure we'll probably start getting things from across the nation, once they realize where he is and what the address is."
If you do visit, you'll be greeted with the inviting aroma of leather, antique racks of finished strap goods, walls covered by works of local artists, and, Matheson-Thomas believes, safe spacing in the roomy shop.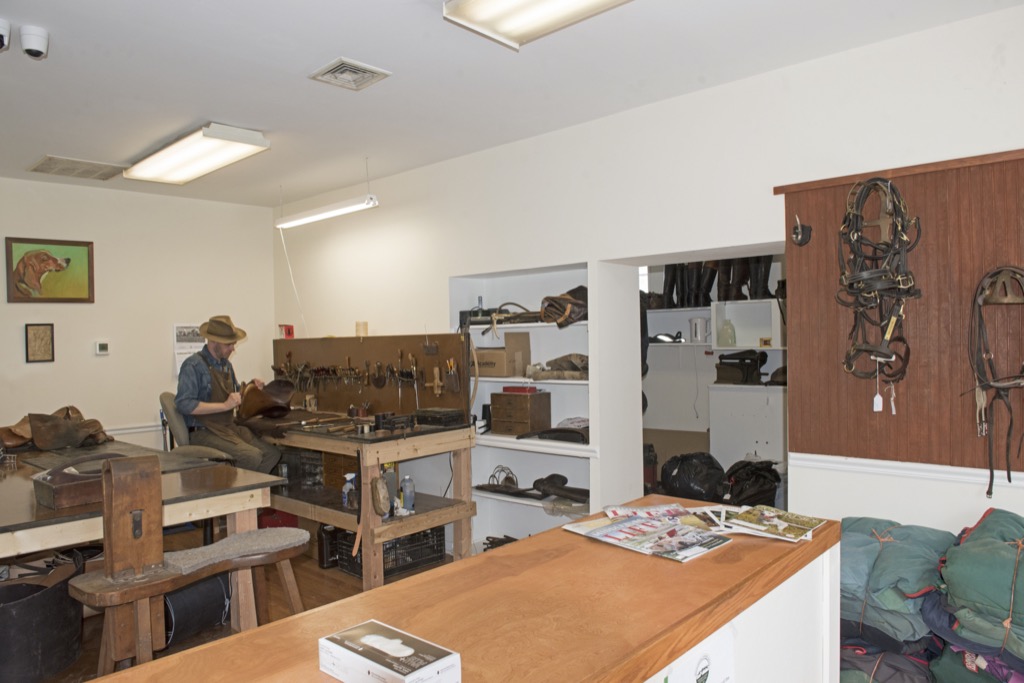 "There are just two of us here, and the door is eight feet from the counter, and the counter is three feet wide," Matheson-Thomas says. "I think we're covered as far as spacing goes."  Berg adds, "She works at one side of the shop, and I work at the other, and my table is six feet wide."  
With equestrian events on pause for the foreseeable future, Matheson-Thomas says, "It is a good time for people to go through their tack rooms and see what repairs they've been putting off. Or if they want a custom belt or something, we can do that too."
Their years of experience, impeccable repairs, beautiful custom designs and flexible customer service make them a welcome addition to the Hunt Country community. ML
Larkins is located at 8302 East Main Street in Marshall, Virginia. The shop is open from 8 a.m. – 5p.m., Monday – Saturday and can be reached at 540-364-8297. 
This article first appeared in the May 2020 issue of Middleburg Life.