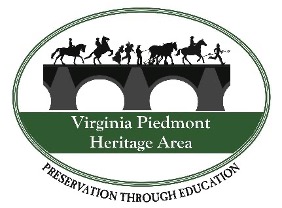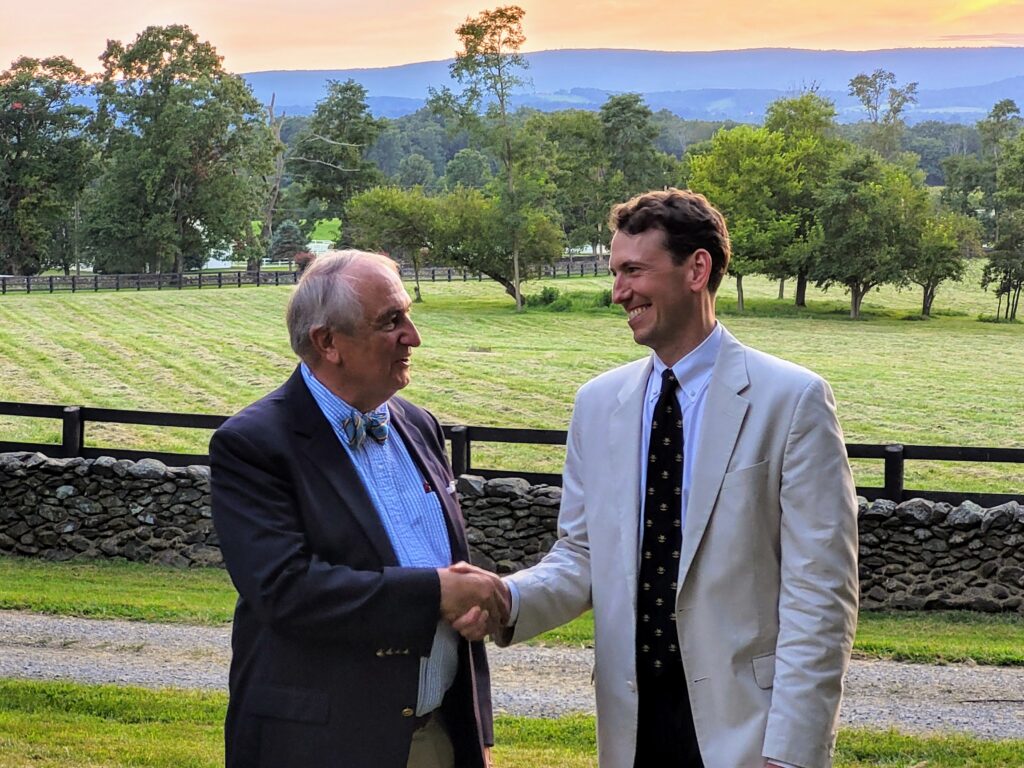 Middleburg, Virginia, August 22nd, 2022 – The Virginia Piedmont Heritage Area Association (VPHA) is pleased to announce that its Board of Directors has elected Stephen C. Price to become the new Chair after C. Dulany Morison's Director term limit finishes in August. Morison has served as Chair for three years, guiding the organization through a series of unprecedented challenges and expanding its footprint as a principal force in preservation. "It has been a distinct honor to serve the Heritage Area and although there have been a few long nights, it has been an incredibly rewarding experience and I could not be more grateful to have worked alongside such a dedicated staff and Board of Directors," said Morison, who has agreed to continue leading the Preservation Committee in his capacity as Chair Emeritus with Ashton Cole.
Morison worked with the Bondi family to establish the "Bondi Family Land Conservation and Battlefield Preservation Fund," which has contributed to the protection of several historic properties in the Unison Battlefield Study Area. He has been a driving force in the battle to protect Aldie from inappropriate development which recently celebrated a great victory at the Aldie Assemblage. He oversaw the republishing of Profiting Through Preservation, which details the economic benefit for open space conservation, agriculture, heritage tourism, and historic structure preservation. Last year the organization celebrated its postponed 25th Anniversary and recorded its most successful fundraising year to date.
Price has a long history with the organization and served as Chair from 2018-2019. Morison remarked, "Steve has been devoted to our mission since he joined the Board in 2010 and we were thrilled when he agreed to step back in. He has been a pillar of leadership and we could not be in more capable hands." Price has been instrumental in developing new VPHA programs and directed the successful "Year of John Marshall," which brought guests to Llangollen, Oak Hill, The Hollow, and the John Marshall House in Richmond to study the Chief Justice.
In addition to being a partner in the Northern Virginia law firm of McCandlish & Lillard, Price holds a bachelor's degree in history from Virginia Military Institute, a law degree from the University of Virginia, and a master's degree from the University of Cambridge (Queens' College). He served as president of the George Marshall International Center at Dodona Manor during the restoration of the General's home, and he was a member of the Loudoun County Sesquicentennial Committee and Commissioner in Chancery for the Loudoun County Circuit Court. He also serves as general counsel for the Land Trust of Virginia.
VPHA has significantly increased their focus on special events and following up on their recent programs on Patsy Cline and F. Scott Fitzgerald, Price aims to continue featuring Heritage Area artists. He also has plans to focus on the history of our endangered historic villages, and programs are underway for Paris, Lucketts, and Browntown. Looking ahead to 2024, preparations have already begun to recognize the 200-year Anniversary of the Marquis de Lafayette's reunion tour through the United States, which will include a series of events highlighting the sites he visited in the Heritage Area.
The organization will continue its focus on preservation advocacy and student education. Threats to the Heritage Area landscape are on the rise, and VPHA remains committed to working diligently with local government and preservation partners to protect the integrity of our extraordinary countryside. VPHA's classroom programs, which have educated more than 55,000 students, resumed this spring and they hope to reach 75,000 students by 2025. Price is optimistic for the future and looks forward to building VPHA membership across the Heritage Area through a variety of offerings that connect citizens with our vast historic resources.
The mission of the Virginia Piedmont Heritage Area Association is preservation through education — to educate about the history of, and advocate for, the preservation of the extraordinary historic landscape, culture, and scenery in the Northern Virginia Piedmont for future generations to enjoy.
For more information, visit www.piedmontheritage.org