Written by Shayda Windle
When Alex Carr was invited to a Twilight Polo match at Great Meadow arena a few years ago, she wasn't quite sure what to expect. Twilight Polo is nothing new to Northern Virginia, but it took a while before becoming the attraction that brings thousands of visitors to The Plains today.
Carr had never been to a polo match before and was excited about the opportunity to try something new with a group of friends. At the match, Carr's friend had front row seats, an exciting place to be for anyone, especially someone new to the sport.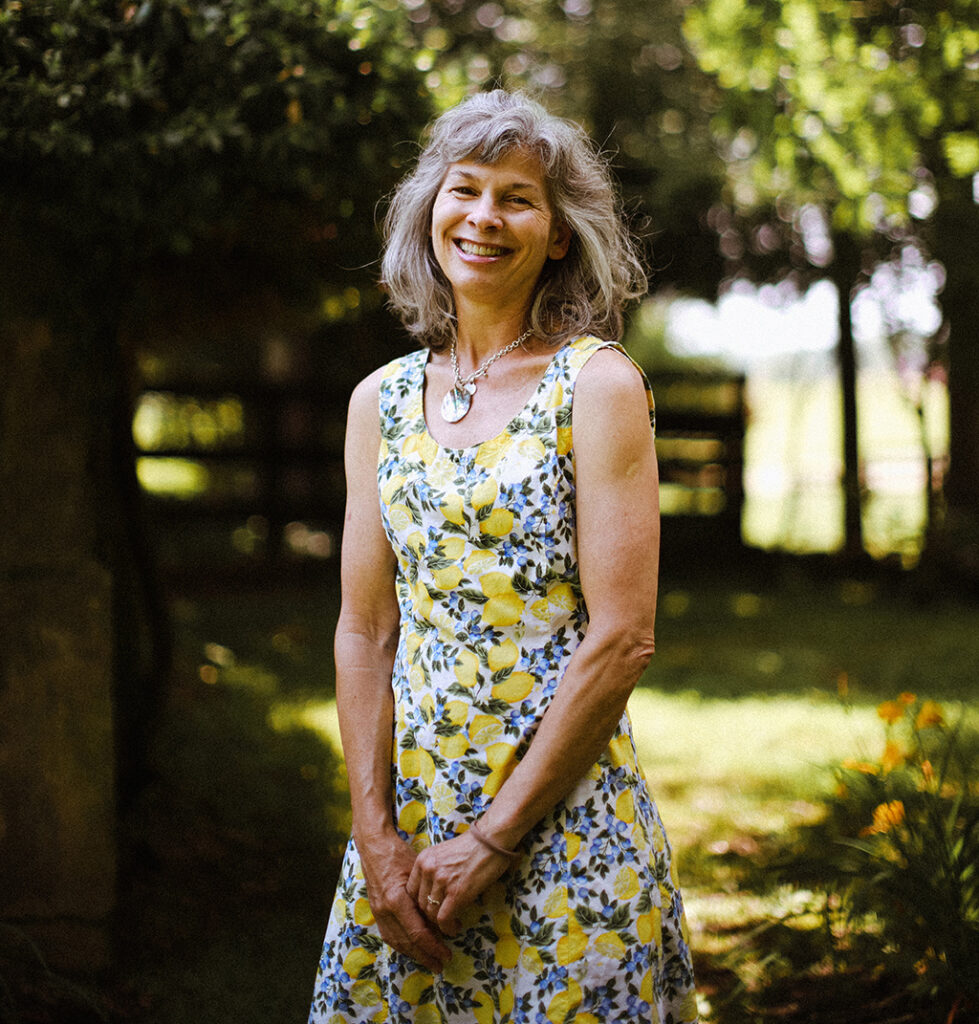 "We were ringside and as the horses came running towards the rail, I found myself pulling my fingers up because they were so close," she said. "Watching the match go deep into the evening made it even more exciting."
As a watercolor artist with a degree in fine art from Wellesley College, Carr has always had an eye for beauty of all forms, so she made sure to grab her new camera to capture all she could before leaving that afternoon. Although she was still learning how to use it, Carr attempted to take as many pictures as possible before the sun went down, continuing well into the evening. 
Because of the shutter speed, many of the pictures came out blurry, and at first, she was a bit disappointed. "A photograph has the power to record what's happening in exquisite detail, allowing others to see what we see," she said. "I wasn't sure I had done a good job capturing the energy and movement because the images were so fuzzy."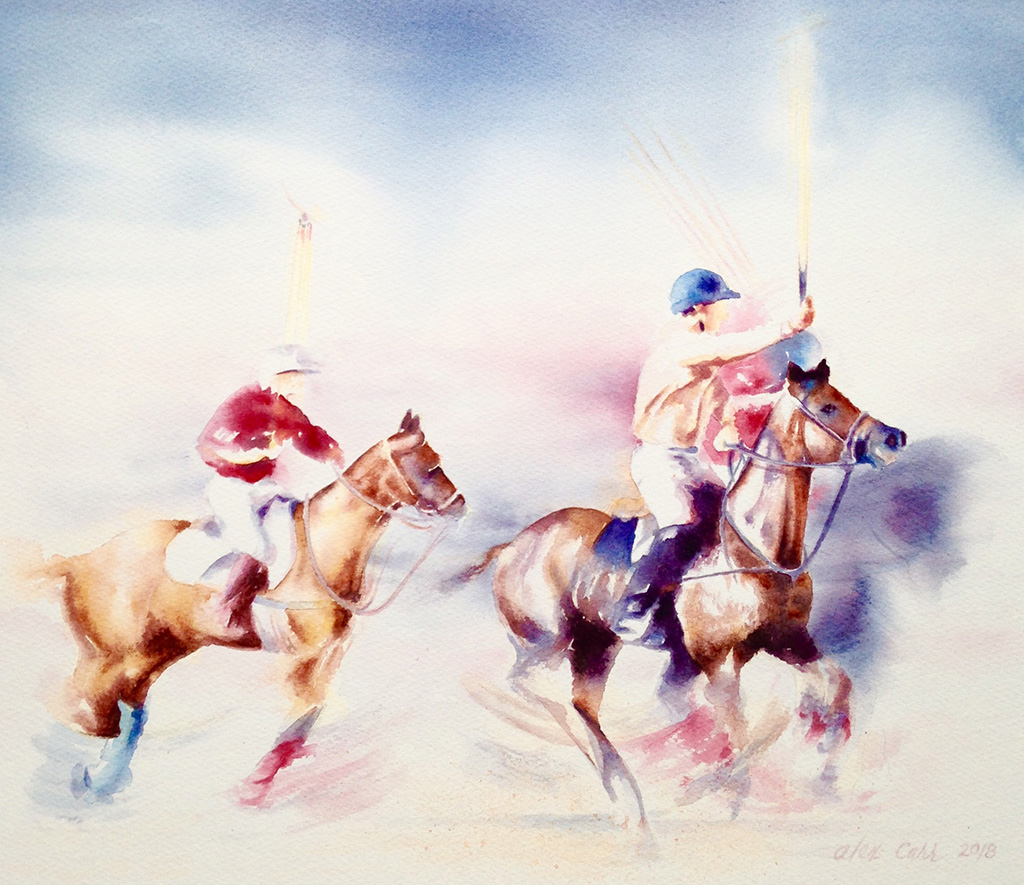 A few years later, the Artists in Middleburg (AiM), a nonprofit organization whose mission is to nurture and provide arts educational opportunities for all, decided to hold a "Horse in Sport" exhibit. As a member of AiM, Carr was intrigued by the theme of the exhibit and thought the timing couldn't be better to revisit the photos she had taken from the Twilight match she had attended at Great Meadow.
Carr pulled out her camera and looked at the photos again — this time in a completely new light. "I began going through the blurry images and started seeing them in new ways," she said. "The turning and pivoting that I was able to capture on camera gave me so many ideas about new ways to use watercolor that I'd never experimented with before. With that, I went off to recreate some of the most memorable pictures from that evening."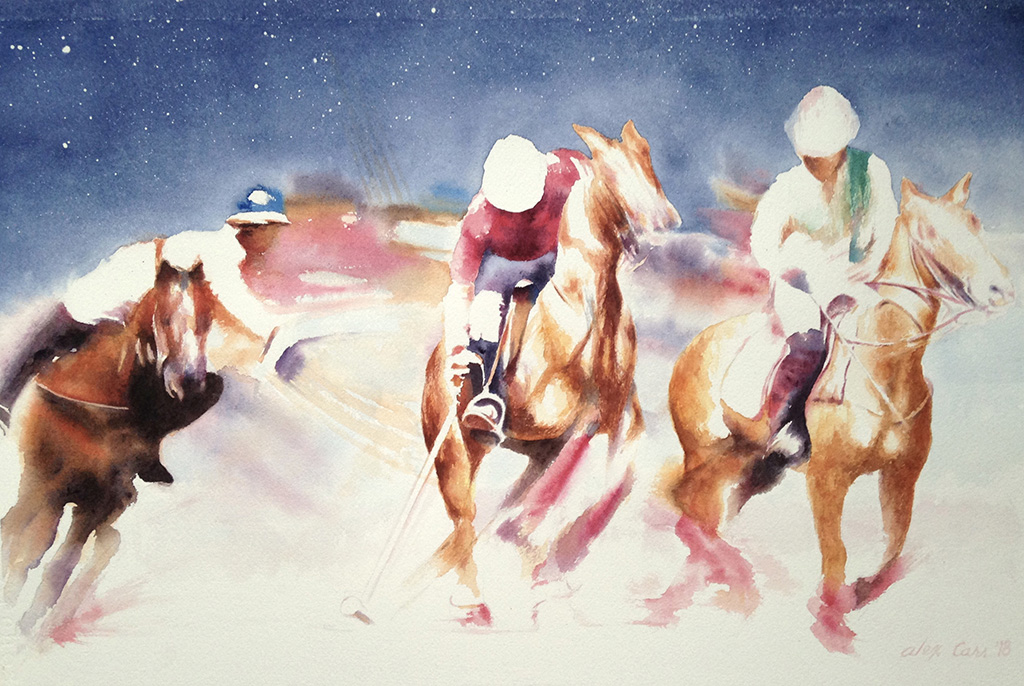 Carr's series, titled "The Polo Match," includes five mesmerizing watercolor paintings that depict something many watercolor artists are unable to do: energy and movement at night. Her art was juried and put on exhibit at AiM, with one selling during the show. The four others are currently available and can be purchased through her website at alexcarr.com. 
"As a painter, I'm completely in love with the transparency, luminosity, and the textural possibilities of watercolor," Carr said. "The fluid movement and organic patterns that watercolor creates as it swims and dances through water can result in the most elegant, magical, and breathtakingly beautiful effects." "The Polo Match" series certainly does not disappoint.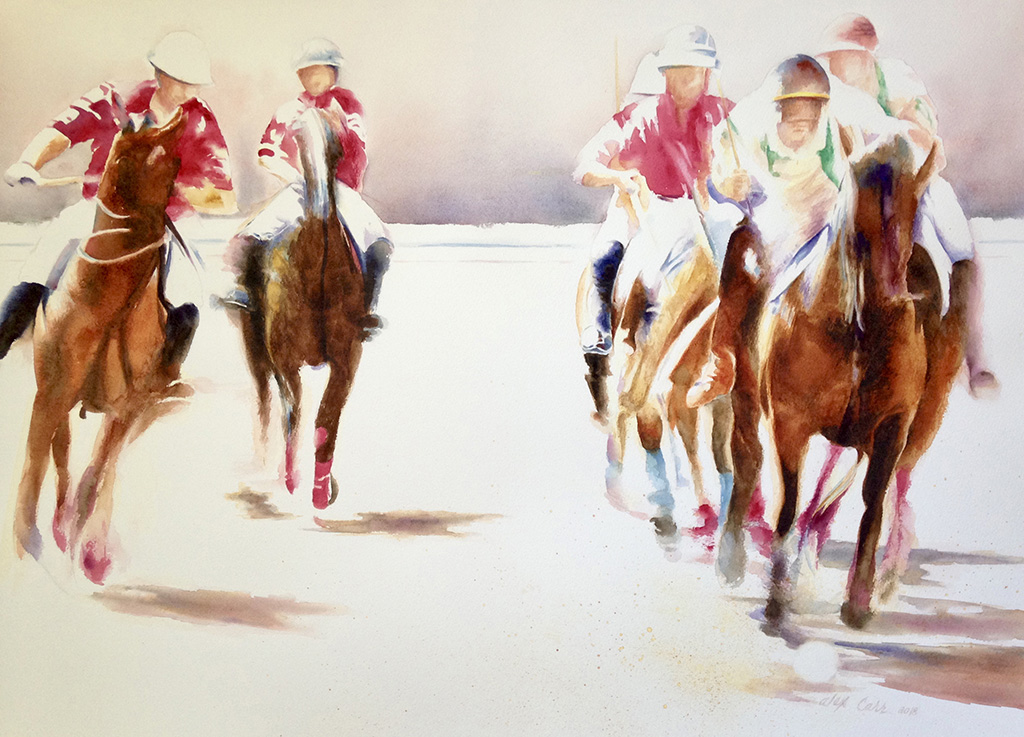 When asked about her love of art and the reason she continues to paint, she said, "Art connects us on a level that can transcend our outward differences. Maybe if we can feel what someone else feels, before we know their political stance, social status, race, gender, job title, or other external criteria that we use to judge people, maybe we can find a way to live and work together with mutual compassion and respect."
She leaves us with this final thought: "Through art, we might even create a better, kinder world. Art gives me hope." During these times of uncertainty and civil unrest, we couldn't agree more. ML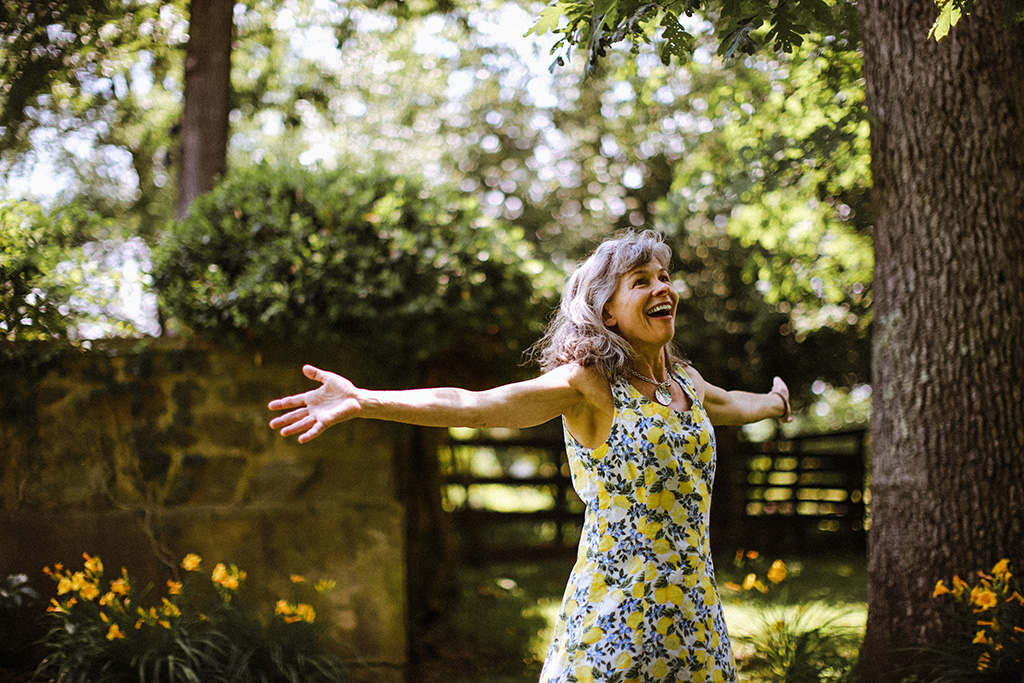 This article first appeared in the July 2020 issue of Middleburg Life.