By Trevor Baratko
It's not so much farm to table anymore. These days, it's farm to town.
This is Neal Wavra's mindset as we sit in the lounge of Field & Main, the dashing new restaurant in Marshall that he and his wife Star opened this month.
Located on West Main Street in the town of 1,500, Field & Main harkens back to the days when Main Street was unmatched in its cultural and community relevance.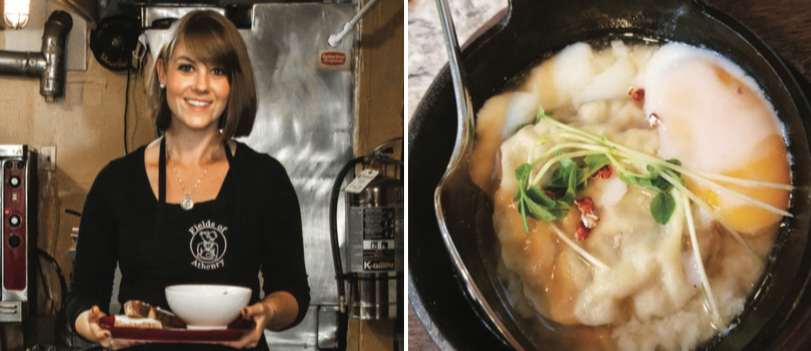 "In this small town on Main Street in the olden days, all of the roads really went from the field into Main Street. Because in the fields is where you worked, you had your homestead, and you produced and brought to Main Street," Wavra said. "Main Street served a function for the fields and the fields served a function for Main Street. This whole restaurant is about community."
Wavra isn't just talk. His elegant and inviting eatery, which stars Executive Chef Anthony Nelson in the kitchen, sources from nearby farms including Martin's in The Plains, Heritage Hollow Farms in Sperryville and Over the Grass Farm in The Plains. Their pork comes from pigs raised by students at Middleburg Montessori School; their oysters from Rappahannock.
On the menu, there are dishes such as sorghum berry risotto with king trumpet mushrooms, hearth-roasted vegetables and goat cheese; grilled quail with Red Island field pea stew, sorghum glaze and greens; raviolo with braised pork, hickory vinaigrette and Whiffle Tree Farm soft egg; and family-style roasts of black angus steak, racks of lamb and an ember-roasted fish of the day.
For the daytime hours, the Wavras opened a Chicago-style sandwich shop next door, Riccordino's, which will use the same local fare.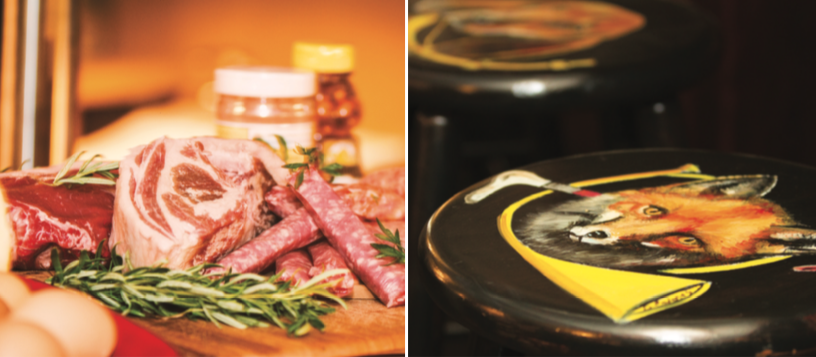 "The front and back of the animal goes to the sandwich shop, while the middle is used at Field & Main," Wavra says. "I'm not saying we're taking over a whole farm's production at this point, but with Riccordino's, we very well could. That's something that's a little jewel we have. If we're going to take beef to the menu, it's, 'How do we use the whole damn thing?'"
As for Field & Main's wine list, the by- the-glass offerings are strictly Virginia, including house wines crafted by Early Mountain Vineyards—the Madison winery owned by Steve and Jean Case—exclusively for the eatery.
Wavra and conscientious restaurateurs like him are sprouting up all over the region, delivering hyper-local poultry, pork, beef, wine and more to the plate and palate. They carry with them several goals: endeavoring to support the local farmer while promoting agriculture, a healthier lifestyle and, in so doing, reviving their community's savory history.
Up the road in Middleburg, there's Elaine Boland, owner of Fields of Athenry Farm and the newly unveiled Side Saddle Cafe, which serves products from the Bolands' Snickersville Turnpike farm, less than 10 miles away. (In addition to its Loudoun County operation, Fields of Athenry oversees livestock from farms in Maryland and Pennsylvania.)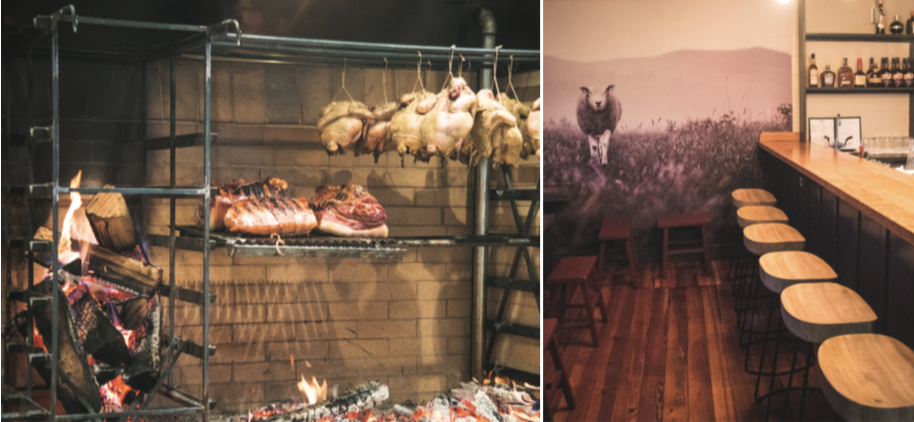 Located in the historic former Fox's Den Tavern space—on Middleburg's "Main Street," Washington Street—Side Saddle sells fresh, delectable cuts of meat, pork and more on the retail side, and on- site sandwiches and small plates in the cute, cozy cafe.
Speaking with Boland, you quickly realize she's down to talk for hours about the health benefits of eating local. Her family's venture has been a trying one, beginning more than a decade ago, when one of her five daughters, Bernadette, found herself debilitated with Cushing's disease as a child. After puzzled look after puzzled look from doctors, the mother followed her intuition and transformed her farm livestock into grass-fed.
"Everyone in our family had asthma allergies. When we started transitioning to grass-fed beef, in six months, our family was completely off all asthma allergy medicine. That tells me something," Boland says at the bar of her cafe, which she describes as her "dream location."
Boland shares her philosophy in a short essay on Fields of Athenry's website.
"Our farm and home motto is now: 'If it doesn't rot—don't eat it,'" Boland notes. "Think about it. Do a pantry raid. If it is meant to sit weeks or months on end on a shelf in the grocery store, it is going to sit in our guts, too, and wreak havoc on our bodies to boot."
While Side Saddle and Field & Main are two of the newest bistros on the clean, lo- cal scene, there are those that came before them, spots like Middleburg's Goodstone Inn, led by Executive Chef John Leonard, Hunter's Head Tavern in Upperville and Harrimans Virginia Piedmont Grill at Salamander Resort, helmed by Chef de Cuisine Chris Edwards. All the eateries offer toothsome dishes, mindful of the local farmer's integral role in their community.
These modern chefs recognize the local-first mentality of millennials and social- ly conscious consumers. For them, cuisine is about experience. It's about memories.
"Those experiences that I remember most about my travels around the world are of places—you eat that place," Wavra reflects. "You think about that place and say, 'I ate that there because that's what was there and that what's good about there.' It's what's good about that place."