The sleepy Blue Ridge village of Bluemont is bustling with activity as it prepares for the 47th annual Bluemont Fair on Sept. 17-18 from 10 a.m.-5 p.m. both days, rain or shine. Admission is still only $5 for adults and free for children under 10, with free parking available. One-way traffic and crosswalks will be enforced in the village to ensure pedestrian safety. As always, the beautifully renovated schoolhouse, grounds, and the entire village will be
alive with music, crafts, activities and food.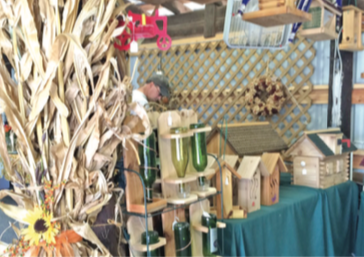 Bluemont's distinctive logo reflecting this year's "Harvest Moon" theme features a larger-than-life moon with a fox and pumpkins in the foreground. Created by Denise Kupiszewski of Shepherdstown, West Virginia, the logo will grace the Bluemont Fair's distinctive poster, t-shirt, mug and other fair memorabilia.
Denise is a two-time winner of the poster contest. Her very popular design "The Birds of Bluemont" won in 2011 for the 42nd annual Bluemont Fair. Denise, also an accomplished potter known as The Mud Peddler, is a featured vendor in the juried crafts and will gladly sign copies of her beautiful poster design.
Always mindful of the natural beauty of the area and the need to provide good stewardship, Bluemont continues a "green"
approach to the fair.
Whenever possible, recycled materials are used and easily identifiable receptacles encourage recycling of bottles and cans. Reusable shopping bags with an abbreviated rendering of the "Birds of Bluemont" logo will be available for sale at a nominal price at various sites throughout the fair to encourage fairgoers to reduce the use of plastic bags.
An exciting new feature this year is an authentically replicated Indian Village in Stone's Field, designed to educate children (and adults!) about Native American culture. An award from the Virginia Commission for the Arts' Artists in Education Program to Sanctuary on the Trail Inc. (as well as a generous donation from Ken and Julia Falke of Boulder Crest Retreat and additional grants and donations) provided funding for the village, a collaboration between Sanctuary on the Trail and Village Montessori School that will be open to the public during both days of the fair. Come celebrate with dance, regalia, storytelling, survival skills, living history exhibitors, trading post vendors, North American Bushcraft School, music from Dark Water Rising, and a tribute to military veterans and uniformed service members. Purchase authentic Native American jewelry and watch these artisans create unique works of art.
Event times at the Indian Village can be found within the fair schedule at bluemontfair.org.
Requested donation for entrance to the Indian Village is $3 per person or $15 per family.
Bluemont is located in the foothills of the Blue Ridge on Snickersville Turnpike (Rt. 734) about one hour west of the District of Columbia, 17 miles west of Leesburg and east of Winchester via Route 7. For more information, call 540-554-2376 or visit www.bluemontfair.org.