By Vicky Moon
Greg Montgomery's artwork is bold and beautiful. It's also highly recognized, keenly sought after and filled with clean lines, an abundance of white space and accented with robust colors.
Many have spotted his work during the August racing season in Saratoga, the chic upstate New York getaway noted for its restorative waters and fast horses. Montgomery's iconic graphic images have paid tribute to Saratoga racing and the Travers Stakes for 31 years. So, when Juliana May, event chair of this year's sixth annual Polo Classic, briefly visited Saratoga last year with her husband, Richard May, they met the artist.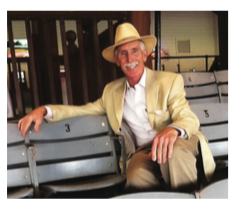 "They found my work, saw my 30th retrospective at the National Racing Museum and Hall of Fame, and tracked me down to talk about artwork and the possibility of my creating a piece for a polo match,"  Montgomery said. "We met in Alexandria this winter, talked forever, and were introduced to the lovely people at the National Sporting Library & Museum (NSLM), and—as they say—the rest is history."
Born in Washington and now living in Albany, Montgomery, 67, grew up in suburban Maryland and attended Good Counsel High School. His father was an architect who worked on the design for the Sheraton Silver Spring on Colesville Road.
Looking at his father's blueprints influenced the son's later work. "I'm sure I received that gift from my father," Montgomery said. "The idea that you use drawing not only to explain a concept to someone else, but also to more fully understand it yourself, came from him. Drawing is a language that I speak; graphic design is what I do with it."
"Is Greg an artist or an illustrator? I don't see one as being exclusive of the other,"  said Claudia Pfeiffer, the George L. Ohrstrom, Jr. Curator of Art at the NSLM. "Greg is inspired by commercial artists such as Tom Purvis who used bold fields of color to create distinctive poster art for the British Railways in the 1920s and '30s. Greg's serigraphs and giclées are recognizable and distinctive in the same way, and he created a niche for himself by focusing on equestrian sports."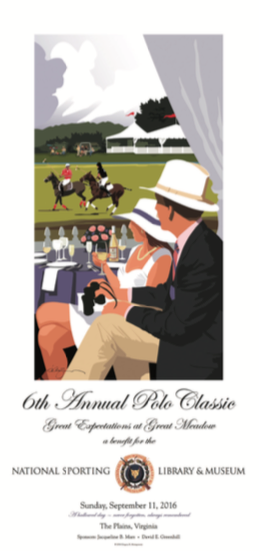 After receiving a bachelor's degree in University Studies with a degree in professional art at the University of New Mexico in Albuquerque, Montgomery worked as a corporate art director. He retired recently as art director from the Albany Times Union newspaper.
Now, Montgomery is fulfilling every artist's goal as a full-time designer and illustrator, including commissioned works. One such commission is for this year's Polo Classic set to take place at Great Meadow in The Plains on Sunday, Sept. 11.
He created "Wine and Roses,"  a nod to the Classic and to polo enthusiast David Greenhill, owner of Greenhill Vineyards and publisher of Middleburg Life, sponsors of this year's Classic. Greenhill is also a co-sponsor with Jacqueline Mars of the exhibition "To the Finish: The Art and Process of Greg Montgomery" at the NSLM from July 29-Nov. 27.
Montgomery noted that the poster "is actually a travel poster that invites you to the event, to the action, to the table, and from there to enjoy the view of the action. The horses, the polo players, the spectators, those at the table, the tailgate viewers, and finally to the vista of the beautiful horse country beyond."