By Brian Yost
If you're unfamiliar with the Carménère varietal, it was widely grown in Bordeaux until phylloxera wiped it out in the 19th century.
It's still one of only six red grapes permitted in that region, but there remain only a handful of Bordeaux producers cultivating the grape. Curiously, it's much more common in Chile, which escaped the scourge of phylloxera,  and today Carménère represents one of the country's most widely planted red varietals.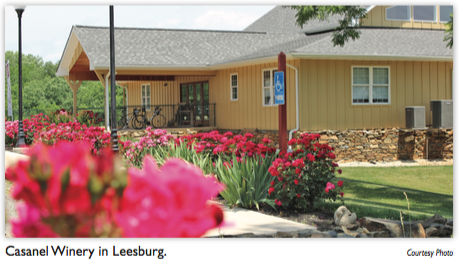 DNA studies indicate that Carménère is a natural cross between Cabernet Franc and a much older varietal, Gros Cabernet. With Cab Franc as one of its parents, it might seem like a natural candidate for cultivation in Virginia. It's been attempted in several vineyards and subsequently pulled up. A few wineries still have small quantities under vine, but use it exclusively for blending. So conventional wisdom seems to tell us that Carménère is not ideally suited to grow in the Commonwealth.
You may not know much about Casanel Vineyards near Leesburg. I think they're flying a little under the radar. It's not a party winery filled with busloads of tipsy weekend revelers. That is not the reputation they choose to pursue. Rather, they're steering a deliberate course toward production of fine Virginia wine.
Defying the odds, Casanel Vineyards near Leesburg planted about an acre of Carménère. In contrast to other growers, they successfully harvested and bottled 90 cases in 2014. It was done as a single varietal rather than a blend. Rather than a one-time occurrence, 2015 turned out to be a banner year for the varietal and 2.8 tons of Carménère was harvested.
It's one thing to grow and harvest grapes and another to produce a reasonable wine. Katie DeSouza, daughter of owners Nelson and Casey DeSouza, shares production responsibility with Katell Griaud. The two have an average age of less than 30, which probably makes them the youngest winemaking team in Virginia.
Of course winemaking is a male-dominated profession and you can imagine that, based on age and gender, this duo is not taken very seriously. Yet, despite any preconceptions in the profession, Katie and Katell have some serious street cred.
The Casanel Carménère won gold at the 2016 San Francisco International Wine Competition. At the Grand Harvest Competition, restricted to wineries located in an American Viticultural Area (AVA)), they also took gold.
Many of their other wines have earned accolades in competitions throughout the U.S. Casanel wines earned three silver medals in the recent Governor's Cup and one was within a single point of gold.
When I asked about their program at Casanel and particularly about the Carménère, Katie responded, "it's very unique and I think it's a testament to our site and the thoughtfulness we put into our viticulture program. With the right team, determination, andattention to detail, we can grow amazing fruit and make amazing wine in Virginia, no matter what the variety."
There's certainly room for growth, but there is little doubt that we'll see great things from them in the near future. In my mind, the product speaks for itself.
I recently visited Casanel, where I was fortunate enough to spend time with Katie and taste a few of the soon-to-be released wines.
The main event for me was a vertical tasting of the 2014 Carménère and a barrel sample of the 2015. Again, if you don't know this varietal, it's a deep red wine with a rich bouquet, hints of cassis and firm tannins. The Casanel examples did not disappoint. The 2014 will be released in August and I urge you to stop in and at least taste it. It's just exciting to see something new result in wine of such quality.
There are several other Casanel wines of particular note. The K2 (a reference to Katie and Katell) is a Bordeaux blend that's among those that will be released soon. We also tasted an exceptional Petit Verdot that's won at least a half dozen medals. There's also rumor, perhaps more than rumor, of an upcoming release of a Norton sparkling wine.
There are currently 46 wineries in Loudoun County and most make good wine. A handful are producing great wine. Casanel is firmly in the latter category and flirting with world-class wine. There's no doubt Casanel will gain real notoriety as word of its quality spreads. Their Carménère is just one indicator.