Willisville Preservation Foundation Celebrates Installation of Historic Road Marker for Willisville
Upperville, Virginia, September 8, 2021—The Willisville Preservation Foundation (WPF) celebrated the unveiling of a Historic Road Marker honoring the history of Willisville at the intersection of Route 50 and Willisville Road.  WPF worked with the Virginia Department of Historic Resources on the project, and the sign was officially approved in March of this year.  Carol Lee, President of WPF, said "The sign looks beautiful, and we are proud to see our historic village publicly recognized."  She continued, "This is the latest success story of the community working together to preserve our shared history."  In December of 2019 Willisville became the first historically African American village in Loudoun County to be listed on the National Register of Historic Places, the result of a two-year partnership between the Willisville community and the Virginia Piedmont Heritage Area Association (VPHA).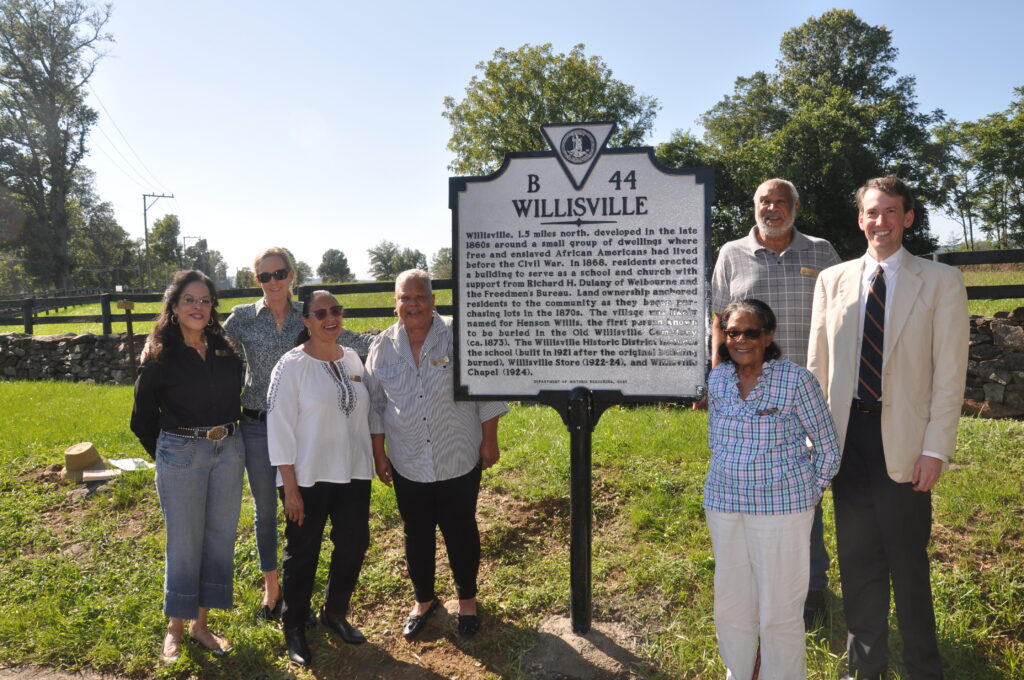 Willisville's origins predate the Civil War, originally inhabited by enslaved and free African Americans.  In 1868, residents erected the first building for education and worship, with support from Richard H. Dulany of Welbourne, the Freedmen's Bureau, and members of the community.  The village was later named after resident Henson Willis, the first person to be buried in the Old Willisville Cemetery (1873).  The Willisville Historic District includes the school (built in 1921 after the original building burned), Willisville Store (1922-24), and Willisville Chapel (1924).

WPF advocates for the Willisville community, and the preservation of its heritage and historic character.  They also maintain the village cemeteries and hold events throughout the year to celebrate their history and raise funds for their mission.  Upcoming events include an "Afternoon Tea" at Trinity Church this fall and participation in the Middleburg Christmas Parade.    

The Willisville Preservation Foundation is a non-profit 501(c)(3) and their mission is working to preserve the history of their village and community. For more information, visit www.facebook.com/WPFnonprofit