By Chelsea Rose Moore
With March dominated by news of COVID-19, it's easy to feel disheartened by business closures, economic uncertainty, and social distancing. In hard times, communities often band together, but quarantines have required us to come together in more unusual ways.
Fred Rogers said, "When I was a boy and I would see scary things in the news, my mother would say to me, 'Look for the helpers. You will always find people who are helping.'" I've been keeping my eyes open for the "helpers," and have been truly astounded at how many people are coming together during this time. I've seen neighbors helping neighbors, communities rallying together, and strangers delivering toilet paper to elderly community members. What a beautiful picture of humanity.
During this difficult season, I've been challenging myself every day to find things to be thankful for: taking a walk with my daughters, meeting a neighbor, enjoying a quiet picnic in the park, being blessed with more family time, staying healthy, soaking in beautiful spring weather. Simple joys that often become overlooked in life's normal hustle and bustle. Let's all challenge ourselves to look for the helpers and count the simple joys in our days. Here are some helpers we found throughout Middleburg and hunt country. 
The Town of Middleburg announced a $182K financial relief package to help residents, restaurants, and non-profits. The package gave residents $20 meal vouchers to spend at restaurants in Middleburg. Additionally, the town resolved not to shut water service off for customers who could not pay their bills and is crediting residents $200 on their May utility bills. The package contributes $16,750 to three area nonprofit organizations.
Some locals began their own delivery service to meet the needs of their community. Middleburg resident Noel Ryan rose to the occasion, writing, "Any business in town, please contact me. I am available to deliver food and product to your customers. I will leave deliveries at customer gate. For locals, help out our small businesses, call your order in and I'll deliver, for a fee."
Robin and Gayden Parker offered help too: "If anyone needs anything picked up if they can't or are afraid to go out right now, we can run errands or pick up groceries, meds or whatever is needed."
Lisa Weisert offered to do porch notarization, sharing: "If anyone in Middleburg needs a document notarized during these difficult times, I am more than happy to come by your home and meet you on your porch to notarize your document(s) free of charge."
Purcellville's Catoctin Creek Distilling Company found a creative way to help by providing free sanitizing alcohol to the community. They posted on their Facebook page, "We are offering free sanitizing alcohol to those in need, especially first responders, hospitals, care facilities, etc. Bring your own container …We will be starting a program to manufacture hand sanitizer soon."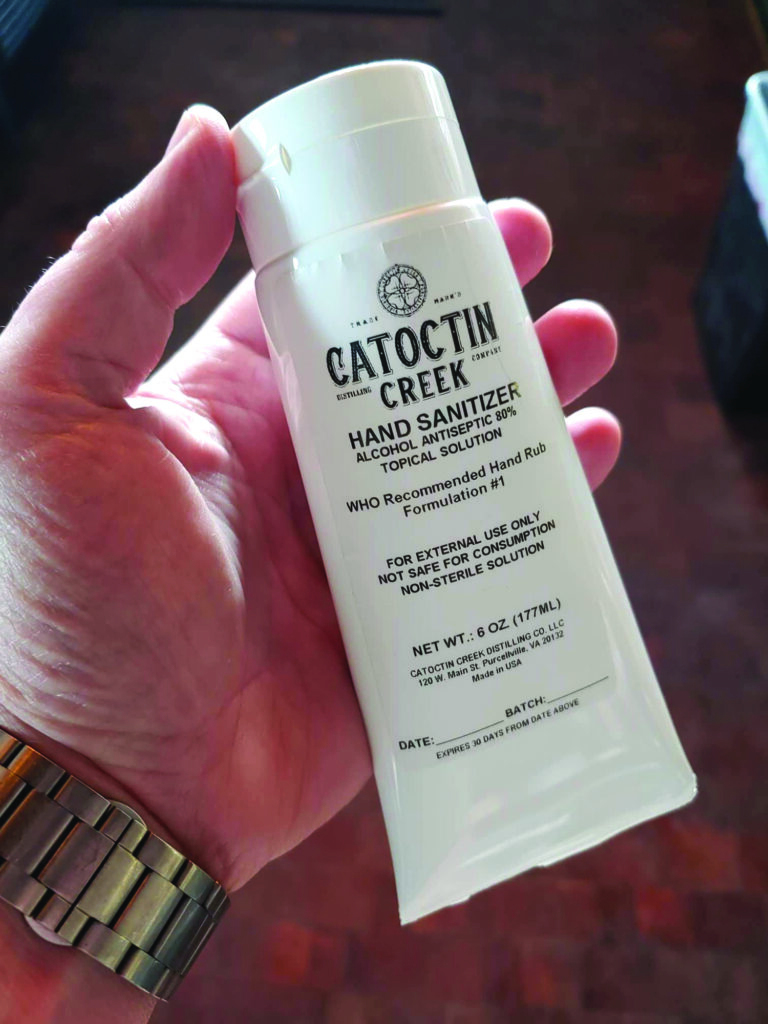 The Facebook group "Loudoun Resources During Covid-19 Closures" quickly grew to a few thousand members. Volunteers in the group offered to shop and deliver groceries to health care providers and others in need. For those requiring food, essential items, or financial assistance, the group banded together to help. Posts also shared important details, like which local stores stocked toilet paper each day.
Greenheart Juice Shop surprised nurses at StoneSprings Hospital Center, Leesburg Hospitals, and Inova Loudoun Hospital with over 800 bottles of juice to thank the medical staff for their hard work and dedication.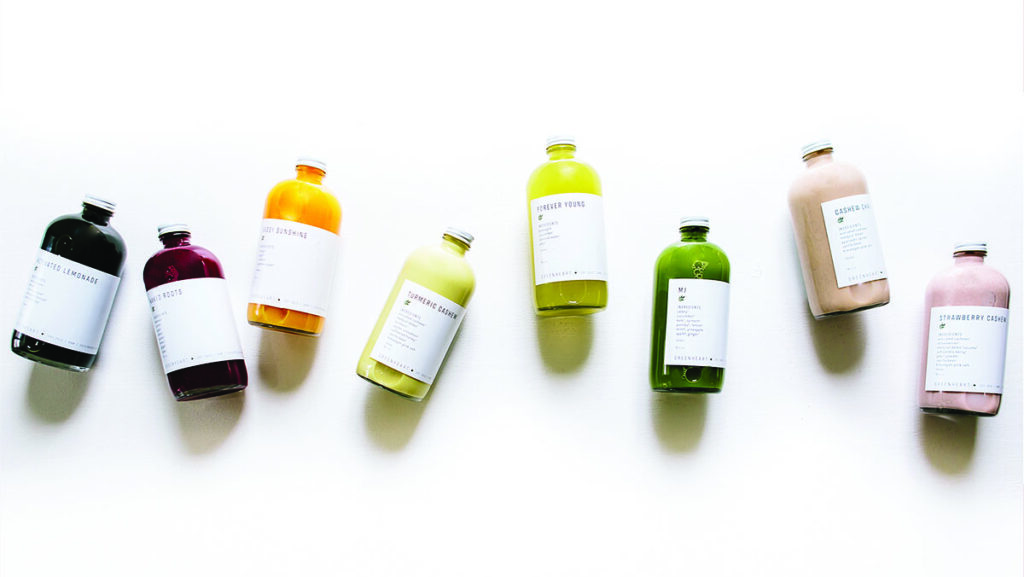 (Greenheart Juice)
The Goodstone Inn & Restaurant encouraged people to spend time outdoors by inviting the community to explore their grounds. They wrote, "During these trying times, we'd like to extend ourselves as a resource to the community. We invite you to take a scenic day drive to our charming town of Middleburg, stroll our gardens, enjoy our natural wildlife, visit with our farm animals or simply enjoy a family photo shoot or picnic on our 265-acres of rolling hills. Our grounds are open to you."
While local businesses switched to a take-out only model, Middleburg Mayor Bridge Littleton reminded residents on Facebook to support local businesses by shopping online and ordering takeout. "Shop locally, but virtually!! Most of our shops have an online presence, so before browsing Amazon, take a look at our many local stores for what you may need. And if eating in, why not take out!! Many of our restaurants offer take out service, and some deliver."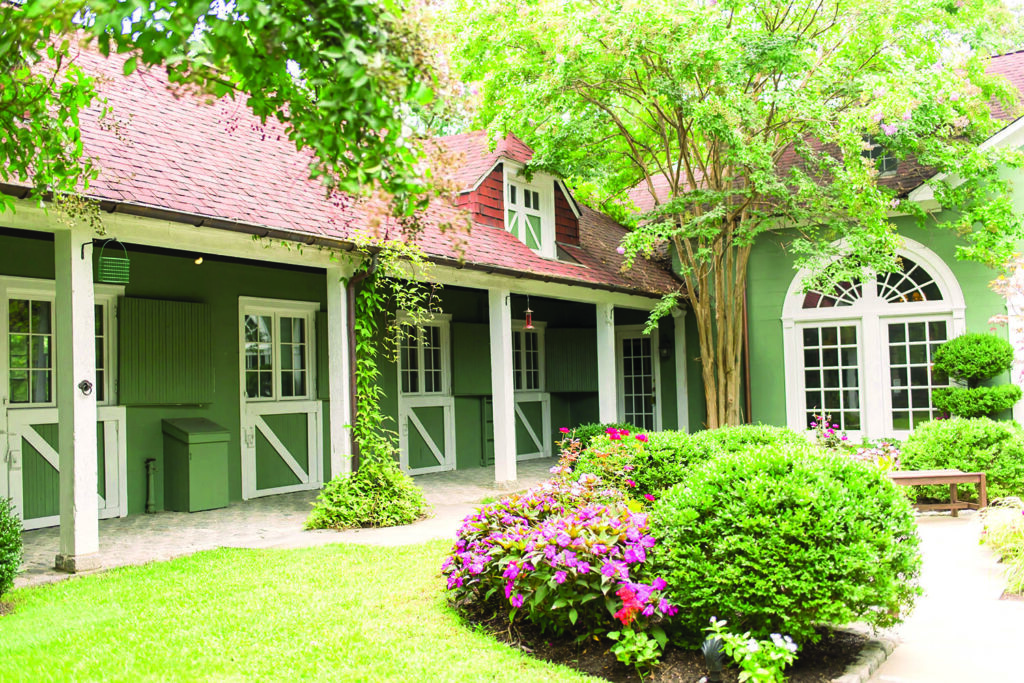 (Goodstone Inn Photo by Maddy Williams Photography)
Camino Real of Berryville worked to ensure kids did not go hungry by giving free meals to kids during school closures. With no purchase necessary, students were able to order free kids' meals on weekdays, so that those who depend on school lunches did not have to go hungry.
Similarly, Loudoun County Public Schools offered a meal service for students from 10 a.m. to 1 p.m. Meals were available at select schools, where students could receive two meals daily. They also used school buses to deliver meals across the county to ensure that students did not go hungry.
Purcellville Councilman Joel Grewe and his family left a bin on their front porch to collect donated items from the community. Items included disinfecting wipes, Lysol, hand sanitizer, face masks, and disposable gloves. Grewe's wife, Christie, wrote on Facebook: "CPS has unfortunately had an uptick in cases since schools have closed. Fusion partners with foster care families and caseworkers in Loudoun County, and they are working to support both foster families/kids and caseworkers during this crisis. Caseworkers are in need of cleaning/disinfecting supplies. I know these items are all in high demand and short supply, but please consider picking up an extra package when you see one, or sharing if you have an abundance."
Community volunteers stepped up to support the needs of the Blue Ridge Hospice by sewing masks. Their goal was to make washable, reusable face masks for every clinical staff member to have multiple masks to use during their daily patient care. "All volunteers and employees across Blue Ridge Hospice have really come together regardless of their roles; clinical, administrative, thrift and warehouse, to make the masks and help however they can," said Tonia Sweeney, volunteer services manager at Blue Ridge Hospice.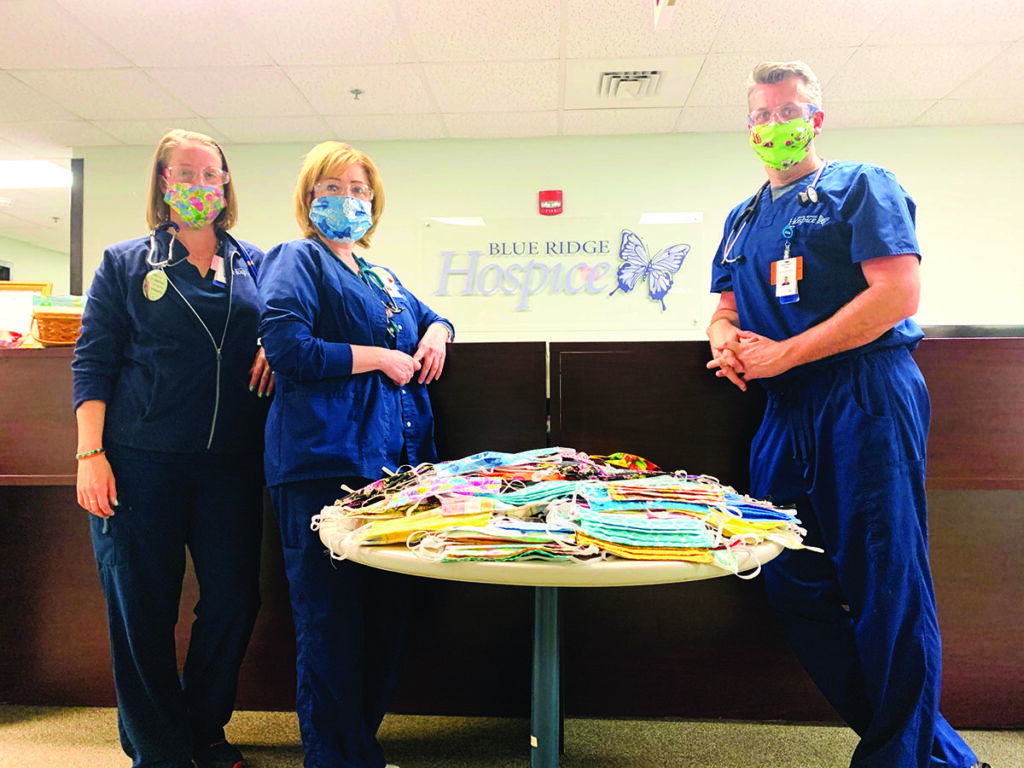 (Blue Ridge Hospice workers with homemade masks. From left to right: Molly Beuth, CNA; Sonia Clawson, RN; Dr. Brendan Flynn, Chief Medical Officer. Photo courtesy of Blue Ridge Hospice.)
Scout's Bakeshop owner Megan McGlynn pivoted from baking cakes to making masks to donate to local healthcare offices. Her first goal was to make 100 masks, and then continue producing masks until hospitals increase their supply.
Harmen van der Woude sewed masks for the Agape Vet Clinic staff, so they could save surgical masks.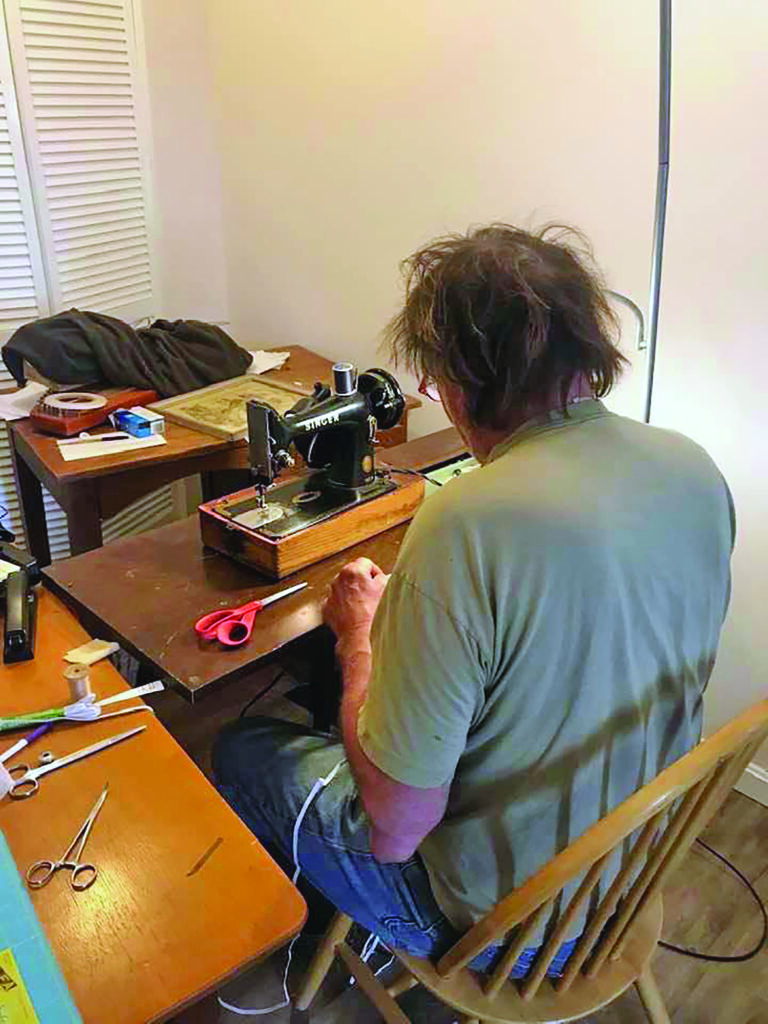 (Harmen van der Woude sewing masks for the Agape Vet Clinic staff.)
Many businesses found creative ways to reach new audiences and help kids and adults stay busy with free online material. Normally, Warrenton-based company Kingdom of Azuria sends princesses, mermaids, ballerinas, and pirates to children's birthday parties. Since they could not attend parties, they hosted virtual story times by dressing up as familiar Disney princesses and hosting sing-alongs and story times to entertain kids on Facebook.
Reston's Principal Ballet offered free ballet lessons every day on Zoom. Warrenton's Crescendo Music, LLC hosted free music lessons for kids on Facebook. Local artist Christine Olmstead threw a free online painting party, where she explained the basics of color theory and how to think abstractly in painting. Marshall's Mountainside Montessori School put together "MontesStoryTime," featuring favorite songs and read-aloud story times for children to enjoy.
Even kids helped in their own way! Fauquier County girl River Maloney put together beginner art lessons with step-by-step directions and uploaded the videos to YouTube. Kids in Warrenton painted rocks and left them around their neighborhood for others to find, while others participated in the "Chalk Your Walk" challenge, which encouraged people to draw positive messages on sidewalks.
Neighbors rallied together to lift spirits. The Little Free Libraries in Marshall were turned into community food pantries. The box outside Marshall Baptist Church was restocked throughout each day. Residents in need were encouraged to drive up and take what they needed.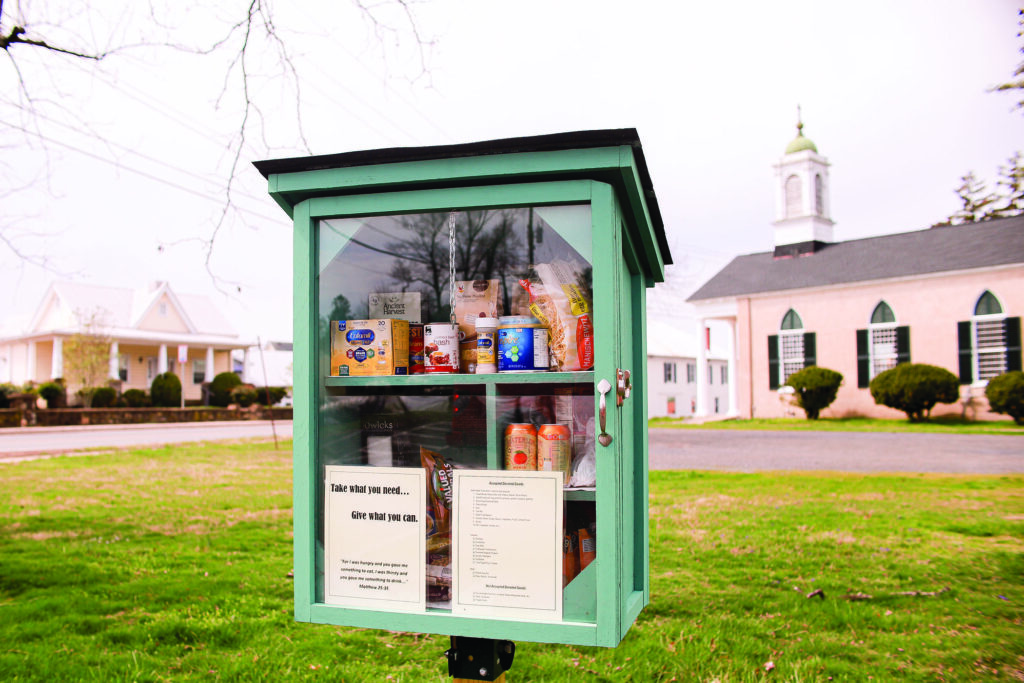 (One of the Little Free Libraries in Marshall stocked with food.)
Residents in Clarke and Loudoun Counties – in addition to neighborhoods around the country – placed teddy bears in front windows for young children to spot on walks or drive-by "bear hunts." One Leesburg neighborhood created an alphabet hunt for kids, while another built a "Zoofari" in their front windows.
The town of Lovettsville held a "drive by birthday parade" to celebrate the kids and adults who were unable to have a party during this time. Thirty-five cars decorated with birthday banners and pendants drove around the town in celebration.
A group of Western Loudoun moms created a GoFundMe page to raise money for meals for grocery store workers and first responders. The fundraiser's creator, Sarah Weitlich, wrote, "Let's thank our grocery store workers for all their hard work (many have gone from working 6-8 hrs. a day to 10-12 hrs. a day) and dedication to providing food and other essentials to us during this quarantine. I would love to provide a meal to all workers at the Purcellville grocery store locations (approximately 200 employees) from our community (Round Hill, Purcellville, Hamilton). Any extra money (if there is any) will go towards thanking our police department and/or fire departments."
Musician Mary Chapin Carpenter posted a series of live songs in "Middleburg Uncensored" that she called "Songs from Home: Live From My Kitchen." She played uplifting original songs on her guitar that emphasized virtues like courage in the face of the unknown. As she shared on one of her posts, "We may be in lockdown but our hearts are still open."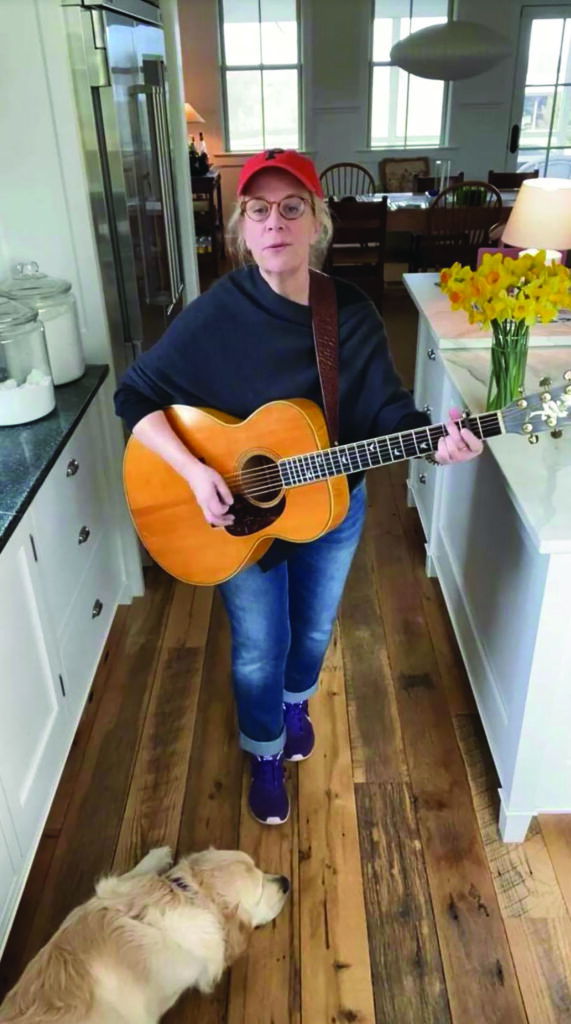 (A screenshot from Mary Chapin Carpenter "Songs from Home" concert.)
Every day, more and more "helpers" have appeared across our neighborhoods, towns, counties, and state. Together, they've worked to find creative solutions to widespread problems, from sewing face masks and delivering groceries to elderly neighbors, to reminding us to smile and look for silver linings.
Let's keep our spirits high by looking for the helpers and becoming helpers ourselves too. ML
This article first appeared in the April 2020 issue of Middleburg Life.