Written by Diane Helentjaris
No one knows which handsome horse will lead at the Middleburg Spring Races on April 23. However, one thing is for sure: There will be tweed. Donegal tweed with yellow and red flecks, windowpane, checks, herringbones, houndstooth, tattersalls. Tweed jackets, caps, bags, vests, and maybe even shoes. The fabric is deeply woven into the history and culture of British and Irish equine sports. And when these sports came to America, tweed came with them.
For centuries, British and Irish weavers transformed the springy wool of their sheep into tweed. Queen Victoria's husband Prince Albert supposedly designed the gray and red estate pattern for Balmoral Castle. Sherlock Holmes's deerstalker hat is a Harris tweed. Mr. Toad of "The Wind in the Willows" sports a Harris too. Sean Connery wore a brown barleycorn tweed coat in "The Untouchables."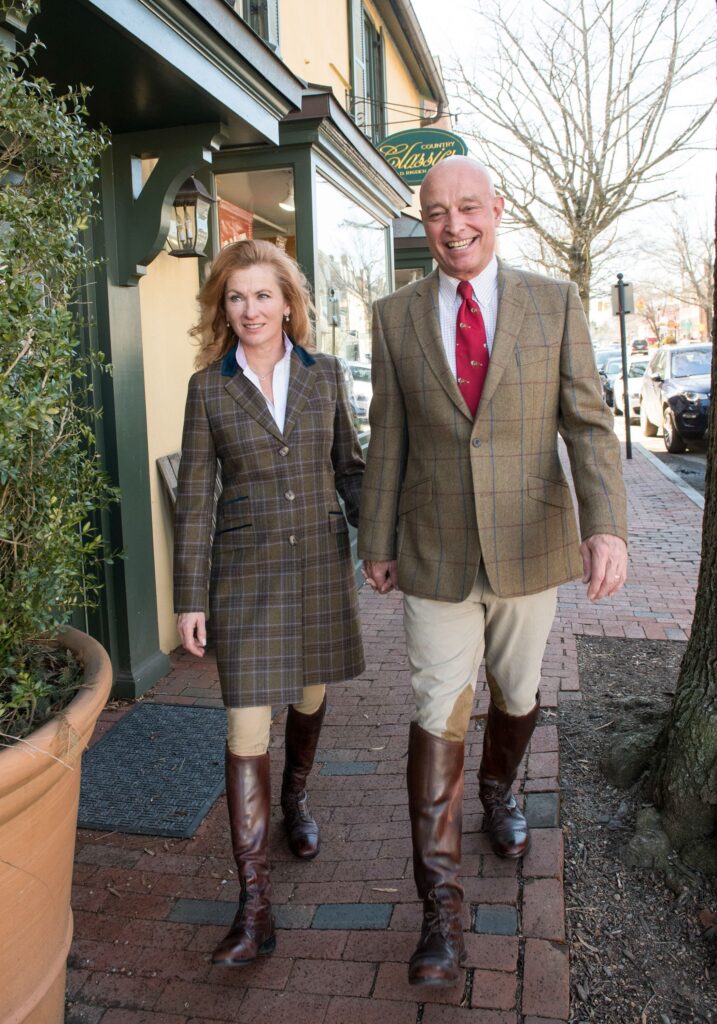 Mark Metzger, owner of Highcliffe Clothiers in Middleburg, describes the fabric as "old time, durable … handsome to most, elegant to many." At Highcliffe, he offers custom-made and ready-to-wear clothing for men and women. Like other shops in the area, Metzger uses tweeds imported from Britain and Ireland. His stack of tweed pattern sample books could fill a wheelbarrow.
"Tweed," Metzger says, "can truly take a beating." A tweed hacking jacket can withstand brambles and burrs while protecting the wearer. Being able to say, "This is my dad's tweed" is a source of pride. He frequently alters tweed jackets from earlier decades to fit new generations of wearers.
"I consider it the original camouflage."

– Metzger
"I consider it the original camouflage," Metzger declares with a smile. Originally, only natural dyes were available to color cloth. Blackberries, lichen, roots, moss, leaves, and even whelk shells were used. The result was a palette of colors that echoed the environment. The broken-up patterns hid wearers in bracken, bushes, and brush. The cloth is silent. Game hunters in tweed can move undetected.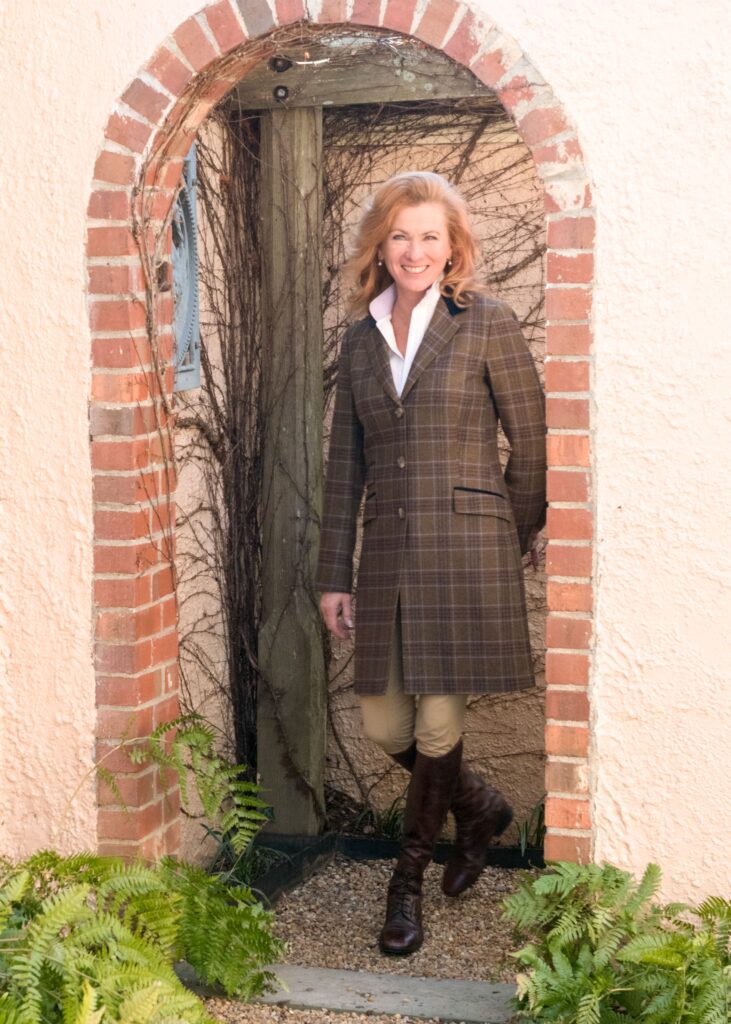 Diane Rigden, whose family shop, Country Classics, opened in 1989, points out another advantage. Tweed, with its earthy colors, does not readily show the dirt associated with an outdoorsy lifestyle. "Tweed is just timeless," she says.
Meticulous in her style choices, Rigden travels to the U.K. (usually the Cotswolds and Scotland) to work directly with weavers. Upon request, a weaver might experiment with an extra thread of one color through a swatch to see how it looks, share older archived samples for inspiration, or swap out a traditional color for an updated neon.
Marion Maggiolo is the owner of Horse Country Saddlery, a popular equestrian outpost in Warrenton since 1970. "We've developed our own patterns over the years, keeping traditional appeal with some updated twists," Maggiolo says. "Each of our jackets, either for men or women, will stand the test of time. From bright herringbones to colorful windowpanes and the in-between houndstooth, we've always had a great selection on hand."
"Just today, tweed cloth samples arrived by mail. We're planning the color range for [the] 2022 and 2023 fall seasons. It's exciting to see the collections come together from our three makers. As one woman said [while wearing] a new tweed jacket… 'My granddaughter will wear this,'" Maggiolo shares.
Rigden echoes this sentiment. "One big thing I've noticed is everyone getting away from [fast] fashion," she says. "Tweed is sustainable. You can have it for decades. The whole fashion world is going toward sustainability. With tweed, you can mend it, let it in, or let it out, [and] have it for an awfully long time. It's easy to take care of."
Tweed is not locked in the past. Woven in many colors and patterns, it readily absorbs innovation. Rigden likes to keep an eye on what's going on in Europe and has noticed a lot more plaids, bolder tweed patterns, and checks.
Karen Jackson of Tully Rector, a women's clothing shop in Middleburg, likes pieces that "[have] an English-y feel, [and] an updated kind of look." She readily lists a number of today's designers who "do some really classic fabrics … yet they are very trendy. Hot designers do so many tweeds and classic prints. Anytime I'm at [the] market and see a tweed, I gravitate toward it as I know it will sell around here."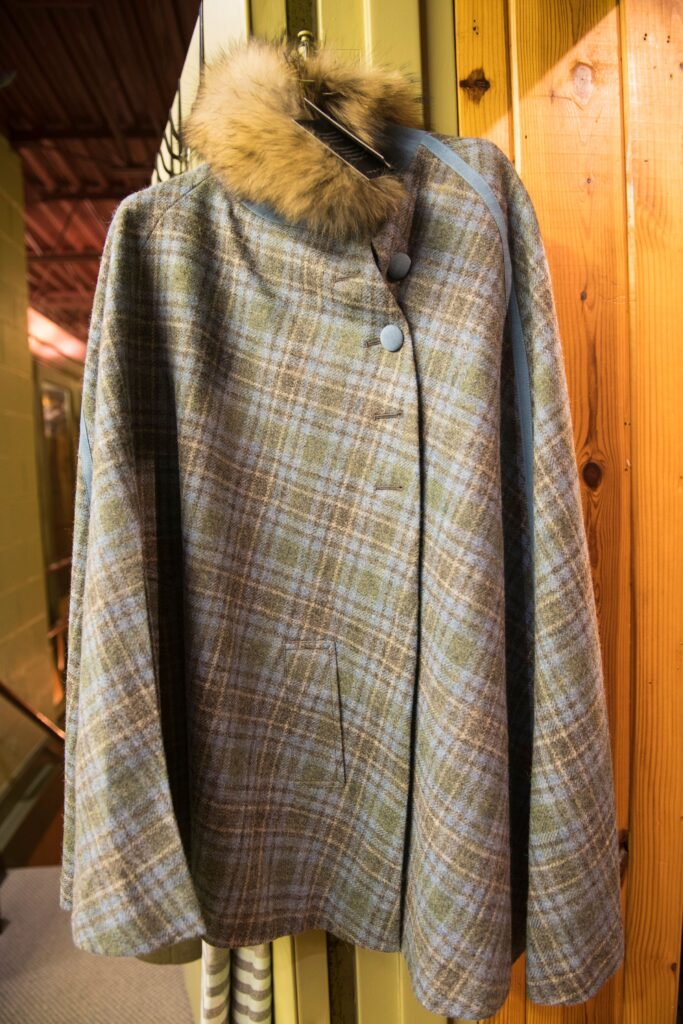 When asked about new styles, Metzger brings out a sample book labeled "Urban." The lightweight tweeds, suitable for jackets or suits, each have a fine glittering thread of silver running through them. The thread is so narrow, it sparkles like a wink that you're not sure ever really happened.
Anyone wanting to bring more tweed into their life might choose a suit, jacket, vest, or hat. Women could go with a cape or handbag, or even shoes. According to local retailers, subtle patterns, lightweight fabric, and checks are the most popular styles of tweed in Hunt Country.
For those who want to pull some tweeds into their outfits for the upcoming races, Rigden suggests considering a jacket or coat. She is especially fond of tweed hats with self-fabric bows for ladies and trilby hats for men. According to Rigden, "A piece of clothing is a statement and a reflection of the person [wearing it]." ML
This article first appeared in the March 2022 Issue.