Written by Victoria Peace | Photos by Gregorio Photography
"When preparation meets opportunity is when you will be the most successful."
This is the philosophy that Neil Morris lives and trains by. When we visited Morris at his state-of-the-art barn at the Middleburg Training Center, he explained how the evolution of racing has made preparation just as important as luck.
The early days of point-to-point racing were unplanned, unstructured, and totally exhilarating free-for-alls through the English countryside from one village church steeple to another. There was no set course or route — no matter what you encountered, the only way forward was over, under, or through.
While today's riders and trainers can expect course walks and groomed turf, it hasn't diminished the excitement — racing is still a sport of chance. However, the additional structure and predictability allows for more precise and intentional training plans. Middleburg-based trainer Neil Morris has become a master of this science, amassing close to 6 million dollars of earnings on the track, continually bringing home impressive wins for his owners, and earning the title of top Virginia-based trainer of the year in 2019.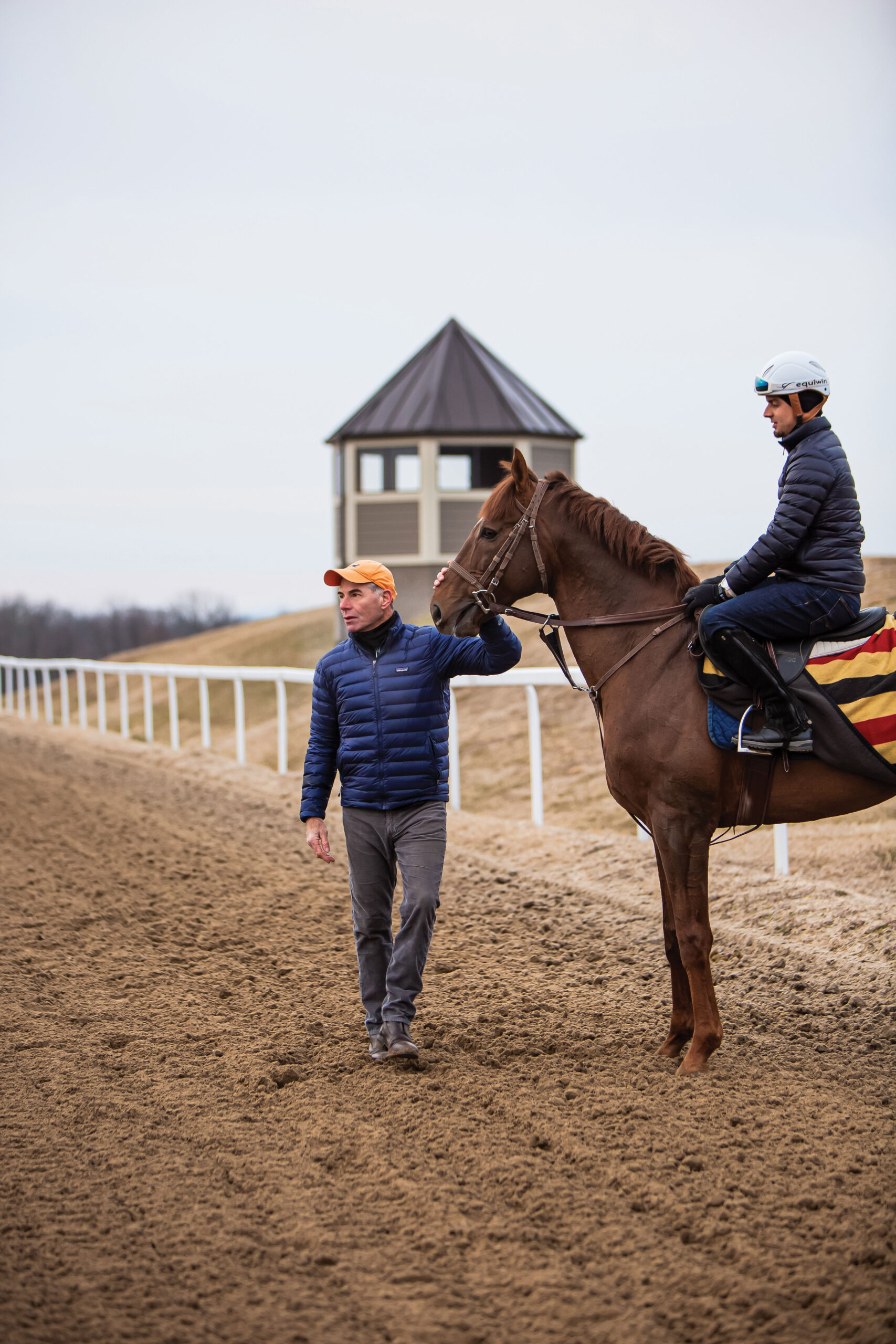 Neil Morris at Middleburg Training Center with jockey Guillermo Rodriguez on Ritzy AP, owned by Bryce Lingo and Leslie Kopp. Photo by Gregorio Photography.
Raised in Hertfordshire, England, Morris started riding ponies at the age of seven. He made his show-jumping debut three years later and quickly moved up the levels. But it was fox hunting that gave Morris his first in-person exposure to racehorses, who were often ridden on the hunt trail in order to qualify for point-to-point races.
His family wasn't involved with horses or the racing industry. However, Morris told us that racing in England is a culture, much like baseball in the United States. People are frequently exposed to it through media and television — despite the fact that his mother didn't follow racing, she could tell you who won the Grand National and the Gold Cup any given year.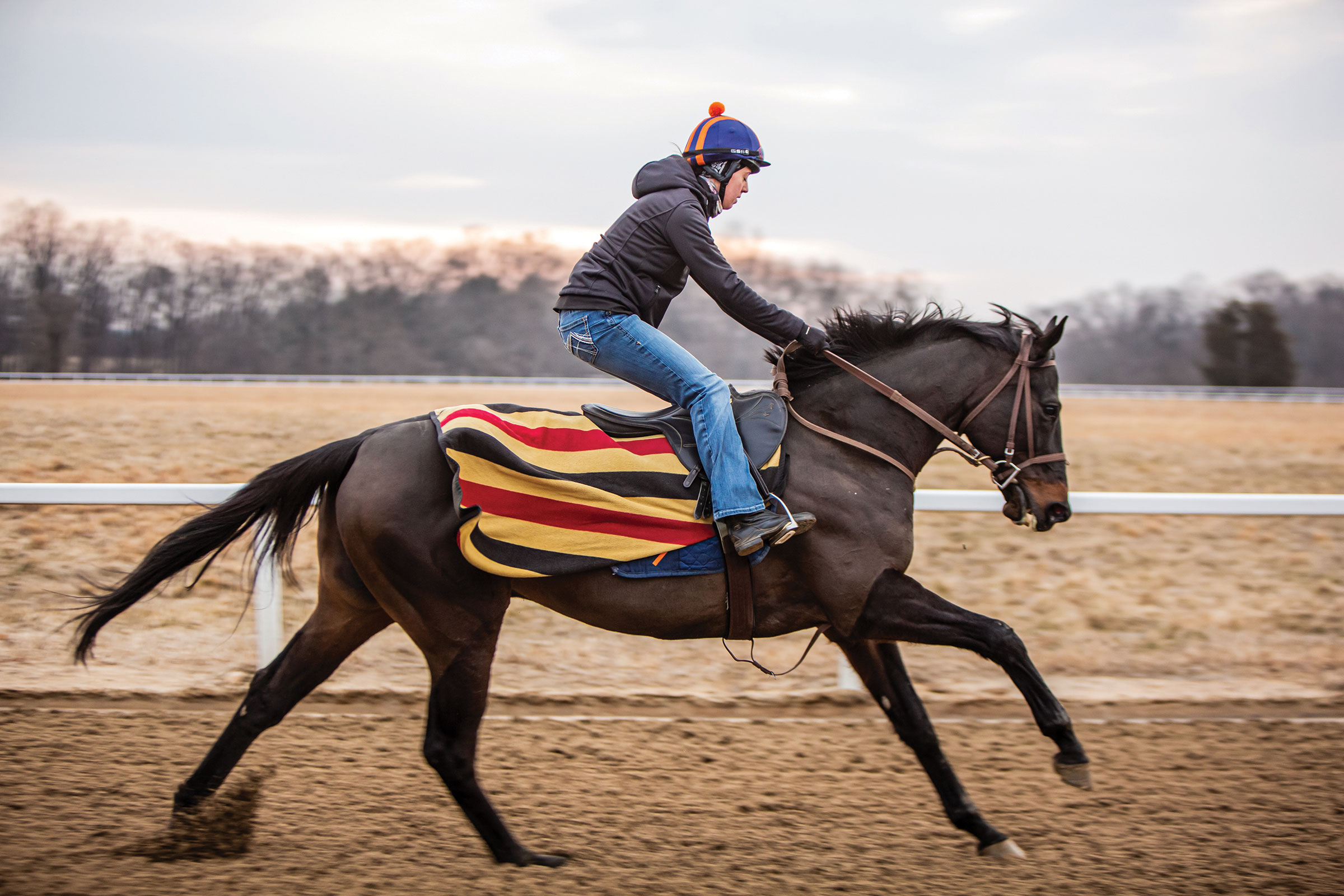 Left: Racehorse in training, ridden by Zoe Valvo.
After secondary school, Morris attended an agricultural college and began working for Philip Newton who owned a stud farm and trained both flat and steeplechase horses. Newton recognized Morris' talent, and following the completion of his degree, immediately offered the new graduate a position. However, Morris wasn't ready to settle down in one place just yet. Newton agreed to send him to Mill Ridge Farm in Lexington, Kentucky for a year to learn about their commercial yearling production and breeding operations. And, upon his return to England, he raced Newton's steeplechase horses as an amateur.
But Morris wasn't done with America yet. During the summer of 1988, he decided to come to Middleburg to spend three months working for the Olympic gold medalist and three-day event rider Torrance Watkins. During this time he fell in love with the area, describing it as "magical" and "God's gift to anybody who wants to be in the horse business." The rolling hills reminded him of England, and he was amazed by the sheer variety of horse sports available.
Once again, he returned to England where he accepted a position as an assistant trainer at Newmarket. But deep down, he felt a calling to go back to Virginia. After a year, he followed his heart and moved to Middleburg, ready to make it his home.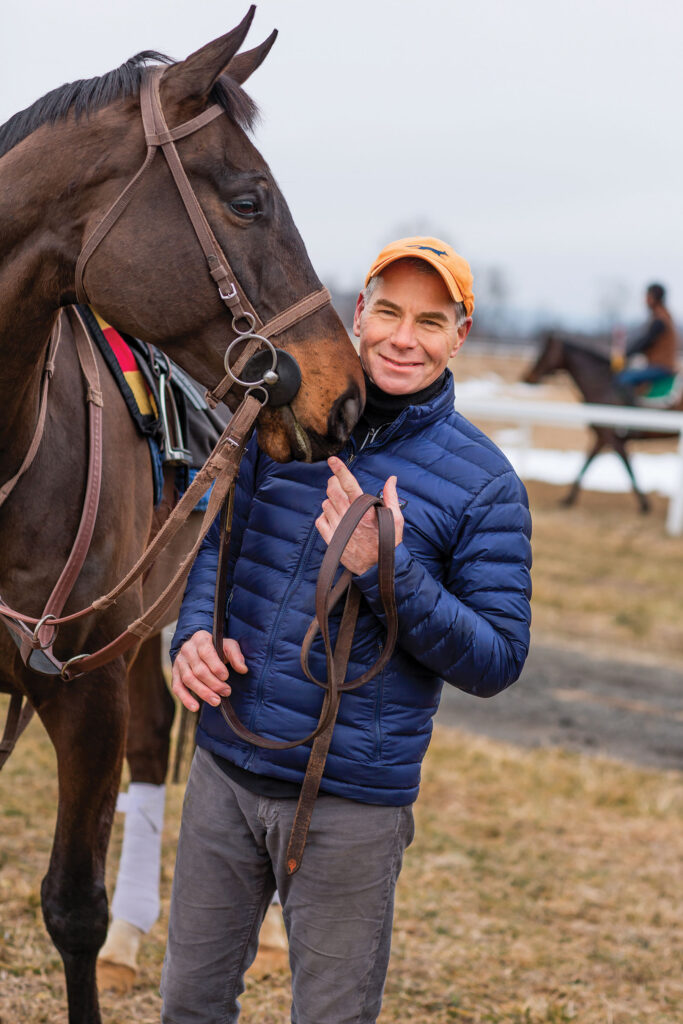 Neil Morris with Jump to Juneau, owned by Zohar and Lisa Ben-Dov of Kinross Farm.
Morris initially dabbled in three-day eventing, but soon realized it was time to get what he called "a grown-up job." Shortly thereafter, he landed a position working as a restricted private trainer for Zohar and Lisa Ben-Dov. Avid fox hunters, the Ben-Dovs owned Kinross Farm where they also kept a few steeplechase horses. With Morris' guidance, they started to purchase more horses and soon developed a robust training program and 200-acre facility. Throughout their partnership, Morris and the Ben-Dovs grew together. They won over 25 championship titles, while Morris was consistently recognized as one of the top ten trainers by the Virginia Steeplechase Association, and Zohar Ben-Dov was awarded the title of the leading owner in the country.
After 25 years with the Ben-Dovs, Morris decided it was time to launch the next phase of his career. In 2015, he started working as a public trainer, meaning that he was available to partner with owners that wanted to work with him. He usually has between 30 and 40 horses in training. Typically, about 65 percent of these horses are flat horses and 35 percent are steeplechasers.
According to Morris, flat racing is more of an industry, whereas steeplechasing is a passion. It is easier to make a profit racing horses on the flat because there are more opportunities to compete. In contrast, steeplechase races are seasonal and much fewer in number. While flat horses can often make enough money on the track to cover their training expenses for an entire year, steeplechase horses need a trust fund — "you can't do it on a nickel."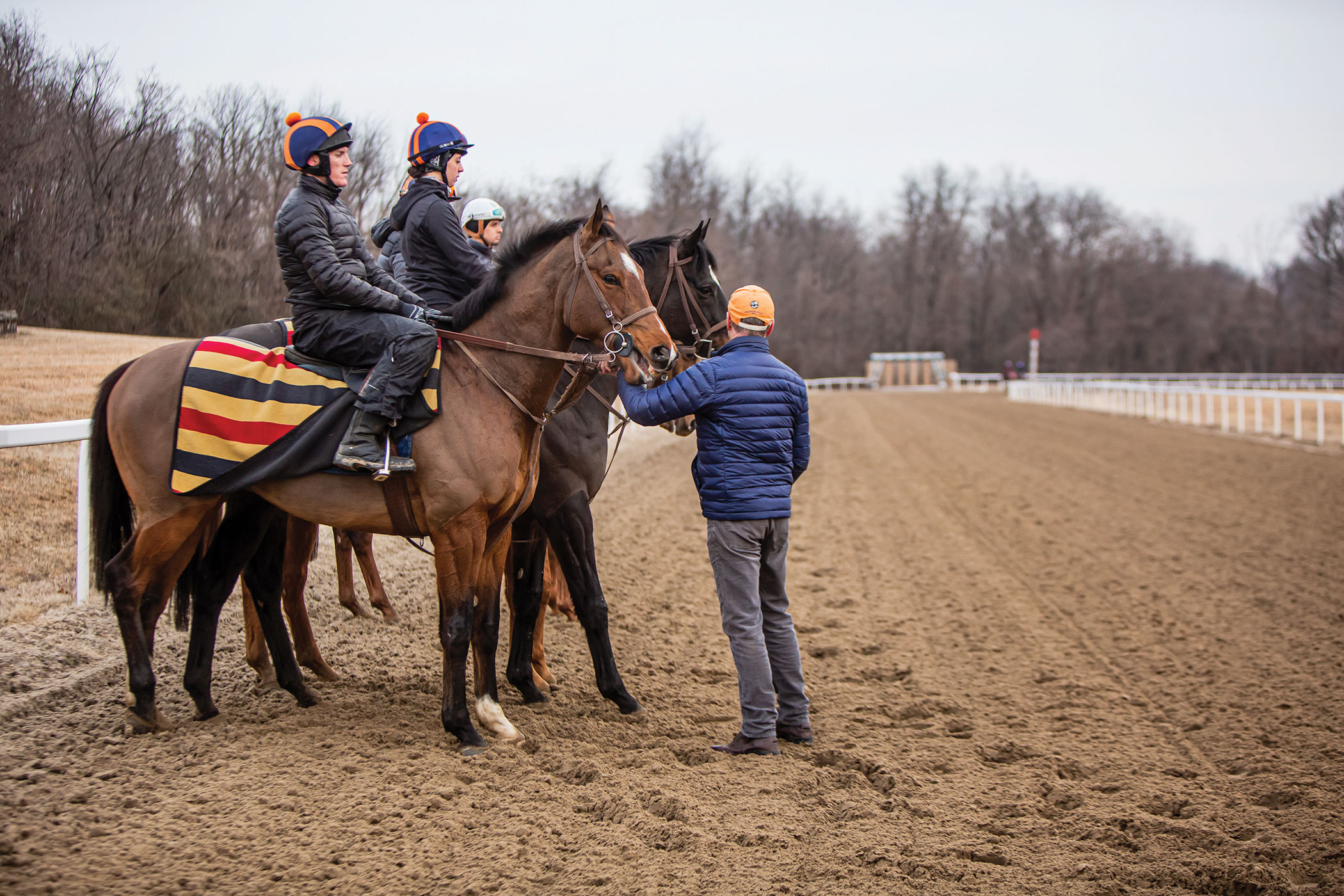 Morris currently leases two barns at the Middleburg Training Center. However, he also has full use of a 100-acre property that adjoins the Training Center with hilly gallops, hurdles, timber jumps, and another 8-stall barn. This gives his horses reprieve from daily track training and allows them to reap the benefits of cross training and hill work.
In addition to training on the track and at the farm, Morris frequently takes his timber horses out fox hunting in order to build their fitness and conditioning. As the joint master of the Orange County Hunt, he tries to get out on the hunt trail at least two or three times a week during the season. For him, "it's a great passion."
When working with his horses, Morris stresses the importance of training their head instead of their legs. "Thoroughbreds are easy to over-train. Anybody can go fast on a Thoroughbred, but you have to look into the future. You can't blow a fuse when you ride them." There are so many things besides speed that are important — for instance, footwork. He likes to be on the ground when the steeplechase horses are learning to jump, ensuring that they are being taught the proper technique and timing.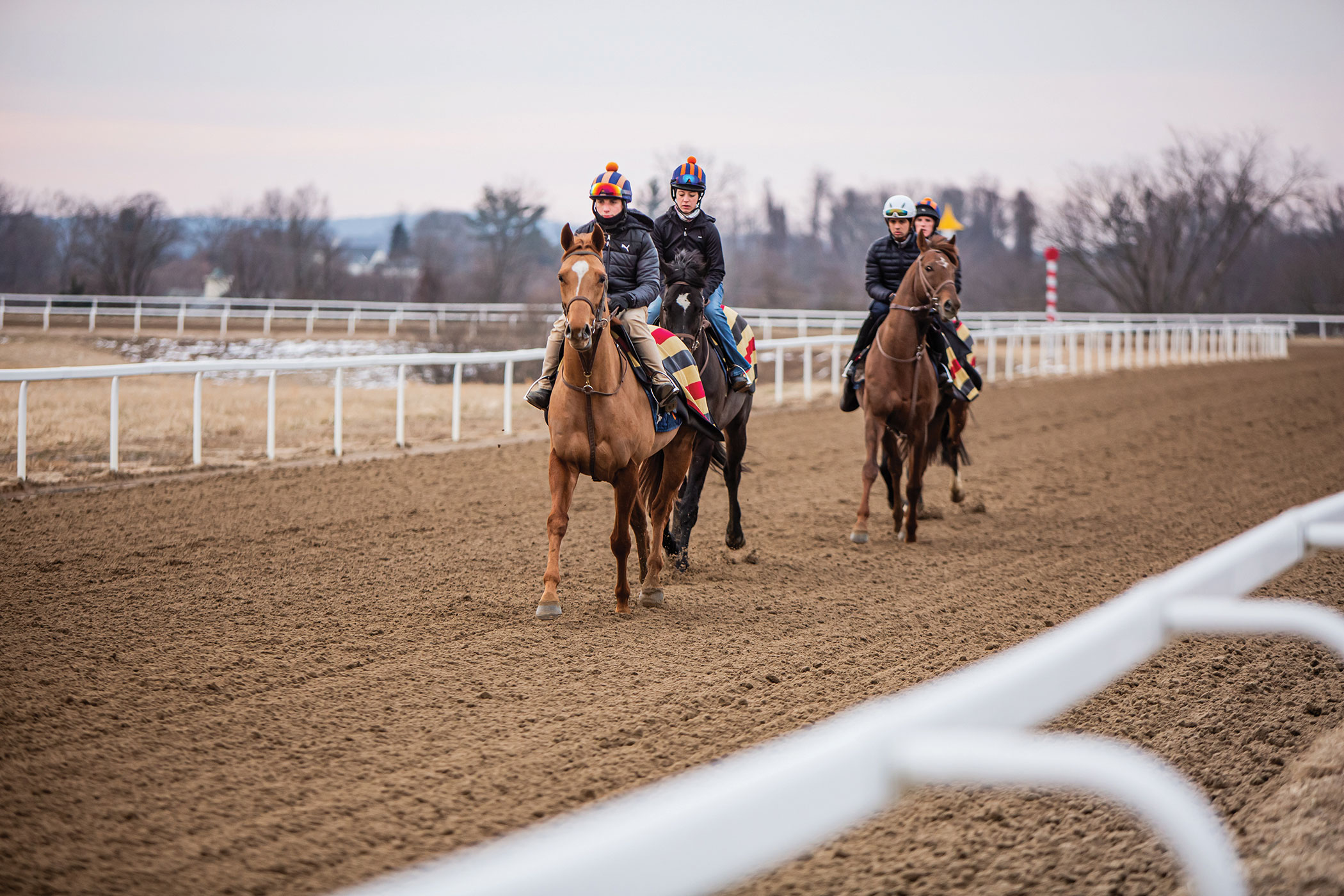 And, as the head of an operation that trains horses that run distances ranging from four and a half furlongs to four miles, Morris has to be very versatile. Every horse begins with the same training regimen when they're young — "it's like learning the ABCs." However, as they get older, Morris and his team uncover their strengths and weaknesses and then develop customized training plans. According to Morris, horses aren't very good talkers. But, "they will give you all the information you need — it's up to us as trainers to listen and interpret it," he said.
Morris learns a lot by talking with the riders he employs, likening himself to the cog at the center of a wheel. His flat jockey, Guillermo Rodriguez, knows everything about his horses, ranging from their style to how they run. Morris can always count on him to help put the horses in places where they can be successful. Of course, success is not always immediate, and sometimes mistakes are made. But according to Morris, one of the most important parts of being a trainer is being able to pivot and continually make small adjustments in a practical manner.
When asked what's next for him, Morris simply said he wants to win bigger and better races. He currently has lots of nice young prospects in the barn and is about to welcome an additional five horses into his program. In his words, "we like to stay busy." This spring, be on the lookout for Morris' horses at the Virginia Gold Cup Races and the Middleburg Spring Races.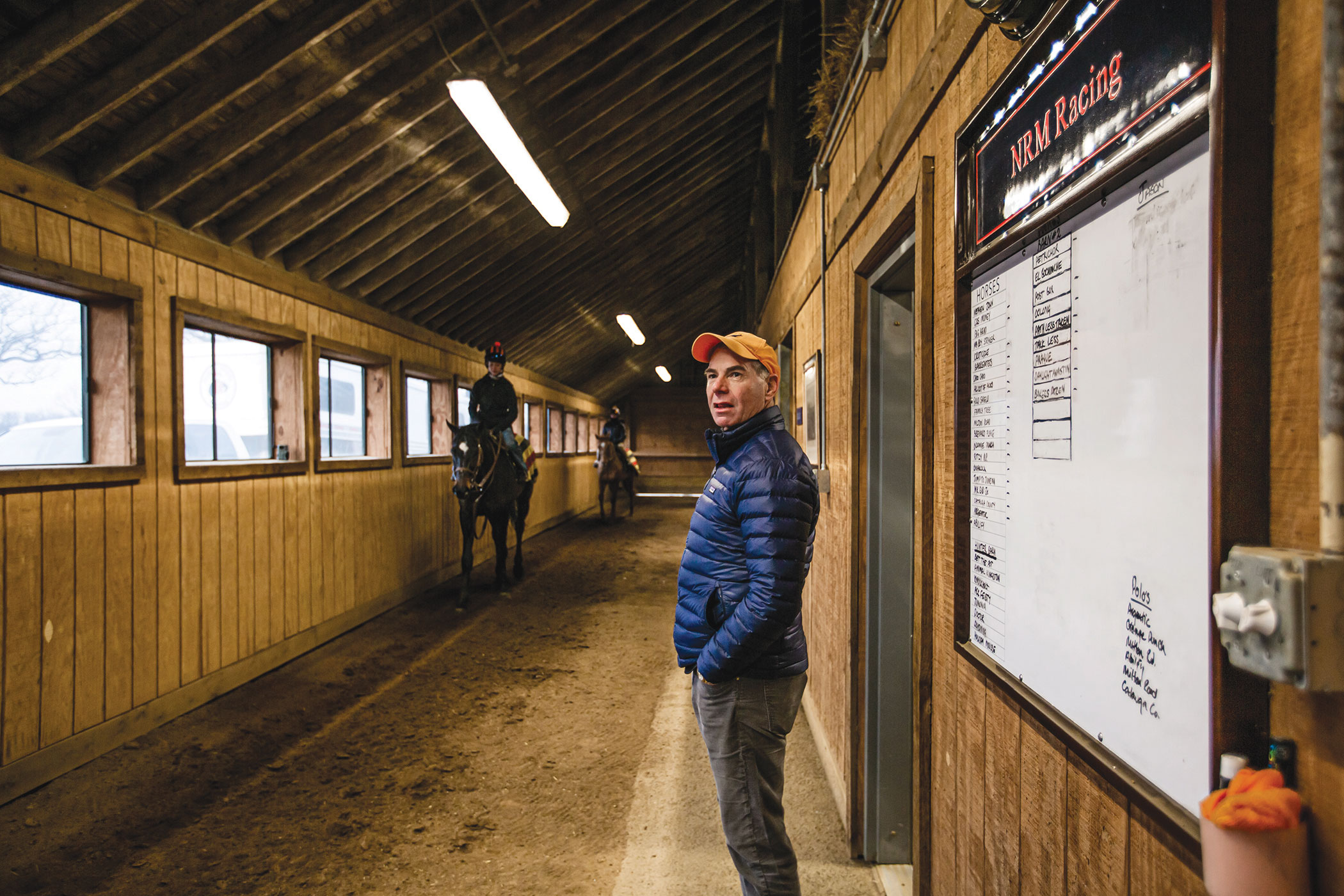 Morris also talked briefly about the ways the U.S. racing industry has changed in recent decades. The golden age of racing stretched from the 1960s to the 1970s. Since then, the industry has struggled with negative attention in the press, declining public interest, and a shortage of individuals willing to finance horses competing at the upper levels of the sport. However, Morris asserts that he is not focused on restoring racing to "what it used to be." He is focused on "getting it better going forward." He feels that it is important to accept when things change and evolve with them to there is no going back. Nowadays, Morris tries to make himself more available, spending time on the phone doing business and putting partnerships together on horses. He sees the role of partnerships and syndicates as being extremely important and beneficial for the future of the sport. "It doesn't matter if two people share a horse — it's just as exciting when it wins," he said.
Morris said he feels lucky to be in the position he is in. He works with supportive and loyal owners, trains at a beautiful facility, and has incredible horses. But even though he feels lucky, he didn't stumble upon any of this by chance. It is the result of decades of hard work and preparation. Whether on the hunt trail, at the track, or in the barn, Morris is constantly searching for new opportunities for success and growth. And we're excited to see what he'll achieve next. ML
Published in the March 2021 issue of Middleburg Life.