Written by Victoria Peace | All photos provided courtesy of INMED
Anyone who has tried to grow their own produce knows that harvesting a crop is a lot harder than it looks. Hours spent planting, weeding, and watering under the hot sun don't always deliver the promised bounty. Now, pause for a moment, and imagine a world where farmers can consistently produce ten times the amount of crops they normally harvest while using a climate-friendly, sustainable method that requires 90 percent less water than traditional systems.
While it may seem too good to be true, this is the reality that INMED Partnerships for Children (INMED) is currently helping thousands of small-scale farmers and entrepreneurs around the globe achieve through their unique aquaponics model.
Headquartered in Loudoun County, INMED is a nonprofit international humanitarian development organization that offers a range of programs aimed at assisting disadvantaged children and families in more than 100 countries attain self-reliance, food security, and overall well-being. Launched in March 2021, the INMED Aquaponics® Social Enterprise initiative (INMED ASE), is INMED's latest step in supplying historically marginalized populations the resources, training, and support to earn sustainable livelihoods by launching their own aquaponics operations.
Students in South Africa harvest produce from their school aquaponics system.
INMED CEO and founder Dr. Linda Pfeiffer explained that she was inspired to create the INMED ASE after visiting farming communities in South Africa. Despite their hard work, harsh environmental conditions and desertification were so widespread that farmers were forced to choose between buying seeds for the next growing season and food for their children. Requiring less space, water, and physical labor than traditional farming methods, aquaponics systems are ideal for increasing crop yield in regions like these that have been hard-hit by the effects of climate change. However, the benefits don't end there — the systems also thrive in urban environments where space is at a premium and can be easily operated by people living with disabilities.
Invented by the Aztecs, aquaponics is a closed symbiotic system consisting of two parts — a large fish tank and hydroponic plant beds filled with gravel. The plants absorb the nutrient-rich water from the fish when it is filtered through the gravel in their hydroponic bed, while the fish benefit from the clean, oxygenated water returned to them. Developed by Dr. Pfeiffer in her backyard in Upperville, Va., the aquaponics model used by the INMED ASE is both simpler and lower cost than other models on the market and is made of extremely durable, locally available materials.
Left: Farmer in South Africa shows off catfish. Right: Member of the Pella Food Garden Cooperative. 
The INMED ASE not only provides participants with access to aquaponics systems, but also supports them in many other ways including; technical training in adaptive agricultural, business training, access to financing, links to buyers and markets, wholesale access to seedlings and fingerlings, online educational materials, and ongoing technical support from INMED-trained agricultural extension agents.
The first INMED ASE hub was established near Johannesburg, South Africa with satellite systems in 13 other locations — one of which is run by the Pella Food Garden Cooperative.
Situated in the Northern Cape Province near the border of Namibia, the village of Pella is constantly plagued by droughts, low rainfall, and extreme heat. That, and the high salt content of the soil stunts the growth of plants, making traditional agriculture practically impossible. For eight years, the women of the Pella Food Garden Cooperative struggled to make a living by farming the land, but met with little success. Earning between 14 and 21 US dollars per month collectively, they were forced to rely on government assistance in order to make ends meet.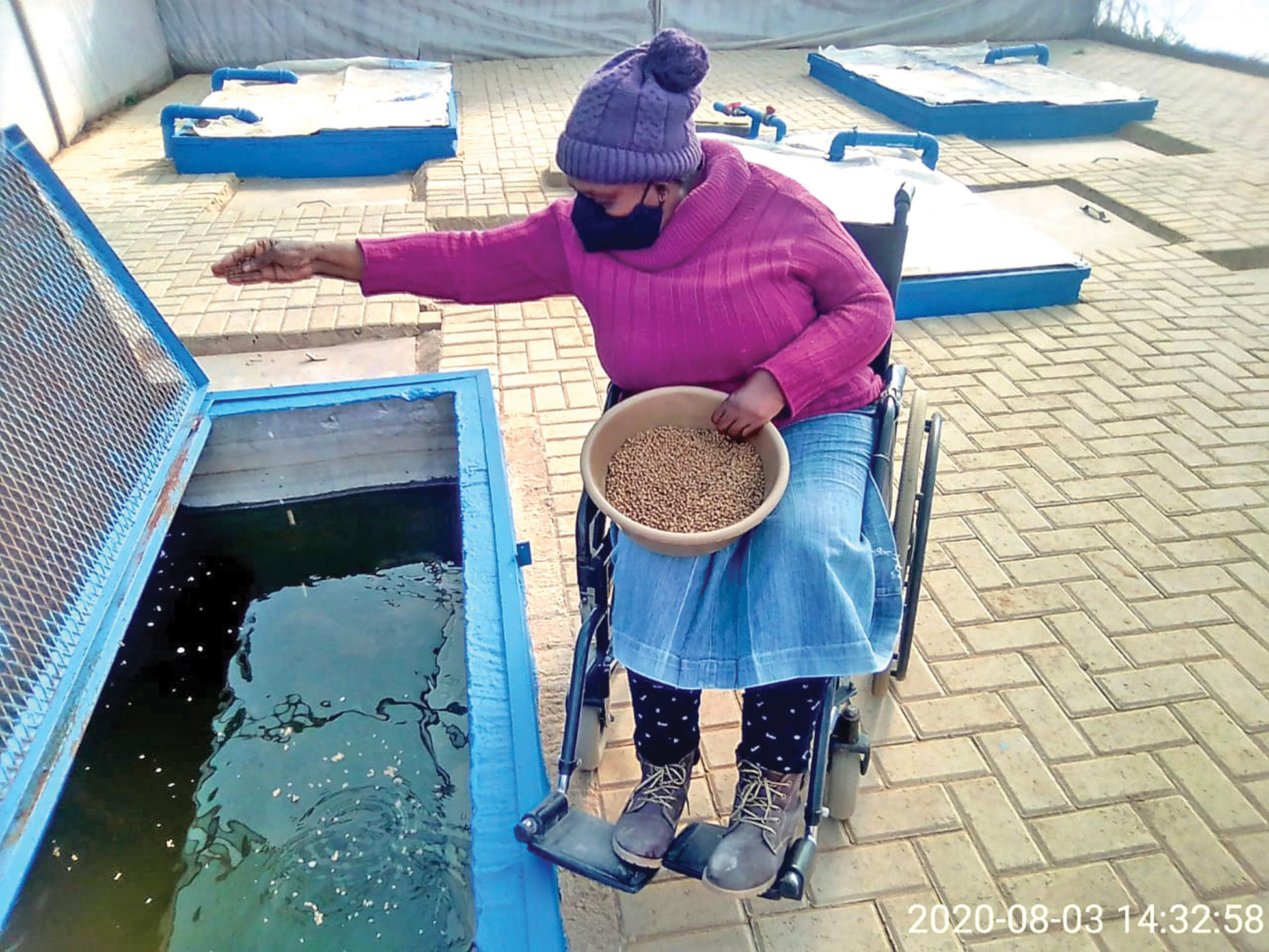 Farmer in South Africa feeds fish in aquaponics system. 
With the help of INMED South Africa, in 2017, the co-op was able to install a commercial-sized aquaponics system, a drip irrigation system, and a commercial-weight shade cloth for their adaptive vegetable garden. After just six months, the group reaped a bountiful harvest with larger and healthier crops than they had cultivated in the past.
INMED's aquaponics systems have also been implemented in the Caribbean and Latin America. Moving forward, the INMED ASE will focus on expanding current aquaponics operations while starting to work with indigenous populations in Peru and Brazil, two regions that have been hit hard by the food shortages caused by climate change and COVID-19. There are also exciting plans in the works to bring the INMED ASE to Loudoun County in the future.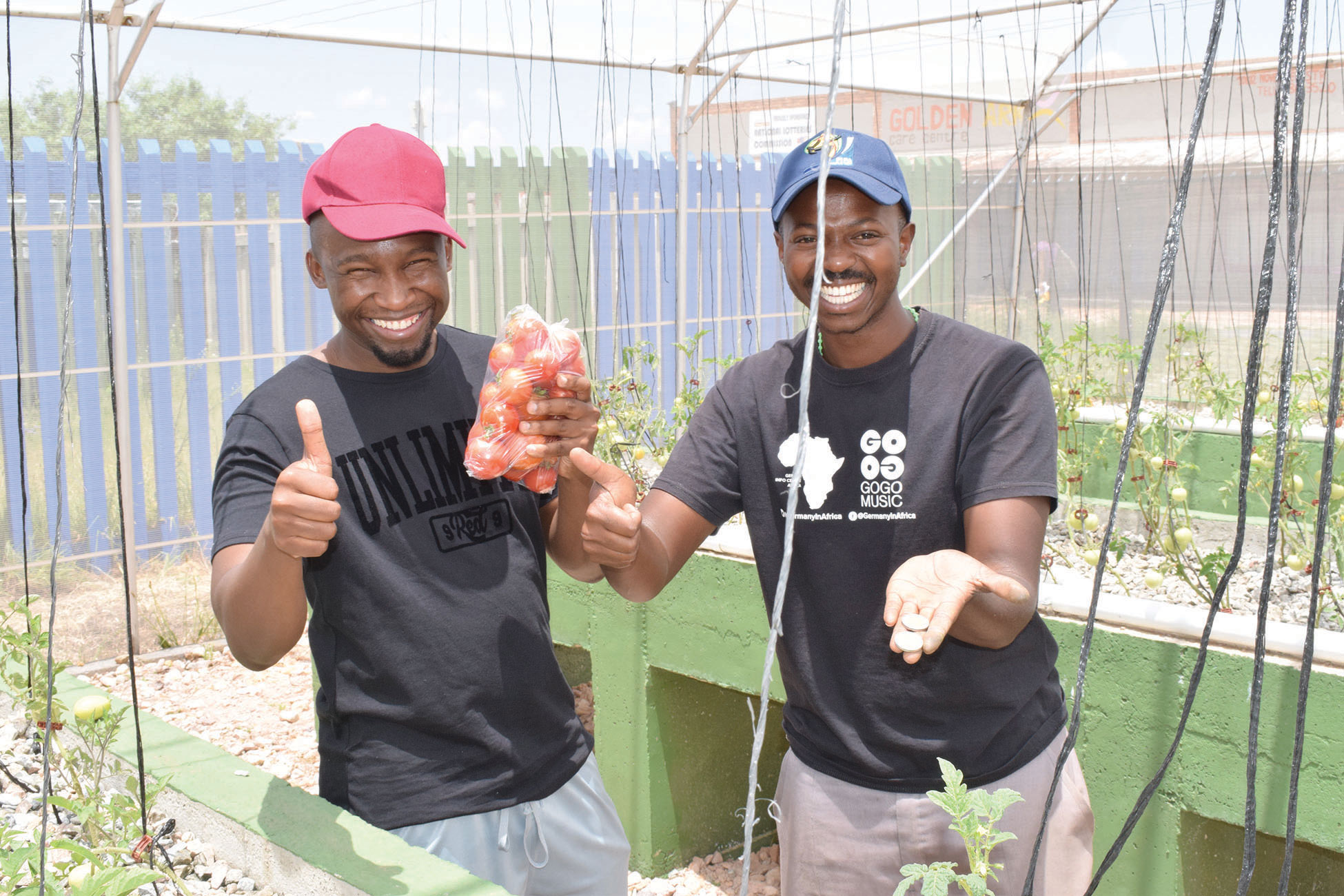 Aquaponics farmers in Soweto, South Africa.
However, in the meantime, there are several other INMED programs already benefiting children and families right here in Loudoun. According to the US programs director, Jennifer Smith, JD, the focus during the pandemic has been "filling the gaps while building bridges to a better tomorrow." The nonprofit organizes food and clothing distribution, enrichment programs for teens, activities for kids, online English classes, vocational training, and programs to develop soft career skills, among other services.
Dr. Pfeiffer noted that while the nature of INMED's work requires it to be near an international hub like D.C., the organization also "really wanted to be a part of a community." The close-knit, caring spirit of Loudoun County coupled with residents' enthusiasm for volunteerism made this region the perfect choice. ML
If you are interested in supporting INMED or learning more about their work at home or abroad, visit their website at inmed.org. 
Published in the April 2021 issue of Middleburg Life.