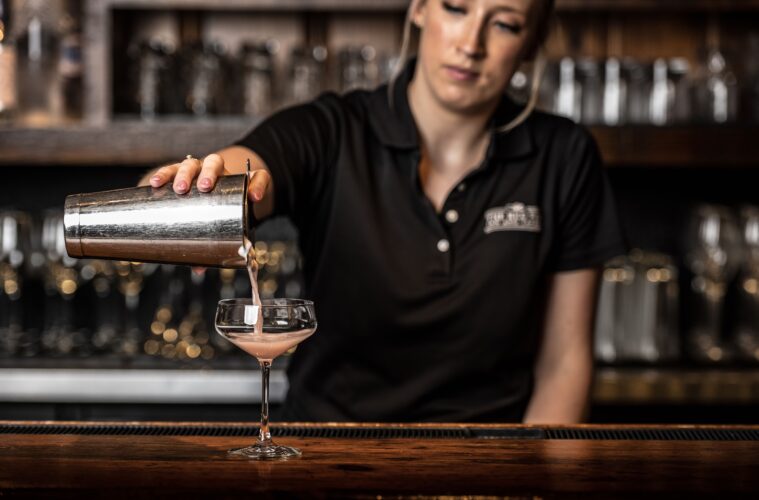 Written by Victoria Peace
Photos by Michael Butcher 
The Red Fox Inn & Tavern located in Middleburg, Virginia, is the longest continuously run inn and tavern in the country. Established in 1728, the property is steeped in tradition and features historic touches throughout the interior that transport visitors back in time. However, the libations that the inn offers are far from stuck in the past. Tavern Manager Anna Adams enjoys keeping things fresh and inventive behind the bar through an ever-changing variety of seasonal "Foxtails" – unique, elevated cocktails that use local Virginia ingredients and liquors. These cocktails with "a foxy charm" have become favorites of locals and out-of-towners alike.
There are currently four Foxtails on the menu – Sky Meadows, The Thoroughbred, The Spicy Mare, and The First Lady – all the perfect sip on a hot summer day.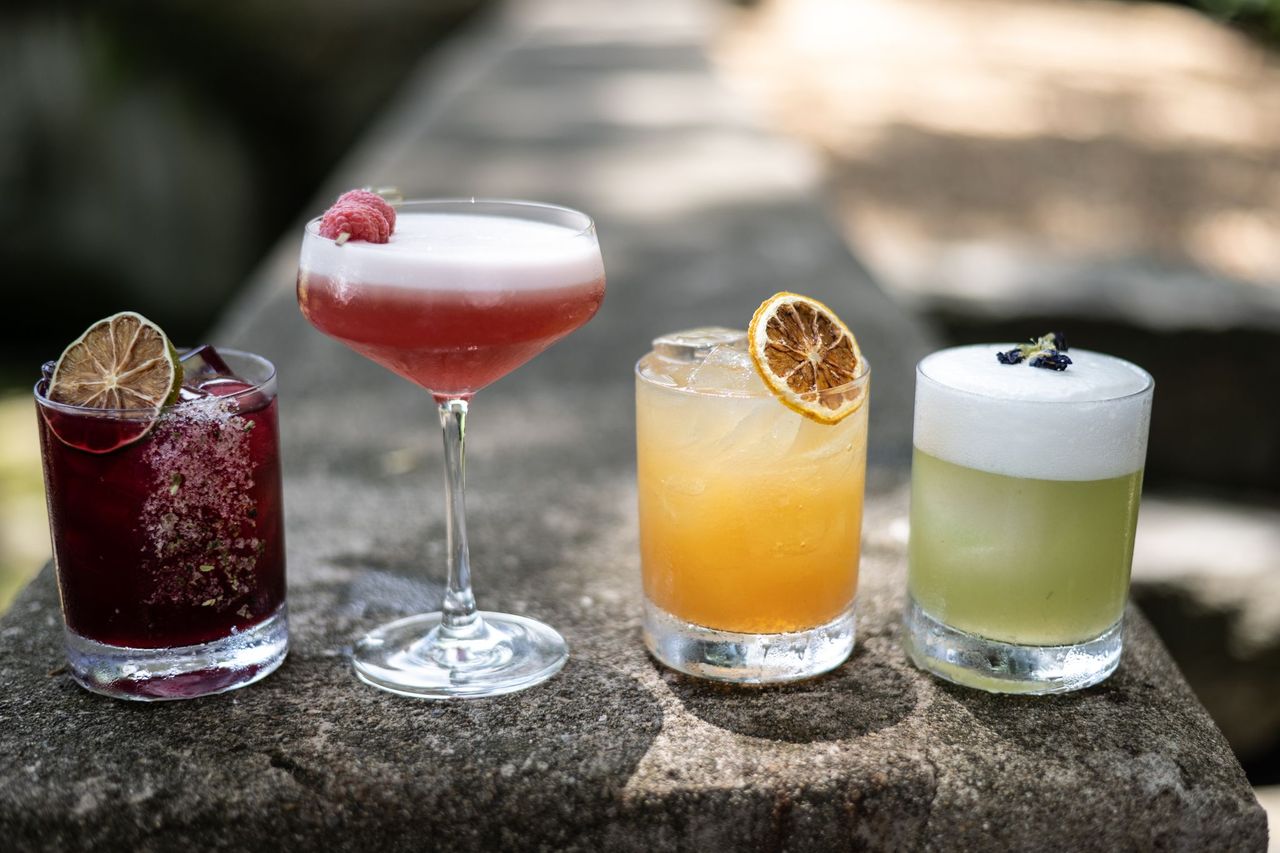 Red Fox Inn & Tavern's locally inspired "Foxtails."
Sky Meadows
Named after a popular state park just 20 minutes from Middleburg, Sky Meadows elegantly juxtaposes delicate flavors and a bold presentation. A combination of gin and housemade cucumber water creates a refreshing, light-green base which is topped off with a white elderflower foam. Adams notes that the base layer represents the lush grasses of the meadows while the foam symbolizes the clouds and mist that frequently cover the rolling hills of the park. Adams sources the gin in Sky Meadows from Catoctin Creek Distillery in Purcellville, Virginia. She appreciates how their Catoctin Creek Watershed Gin® has nice floral notes and a light juniper flavor.
The Thoroughbred
The Thoroughbred, a quintessential symbol of Hunt Country, features John J. Bowman bourbon paired with fresh lemon juice, pineapple, and bitters. Adams describes it as a drink that both bourbon lovers and "entry-level" bourbon drinkers can enjoy because of the beautiful balance between the citrus and the bourbon. John J. Bowman bourbon is produced by A. Smith Bowman Distillery located in Fredericksburg, Virginia. The oldest distillery in Virginia, it brought home the World's Best Bourbon award in 2016 among other accolades.
The Spicy Mare
True to its name, the Spicy Mare packs a punch. The spicy notes in the drink come from Adams' house-made jalapeno-infused tequila. However, the heat is balanced out with a hibiscus honey syrup made from fresh local honey and hibiscus leaves.
The First Lady
"The First Lady [is named so because] the drink is sophisticated but also dainty," Adams says. "Because it's not a super heavy spirit drink, it has to stand alone, and I think that kind of describes what our first ladies have to do." Inspired by a Clover Club cocktail, The First Lady features a house-made raspberry syrup and puree, Flying Fox peach vermouth, and cointreau. Adams loves using Flying Fox vermouth in her cocktails because Flying Fox never puts a definitive flavor profile on their vermouths – they are always seasonal. The peach vermouth in The First Lady perfectly speaks to the sweetness of warm Virginia summers.
Adams takes great pride in the innovative flavor profiles and creative names of all of the Foxtails. However, if she had to recommend just one, she would suggest ordering The Thoroughbred. The Spicy Mare is a close second, but she says that it's hard to beat the smoothness of the bourbon-citrus blend.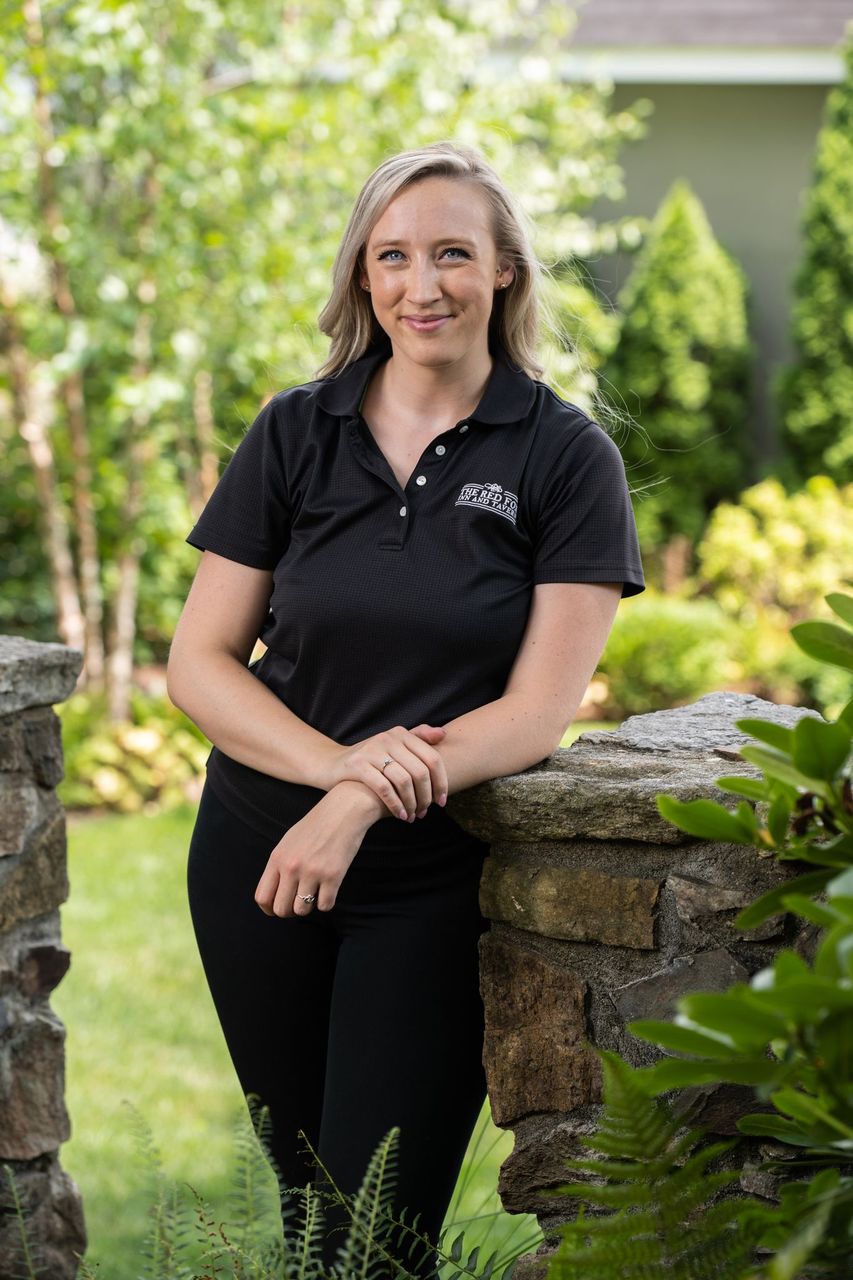 Left: Anna Adams Middle: Red Fox Inn on a sunny summer's day. Right: Adam's adds a final flourish to a refreshing cocktail.
Looking ahead to the fall, Adams is already brainstorming ideas for new, seasonal Foxtails. Last year she made an apple carrot drink which was very popular. She anticipates a version of this drink will make a comeback this year. She's also playing around with autumnal flavor profiles such as honey, cinnamon, and figs, and sweet potato and cranberry.
Foxtails have always been part of The Red Fox's history. However, since taking the helm just over five months ago, Adams has revamped all of the Foxtails on the menu to put her own spin on them
Before taking over the bar, Adams managed The Red Fox Inn & Tavern's front desk. Adams grew up in Front Royal and attended Johnson & Wales University in Charlotte, North Carolina, where she obtained a bachelor's degree in hospitality and culinary arts. Though she loved her time there, she felt herself longing to go back to Virginia. The very first application she submitted was to The Red Fox Inn & Tavern. Before she had even returned from North Carolina, she was hired.
After touring the property, she knew she had made the right decision. She loved the "heart and hearth" feel of the establishment and just wanted to "be in the atmosphere" of the historic inn. Within a few months of joining the staff, a position happened to open up in the tavern leading her to where she is today.
Adams strives to offer guests a fine dining experience in a friendly, welcoming atmosphere. She takes pride in the fact that while the space appears quaint and cozy, people are always wowed by the upscale food and outstanding service The Red Fox provides.
"We're a small bar but we have a lot to offer," Adams says. "We have some really great bourbons, and our list is curated with some wonderful spirits that would 100% be worth coming out and trying." She suggests stopping by the bar around thirty minutes before your dinner reservation to savor an aperitif that gives you a true taste of the flavors, spirits, and history of Hunt Country. ML
The Red Fox Inn and Tavern is open from Monday through Friday from 5 to 8:30 p.m. (with the exception of Wednesday) and Saturday and Sunday from 4:30 to 8:30 p.m. For reservations, please call 540-687-6301.
This article first appeared in the August 2022 Issue