Written by Kaitlin Hill
"One thing that someone said to me that is so true is, whether you knew Jake for years or you met him once, he always made you feel like you were a lifelong friend," reflects Sarah Carle, daughter of John J. (Jake) Carle II, a renowned foxhunter and central figure of Virginia's equestrian community. "I don't think too many people have that ability."
Carle passed away on February 28, 2021, leaving a sizeable hole in the hearts of family and friends, of which he had many. Though no longer out in the field, Carle's spirit will certainly live on through his countless contributions and accomplishments in foxhunting and the memories he made with those lucky enough to have known him.
Carle was born on April 23, 1938, in Long Island, New York, where his introduction to foxhunting was almost immediate. His father Edward Hicks Carle, known as Ned, was Master and Huntsman of the Smithtown Hunt, before the family moved to Raynham Hall in Keswick, Virginia, in the mid-1940s.
For high school, Carle attended St. Mark's School in Massachusetts for one year before transferring to Salisbury School in Connecticut. Sarah Carle remembers, "At the end of every year, St. Mark's would send a letter inviting you back. If you didn't receive a letter, it was assumed you weren't invited back for the next school year. My dad was very proud that he was the first person in the history of the school to receive a letter saying absolutely, under no circumstances was he allowed back." She laughs and adds, "He took a lot of pride in that."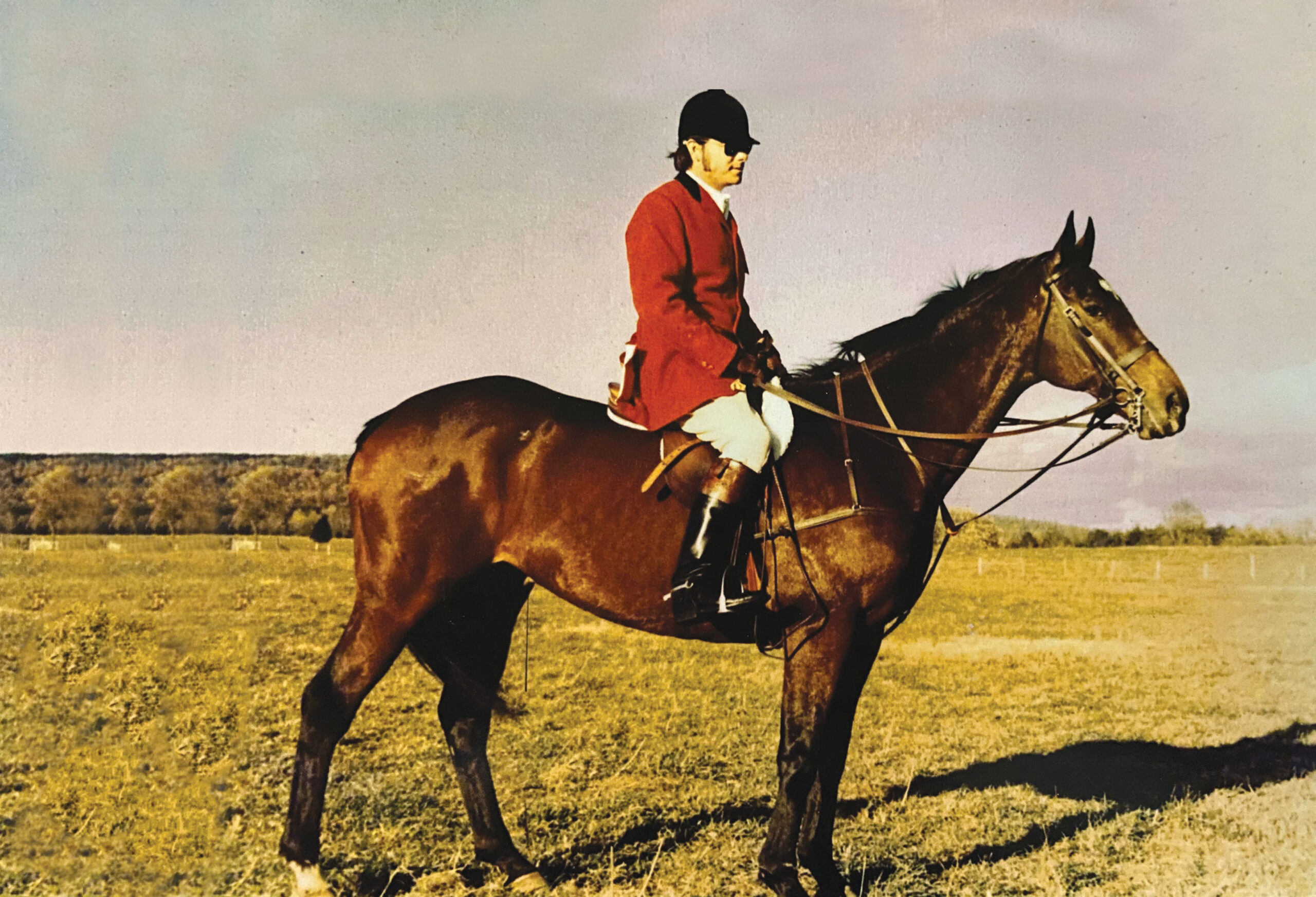 John with one of his all-time favorite horses, "Pocket Rocket." Photo by Douglas Lees. 
After finishing his degree in Connecticut in 1957, he attended The University of Virginia, where he studied English in between time spent foxhunting. Sarah Carle shares, "He was there for five years and graduated in 1962. I don't think he was present in class most of the time. He was always out hunting."
His undeniable passion for hunting helped him become Keswick's Master of Fox Hounds in 1964, just two years after leaving school. "At that time, he was the youngest person in North America to ever become Master," Sarah Carle notes, swelling with pride. He was just 26.
Carle served as Master of the Hounds from 1964 to 2000 and as Huntsman from 1973 to 2000. During his 36-year tenure as MFH and 27-year stretch as Huntsman, Carle made impactful strategic and financial contributions, highlighting his knowledge of and commitment to the sport. Of note, he reorganized Keswick hunting by encouraging the pack-breaking of hounds for a more orderly start. He personally financed new kennels, paid the salary of a professional whipper-in, supplied a tractor for the club's trail clearing, and developed a breeding program that still benefits Keswick today.
Holding both positions allowed Carle to work behind the scenes and in the field, a combination he prized dearly. Sarah Carle says, "Since he was Master of Foxhounds and Huntsman, he did a little bit of everything. He did all the grunt work behind the scenes. In the summer, he was out there clearing trails and putting in jumps. He was very hands-on and just loved being out there."
More than a work horse, Carle was a great educator too, intent on sharing his knowledge with others. He was a regular contributor to In & Around Horse Country, a founder of the Virginia Foxhound Club, a founding board member of the Museum of Hounds & Hunting, and executive director of the museum's Huntsmen's Room, where he would be honored in 2020, and a willing advisor to anyone interested in the sport.
Sarah Carle explains, "I think a lot of people learned a lot from him, because that was his life. That is what he loved." 
Stepping down from his roles at Keswick proved to be a difficult decision. Sarah Carle recalls, "He thought it was time for him to step away, but it was an extremely emotional decision for him." However, his new path didn't slow him down. He spent the next 21 years following the hunts on foot, photographing events, writing about hunts in his journal, and officiating point-to-point events. 
"He loved to write, especially when he had a little more time after he retired," says Sarah Carle. "And he was really involved in judging hound shows. He enjoyed his photography, and he was an official at all the point-to-point races in the spring and fall." Another favorite pastime was sharing stories. Sarah Carle notes, "His stories were unbelievable. You could sit with him from sunup to sundown, and he wouldn't tell the same story twice. It was just an endless supply of entertainment."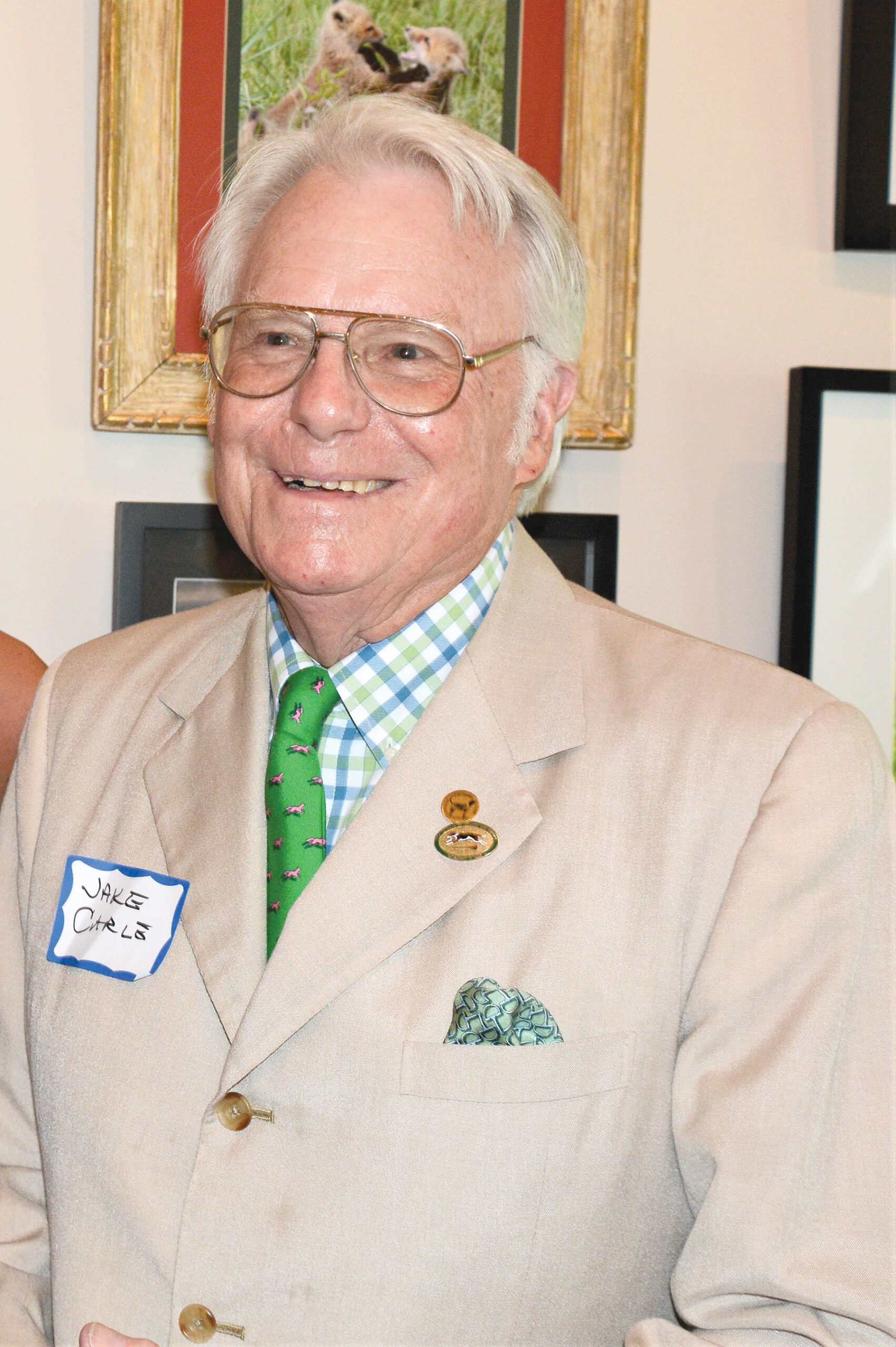 Photo by Liz Callar. 
Undeniably dedicated to foxhunting, Carle was equally focused on his family and shared his passion with them. Sarah notes, "My mom actually whipped-in to him, and I started hunting when I was 3 or 4." She adds affectionately, "I would refuse to go in for the day until, as I would say, 'My daddy went home.' I would stay out as long as possible. It was definitely a family thing."
The father-daughter bond was just as strong off the field too. Sarah shares, "I think there is a difference between being a father and being a dad. And he was my best friend and biggest supporter. He was my favorite cocktail party date. He was always there through good, bad, indifferent, ugly, and the best times of my life. He was just the most selfless person I have ever met."
For Carle's family, friends, and foxhunting companions, his passing is an unimaginable loss. But perhaps a small sense of solace can be found in the knowledge that he lived a meaningful and by all accounts extremely happy life, marked by career accomplishments, the respect of his peers, and no shortage of loved ones.
As Sarah Carle says, "The one thing he always said is that he was lucky enough to wake up every single morning and do exactly what he wanted to do. He wouldn't have changed a thing."
John J. Carle II is certainly an example of a life well lived, and he will always be remembered. ML
Published in the April 2021 issue of Middleburg Life.