Story by Shayda Windle
There's no doubt that Anne Stine's journey to becoming a professional artist is as unique and fluid as her medium of choice. An encaustic artist, Stine uses melted beeswax, tree sap resin and pigment to create layered images with a natural texture.
As a nature lover, Stine said that encaustic painting "is more representative of what we find in nature than any other medium because of the wild, unpredictable nature of beeswax. It allows me to express the fluidity and variety of textures that are realistically found in nature."
Raised in the same farmhouse in Fairfax that her father grew up in, Stine's love of nature began at an early age. As a child, she said she found "solace and adventure in the outdoors and was in awe of the beauty in God's creation."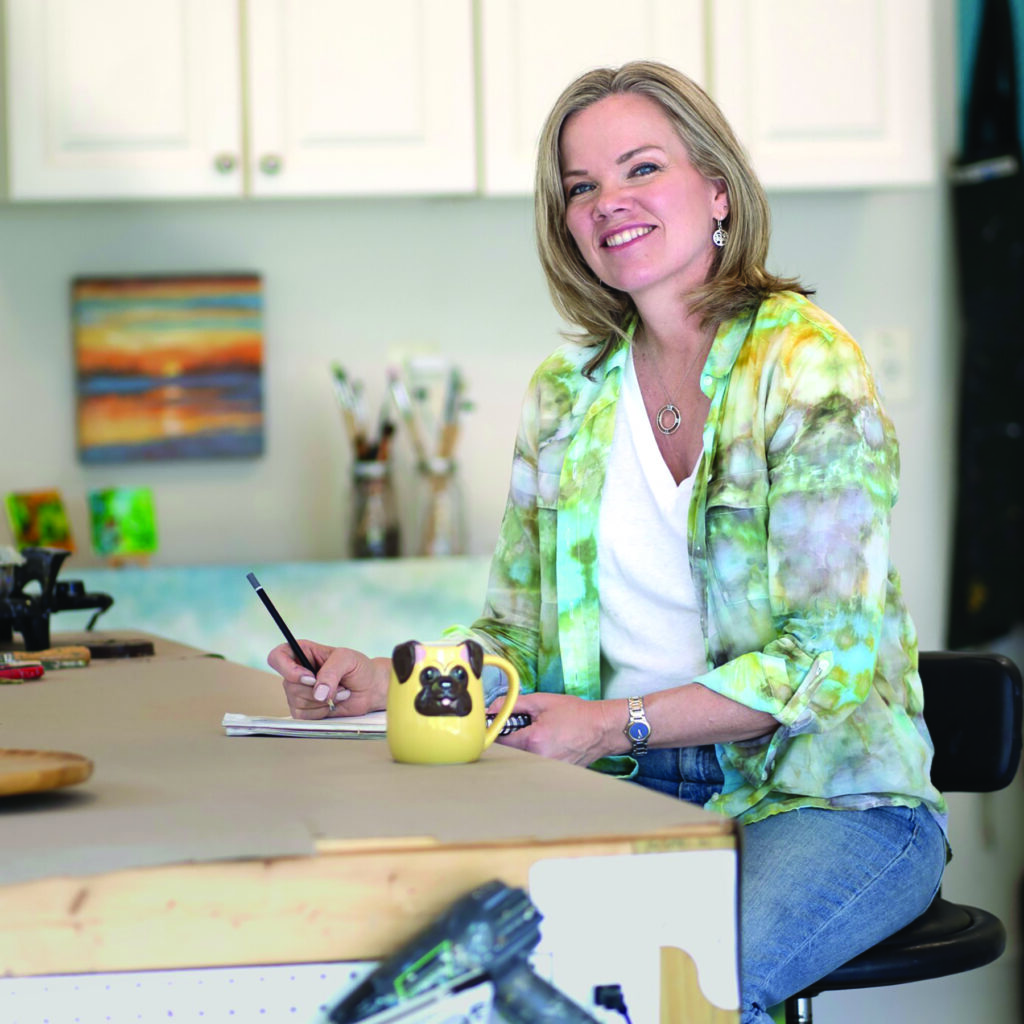 Stine always dreamed of becoming an artist, but "it seemed too big of a dream to ever become a reality," she remarked, "So, like most dreamers, I tucked it away deep into my heart." She decided to major in communications in college, but nurtured her creative side by minoring in art.
She went on to pursue a career in marketing communications where she worked for EDS, rolling out large-scale marketing plans. During this time, she kept her hand in painting by taking classes at the Corcoran School of Art and the Art League in Alexandria. It was at EDS that she had her first solo art exhibit.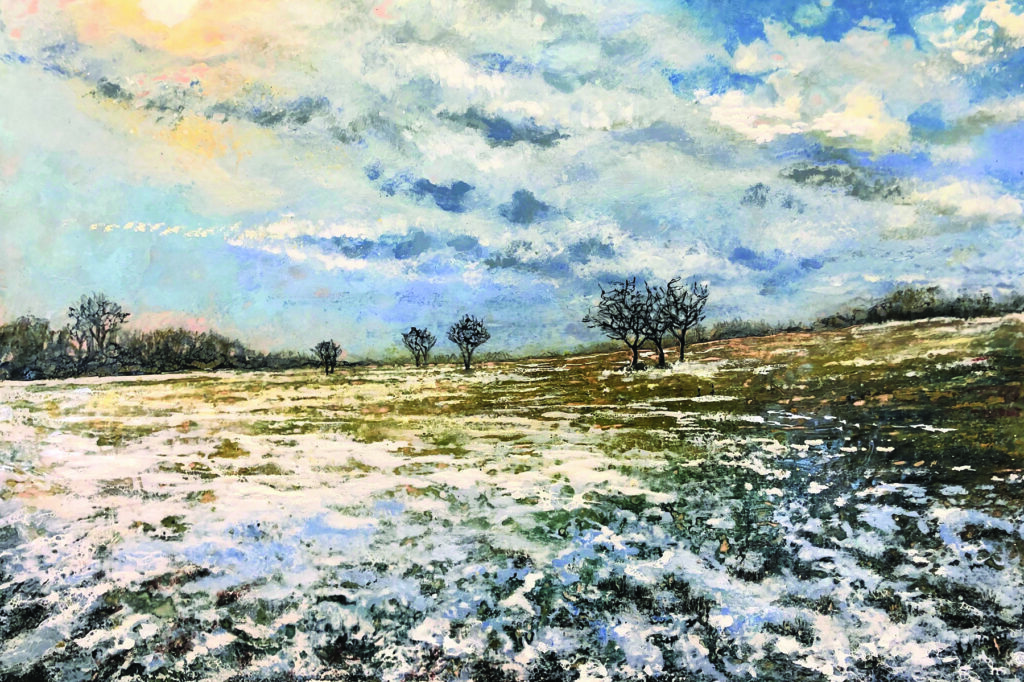 (Winter Warmth, encaustic, 24×36)
After several years, she began working as a marketing director specializing in fundraising for the arts. She married her skill in marketing with her passion for art by managing fundraising campaigns for large arts organizations like the New Jersey Symphony Orchestra, the High Museum of Art in Atlanta, and the New Jersey Performing Arts Center.
She thought she had found her dream job, but over time she grew restless. "In the back of my mind I felt like something deep in my soul was not being fulfilled," she said, "My creative spirit was calling out to be noticed."
Stine finally decided to listen to that voice in the back of her head. She took a leap of faith and left the corporate world to become a professional artist. After spending some time honing her craft, a turning point came when she took a leap of faith and asked a local home decor store to display one of her paintings. The store not only accepted her painting, it also offered to hold an entire exhibition of her work.
(Left: Morning Walk, 12×14, encaustic on panel. Right: Virginia Skies, encaustic, 24×30.)
"I will always be indebted to the manager that accepted my painting," she said, "It made a big impact on me, how the kindness of one individual can change the life of another. To this day, I try to 'pay it forward' by helping other creative people find an opportunity to share their work and encouraging them that it is never too late to follow your dreams."
Stine found a way to pay it forward as a co-founder of Purcellville Art Gallery, a non-profit venture established by Discover Purcellville last year. She said the gallery, which showcases the work of Loudoun County artists, "was just the chance I was looking for to contribute to the community that has supported my art for so many years." She drew on her diverse professional background in arts marketing to help get Purcellville's first art gallery up and running. Currently, she is supporting the gallery as a volunteer and contributing artist.
"It's been my experience that when I trust in God completely to provide opportunities while helping people along the way, success is inevitable," she said, "So, I don't think it's by accident that dreams come true. It takes consistently working at your craft, treating your work as a business, developing relationships with other creative people and trusting each day there will be a plan to move forward."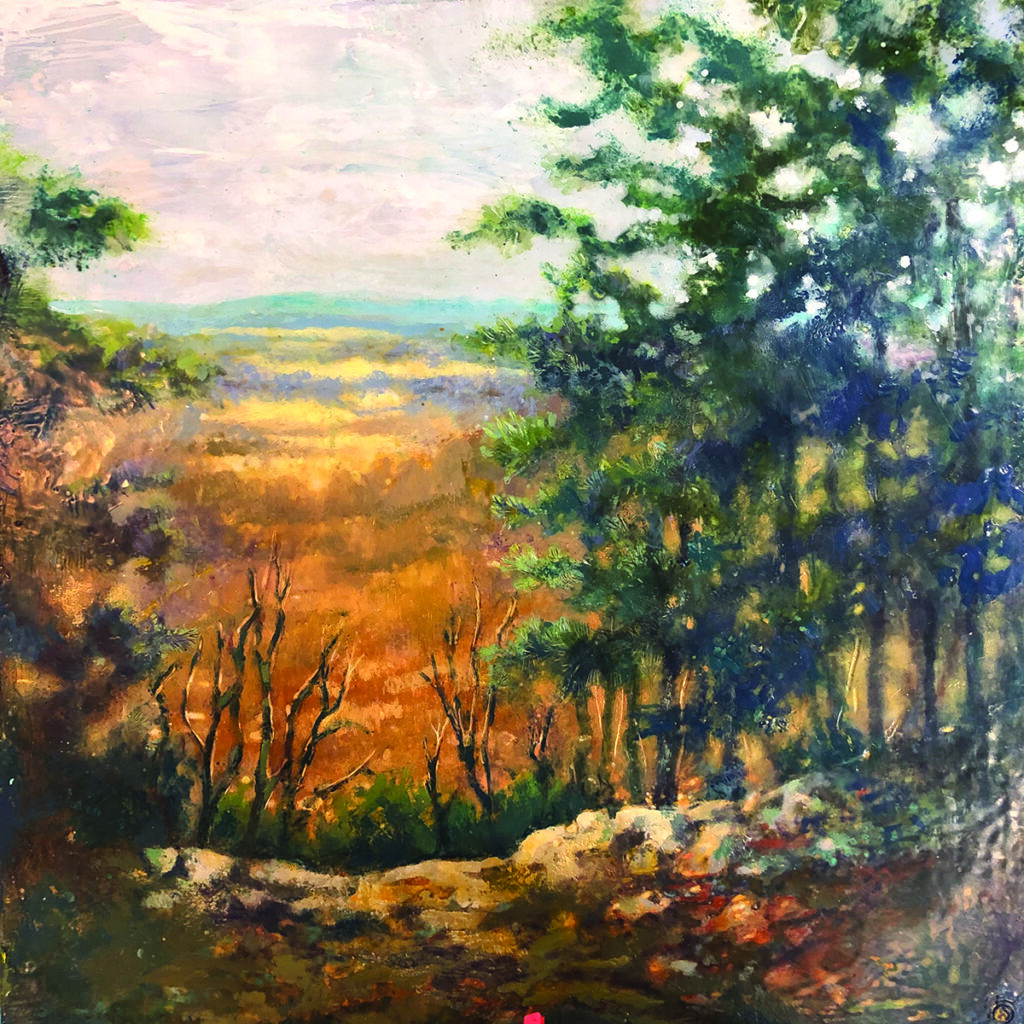 (Morning of Discovery)
Stine's next collection will debut at the historic Oatlands Carriage House along with the work of another talented local artist, Leanne Fink, in September 2020. The two will have their landscapes on display for the entire month. Details can be found at annestinepainting.com. ML
This article first appeared in the April 2020 issue of Middleburg Life.