Written by Heidi Baumstark
Photos by Gracie Withers
For many, gardens are living sanctuaries brimming with beauty that have the ability to nourish the mind, body, and soul.
That's especially true for the late Rachel "Bunny" Lambert Mellon (1910-2014) – horticulturist, gardener, philanthropist, and art collector – who kept returning to the garden that breathed life into her and so many others. Her horticultural legacy continues at Oak Spring Garden Foundation (OSGF) in Upperville.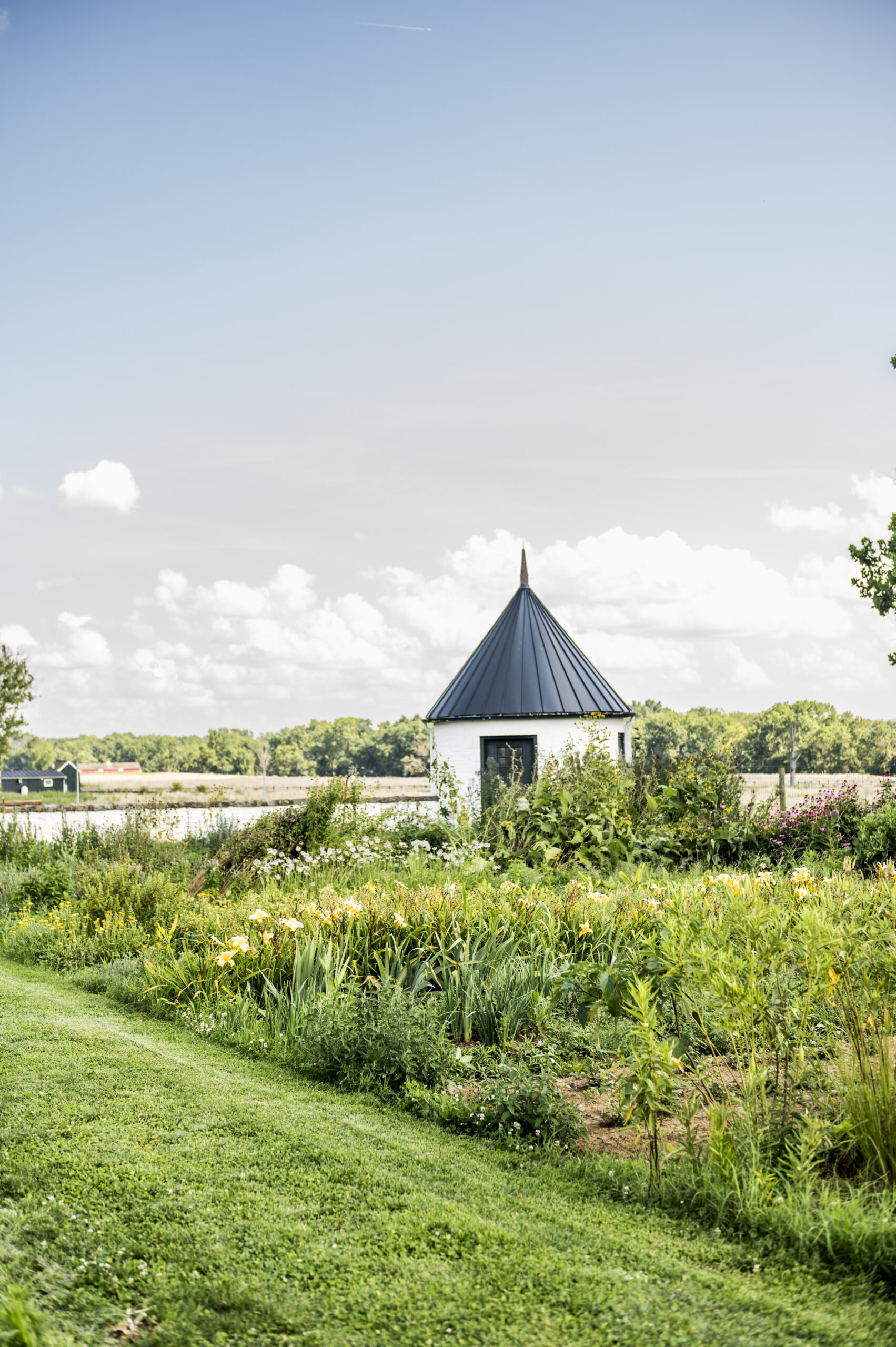 Mrs. Mellon enjoyed a lifelong adventure in gardening which took her near and far to design gardens across Europe and America. But it was at her beloved Oak Spring, nestled between the Blue Ridge and Bull Run Mountains, where she was firmly rooted. She shared the estate (originally 4,000 acres) with her husband Paul Mellon.
Accomplished in his own right, Mr. Mellon was a renowned art collector, philanthropist, and Thoroughbred breeder who at the time of their marriage in 1948 was reportedly one of the world's richest men. The Mellons kept several residences in places such as Antigua, Paris, New York, Washington, D.C., Nantucket, and Cape Cod. However, no matter where life took them, Oak Spring was always their true home.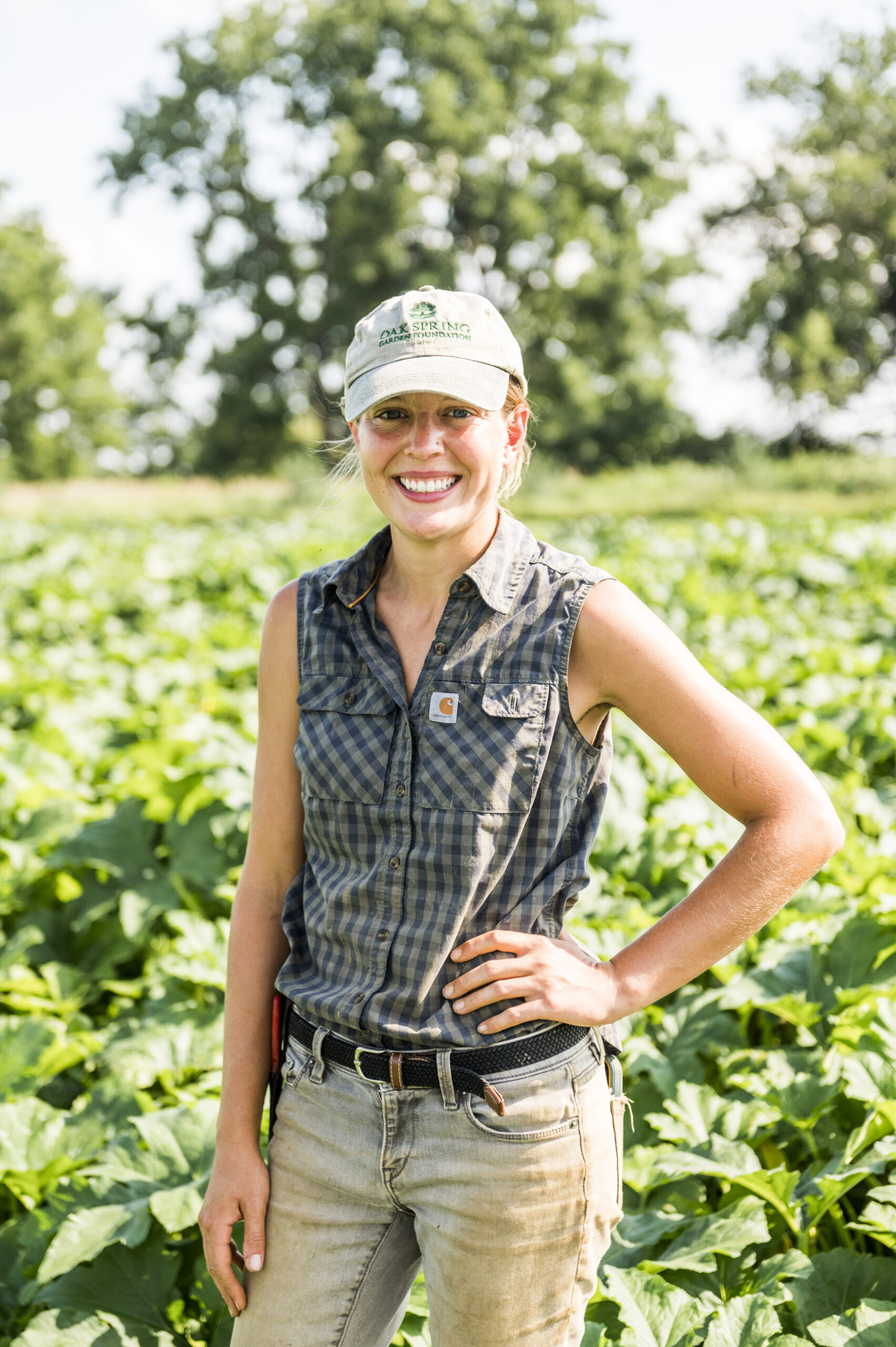 The Library: Rare Horticultural Collection
Since childhood, Bunny collected books on the art of gardening. Today her library collection is the hallmark of OSGF and contains over 19,000 objects including rare horticultural books, manuscripts, journals, sketches, maps, and historical art dating to the 14th century. The collection mainly encompasses works relating to horticulture, landscape design, botany, history, and voyages of exploration. There are also components relating to architecture, decorative arts, and classical literature.
Her vision to share this collection with future generations came to fruition in 1993 when she founded OSGF as a resource for the community including scholars, artists, and designers. Furthering her philanthropic endeavors, she donated much of her valuable art collection to established public institutions including the National Gallery of Art that her father-in-law, Andrew W. Mellon, founded in 1937.
Artists-in-Residency
OSGF's 700-acre property is protected under a conservation easement through the Virginia Outdoor Foundation. It includes the 440-acre parcel known as Rokeby Farm, the original tract of land acquired in the 1930s by Andrew W. Mellon. The Rokeby section is where artists and scholars reside as part of Oak Spring's artist-in-residency program. Resident artists come from a variety of disciplines with connections to the plant world including sketch artists, painters, floral designers, journalists, individuals working with textiles and fabrics, musicians, poets, and photographers. The Foundation's mission is to provide an integrative approach, bringing together the sciences, humanities, social sciences, and arts for their mutual benefit, expressing the full potential of Bunny's legacy.
Biocultural Conservation Farm (BCCF)
The Rokeby acreage is also home to a Biocultural Conservation Farm (BCCF) that was established in the spring of 2019. Christine Harris is manager of the roughly two acre farm.
In addition to harvesting vegetables, fruits, and herbs, other farm activities include heirloom seed saving, dried flower production, papermaking, natural dye production, fiber making, growing medicinal herbs, and pollinator meadow management.
After graduating from George Mason University with a B.S. in Biology and Applied Conservation in 2016, Harris worked on various small farms and sustainable agriculture projects in Northern Virginia. "I wanted to pursue a career in wildlife veterinary medicine; however, after my first afternoon volunteering in GMU's Potomac Heights Vegetable Garden, I knew I wanted to pursue a life of growing food for myself, my loved ones, and my community," she shares.
Her duties include harvesting fresh, ecologically grown vegetables and fruits using organic, no-spray practices for the Oak Spring kitchen, their Community Supported Agriculture (CSA) program, and local food banks. Oak Spring's chef, Jason Neve, prepares meals made from produce grown at the farm for resident artists, scholars, guests, and staff.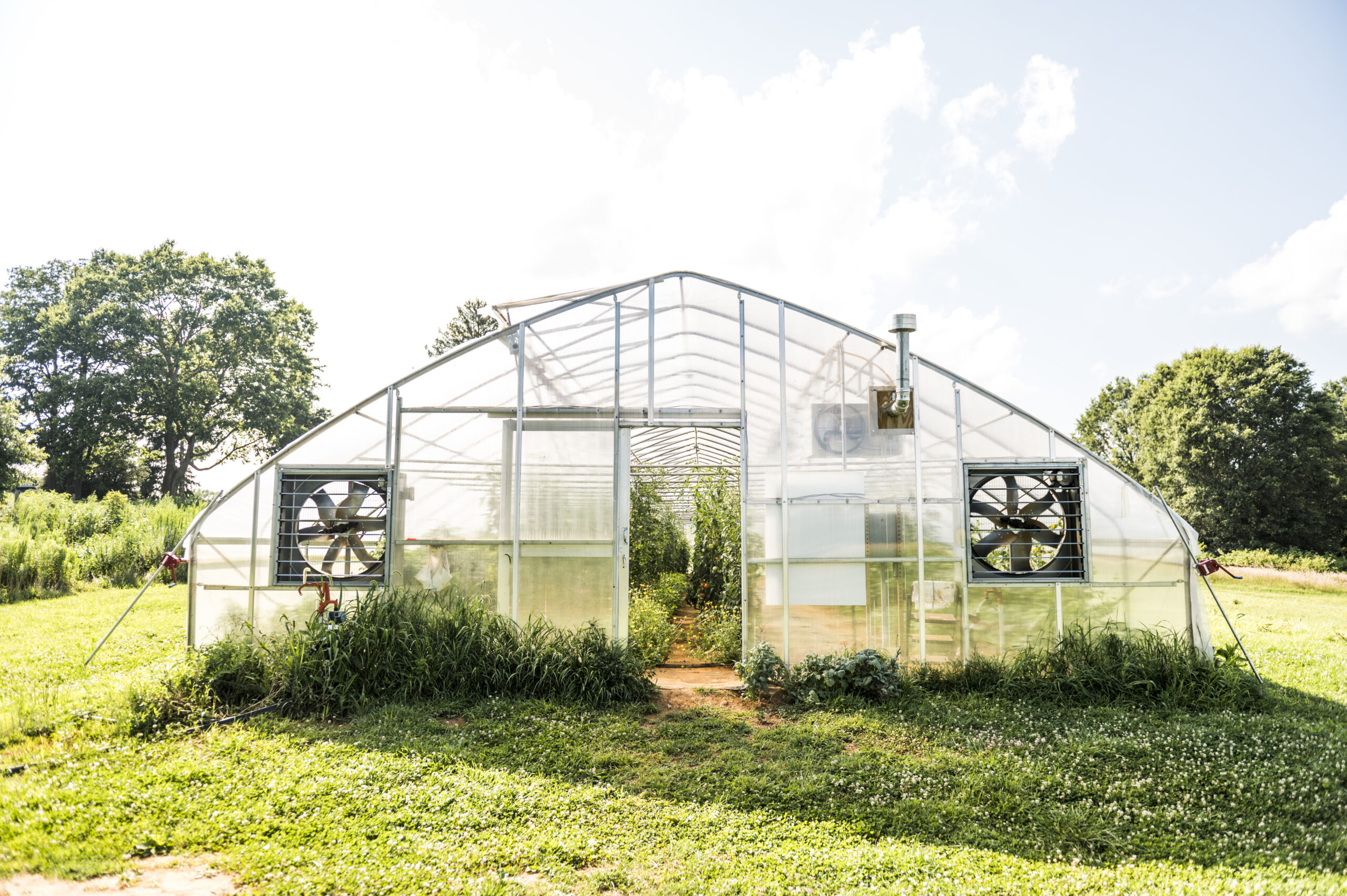 "At least 50 percent of our produce goes to local food banks and pantries," Harris says. "We work with Fauquier Community Food Bank, Fauquier FISH, Fauquier FRESH, Seven Loaves Services in Middleburg, and Food for Others in Fairfax. We donate weekly and bring them bulk containers of fresh vegetables."
Weekly CSA shares are offered to community members from May through October with pick-up on Wednesdays. Microgreens and fresh eggs are add-ons. Funds generated from the CSA help the farm fulfill its mission to conserve and share heirloom crops in the Virginia Piedmont and Appalachian regions. Through the heirloom seed saving and sharing initiative, Harris hopes to cultivate more relationships with community members who may have old seeds that they or family members have been saving. Part of the goal is to highlight crops that have been woven into the history and traditions of these regions – to not only grow these crops as food – but to save and share their seeds and stories. "We have some old heirloom seeds from tomatoes, sorghum, and giant okra from the late 1700s," Harris notes.
Harris adds, "No matter what – food is the one thing we can all connect on. For us – whether it's our artists in residence, staff, apprentices, interns, visitors, CSA customers, or food bank customers – we want to grow healthy food and gather at the table. That's where people connect and conversations blossom."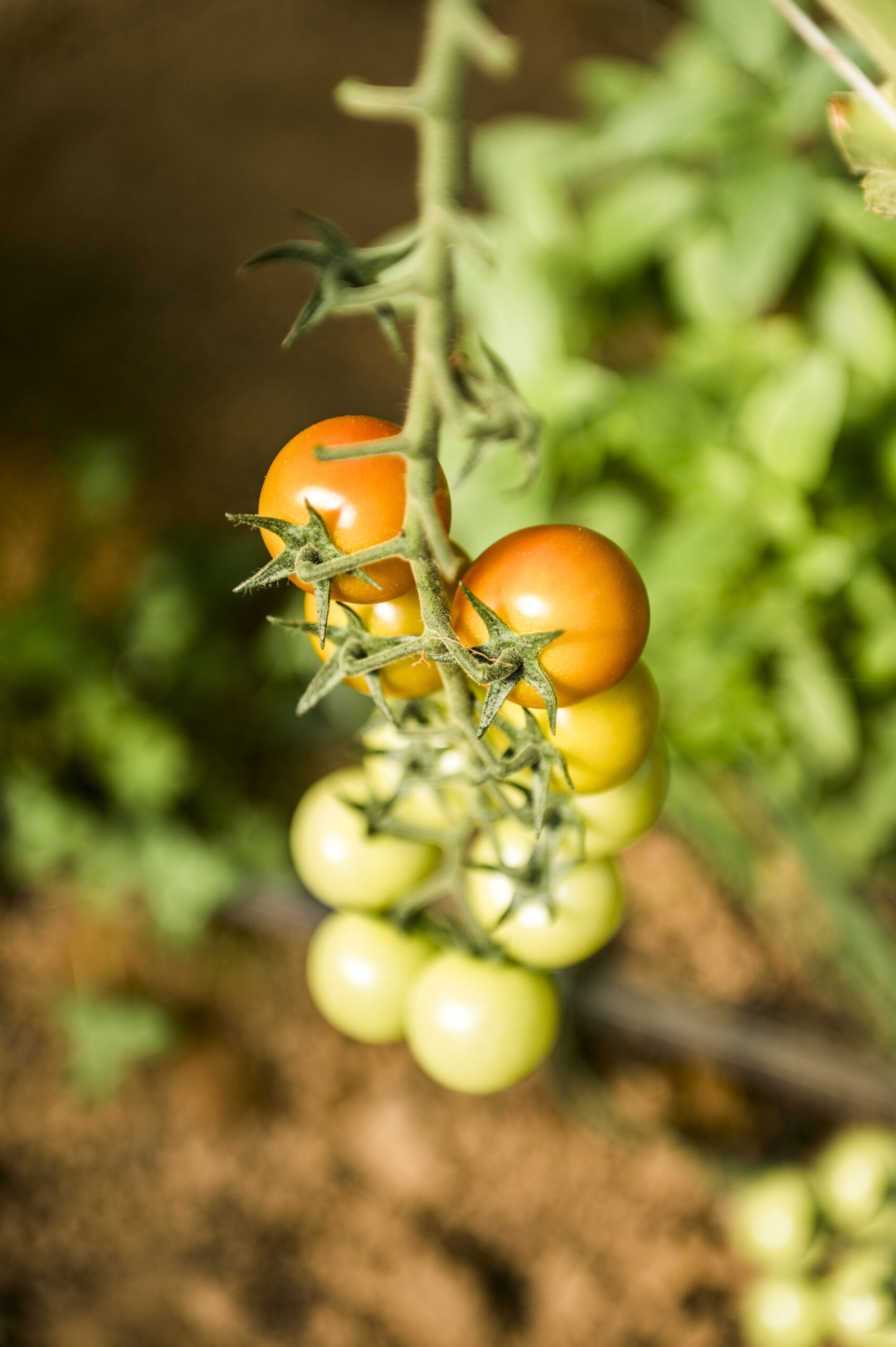 Left: Tomatoes climbing up a vine. Right: Chef Jason Neve.
Let's Eat
Chef Jason Neve joined Oak Spring in May 2022 bringing 15 years of culinary experience with him. Most recently he worked at the Robert Rauschenberg Residency in Captiva, Florida, which is another artist-in-residency program.
Neve says, "[Oak Spring] is the epitome of a chef's paradise. My favorite way to cook is being inspired [by] what's there; it's about representing cultures with food. The majority of my job is feeding resident artists, visitors, and fellows who come here to research and study, people taking special tours, and staff."
From early on, Neve knew he wanted to cook and, like Bunny, he loved being in nature. "I grew up with some adventurous parents. Camping, kayaking, [and] bicycling trips were the norm, always with other family friends and groups of hungry people," he says. "I took to cooking for the groups to keep myself occupied and had a blast. While most of my friends went off to college [and] into professions that help save the world – I went to the CIA [Culinary Institute of America] to help feed the world."
Referring to Bunny, Neve added, "We wouldn't be here without her."
Visiting Oak Spring
Oak Spring holds ticketed tours of the property every spring and fall. The 2022 fall tour is September 22 and 23 which includes touring the Biocultural Conservation Farm on the Rokeby Farm section and part of the Little Oak Spring property. Visitors will also see some of the orchards and native wildflower and grassland meadows. Please visit osgf.org for ticket information. ML
This article first appeared in the August 2022 Issue.