Written by Diane Helentjaris
Photos by Michael Butcher
In 2015, Marcy Harris knew she wanted to buy the needlepoint shop in Middleburg. Being a person of action, she did just that. At the time, her needlepoint skills were basic — but her dream for the shop was not. Her vision included a move beyond traditional fibers and stitchery. It went beyond mere mercantile transactions. She wanted to push boundaries.
Needlepoint, like other fiber arts, began over a thousand years ago. Ancient Egyptians sewed their canvas tents with small, slanted stitches. The archaeologist who discovered King Tut's tomb, Harold Carter, found needlepoint work in another tomb which dated to around 1500 B.C.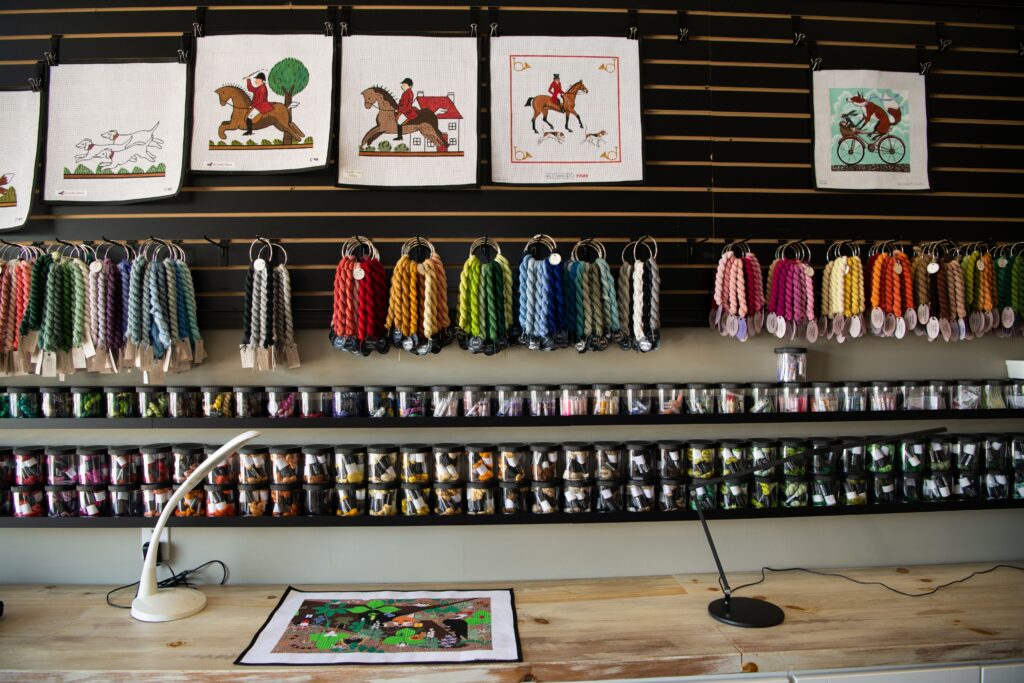 American needlepoint has 16th-century European roots. It has gained a diverse following of fans ranging from Mary Washington to football player Roosevelt "Rosie" Grier. Thick wool thread is worked over stiff canvas through a grid of holes. The only tool is a needle with a big enough eye to accept the yarn. The tent stitch, a simple stitch over two threads, is the basic unit. Tapestry-like fabric emerges as the stitches cover the canvas. In contrast, with embroidery, thread is applied to existing fabric.
Running a needlepoint shop requires a panoply of skills. Harris believes she "could not have done [it] without" Ruth Dilts. Ruth is well known in the world of needlepoint as the author of guidebooks like "Needlepoint 101" and has been deemed a "needlepoint designer extraordinaire." She called on Harris initially as the sales representative for a thread line.
Ruth showed Harris how needlepoint had broadened in scope and materials over the past few decades. Needlepointers had begun to embellish their work with embroidery stitches for added texture. Silk and metallic threads, alone or as blends, created additional complexity. Overdyed thread added variegated colors. Ruth became Harris's mentor and eventually began to work part time in the shop. She helped Harris achieve one of her goals — to "have a more diverse offering and experience" for her customers. Ruth Dilts will retire in May 2022 at age 83.
Over the years, Stitch has incorporated modern materials and styles along with the traditional. Always popular are Christmas stockings, cushion tops, ornaments, clutch purses, and doorstop bricks. New to the mix are acrylic and leather-based items, small projects, and functional things like key fobs, sunglasses straps, and even backgammon boards. Once the stitching is done, Stitch offers finishing services.
Harris discovered another need among her customers — one for connection. She put "a stake in the ground" in the areas of community, outreach, and support. Even in the more restrictive times of the pandemic, she found ways for people to connect with each other and to enjoy the shared experience of needlework.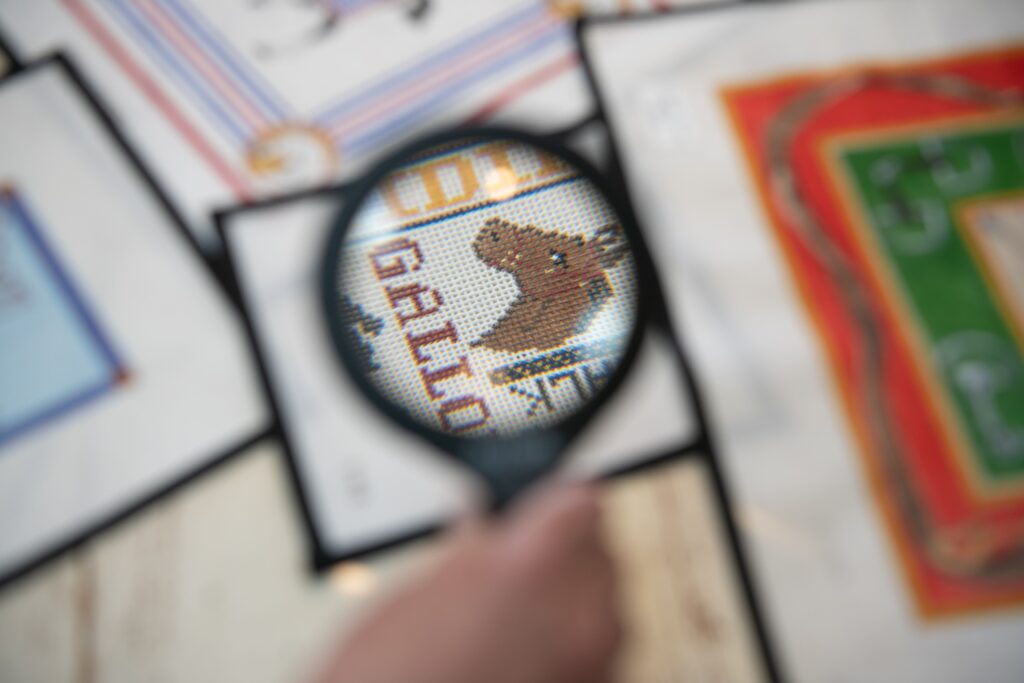 Stitch has become a hub. Needlepointers of all skill levels and ages drop in for advice and informal coaching from Harris and her staff. Formal classes are given as well. Two Wednesdays a month, a group gathers at the shop from 5 to 7 p.m. They visit, help each other, munch snacks, and stitch. "This has become a big thing for us," Harris says.
Twice a year, Stitch sponsors field trips. A journey to the National Needlework Show at Woodlawn & Pope-Leighey House in Alexandria, Virginia, is "always wonderful!" On the first visit, Harris looked at the entries and realized her group could contribute work to the event. In 2022, five members of the Stitch community entered the competition and one received a ribbon. Another favorite outing is to gather for a stitchfest on the Wednesday of the Upperville Colt & Horse Show in June.
Stitch offers an annual three-day autumn workshop. Everyone picks a canvas and then works on their own personal project. A visiting instructor teaches, coaches, and assists everyone.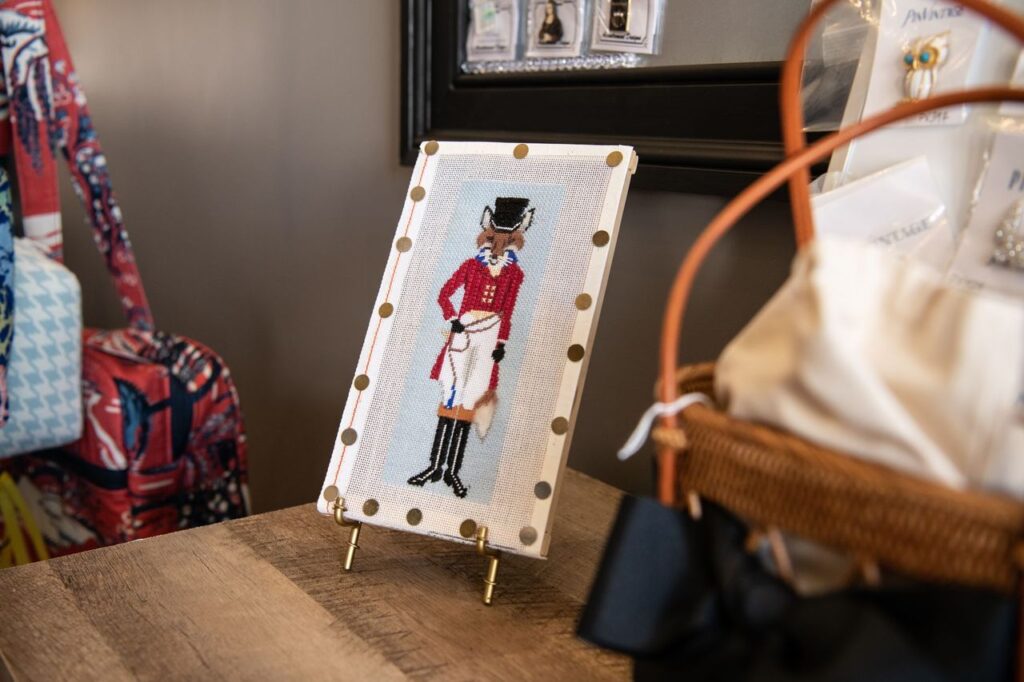 Stitch also donates to charitable auctions and participates in community engagement. For instance, the shop created a custom needlepoint kit for the Oak Spring Garden Foundation. Bunny Mellon was a needlepoint enthusiast, and the kits helped raise funds for the foundation.
A few years ago, Stitch put together an outreach program for women grappling with alcohol or drug addiction. With donated materials, Stitch volunteers taught women living at Brooke's House, a transitional sober living home in Hagerstown, Maryland, how to needlepoint, providing residents a new way to fill unscheduled hours. Halted by the pandemic, a Stitch regular has undertaken the revival of the program.
Harris recommends Instagram (@stitchvirginia) as the best way to keep up with Stitch activities and see what folks are doing. Call or email the shop to get on the Stitch newsletter list. ML
Stitch is located at 103 West Federal Street in Middleburg. The telephone number is 540- 687-5990. The email address is [email protected] It is open Wednesday, Thursday, and Friday from 11 a.m. to 4 p.m. and Saturday from 11 a.m. to 3 p.m. It is also open by appointment on Mondays and Tuesdays.
This article first appeared in the May 2022 Issue.