Master Sommelier Opening Pizza & Wine Spot on Main Street
Story and photos by Kaitlin Hill
Jarad Slipp is a master sommelier, Culinary Institute of America-trained chef, and former RdV Vineyards estate manager. Now, he is bringing a lifetime of fine dining experience and a wealth of wine knowledge to his new West Washington Street shop, Knead Wine.
Slipp's interest in cooking developed early. "Jarad was always cooking with his grandfather, and that's where his love for cooking started," Allie Nault, Slipp's girlfriend, said from the sun-soaked entrance of Knead Wine. "And, it took him to the Culinary Institute of America, where he was one of the youngest people to actually go and graduate." 
Slipp started his formal training at the Hyde Park school at age 16 and honed his skills as a chef at notable restaurants around the world and with household names after graduating. 
"That [training] really propelled his culinary career," Nault said. "He worked in London for Gordon Ramsay at his Michelin three-star restaurant, he came back to D.C. where he owned his own restaurant in his early 20s called "Nectar," then to New York City where he worked for Fabio Trabocchi."
Slipp returned to D.C. to work for Eric Ziebold at CityZen before finding his way to Middleburg as the estate director at RdV Vineyard in 2013. During his time at RdV, Slipp would add the title "master sommelier" to his already impressive résumé. He is one of 269 master sommeliers in the world.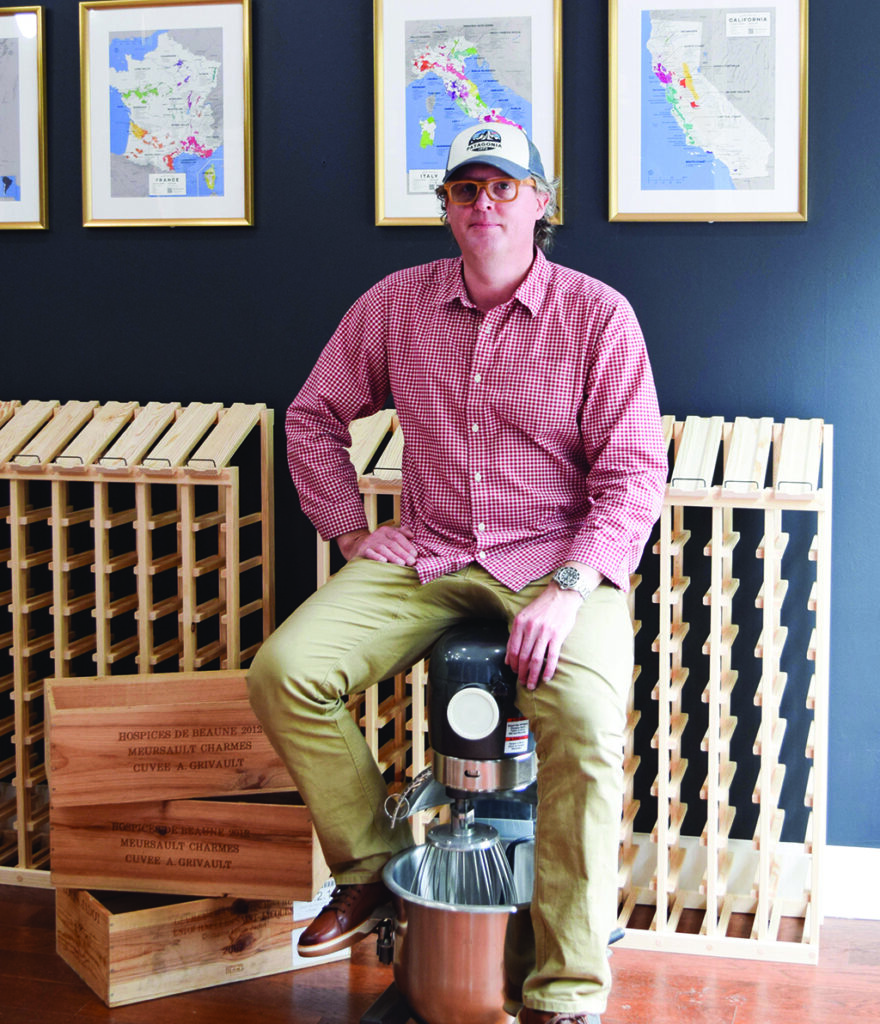 Jarad Slipp at Knead Wine
After six years at RdV, Nault said "it came time for him to decide what the next step was for him, and it was loving pizza and loving wine." "And loving this area too," Slipp added. "I didn't want to move away." 
Though his CV is stacked with fine dining's best, Slipp's latest project is decidedly and pleasantly unfussy. "I always wanted to have some super fancy Michelin three-star, but been there, done that," Slipp said. "And I think the older you get, you just want something that is simple, and yours, and pure." 
The small but smartly dressed space, formerly Le Petit Marche, is warm and inviting with Middleburg-blue walls and original wood floors. The shop is refined but undeniably relaxed, a little like Slipp himself, who has done most of the rehab and redecorating firsthand.
"I've done a lot of the work inside myself," Slipp said, indicating the textured wallpaper on the back wall. "[The design] just popped into my head. It was literally three o'clock in the morning, and I was looking at paint schemes, colors, and whatnot. And I have a very mid-century modern aesthetic," he added, gesturing toward the large central table and wine racks that line the walls. "And I wanted the natural wood, the unfinished wood. It kind of fits with the Middleburg country chic."
His concept of well-done-but-not-overdone applies to the wine and pizza he serves. Slipp has curated a collection of wines and pies that reflect his in-depth knowledge and propensity for excellence, as well as his attention to accessibility. "Being a master sommelier is to demystify wine and not make it snooty, snotty, or uppity," he said. "We are trying to keep things light and fun and approachable — not haughty." 
For Slipp, part of being approachable is being affordable. He sources his wines from "classic regions with an oddball or great curiosity here or there, [and] everything on that wall is 20 bucks and everything on this wall is $45. Doesn't matter what you pick."
He is similarly minded about his pizza, which is beyond gourmet and best described as "near flawless." It is not served on the white linen or silver platter it may merit, but as dressed-down takeout for a weekly or daily pizza fix. "Jarad is a master Italian chef. He's very humble and will never tell you," Nault mentioned, aiming a sly smile at Slipp. "He trained in Italy."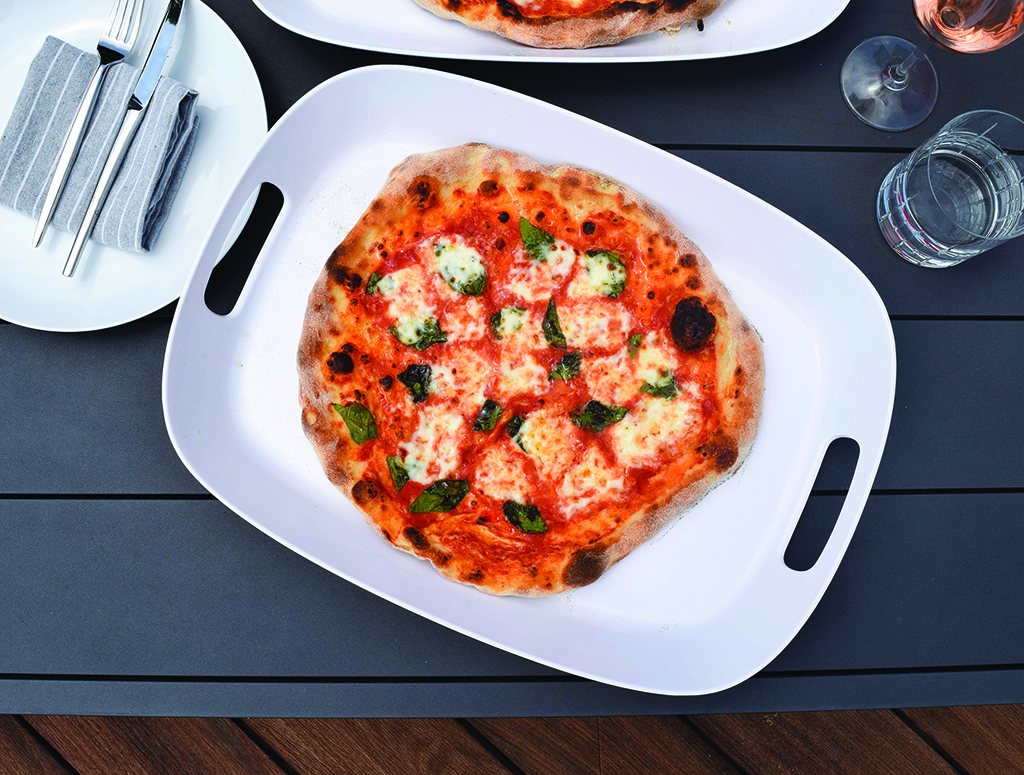 Margherita Pizza
But the pizzas — though the product of Italian training — won't be strictly Italian. "Pizza is obviously rooted in Italian foodstuffs, but pizza is also staunchly American," Slipp said. "We don't subscribe to any one genre. It's not Neapolitan. It's not deep-dish. It's an amalgamation of all my travels."
Slipp's sample menu reveals six specialty pizzas and the option to build-your-own with toppings like house-made fennel sausage, soppressata, and chili-spiked honey.
"They're all individual 12-inch pizzas," Slipp said. "[In addition to] the six specialty pizzas, we do one grandma pizza, the precursor to a Sicilian. It's a little crispier, a little flatter, not quite as doughy."
Whatever toppings and white or red sauce, Slipp's pizzas are expressions of his mastery of craft. His classic margherita is an excellent example of doing something simple and doing it well. The crust is fired to perfection, resulting in an enviable combination of glutinous chew and charred crunch. The red sauce is silky with just the right amount of acidic kick from fresh tomatoes, pairing beautifully with the creaminess of melted mozzarella.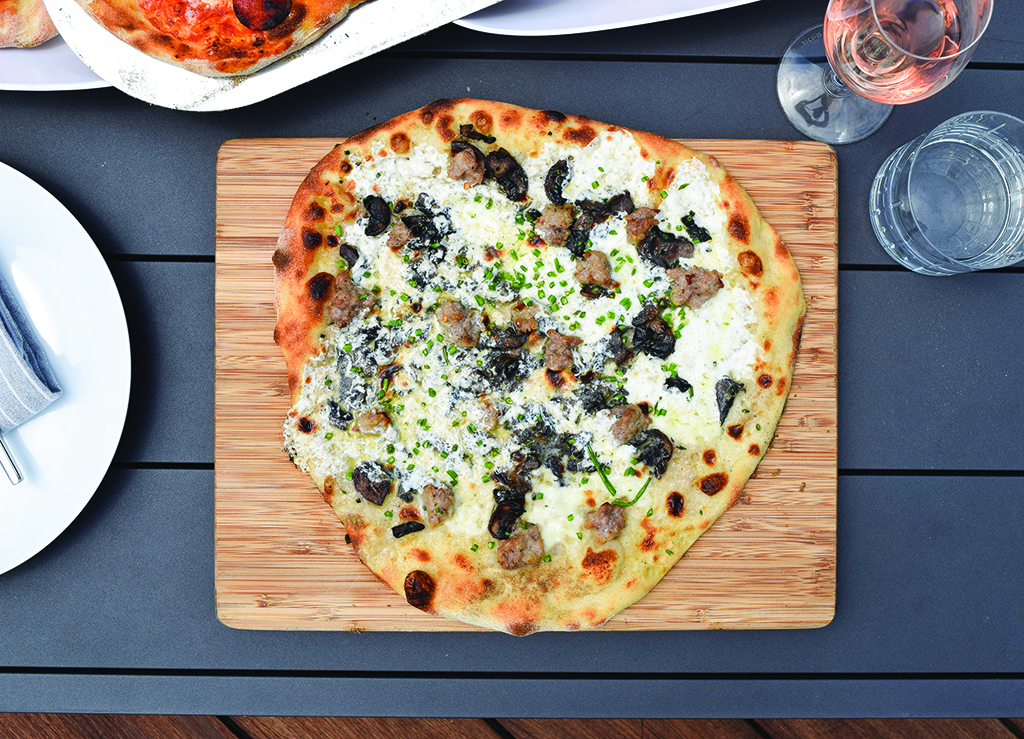 White Pizza
His white pizza offers a glimpse into his genius, too. The same impeccable crust is slathered in expertly seasoned white sauce, an ideal vehicle for savory roasted mushrooms and tender sausage with a hint of anise flavor from the fennel.
Though, if possible, even more indulgent than his pizzas is Slipp himself. In addition to being exceptionally humble despite his impressive accomplishments, he loves what he does and is excited to do it, even in the middle of a pandemic.
"You have to be half insane to do this, but here I am … I am one of the lucky ones," he said, laughing. "I am a guy that's opening a restaurant during COVID, not closing one. But, this is kind of built for these times. It's takeout only, and if you're not comfortable coming in, that's fine; we'll stick it through your car window."

-Slipp
Slipp is mostly looking forward to being part of the community that has served him. "The thing I am excited about is how excited everyone has been for me," he said. "The town has been super positive, and it feels so good to be indoctrinated into the community, and that is a part of the reason I never wanted to leave anyway."
With exquisite pizza, affordable wine, and a keen sense of hospitality, Middleburg is fortunate that Slipp is planning to stay. ML
This article was first published in the August 2020 issue of Middleburg Life.