Written by Kaitlin Hill | Photos by Jennifer Gray
At the heart of Middleburg's charm is the tight-knit community of familiar faces that fill the businesses along East Washington Street and the diverse services they offer. For her part, Kazlynn Johnson of Kazlynn Marie Studios is not only a familiar face, having grown up in Middleburg, she is familiar with faces providing a holistic, green-focused skin care to patrons of her shop. So much more than masks and moisturizers, Johnson stands apart because of her years of training, dedication to her clients, and affection for her hometown. 
Though born in Oregon, Johnson grew up just outside Middleburg. "I grew up in the area," she says. "We live in Rectortown, just down from Atoka. And I went to Foxcroft, so very local." After a childhood in Virginia, Johnson went to Washington College, before moving to D.C. to begin her career in green beauty.
"I started as a buyer," she says. "In D.C. I worked for a company called Follain. They are a green beauty company. I ended up moving to New York with them." In New York, Johnson joined the ranks of CAP Beauty, also as a buyer. "CAP Beauty is a Mecca for green beauty in New York. I was their buyer, which was probably the most fun I've ever had. It was very exciting. I was essentially using the products and deciding what is going to be in the store and then selling them."
From years of working as a buyer, Johnson developed a depth of knowledge with green beauty products that she would later apply after training to be an esthetician. "I realized while being a buyer, as much as I loved it, I wanted to have more of a role that interacted with people," she says. "I've always been a huge yoga person, so I wanted to do something that was focused on wellness and healing. I landed on being a holistic esthetician."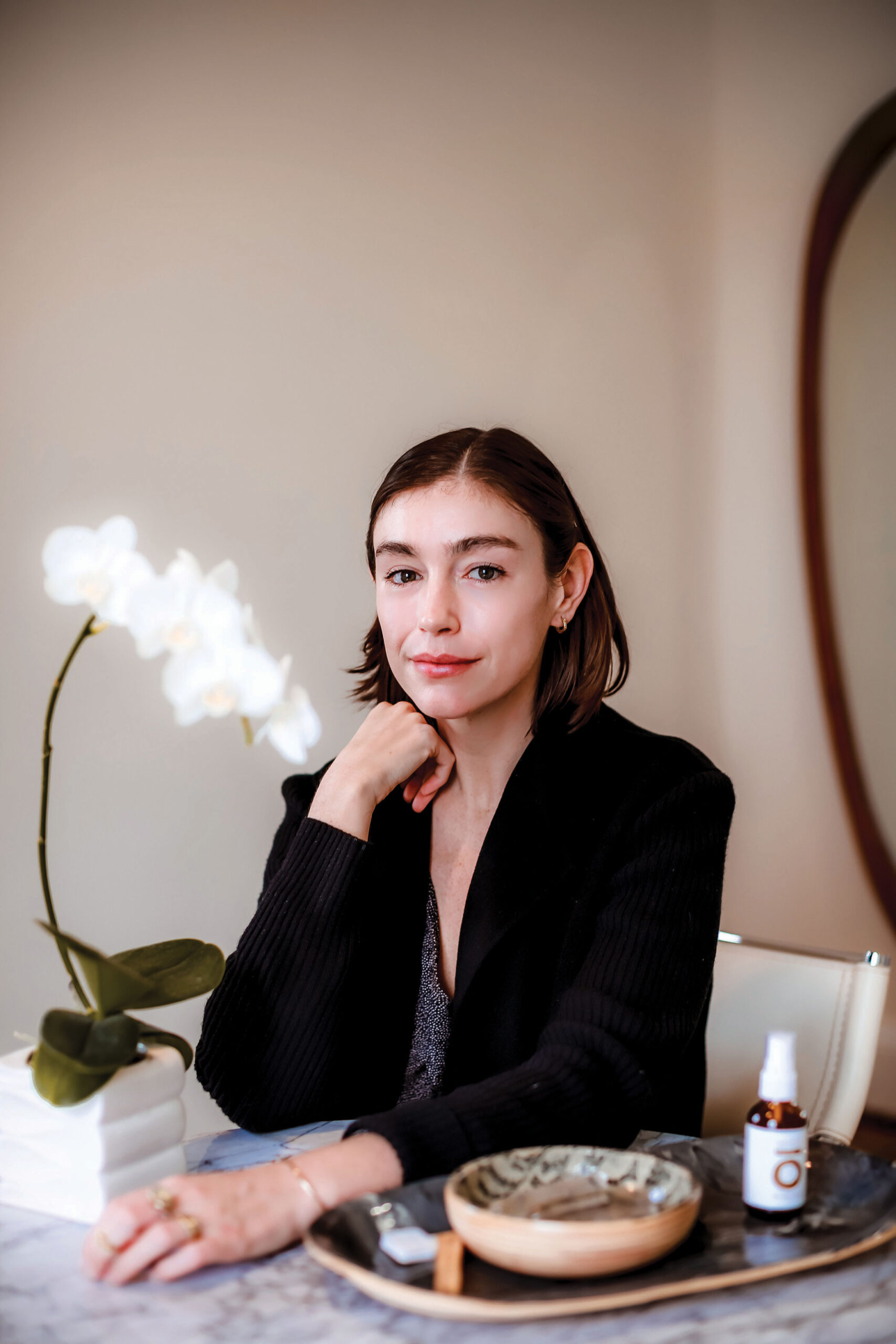 Kazlynn Johnson in her waiting room.
While working full-time, Johnson went to school to train for her dream job. After completing her courses, Johnson landed a gig with celebrity esthetician, Shamara Bondaroff, with whom she would continue her education in the field. "I was able to train with her which was huge and I was just so grateful for the experience," Johnson says.
Under Bondaroff's tutelage, Johnson developed her own facial style and started to practice at her mentor's Manhattan studio, SB Skin. In March 2020, she returned to Middleburg to open her own outpost, and started seeing clients in September. Now, she splits her time between both locations.
"I think by nature I am an introvert-extrovert," she says. "I thrive in the city, but I am also a very calm person. I love the city, but I love nature at the same time. So there is that balance."
Her homecoming to Middleburg was, at first, in response to the COVID-19 pandemic. "I came back last March because of COVID-19 … when I first came home, I thought of it only as a waiting or stopover place," she says. "But, I've always loved Middleburg. It's so special to me. And, I realized there was room for me to be an esthetician here. Then I started thinking about the long-term of me wanting to settle down here."
Settling down meant securing a studio, starting to build clients slowly, and having the support of the community. Through a family friend, Johnson found the perfect spot in the historic stone building at 111 East Washington Street. Though the building, housing six offices, was built in the 1800s, Johnson's suite is the picture of modern and sleek.
"I love my space," she says, gushing. "I think it is so perfect for me. And I don't think I will ever want to change it." Her waiting room is drenched in natural light and decorated simply, reflecting her organic approach to skincare. In the back, her treatment room is completely zen with lowlights and just enough space for one client, which works for Johnson who has purposely built her client list steadily and meaningfully.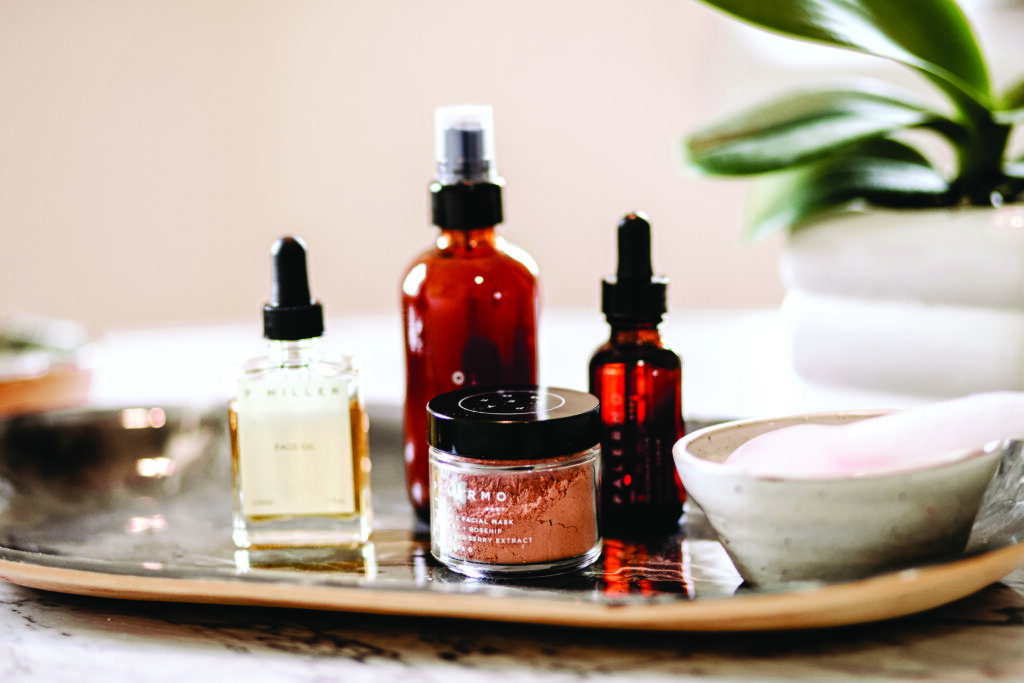 Products inside Kazlynn Marie Studio.
"I have tried to take things slow and organically, I am not really seeing many clients," she says. "I think it is more important to build one-on-one relationships with people. You know them and have them trust you and so you build something that is more long-term."
In addition to the long-term relationships with her clients and love of her space, the support of the community has Johnson thinking she will stay in Middleburg more. "Everyone has been so supportive and it's so nice," she says. "There is just such a warm sense of community here. So I think I will be here more full-time as opposed to being in New York City and commuting down here. I think that this will be my home base."
Johnson offers visitors to her studio access to top-quality facials as well as her fresh perspective on skincare. "I think we have lost sight of what real skin looks like," she says. "And I think this quest for perfect skin has gotten out of control, over extracting, over exfoliating and all of these different things. I think the most important thing is nourishing your skin. So, I definitely take a holistic approach to it because skin is so much more than what you are putting on it."
Johnson's process starts in the studio where she specializes in microcurrent and LED light treatments. "For the microcurrent, it is a machine that mimics your own body's current and it helps repair the muscles in your face," she says. "[I use] the LED light for light therapy. It is a blue light and a red light, and then a mix of them that helps with anti-aging and also acne. It helps heal your skin."
For Johnson, an essential part of skincare is what happens beyond the treatment table too. "I think the most important thing about skin care is that it should be an accessible thing to people," she says. "That's why it is really important to teach people how to take care of their skin at home, and that skin isn't this overwhelming thing you should be fighting against, but instead working with."
She happily makes product recommendations and demonstrations for clients to develop a practice at home. But, she argues, it doesn't need to be fussy. "I am huge on helping people build a routine in a way that is not overwhelming," she says.
Johnson's belief in accessibility, years of training, and commitment to her clients not only makes her a talented esthetician, but also an asset to the Middleburg community. More than a familiar face in town, she is a fresh face in the skincare scene, and Middleburg is fortunate to have her back. ML
Published in the January 2021 issue of Middleburg Life.