Written by Kaitlin Hill
Inspired by the idea of lost treasure, Lost Barrel Brewing is a gem in Middleburg worth discovering. In addition to craft beer, hard seltzer, and a chef-curated menu, the brewery offers stunning views of the surrounding horse farm, private event spaces, and expert hospitality from the friendly team.
With just over a year on the property under their belts, general manager and head brewer Patrick Steffens and marketing and events manager Natalie Femia share how Lost Barrel got its start, what guests can expect, and what their plans are for the future.
"Our brewery is situated on a 70-acre farm that is actually a working horse farm," Steffens says. The current owners, which Steffens calls an "ownership team," bought the land in December 2019 with the idea that it would serve as a multi-functional property.
"The two families that are involved in the operations wanted to make a place where we could be owner-operators of a business and provide some value to the surrounding area," Steffens says. "Part of the idea for using the land here, aside from restoring and revitalizing the horse farm, was to put together a brewery for producing craft beer, hard seltzers, and fresh food."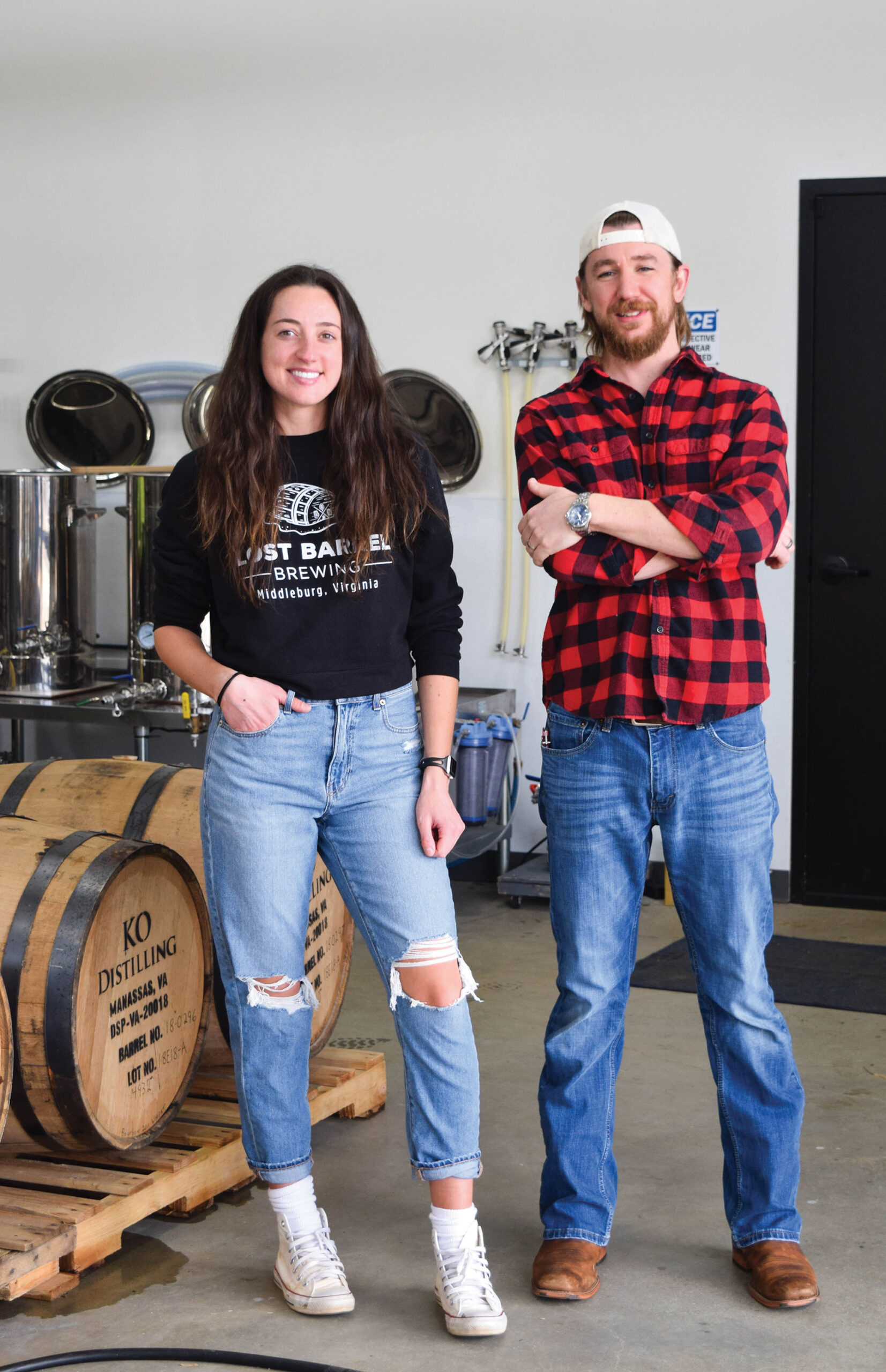 Natalie Femia and Patrick Steffens in the brewing room.
For Steffens, bringing the business of brewing to the farm was a logical next step that played to his interests and professional background. "I got into the beer business like a lot of folks do," he says. "I started off as a hobbyist, making beer out of my basement 10 years ago while working in the IT industry. Early into my beer making, I made the decision that this was something I wanted to pursue professionally. In 2015, I opened a small brewery in Leesburg called Loudoun Brewing Company and that was my entry into the beer business. I sold that business in 2017 and shortly thereafter got together with the owners of this operation to talk about opening Lost Barrel Brewing."
With an affinity for Middleburg and a skill set that lends itself to branding and events, Femia was a natural fit for the business. "My sister is a horseback rider, so we would go out to Middleburg a lot," she says. "My family is one of the families that own the property, so I have a great knowledge of the history of the farm. I have a background in graphic design and photography. And I really like the planning aspects of [the job]. It started with me managing the social media and then it turned into managing events as well. Now I do all the intake for our reservations, I help plan events, I do all the media and the website."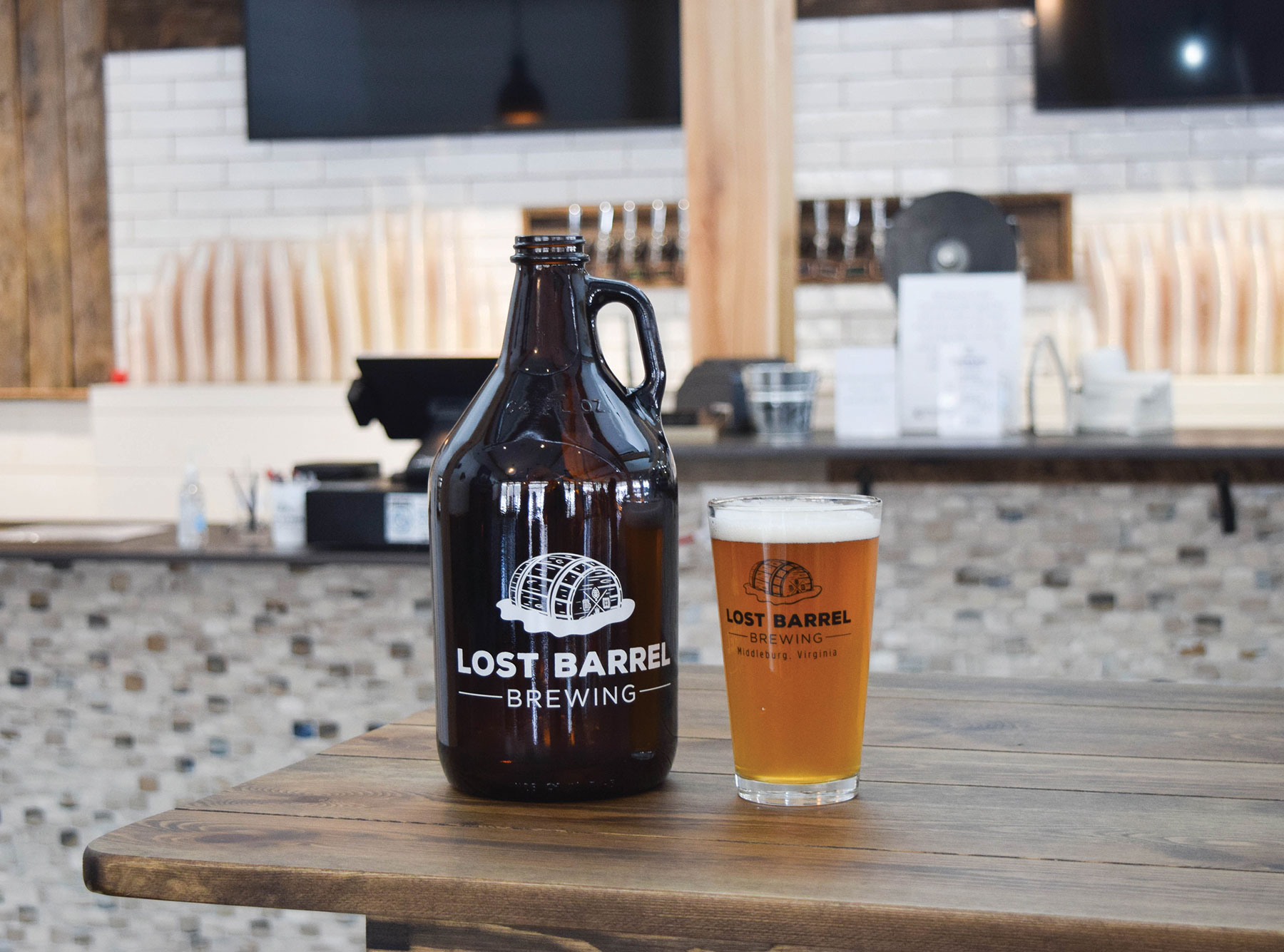 Growler and glass of beer in the taproom. Photos by Kaitlin Hill.
 Creativity and sterling customer service are big drivers for the team at Lost Barrel Brewing, and are manifest in the diverse beer offerings, hard seltzer flavors, extensive food menu, and unique events. "One of the main attractions to being in the beer business is that it is a creative pursuit," Steffens says. "We can really exercise a lot of creativity with the recipes we go through and the products we deliver to our customers." The beer menu has a little something for everyone with beers ranging from light lager to amber ale, IPA, and oatmeal stout. 
"When it came to putting together a lineup, the focus was to cater to a wide variety of interests and preferences," Steffens says. "We have beers that are on the lighter side, the heavier side. We've got hoppy things, we've got fruity things. We wanted to have a menu where folks felt like if they came out there was something for them."
That thought process of providing something for everyone factored into the decision to feature hard seltzers. "We thought [hard seltzers] were an important offering for a few reasons," Steffens says. "It's generally a lighter offering for folks looking for lower calorie options. Also, it is a gluten-free option. We didn't want anyone with a gluten intolerance to feel that we don't have anything for them."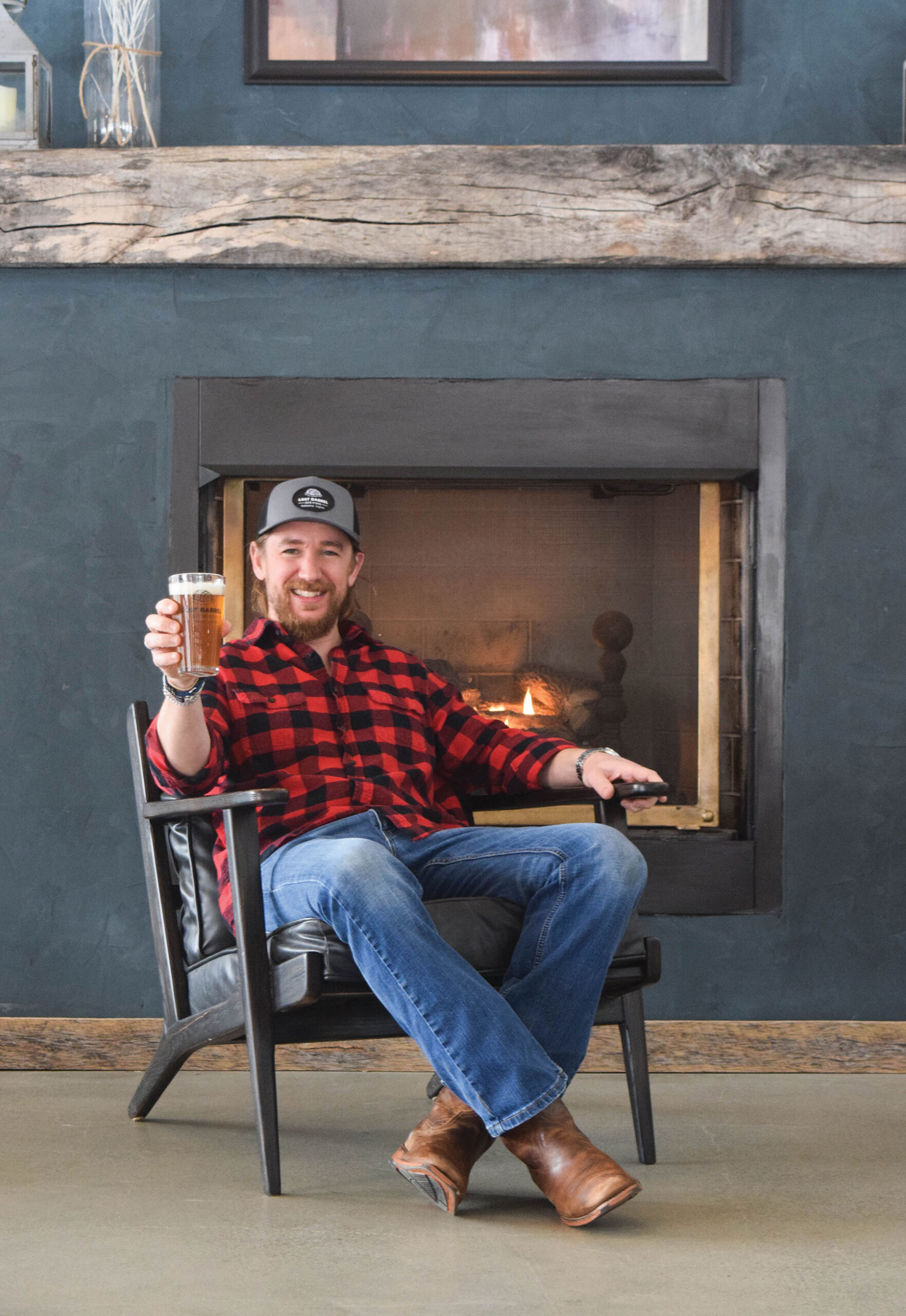 Patrick Steffens in the taproom. Photo by Kaitlin Hill.
For hard seltzer fans, Lost Barrel has a list of fruit-focused flavors including wild cherry, lemon-lime, blood orange, and grapefruit. Each is made with only natural flavors and no added sugar. Attention to customer preferences extends to the food menu as well. More than pretzels and peanuts, Lost Barrel has a chef-crafted menu with gluten-free, nut-free, vegetarian, and vegan options. "We take a lot of pride in the fact that we have a full menu of appetizers, entrees, and desserts, and we've partnered with a professional chef in our commercial kitchen to help with menu development," Steffens says.
From bacon pops and crush puppies (crab fritters with Cajun remoulade) to a meat lovers flatbread and brewhouse Caesar salad, Lost Barrel has a well thought-out menu designed to pair with their beverages. "Since day one, a huge focus has been how do we provide really farm-fresh food to our customers," Steffens says. "We wanted to do it in a way where we are not outsourcing to a food truck, for example, but something that we could have creative control over, and control over the quality of food that's coming out. Because we are handling this in-house, we also have the flexibility to do specials and seasonal items."
Steffens' creative control includes desserts, like banana bread pudding, the brewhouse brownie, and a s'mores kit intended to be enjoyed around one the brewery's fire pits. And they offer take-out. In addition to unique brews and chef's kitchen cooking, Lost Barrel boasts a gorgeous setting with multiple private event spaces and weekly on-site activities. The main taproom is drenched in natural light from floor-to-ceiling garage door windows that open to the outside wrap-around patio. A mix of dark wood furniture, exposed beams, and stainless steel give the airy space a rustic yet chic feel, complete with horse prints and a grand fireplace.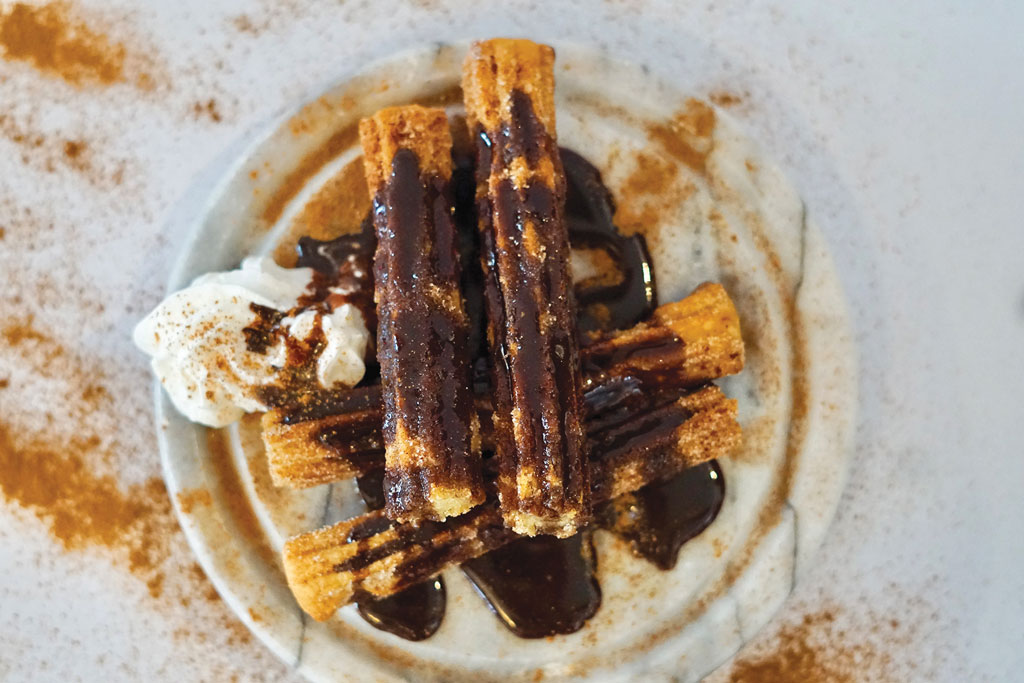 Photo by Natalie Femia.
The refined farm aesthetic stretches to the private event spaces. "We have three rental spaces called the loft, the saloon, and the studio," Femia shares. "These spaces can be booked during our business hours and are great for your casual group gatherings, date nights, or events such as baby showers, bridal showers, rehearsal dinners, and many other events."
And Lost Barrel has its share of weekly events planned that are a mix of great drinks, delicious food, and musical fun. "We have a few in-house events that we are doing," Femia says. "On Thursdays, we are about to start music trivia. On Saturdays, we have something called 'Saturday Mix,' which will be anywhere from two to four DJs that will play from 1 – 8 p.m. And Sundays, we have Omar's Brunch where Omar plays music
from the DJ booth."
With so much going on, Steffens and Femia are laser-focused on customer experience and community involvement, especially as we all continue to grapple with COVID-19. "[The brewery] is very open, it's very clean," Femia says. "We take COVID-19 safety very seriously. Everything gets sanitized, we wear gloves, masks, all those things."
"We take our responsibility as stewards of public health very seriously," Steffens says. "We have had to dial back some of our operations to keep the public safe. And we have to make sure folks are spaced out with adequate distance, make sure everyone has a mask, and access to lots and lots of sanitizer, and we do a really stringent cleaning process. We have been able to execute on those items effectively."
More than extra cleaning and masks, COVID has challenged the friendly staff members who are eager to engage with customers. "I would say COVID is definitely challenging because, as managers, owners, and employees, we really like to meet the customers and talk with them, get to know them," Femia says. "It's a little difficult during COVID because we are sensitive to prolonged conversations and we want our guests to feel comfortable. So that has been the hardest part."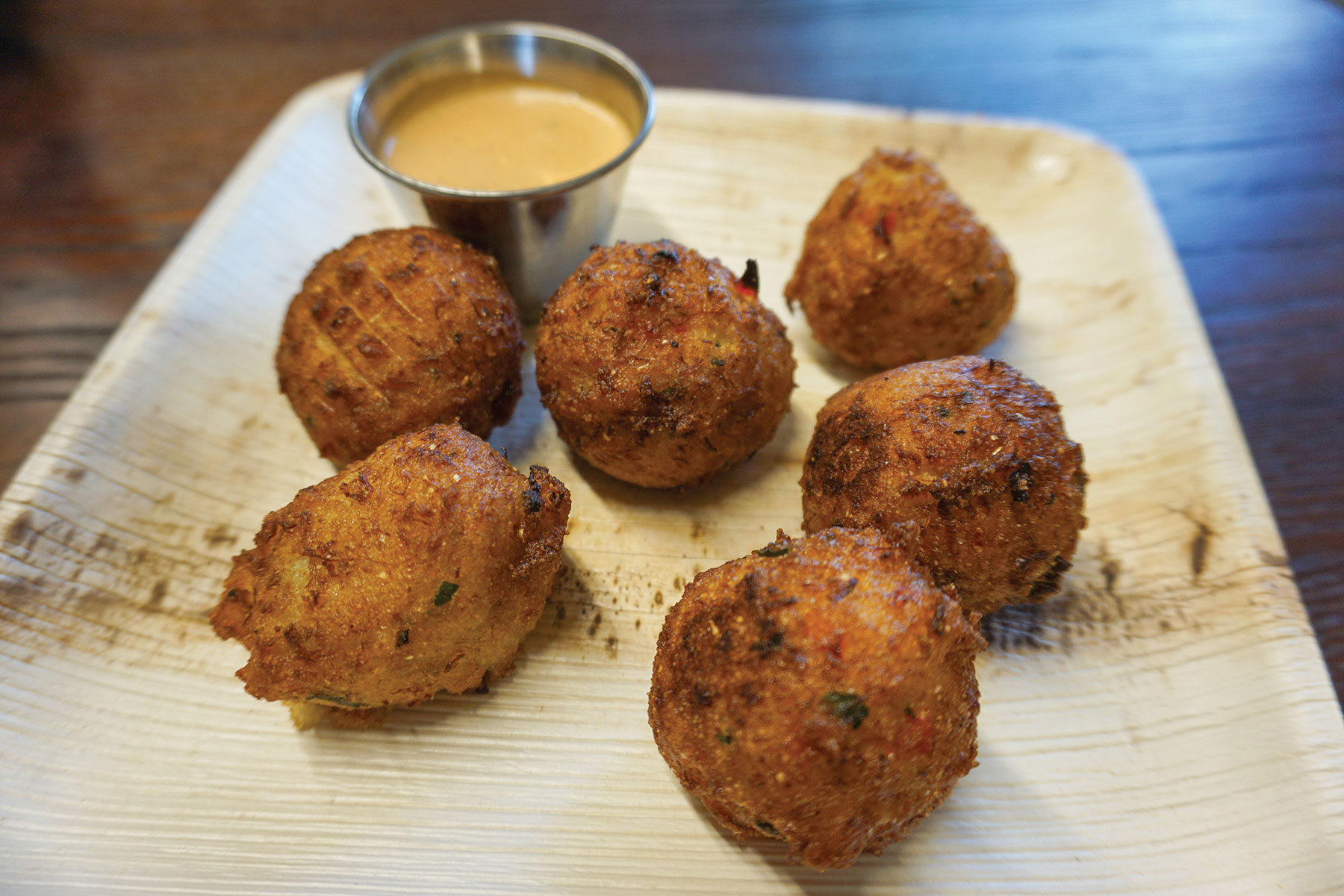 Photo by Natalie Femia.
Although undeniably challenging, COVID has created an opportunity to focus on community support, which goes both ways. "We are still in the middle of COVID, which creates really tough challenges for an operation like ours," Steffens says. "However, I've been very pleased with the response from the community. There is no doubt that if we didn't have local support we wouldn't be here. And we are very proud to be able to contribute to the local tourism. We very much see ourselves as part of agricultural tourism and we want to be a driver for economic success in the area. There is definitely a 'rising tide raises all ships' mentality when it comes to agricultural tourism and the more people attracted to the area as a whole the more everyone benefits."
As Femia and Steffens look toward a post-COVID future, their priorities remain grounded in community involvement and superb guest experience. "I am in the process of reaching out to local charities we can host events for, something to really get the community involved," Femia says. "As we anticipate COVID restrictions rolling back, we plan to get involved with local philanthropy, the Middleburg Film Festival, you know, local initiatives that are synonymous to the area," Steffens says. "These are all things on our radar, really valuable things, that we feel we can contribute to."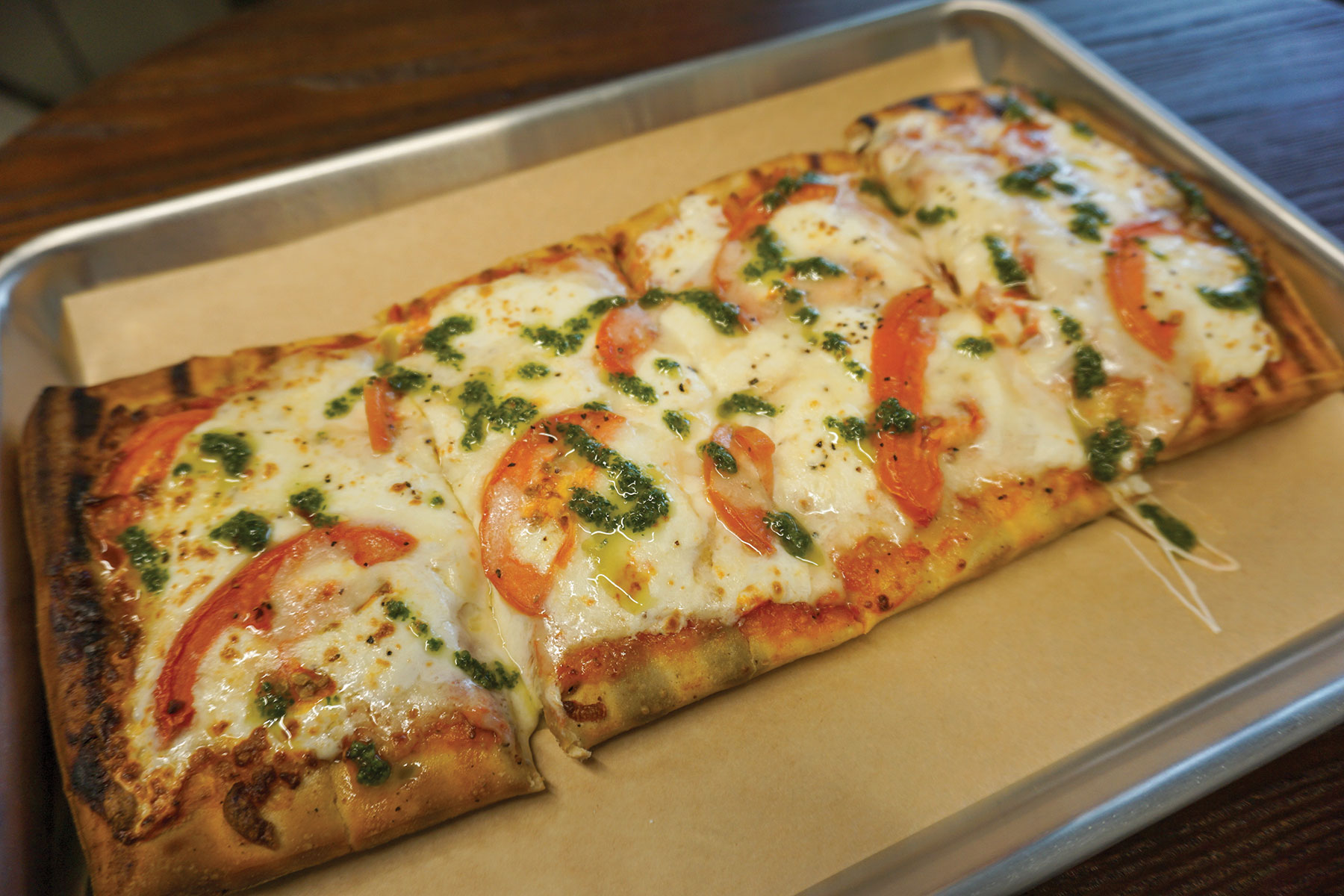 Photo by Natalie Femia.
Steffens wants to continue encouraging people to make the trip to Middleburg by distributing his beer more broadly and welcoming people to the brewery with open arms. "We are planning and preparing to package our product and get it out to the regional market as an additional way to help draw people to the area and show them that there are high quality local products that are being produced here," he says. "I feel like an important part of growing our brand is drawing more people and more tourism to the area in general."
For those who do make the trip to Lost Barrel Brewing, Steffens and Femia offer an experience similar to that namesake inspiration of finding lost treasure. "We have a very beautiful, very comfortable space where we produce our own products on-site and take a lot of pride in the production of those products," Steffens says. "There is a lot of love that goes into what we offer our customers. That's kind of our promise to our customers, that we will continue this pursuit of high-quality offerings and memorable experiences." ML
Learn more at lostbarrel.com.
First published in the March 2021 issue of Middleburg Life.