By Summer Stanley
During an equine therapy group session in Lignum, Virginia, a victim of child abuse and a horse stand head-to-head. The child doesn't speak or move, and yet the horse stays with him, head to head, until the session is over.
"It was one of the most moving experiences we had the honor of being able to provide for one of our children," recalls Zari White, equine therapist for the Alice C. Tyler Village of Childhelp in Lignum. This was only the second time the child had visited, but he had remembered the horse from his first visit.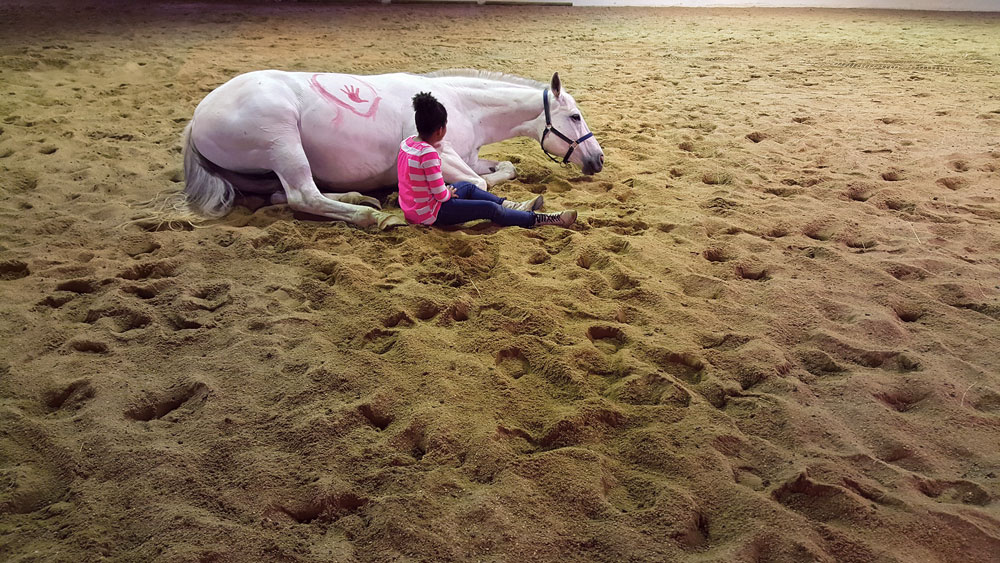 This is the power of equine therapy. "Horses are a non-judgmental creature that meet each child where they are and the energy they bring in that moment. Horses also act as mirrors and show the person interacting with them what their behaviors look like in real time," says White.

Childhelp, a national non-profit specializing in the treatment and prevention of child abuse, is partnering with the Ohana Equestrian Preserve in Aldie. As it celebrates Virginia's proud equine tradition, Ohana is not only a place to experience the beauty and athleticism of horses, it is a place for personal healing and revitalization. On Saturday, March 9, Childhelp hosted a benefit concert, featuring the Wil Gravatt Band and Toni Clare at the beautiful Ohana Equestrian Preserve. Funds raised went directly to the Alice C. Tyler Village's equine therapy program.

Childhelp's private residential treatment center, the Village, is about an hour north of Aldie. It provides healing services in a safe, structured and healing environment for children and adolescents ages 5-14 with mild to severe trauma or neglect. Some of these children need and receive treatment focused on the emotional and behavioral issues associated with psychiatric or neuro-developmental disorders. "The Village classrooms and cottages are located on 270 acres of rolling farmland with woods, streams, ponds, pastures, gardens and playgrounds that create a child-friendly environment, and provide an opportunity for the children to have a childhood they may not have experienced before," says Wade Hardman, director of community services at Childhelp. A short drive south gets them out: outside of the norm; outside of their comfort zone at times and outside to enjoy the horses at Ohana.

Founded by Hawaiian born and raised, Melissa Pankas, Ohana Aina partners with several equine and non-equine services, non-profits, and programs that focus on the well-being of children, veterans, caregivers, or people dealing with post-traumatic stress injuries, depression, anxiety, and challenging family dynamics.

In January 2015, Pankas and her husband, Jim, purchased the land Ohana sits on to keep it from being developed and to preserve that open space for future generations. In Hawaiian culture, "ohana" translates to "family," and to the Pankas family, that means the local community. Their dream of sharing the "family land" to support and develop community outreach programs was furthered when a friend told them about Childhelp and its equine therapy program in Culpeper County. In 2017, they were invited to attend the Village's annual Christmas program and tour the facility.
"There are no words to express the impact this tour had on us. Our eyes were opened to scenarios and hardships that many children face and we were blown away by what Childhelp does, and the unimaginable potential of positive impact," expressed Pankas. "We were introduced to their equine therapeutic facility and began our journey to learning about the power of horses and healing."

The Village utilizes an interdisciplinary approach that includes education and clinical services, therapeutic recreation, and specialized services, such as equine-facilitated therapy. While at Childhelp, children are empowered to overcome obstacles, increase their self-worth, and move forward in their lives to be reintegrated into nurturing homes and the community. Since making that pivotal connection, the founder said the Ohana team have had the privilege of supporting Childhelp by hosting the visits with children from the Village, as well as retreats for their many caregivers and volunteers. They've watched Horse Jumping Grand Prix competitor Kama Godek, whose business resides at Ohana's upper barn, train and jump her horses.

Guests have also participated with Allison Goldfarb, who runs North Light Coaching (NLC) at Ohana's lower barn. NLC utilizes the Equine Gestalt Coaching Method (EGCM), a unique and deeply effective form of personal growth and emotional healing where an EGCM-certified coach partners with horses, guiding clients through an exploratory process to identify what is causing pain or preventing success or happiness. NLC is a trauma-informed practice, serving military and civilian adults, couples, families, and teens.

Ohana Equestrian Preserve's state-of-the-art facility includes a new indoor riding arena with 20 fully-matted stalls designed to host area trainers, an outdoor regulation dressage arena with gazebo for viewing, and blue stone dusted paths between the 18 paddocks. The property also has access to an adjacent 56 acres of horse trails and fields. "It has meant so much to us to have Ohana open their doors to share their expertise and skills about horses with the children. Childhelp has always believed in the beautiful bond between children and animals and the power they have to heal together," says White.

Family takes on different forms throughout the stages of life. Blood relatives, close friends, colleagues, and especially those who have been entrusted to care for our children become family. Sometimes it literally does take a village. The "ohana" concept carries with it a certain responsibility, an obligation to take care of those in your circles, as they take care of you according to the founder. "We've been blessed with the opportunity to have the land, build a facility and surround ourselves with amazing businesses and individuals that not only support the equine culture of Loudoun County, but also support our 'ohana' dream of helping others," explained Pankas.

For sponsorship, or to purchase individual or couple tickets to the March 9 event, visit childhelpdcfundraiser.org or call 540-399-5076. Tickets will also be sold at the door.
This article first appeared in the March 2019 issue of Middleburg Life.