How Flowers Gave This Mama The Chance To Be Home
Written by Chelsea Rose Moore
It began with hand-picked bouquets, childhood innocence, and a little girl delivering flowers to her neighbors. The girl, Kaitlin Armijo, is grown up now, but still loves everything about flowers: growing them, arranging them, and most importantly, she loves sharing them.

Often, our childhoods reveal our deepest longings and desires. Although Armijo loved flowers, she never thought she would become a flower farmer; she just always wanted to be a mother. When she gave birth to her daughter in 2016, she was working as a hospital coordinator at Leesburg's Veterinary Surgical Centers. But she knew she couldn't go back to work.
"I couldn't wrap my mind around leaving her and going back to work," she said. So, she started her company Wild for Wildflowers, a boutique flower farm, on the three acres of land she and her husband had purchased in \ Leesburg. "I've always had a green thumb, and I started growing flowers," she said. "The thirst for them was beyond something I ever imagined."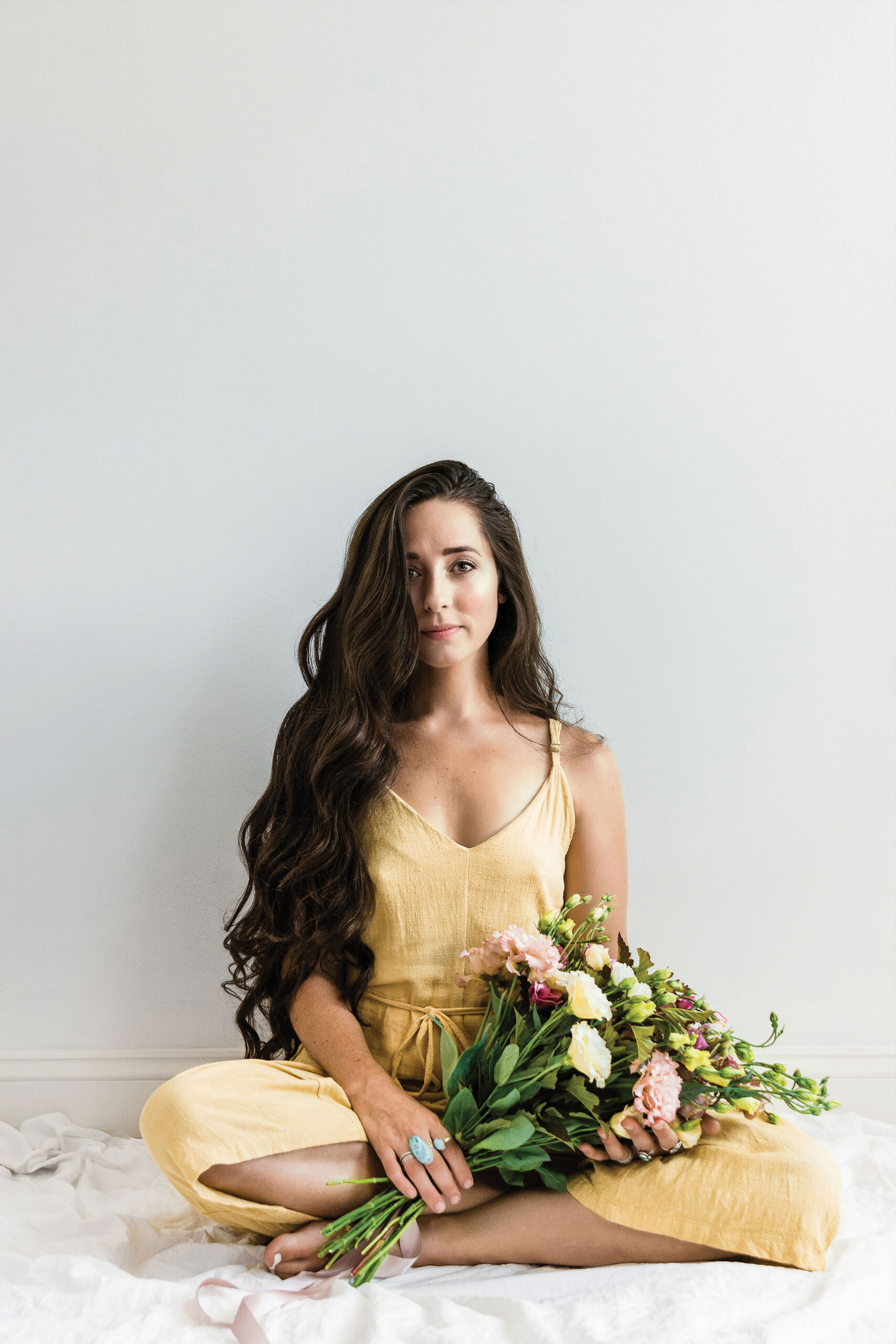 Above: Kaitlin Armijo. Photo by Forest Heart Photo
While many people love fresh flowers on their table, the truth about conventional bouquets is often kept hidden.
"As many as 111 toxic chemicals were found on the hands of florists working with traditional blooms at the end of just one day, many of which are considered toxic and carcinogenic by the scientific community," Armijo said, referencing a 2017 PubMed study. "The levels of pesticides found on imported flowers are 1,000 times higher than what can safely be used on food. They must be cleared by customs as having no foreign pests to come into the U.S., so international growers dump a toxic mix of pesticides on them and fumigate them before shipping. This is in addition to the high amount of fungicide and pesticide applied heavily during growing. All of these travel then to your dining table or onto the hands of those who touch the flowers."
As a result of handling these flowers all day, many florists deal with dermatitis or struggle with skin peeling off their hands. Armijo is determined to do things differently. Her priority is quality in every bloom. She maintains a plastic-free and chemical-free business, and utilizes transparent and sustainable farming methods. Her organic flowers are sold within 24 to 48 hours of being cut, which means they stay fresh for one to two weeks or sometimes even longer.
"People feel safe having our flowers on their table and letting their kids play with them," she said. "The slow food movement really took off in the last couple years. The slow flower movement is right behind it." She starts all her flowers by seed, planting 10,000 new seeds every four to six weeks in her laundry room, which functions as her makeshift greenhouse.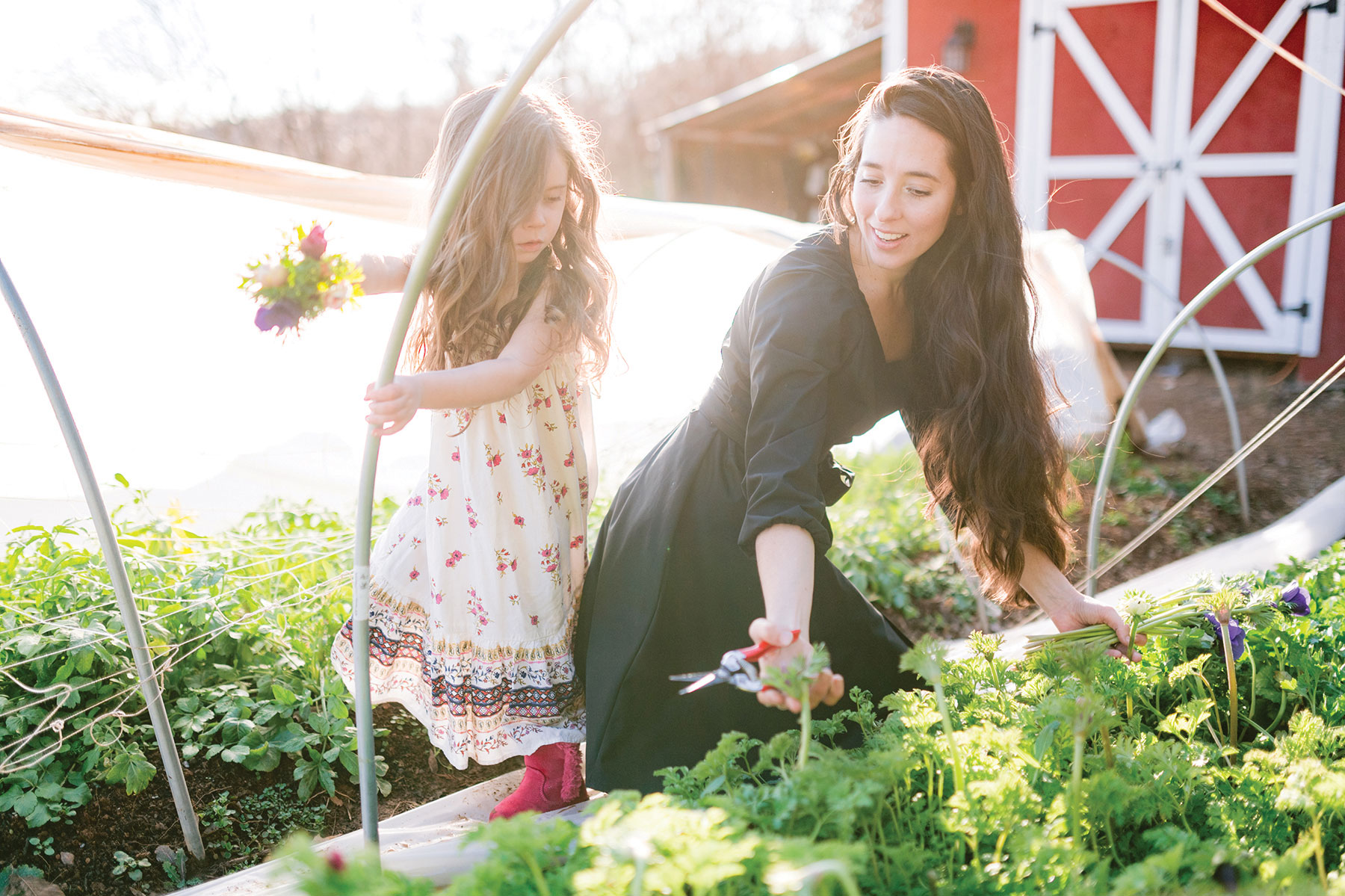 Above: Photo by Virginia Dare Dress Co.
In the early days of her business, she sold flowers outside wineries and at the One Loudoun Farmers Market. The market allowed her to connect with the community, establish relationships, and build a following. During the 2020 season, she stopped doing the market and began doing porch deliveries instead. 
"Because people weren't able to visit each other, flowers were an extension of love and joy," she said. "We had almost 80 subscribers. It's crazy for a little one-person farm. It was 10 hours of delivery."
This year, she's shifted again, offering seasonal flower subscriptions. Her summer flower CSA will start the week of July 12 and run through the week of August 16. Summer flowers will include cosmos, zinnias, asters, sunflowers and more. There are up to 150 available slots, but her CSAs sell out at lightning speed. (The spring 2021 subscription sold out last fall.) If you miss the summer subscription, she plans to offer a fall dahlia subscription in September.
Customers pick up flowers directly from her farm or from various locations throughout Northern Virginia. Pick-up points include Greenheart Juice Shop in Leesburg, Vienna and Aldie; More Better Restaurant and Beer Hall in Round Hill; The Blikken Hut in Lovettsville; Weathervane Coffee in Ashburn; Ridgetop Coffee and Tea in Sterling, and various other locations around Leesburg.
In spring 2021, she began operating "Poppy," Loudoun's first and only flower truck, known as the "bloom bar." She sells pre-arranged bouquets, as well as flowers by the stem, so people can make their own arrangements. On weekends, find the truck at SideBar, Goose Cup, Wheatland Spring Farm and Brewery, and Loudoun Brewing Company in Leesburg.
She and her husband Justin built a farm stand on their property to sell her bouquets every weekend. They invited other vendors to attend and now operate a mini-market, where customers can purchase handmade cards, farm fresh eggs, vegetables and coffee. She also offers wholesale and special occasion flowers, available for online order.
"I call myself an intentional mother and an accidental business owner," she said. "Now that my two worlds have collided, it's amazing. I don't take a day for granted. [My kids] are the heart behind this business."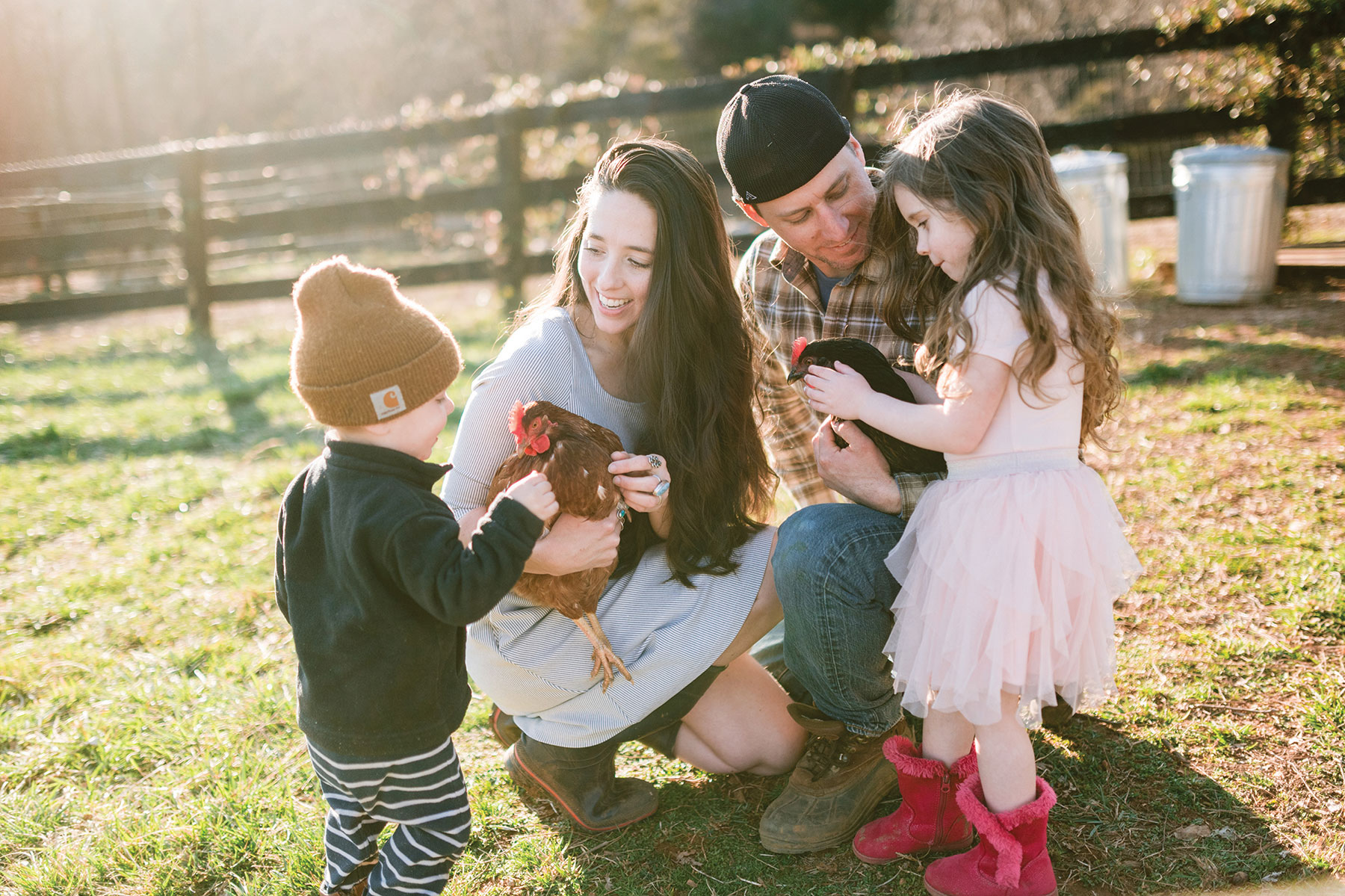 Above: Photo by Virginia Dare Dress Co.
Her daughter Paisley turns 5 in June, her son Nolan is 3, and her third baby is on the way, due to arrive in November. Justin, her husband, was her high school sweetheart, and works as a full-time firefighter. On his days off, he is the equipment manager at Wild for Wildflowers.
In spite of all her success, the involvement of her kids remains the most important part of her business. "I can be there for them and be involved in their imaginative games, but be harvesting thousands of flowers a day," she said. "It's kind of a niche career, where I can run it with my kids. I wanted to do something where they could be there from start to finish. They are little farm workers. My daughter helps me plant seeds, and they weed. It's really special to go out there and work towards a common goal as a family. A lot of times they are building forts out of flower crates or covering each other in mud."
At the heart of Wild for Wildflowers is still that same girl hand-picking bouquets, treasuring the innocence in her own children, and delivering flowers to her community. ML
Order flowers and learn more about Wild for Wildflowers by visiting wildforwildflowers.com or following on Instagram @wildforwildflowers.
Published in the May 2021 issue of Middleburg Life.