Photo by Michelle Baker
Pack your baskets. It is time to get out and grab a spot to watch the races this spring.

With the spring season officially kicking off, plan now for festive picnics and gatherings. And now's the time to buy ahead for that impromptu afternoon at the races. We wandered around a favorite Middleburg spot, The Fun Shop, to find perfect picks for our tailgating basket.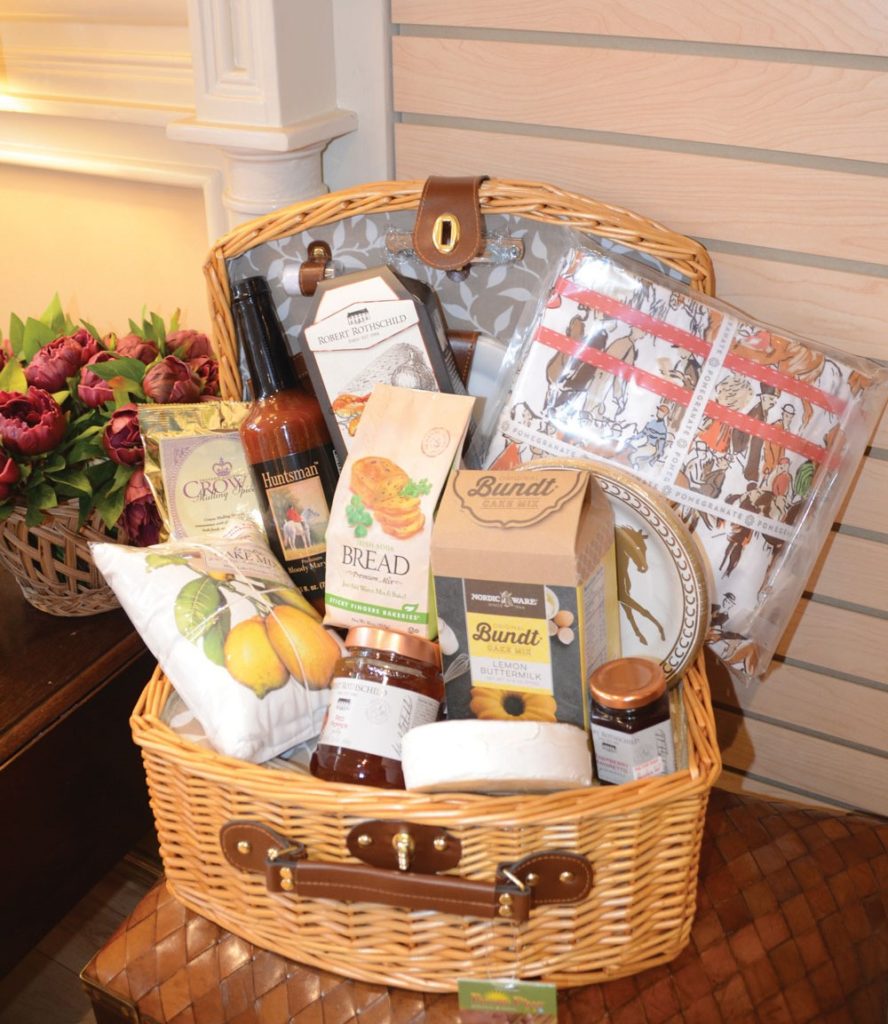 Instant Gourmet Crow Mulling Spices combines convenience with delicious taste to enhance both foods and your favorite drink. This is a perfect mix for cider, wine or tea as you watch the races. Back of the bag features recipes for Spiced Cider, Banana Bread, and Rum Toddies. Email [email protected]
Huntsman Bloody Mary Mix Lewis and Sue Nash share their family recipe in this premium Bloody Mary Mix. Manufactured by the Ashburn Sauce Company in Virginia Beach, carries the Virginia Agricultural Virginia's Finest seal. This gluten free mix needs only one other ingredient. Make a quick stop by the local ABC store for vodka to add to your basket. To order the mix online, call 804-719-9038 or email [email protected]
R Cobert Rothschild Cheesy Bacon Dip Mix Who doesn't like cheese and bacon? This smooth dip by Rothschild Farm blends onion and smoky bacon flavors for a basket favorite. Just add a cup of mayonnaise and a cup of sour cream and viola-ready to dip into this with a chip or pretzel sticks.
Pomegranate Equine Tablecloth What could be a more perfect way to top the table than with a equine inspired motif table cloth? The Fun Shop has several gorgeous heavy table clothes in various sizes to fit your party needs. This Paddock tablecloth by Pomegranate, Inc. is (55×55). Sizes and prices vary.
Lemon Cake Mix with Flour Sack Towel This Lemon Cake mix by Mary Lake-Thompson, Ltd. will be the hit of the rail party. Just add one stick of butter, one cup of milk and one large egg and whip it up to share. The mix comes wrapped in a beautiful tea towel. Product does contain wheat and milk. marylakethompson.com
Irish Soda Bread Sticky Fingers Bakeries makes this quick and easy Irish Soda Bread mix. Just add water, mix and bake for 45-50 minutes. Cook, slice and pack away for your afternoon of sharing. Packaging includes option to make an Irish Soda Beer Bread by exchanging one cup of beer instead of water.
Nordic Ware Bundt Cake MixWhy make one when you can enjoy three times the fun! Another Fun Shop favorite is the Nordic Ware original Lemon Buttermilk Bundt Cake Mix. Dig out the bundt pan and mix it up. Just add butter, milk and eggs for the original version. With a few additional ingredients, you may discover a new delicious variations like the lemon lavender bundt cake with honey glaze or the lemon buttermilk cake with blueberry glaze. Details on back of packaging. Nordic Ware offers a line of gourmet bundt mixes and a line of bundt pans. Nordicware.com
Derby Gifts Plates Don't forget the plates! Derby Gifts out of Louisville, Kentucky offers this equine design. The Fun Shop is filled with fun and fanciful paper goods and plastic ware to make picnicking easy. To buy check out other Derby Gifts party kits or gifts, go to derbygifts.com
Rothschild Red Pepper Jelly Bob and Sara Rothschild make this unique jelly. Full bodied with all the flavor red peppers and jalapeños have to offer. Spoon over a wheel of warm Brie for a striking hors d'oeurve or use a bold glaze for your juicy ham. Don't forget to add crackers and cheese to your basket.
Rothschild Raspberry Amaretto Preserves A delicate blend of sun-ripened raspberries combined with the delightful sweet almond taste of amaretto. Works perfectly on a crisp English muffin or smothered over grilled pork loin. RobertRothschild.com
This article first appeared in the April 2019 issue of Middleburg Life.