Founder of Holistic Horsemanship shares the journey
Written and photographed by Laticia Headings
When Adrienne Freeland founded Holistic Horsemanship Services in April 2018, she wanted the name to reflect her distinctive approach to wellness. Drawing upon her professional background and personal experiences, she followed a calling to develop a therapeutic program that focused specifically on the relationship between horse and human.
Freeland grew up a country kid in Eighty Four, Pennsylvania, where she raised chickens, sheep, rabbits, and ponies on a small farm. Her love of animals, especially horses, developed at a young age. She rode Western, showed in local horse shows, and was a member and officer in her local 4-H Club for six years.
When Freeland was in high school, her mother was diagnosed with Guillain-Barre Syndrome, a condition in which the immune system attacks the nerves. To cheer up her mother, Freeland would bring her ponies into the family's living room. This unconventional gesture helped bring solace to the situation and it was then that Freeland experienced firsthand the therapeutic power of horses in times of trauma.
At West Virginia University, Freeland majored in Recreational Therapy. "I'm very untraditional," she says. "I'm very social and kind of fun, so recreational therapy was a perfect fit!" She also completed a college internship at New Medico Brain Injury Rehab in Washington, Pennsylvania, where she introduced a riding program to the facility's traumatic brain-injured population. "Horses make no assumptions and make no judgement," Freeland says. "They are incredibly aware and sensitive."
For 17 years, Freeland was employed at inpatient traumatic brain injury and neurological rehab facilities and hospitals working in conjunction with PT/OT (physical therapy/occupational therapy) and speech. "My focus was always on moving the patient back to more normal activity after trauma, things like going to the grocery store and going out lunch," she says. "It's about how we adapt the mindset to include recreation and fun."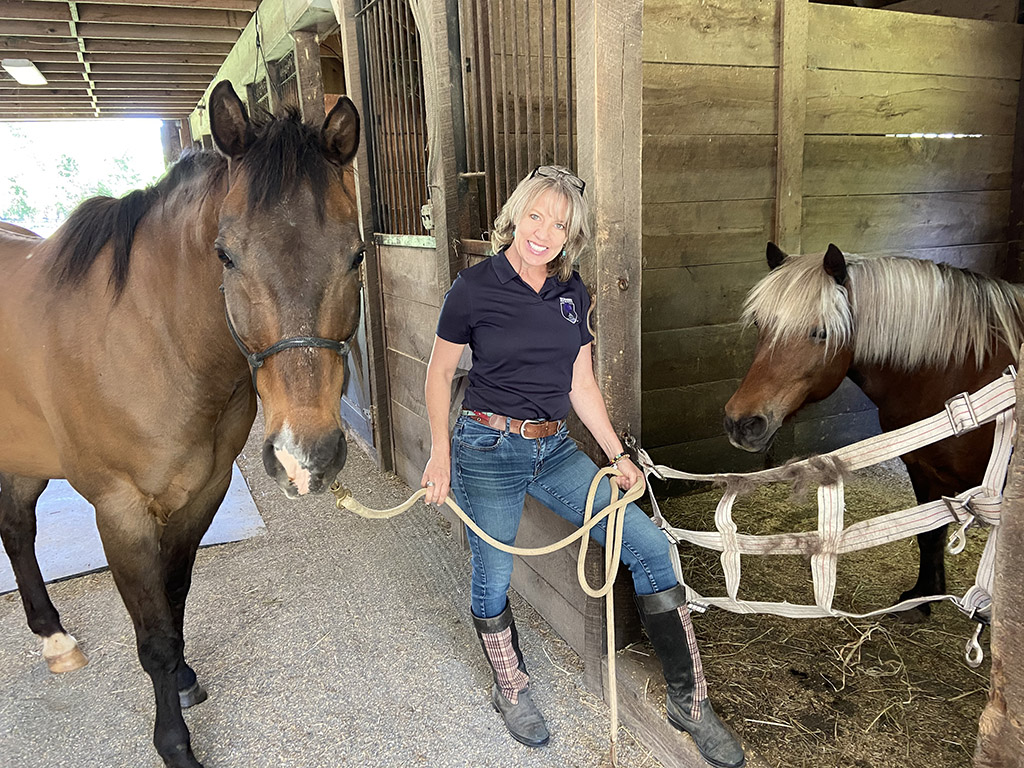 After moving from Florida to Virginia in 2010 with her husband, Timothy, a civil engineer, and their two children, Jessie and Tom, Freeland became PATH (Professional Association of Therapeutic Horsemanship International) Certified as a riding instructor and worked at Rainbow Therapeutic Riding Center in Haymarket providing riding programs for individuals with various abilities and challenges.
Over the past two decades, Freeland has worked with a variety of people. "Everyone: from those dealing with concussion recovery, to veterans and kids being bullied, grievers, people with autism and attention-deficit, women who have been abused, and those dealing with sexual trauma and post-traumatic stress," she says.
In March 2016, Freeland's brother, David, a veteran Sargent First Class in the Army, died by suicide after a years-long battle with depression, and what Freeland believes was a struggle to adjust from military to civilian life. "With all of its struggles and challenges, that was also a door opening," she says. "I thought I'm going to find a way and do exactly what I want to do. It was his spirit that pushed me into all of this."
Two years later, she founded Holistic Horsemanship Services, a non-profit pending Equine Assisted Learning program. Located in Round Hill, Freeland says HHS is "the perfect spot in the woods" to offer clients a way to be in nature and bond with a horse as a way to address personal issues through leadership, partnership, and connection. Because HHS is a work-based program and different from a traditional "up and on" therapeutic riding center, clients have the opportunity to build a relationship with the horse before ever sitting on the animal.
"If I can help build that foundation … I can set you up for that riding piece, even if it means finding a different mounted program that works better," Freeland says.
Freeland is also contracted to teach the connection module at Boulder Crest Foundation, a Bluemont-based program for combat veterans, first responders, and their families, and uses her background to incorporate different types of therapeutic modalities into her program.
When a client arrives at the barn, Freeland first has them do an exercise to connect with their breath. "This helps to take away any predatory energy the horse might sense," she says. Clients learn to observe what's going on with the horse by looking at the eyes, ears, nostrils, head position, stance, and breathing. "Horses do not accept vague leadership — they want a clear leader," says Freeland.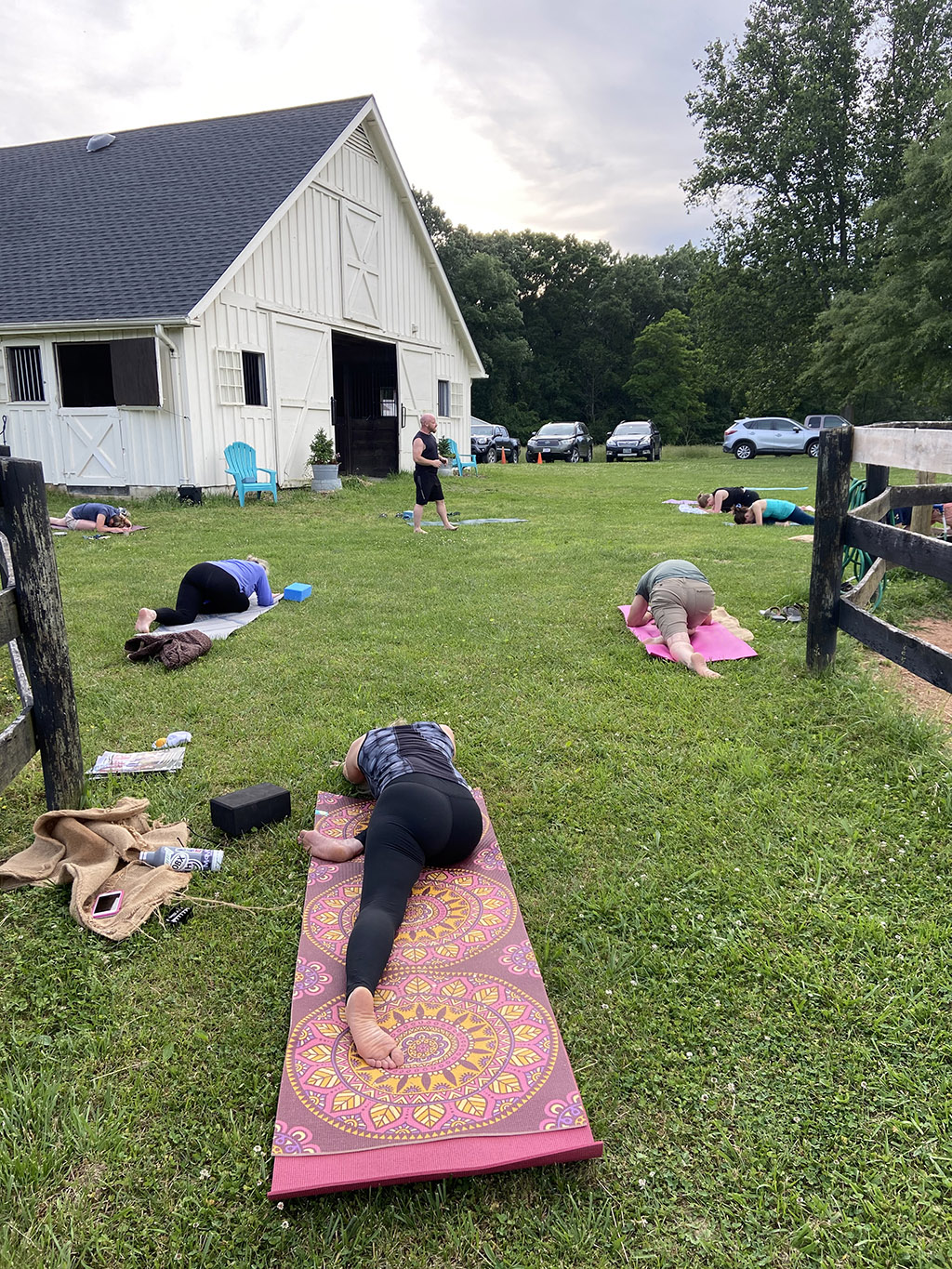 Luke Greer teaching yoga outside the HHS barn.
Through basic horsemanship, clients learn how to control the energy in their body because "the horse is matching that energy," Freeland says. Clients gain practical experience that transfers into learning how to read people, take non-verbal cues, and communicate without words.
Freeland also teaches clients about anatomy and how to groom, feed, and bathe a horse to help establish a rapport and build confidence on both sides. After mastering best equine caretaking practices, clients graduate to walking a horse in a ring, small round pen, and eventually down local dirt roads before ever riding. Each client has a specialized lesson plan. "It's not just therapeutic riding or therapy for a certain diagnosis — it's holistic," she says.
When it's time to ride the horse, it's like a graduation for clients. "It's not about form, it's not equitation," she says. "That's not what I do. I want you to feel the movement [of the horse] because you've developed a relationship."
HHS has four full-time therapy horses. Each 90-minute session is free from cell phones. She also offers a free grief support group every month in collaboration with Blue Ridge Hospice.
To raise money, Freeland boards horses, operates an Airbnb rental called the "The Nest" at the Round Hill farm, and offers small, private yoga classes taught by a local instructor, Luke Greer, every Wednesday. All proceeds go directly to supporting HHS.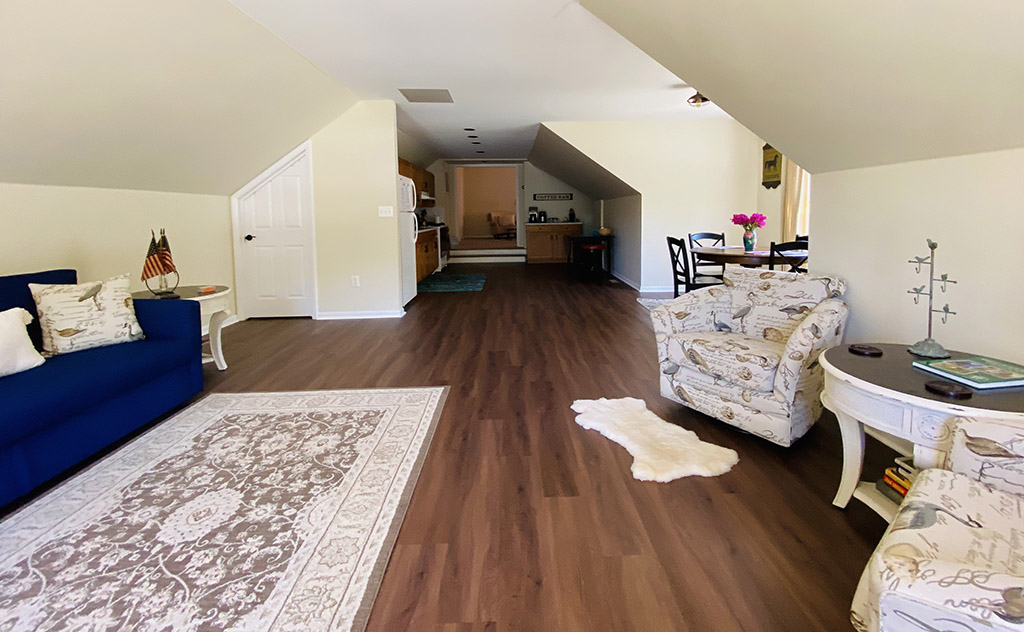 The Nest Airbnb at the Round Hill HHS barn
Through all of her successes and hardships, Freeland considers herself a warrior and wants to help others find and use their fighting spirit. "In this business of wellness discovery, my goal is to get to the top of the mountain and survive, and then to go back down and bring somebody else up," she says. "Each time I bring someone else up, I get stronger and stronger." ML
For more information, visit "Holistic Horsemanship Services LLC" on Facebook or email [email protected]
This article first appeared in the July 2020 issue of Middleburg Life.