Fostering Conversation and Community Through Documentary Films
Written by Laticia Headings
Photos Courtesy of DocWeek Middleburg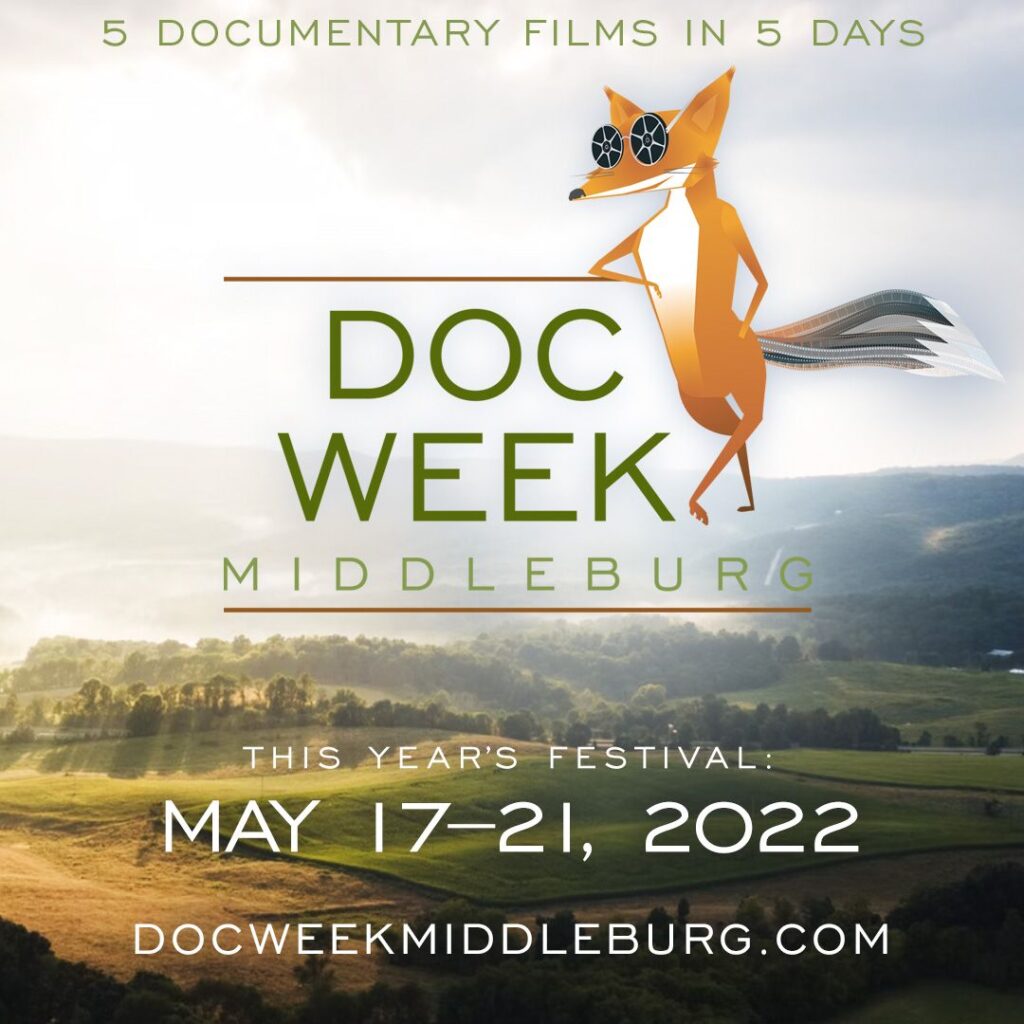 Among the many reasons that people visit Middleburg is to experience the annual Middleburg Film Festival, which is celebrating its 10th year this October. But many are surprised when they find out that Middleburg plays host to another documentary-focused film festival that got its start at the beginning of the pandemic. "The response has been very warm and building dramatically," says DocWeek's founder, Tom Foster.
With the first DocWeek in 2020, Foster's goal was to bring people together through documentary films and to establish an atmosphere of mutual respect during a time when political tensions in the country were pervasive and many were feeling isolated because of COVID-19. "We really created this to foster community and conversation," he says. "The idea was to show thought-provoking films that most of Middleburg probably hadn't seen. Some are brand new. Others may be two years old but in [those cases], the director is attending the festival to put a special spin on it."
This year's DocWeek will run from May 17 to 21 at the Middleburg Community Center and will feature a different documentary each night.
The five films span a range of topics, perspectives, and personalities, from a saxophonist and owner of a renowned London jazz club, to the women of Standing Rock protesting the oil pipeline. There's also a riveting North Korean spy story that is the marquee film on Saturday night. "The director is flying in from Copenhagen and will be interviewed by Robert Gallucci — a Georgetown professor, former U.S. ambassador, and former president of the MacArthur Foundation. We also are flying in two directors from the West Coast," Foster says. Tickets are limited to 150 people per film to keep the viewing an intimate experience.
"There's something for everyone and because it's a small group, there's a unique opportunity to engage with the directors," says Anne Clancy, who attended the first DocWeek in 2020 and got involved last year as a board member. "It's nice to have an intellectual and cultural experience in a country setting with your friends in your hometown, without having to go to D.C."
Clancy remembers the first year when the festival was held in the fall and capacity was limited to 50 people per film. Each ticket holder sat inside a plastic hula hoop in order to stay socially distanced. "It was such a relief to gather outside, it was the only thing we could safely do as a family and it was a fun experience," she recalls.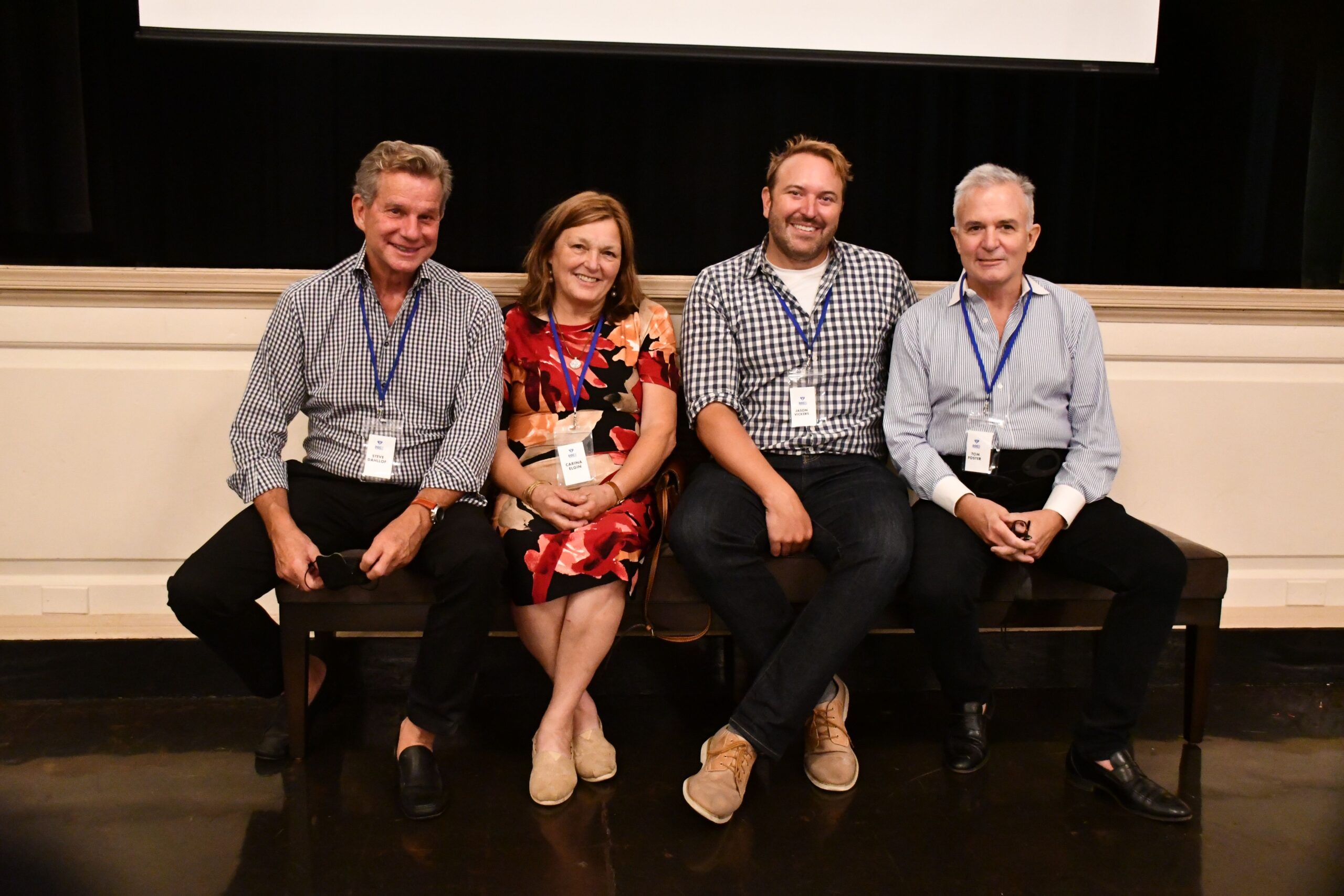 The festival will be held outside unless it rains, in which case the festivities will move inside the Community Center. Foster expresses his gratitude for the use of the landmark venue. "I love using the Community Center. What town is gifted a 14,000 square foot mansion with a ballroom on six acres?"
Foster, a retired investment banker, moved to Middleburg in 2004 because his partner, Steve Dahllof, is an avid foxhunter. Foster says, "We came here because it was so beautiful and protected. I think a lot of people come here for that reason." The two bought land and built a house that they now share with their three Hungarian vizslas who enjoy running around the 80-acre property.
After achieving success in his career, Foster wanted to reinvent the next chapter of his life. He decided to get involved with the Chicago Media Project (CMP), a nonprofit which helps provide funding for documentaries that amplify under-represented voices and drive social change. "People are reading less and watching more. If you want to influence minds, maybe the best way to do it is to create documentaries," Foster comments. "You can make a lot of points in a short period of time and reach a remarkably diverse audience."
Foster started the Piedmont Film Club in 2021 with Rev. Weston Mathews and Carina Elgin by donating a movie projector and an indoor and outdoor screen to Grace Episcopal Church in The Plains, where films are played for the public the third Thursday of every month.
Foster was also a board member for the Middleburg Film Festival, founded by Sheila Johnson in 2013. In fact, when the light bulb went off for the creation of DocWeek, he first approached the Middleburg Film Festival's director, Susan Koch, to get her thoughts. She was supportive of the idea and told him that his festival would help to create a bigger community of film lovers in the area.
"The Middleburg Film Festival is huge. They're a national film festival. They have movie stars coming into town," Foster says. "We are apples and oranges. I tried very hard to craft an entire week that was intimate, small, and community-based featuring only documentary films."
For 2022 and beyond, the board of directors decided to move DocWeek from September to the third week of May to provide further distinction between the two festivals.
Aside from Foster and Clancy, the board of directors include three other local members: Robert Dove, Joan Ramsay, and Jason Vickers.
"This is something for Middleburg and we want to see it grow and become an annual event," says Dove, who serves as treasurer and got involved because he wanted to give back to the community.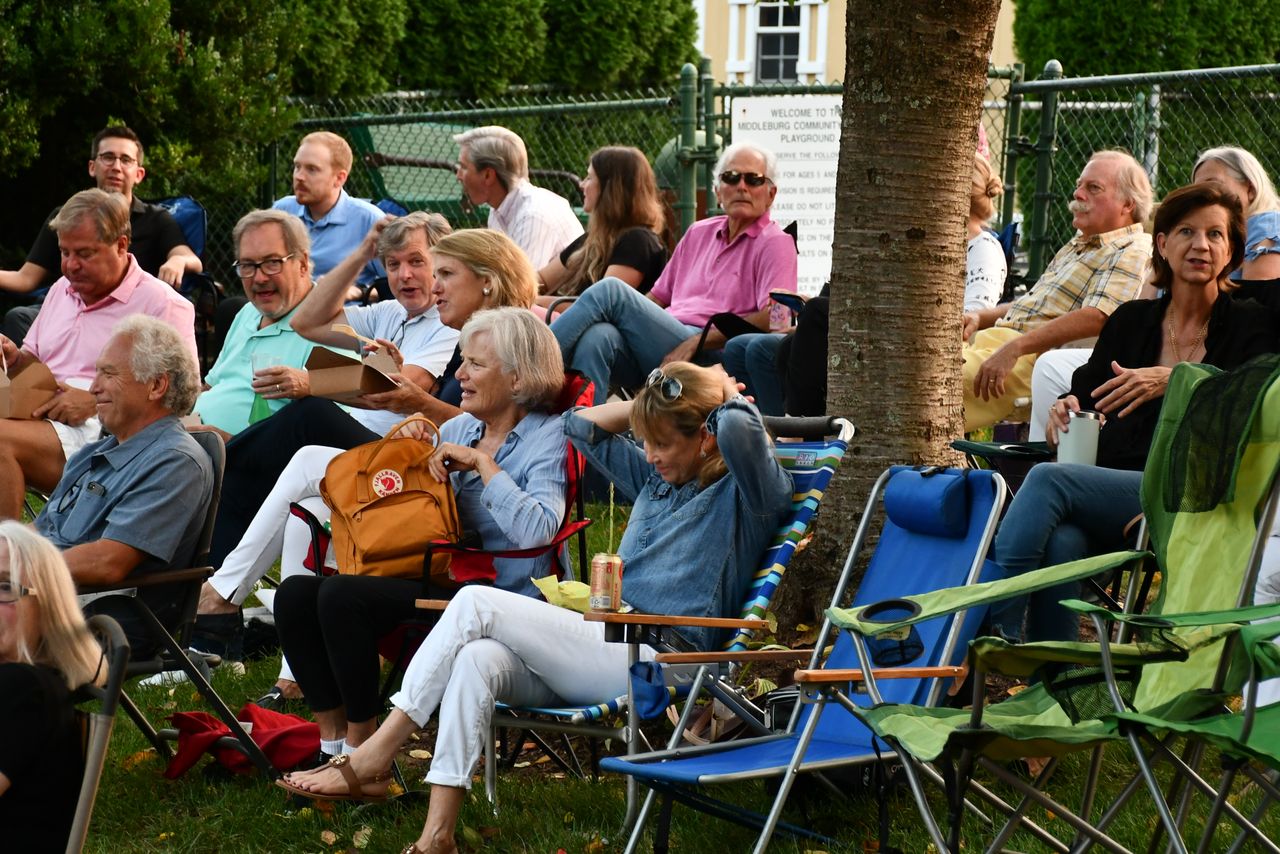 DocWeek Middleburg, now in its third year, features three ticket tiers. 50 tickets are available for individual purchase for the first three nights priced at $15 per ticket. At $250, the next level includes the first three nights, plus a special jazz concert on Friday featuring a quartet from Shenandoah Academy. The premium package priced at $500 includes all five nights plus a cocktail party and sit-down dinner inside the Community Center on Saturday evening.
Ticket holders also have the option to prepay for a picnic box from select local restaurants including The Rail Stop and The Whole Ox. "We realized that most restaurants are closed by the time the film is over and this is a nice way to provide dinner for people who want it," Clancy says.
The board of directors all have a similar vision: to knit people together through the power of cinema. "It's not church, it's not horses, it's not dinner parties — it's documentary films," Foster says. "We've got to bring people together and create new ideas to build a deeper sense of community."
List of films:
Tuesday, May 17: "Breaking Bread," directed by Beth Elise Hawk.
Wednesday, May 18: "Mission Joy," directed by Peggy Callahan and Oscar-winning Louie Psihoyos.
Thursday, May 19: "End of the Line: The Women of Standing Rock," directed by Shannon Kring.
Friday, May 20: "Ronnie's," directed by Oliver Murray.
Saturday, May 21: "The Mole," directed by Mads Brugger.
DocWeek Middleburg is a 501c3 nonprofit. For ticket information, please visit: docweekmiddleburg.com ML
This article first appeared in the May 2022 Issue.