Lend a Helping Hand in Hunt Country
Written by Victoria Peace
Are you looking for an opportunity to give back to your community? Have you been searching for ways to use your talents to help those in need? If so, you're in luck. Hunt Country boasts a wide array of nonprofits doing incredible work — whether you're interested in fighting food insecurity, advocating for affordable housing, or helping out at an animal shelter, there are countless ways to get involved! Read on to discover six inspirational local organizations that are looking for volunteers in 2022.
Seven Loaves Services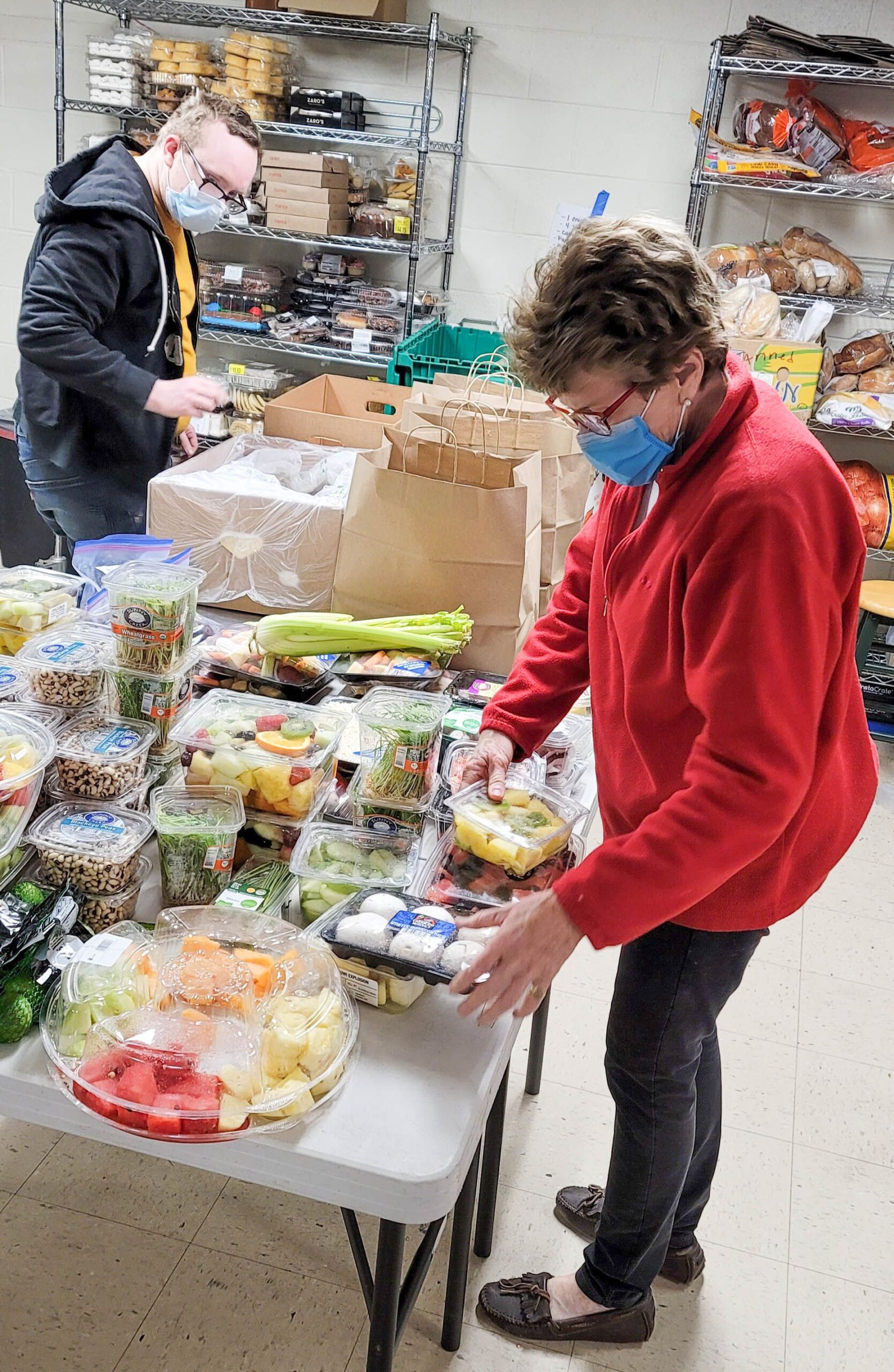 For over 25 years, Seven Loaves Services has been providing nutritious food to those in need in and around the Middleburg area. Located in the lower level of the Middleburg United Methodist Church, Seven Loaves is committed to serving patrons regardless of their faith, income, or place of residence.
According to Pantry Operations Manager Tami Erickson, the sense of community between volunteers and patrons at Seven Loaves is astounding. "We get to know [patrons] and their households so that when they visit the pantry for food, we are able to meet their specific needs," Erickson says. "We do our best to accommodate dietary needs and often have special treats available for birthdays and holidays. We want to make our Seven Loaves patrons feel like their experience here is personal, not business."
Erickson notes that Seven Loaves is over 95% dependent on volunteers. They are a crucial aspect of the day-to-day operations of the pantry, and they also play an important role in spreading the word about Seven Loaves throughout the community.
The best way to inquire about volunteer opportunities at Seven Loaves is by filling out a volunteer form on their website. "At the pantry, volunteers do a variety of tasks, including processing and organizing donations, assembling food bags for patrons, and assisting with food distributions," Erickson says. "Volunteers also help by delivering food to home-bound patrons and picking up and delivering food from grocery stores, farmers markets, and food banks." Seven Loaves is always looking for drivers and pantry volunteers to join their team.
In addition to volunteer opportunities, you can also get involved with Seven Loaves by donating to one of the organization's supplies drives this spring. From February 1 to March 11, Seven Loaves will be collecting toilet paper, paper towels, and kitchen trash bags as part of a "household product drive." In April, Seven Loaves will be collecting liquid laundry detergent, dish soap, and Clorox/Lysol wipes for a "spring cleaning drive." Donations can be brought to Seven Loaves on Tuesdays and Thursdays from 9 a.m. to 12 p.m. or dropped off daily at the Middleburg Library or Primis Bank. Visit the Seven Loaves website or reach out to [email protected] for more information about these two drives.
According to Erickson, thanks to the amazing community that has been created within the organization, "Volunteering with us will bring you a fulfillment you never could imagine."
Windy Hill Foundation
Established in Middleburg in 1981, Windy Hill Foundation provides affordable housing to low-income individuals, families, seniors, and adults with disabilities in Loudoun County and Fauquier County. Over the course of the past four decades, Windy Hill Foundation has built 310 units of affordable housing and has established Windy Hill communities in Middleburg, East Loudoun, The Plains, and Marshall. While meeting the need for approachable, affordable, and workforce housing is the core of Windy Hill Foundation's mission, the foundation also provides many programs and services to members of Windy Hill communities aimed at enriching their lives.
According to Lisa Capraro, Windy Hill Foundation's associate director, volunteers have always been critical to Windy Hill Foundation's mission. The foundation works with a long list of community partners, faith organizations, schools, and other nonprofits, and volunteers play a key role in connecting these valuable services to Windy Hill residents.
Some volunteers spend their time working with Windy Hill's youngest residents helping facilitate summer camps, computer lab training, recreational activities, and study buddy programs. Others are involved with healthy living and social programs for older adult residents at Levis Hill House in Middleburg. One of the longest running volunteer programs that the foundation supports is the Friday's Feast meal delivery service. As part of the program, a group of over 25 volunteers in and around Middleburg prepares fresh and healthy meals and delivers them to older adults at Levis Hill House. Sometimes, the deliveries also include magazines and fresh flowers. Capraro emphasizes that "It is a great way to get the whole family involved in helping others in the community."
Capraro encourages people who are interested in volunteering with Windy Hill Foundation to reach out to [email protected]oundation.org. Volunteers will be matched with a specific program based on their skills and interests. "We are always looking for people of diverse backgrounds who can bring different skill sets to our team and connect with neighbors who live in Windy Hill communities," Capraro says. It is important to note that due to COVID-19, some of Windy Hill's volunteer programs have been temporarily put on hold. The foundation hopes to be able to reopen its community rooms soon, but for now, please check the Windy Hill Foundation's website or reach out to the foundation directly to see which programs are currently taking volunteers.
The annual Windy Hill gala is the foundation's biggest fundraiser of the year and is typically held in November at the Salamander Resort & Spa. However, after last year's gala was postponed due to COVID-19, the 2021 gala is now scheduled to be held on April 23, 2022. The theme of the event is Enchanted!, and it will raise funds for Windy Hill's family services and educational programs. The foundation is currently seeking sponsors for the gala.
Middleburg Humane Foundation
Based out of a 23-acre farm shelter in Marshall, Virginia, the Middleburg Humane Foundation's (MHF) mission is to rescue, rehabilitate, and adopt out at-risk animals and to promote animal welfare through community outreach and humane education.
According to Mary Arden, MHF's outreach and volunteer coordinator, volunteers are an essential part of what enables the shelter to work toward this mission. "We could not help as many animals as we do each year without our volunteers' support," Arden says. "They help us keep things running! These generous people clean cat areas, transport animals, and walk dogs, which gives our Animal Care team time to do more intensive behavioral and medical work with the animals."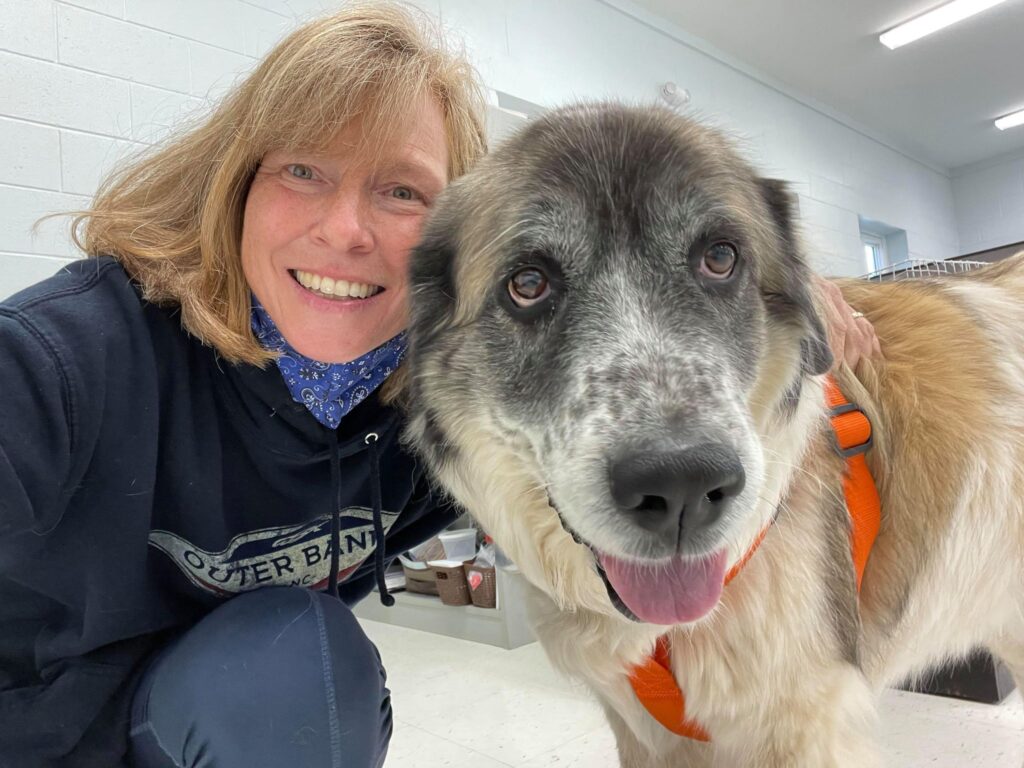 MHF encourages people of all ages to come and help out (although people under the age of 16 must be accompanied by an adult) because the organization believes that everyone has a contribution to make. "Having multiple people of various ages working with the animals throughout the day helps them become more confident and 'show' better to potential adopters," Arden explains. "It also enriches the animals' daily routines and helps keep their minds active."
The easiest way for volunteers to get involved with MHF is by filling out the brief volunteer interest form on the MHF website. Arden reviews these forms personally and then contacts potential volunteers to set up a time for them to visit the shelter for an orientation.
MHF does not receive public funding and relies on donations from individuals and businesses, as well as funds generated from special events. There are three major events coming up this spring: the MHF annual gala on April 30, the Fashion for (Muddy) Paws Show on May 21, and the Spayghetti and No Balls dinner on July 22 which supports MHF's Trap-Neuter-Return program. "We need many volunteers to help make these events a success — and they're a lot of fun, so it's a win-win!" Arden says.
In addition to fundraisers, MHF also organizes community events throughout the year in order to share information about what is going on at the shelter. Adoptable animals are frequently brought to these events, and volunteers are always needed to help out.
Rainbow Therapeutic Riding Center
Rainbow Therapeutic Riding Center was established in 1985 and is located in Haymarket, Virginia. The center's mission is to enhance the quality of life of children, youth, adults, and military members with disabilities through equine assisted activities. All of Rainbow Therapeutic Riding Center's instructors are certified by the Professional Association of Therapeutic Horsemanship International (PATH). They create highly individualized programs for students focused on achieving their goals in a fun, supportive environment.
Scottie Heffner, an instructor at Rainbow Therapeutic Riding Center, explains that the organization serves a diverse community of students with special needs, whether their diagnosis is physical, developmental, behavioral, or cognitive. "Seeing how therapeutic riding has helped them reach their goals or improve their quality of life is a real privilege," Heffner says. "For some it could be experiencing freedom of movement for the first time. For others it could be learning to manage their emotions, overcoming fear, or developing positive communication skills."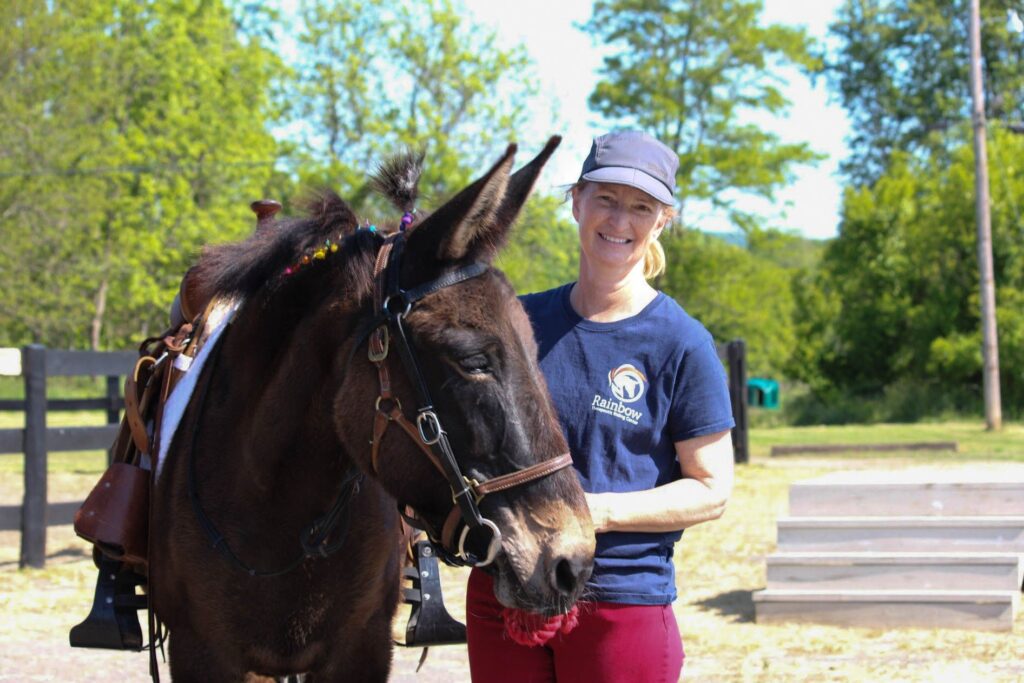 The best way to get involved with volunteer opportunities at Rainbow Therapeutic Riding Center is by emailing [email protected]. Volunteer Coordinator Maddie Gierber will then reach out to sign new volunteers up for a training session and answer any potential questions.
Heffner emphasizes that the team at Rainbow Therapeutic Riding Center is always happy to have new volunteers apply, regardless of horse experience. However, right now, the center is especially in need of volunteers with prior equine experience to serve as horse leaders.
Horse leaders are responsible for bringing horses in, preparing them for lessons, safely leading horses during lessons, and grooming and untacking horses afterwards. Rainbow Therapeutic Riding Center also hosts camps for students which rely on volunteer power. Volunteers with less equine experience can help with events hosted by Rainbow Therapeutic Riding Center by posting flyers, parking cars, greeting visitors, and helping with event set up.
One important event coming up this spring for Rainbow Therapeutic Riding Center is the annual Fun Show and open house. Held in early May, students will have the opportunity to showcase their riding skills to members of the community. During the event, volunteers are needed to lead horses and sidewalk, help prepare the arena, and help groom and tack the horses. "Volunteers really look forward to seeing students enjoy their big day. It's a big day for all of us really," Heffner says.
According to Heffner, there are many outward benefits to volunteering with Rainbow Therapeutic Riding Center including gaining horse experience, job experience, and making friends. And, with all the steps you will put in, you can drop your gym membership! However, the real value is "knowing you've used your skills to help someone go where they thought they couldn't," she says.
Friends of Homeless Animals
Friends of Homeless Animals (FOHA) provides a home for dogs and cats while they wait for their forever home. Their mission statement: "Home with us until they are home with you," is embodied by the staff and volunteers at FOHA who work tirelessly to provide for the physical, behavioral, and emotional wellbeing of each animal in their care. The FOHA shelter is located on 40 wooded acres in Aldie, Virginia.
"FOHA has always been a very special place for me," says Alison Maurhoff, the executive director of FOHA. "I love the tranquility of walking dogs on the trails, snuggling the cats on the screened porches, and doing all I can to find homes for the deserving FOHA animals." Maurhoff started volunteering with FOHA in 2006 and adopted her first FOHA dog that year. She has been involved with many different aspects of the organization including fostering dogs, helping out at adoption events, assisting with intake transport, and working with the technology committee, before eventually transitioning to the role of executive director.
According to Maurhoff, the best way to get involved with FOHA as a volunteer is to sign up for a dog walking or cat snuggling orientation. The orientations give volunteers an overview of FOHA and hands-on training with the animals. However, for volunteers that can't come in person, FOHA also has virtual volunteer opportunities involving technology and marketing. Visit the volunteer page on FOHA's website in order to sign up for orientations and to learn more about FOHA's many volunteer opportunities.
At FOHA, "volunteers are beyond invaluable," Maurhoff emphasizes. They work an equivalent of at least $300,000 in hours at the shelter and at home. "We can't wait to meet new volunteers and introduce you to our amazing animals, show off our beautiful property, and welcome you as a new friend!" Maurhoff says.
Tree of Life Ministries
Founded in Purcellville, Virginia, in 2008, Tree of Life Ministries (TOL) is a Christian, nonprofit organization that strives to impact the lives of community members in need through five main branches: food, life skills, shelter, healthcare, and relief.
According to Chief Communications Officer Kristen Hickman, the easiest way for volunteers to support TOL is to get involved with one of the ongoing volunteer initiatives listed on TOL's website. To see these initiatives, visit tolministries.org and then click on the "Want to help?" tab. Current opportunities include preparing and serving meals for TOL's weekly community kitchen ministry, donating food to one of their three food pantries, or serving at one of TOL's ministry events.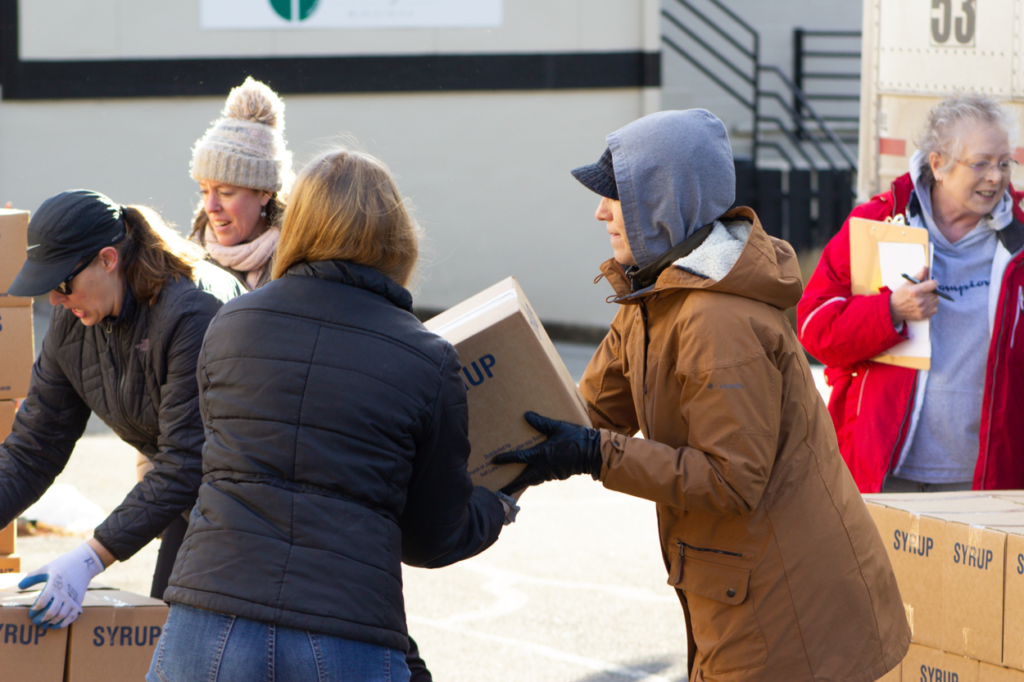 "We are always looking for volunteers with a willingness to serve in whatever capacity they can, and we offer a range of volunteer positions to suit varying interests and abilities," Hickman says. However, TOL has a special ongoing need for volunteers with language skills throughout the county. Before starting their work, all new volunteers are invited to attend a one-hour volunteer introduction program session to learn about TOL, its branches, its ministries, and all current volunteer needs. Sign up for these sessions is also available on the TOL website. "We are blessed to have such faithful volunteer support, especially in our Purcellville and Leesburg regions, and welcome interested volunteers to join us as we expand eastward with our new Sterling center," Hickman emphasizes.
In addition to weekly free meals on Tuesdays in Leesburg and on Thursdays in Purcellville, TOL's English classes will also be resuming this spring. And, an exciting new event for first time home buyers will kick off on February 5 at 10 a.m. at TOL's Purcellville center. During the event, Jessyca Rivas of Keller Williams will offer a bilingual seminar to share the practical first steps to make the dream of owning a home a reality.
At TOL, "We strive to extend a 'hand up' rather than a 'handout,'" Hickman says. "Those we serve are referred to as partners, rather than clients or customers, as our hope is to partner together on the journey of life. Our volunteers experience the joy of impacting those in need at every level of service." ML
This article first appeared in the February 2022 Issue.