Story and photos by Laticia Headings
One Woman's Tenacious Fight for the Forgotten Youth
Although Loudoun County is the wealthiest county in America, it battles many of the same socio-economic problems as the rest of the country. But these struggles are often invisible to the average resident. "There are a significant [number] of homeless individuals in Loudoun," Donna Fortier, the CEO and founder of Mobile Hope, says. "It's like any other county, we've got drugs, we've got abuse and we've got human trafficking and homelessness. I think with Loudoun and any affluent county, if you don't see it, you don't think it exists."
Mobile Hope is a non-profit that provides support and emergency shelter to at-risk youth (up to age 24) who have been precariously housed or homeless and empowers them to become self-sufficient. Fortier first saw homelessness in Loudoun for herself when she was working for INOVA Hospital as the director of community affairs and mobile health services in 2011. She was in disbelief when a parent liaison in Purcellville asked the hospital to help with dozens of homeless youth in the area. "I said there's no way in hell that the richest county in the country has homeless kids!" Fortier says.
That same year, Fortier helped develop a successful INOVA program, but quickly realized that the need for services outgrew her capacity at the hospital. Three years later, she branched out on her own and officially made Mobile Hope a 501c3 organization.
Fortier, who grew up wanting to be a surgeon for Operation Smile, quit her full time job, despite having no guaranteed salary and two kids still at home. "It was terrifying, but I realized that nobody was the voice for these kids and there was no program completely dedicated to this 18-24 year old population," Fortier says. Ten years later, Mobile Hope has garnered national attention, greatly expanded their list of services, and has a staff of 16 people. "We are a center of excellence for this population," Fortier says. "We fill the void, whatever the void is for these kids."
Mobile Hope provides a necessary stop gap for at-risk Loudoun County kids who are homeless, situationally housed, or just couch surfing. The non-profit feeds, clothes, and provides housing to help their clients become self-sufficient members of the community. The program also teaches them basic life skills such as budgeting, cooking, balancing a checkbook, applying to college, and writing a resume.
"One common thread is that these kids have all had trauma of some sort," Fortier says. "We qualify them more inclusively than exclusively. If they walk through the door, they qualify, because we understand the pride it took to do that. We know they're serious."
Mobile Hope receives numerous referrals from law enforcement, probation and parole officers, the school system, and the faith community. "Kids will come in to see us or we'll meet them where they are, sometimes that's under a bridge," Fortier says. Every client goes through an assessment with a case manager, either Fortier or KC LeBlanc, a registered nurse and director of client support services, when they enter the program. Together, the managers see roughly 50–103 clients each month. "We work to immediately get them off the street, find out what their barriers and deficits are, and then identify both their short-term and long-term priorities in order to get them to the next level of self-sufficiency," Fortier says.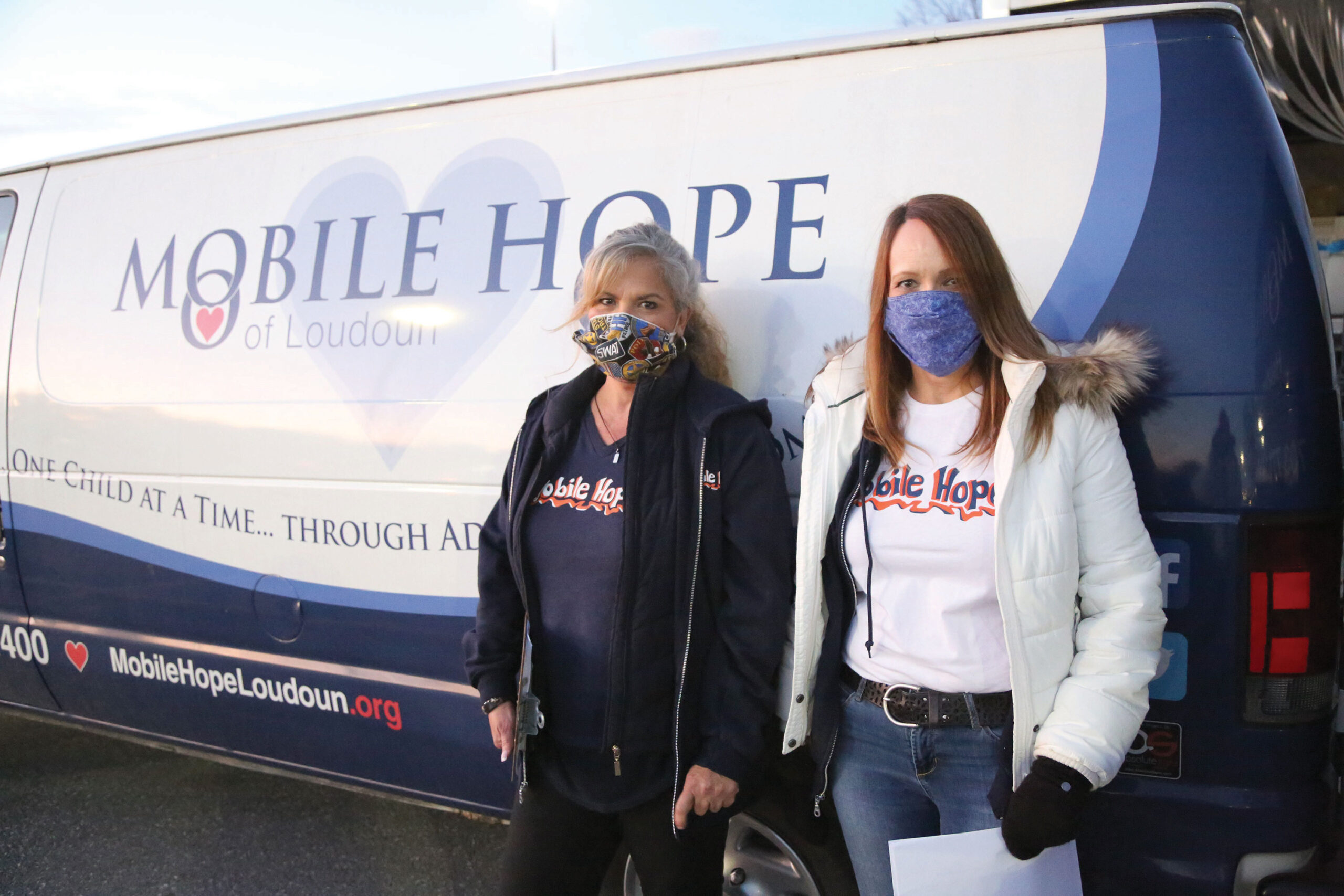 Founder and CEO, Donna Fortier, and Allyson Ruscitella, Director of Marketing and Community Engagement.
Housing is usually the primary focus, but the non-profit encompasses the gamut of need, with everything from helping clients get a valid ID or birth certificate, to assisting with legal and mental health issues, to providing professional mentoring and transportation (often from donated vehicles). For the past 10 years, one of the key components for Mobile Hope has been their big painted bus which delivers hot meals, food, clothes, diapers, and hygienic items to neighborhoods eight times per month.
The "Listen for the Honk" program extended their services last year to help people during the pandemic, lifting the age restriction to serve anyone in need. They make 18 stops a week in Loudon and one each in Herndon and Chantilly. The bus route has also expanded into Fairfax, Prince William, and Montgomery Counties, and goes into Washington D.C. on a quarterly basis.
Since last March, Mobile Hope has served 158,084 people with 2.9 million pounds of food, as well as clothes and other vital supplies. They also provided crisis care for 373 youth, 163 of them were homeless and sleeping in cars, stairwells, on rooftops, in tents, and under bridges. "We are seeing a lot more anxiety, depression, and substance abuse so there's also a significant need for mental health resources," Fortier says. Overall, the non-profit has seen a major uptick in clients since the virus hit. "We've had a 548% increase in visits to our website just since December 1, 2020."
Mobile Hope prides itself on making each client's experience a positive one. "They often feel judged and sometimes come off as angry," Fortier says. "We are that respectful, responsible voice for them. We will do everything in our power to help them reach their goals, but if we start to care more about their future than they do, that's when we back off. It's a lot of tough love."
The organization fuels itself on celebrating the big and small wins with their clients. Almost 90% succeed in finding a job. "A lot of kids have been with us for 10 years and are gainfully employed and stably house," Fortier says, smiling. "They check in when life blows up or to share a milestone achievement. It's not a one-size-fits-all with this population."
This January, Mobile Hope moved into a 10,700-square foot "campus" in the heart of Leesburg. It includes staff offices and room to grow their various client services. Plans for a trade school, teen lounge, gym with boxing ring, outdoor gardens, and a retail training center for their youth employment services program are all in the works. "These kids are missing a sense of community and belonging and we give them that," Allyson Ruscitella says, the director of marketing and community engagement.
Part of the property includes an empty lot, zoned residential, where Mobile Hope has future plans to build an airstream community. "Clients will have the opportunity to help renovate the trailers, learning valuable trade and construction skills," Ruscitella says, who holds a master's degree in social work. "We involve our kids at every step. It's about bolstering their confidence and developing a path to self-sufficiency."
Funding comes mainly from private donors and foundations. "We have truly humbling support from this community and tremendous partnerships, ranging from Girl Scout and Boy Scout troops to Fortune 500 businesses," Fortier says.
The Mobile Hope team has much to celebrate even in such difficult times. Many of their clients come back to do peer to peer mentoring, helping long after they no longer need services. "We have kids who are bringing in their friends, and that's the biggest badge of honor we can receive because it proves they trust us," Fortier says proudly. ML
Published in the March 2021 issue of Middleburg Life.