As people escape the city, the Hunt Country spring market surges
Written by Kaitlin Hill 
Lately, the idea of home has taken on a whole new meaning. Our homes are our offices, schools, gyms and safe bases as we navigate the mounting challenges of the COVID-19 pandemic. The importance of having a home, especially in these troubled times, is perhaps why realtors across the country are working tirelessly to help their clients safely navigate the process of selling their properties and buying new ones. This is certainly true in Middleburg, where the small population and open acreage are more appealing than ever.
Whether you are buying a Hunt Country escape or looking to sell in uncertain times, local experts offer their advice for navigating the market and share how they are handling the new normal.
Peter Pejacsevich is a co-founder, principal broker and managing partner at Middleburg Real Estate | Atoka Properties. Joyce Gates is a realtor with Long & Foster and Christie's International Real Estate. Laura Farrell and Bundles Murdock are partners at TTR Sotheby's International Realty. Paul MacMahon is the principal broker at Sheridan-MacMahon Realtors. And John Coles is a real estate professional at Thomas & Talbot Real Estate.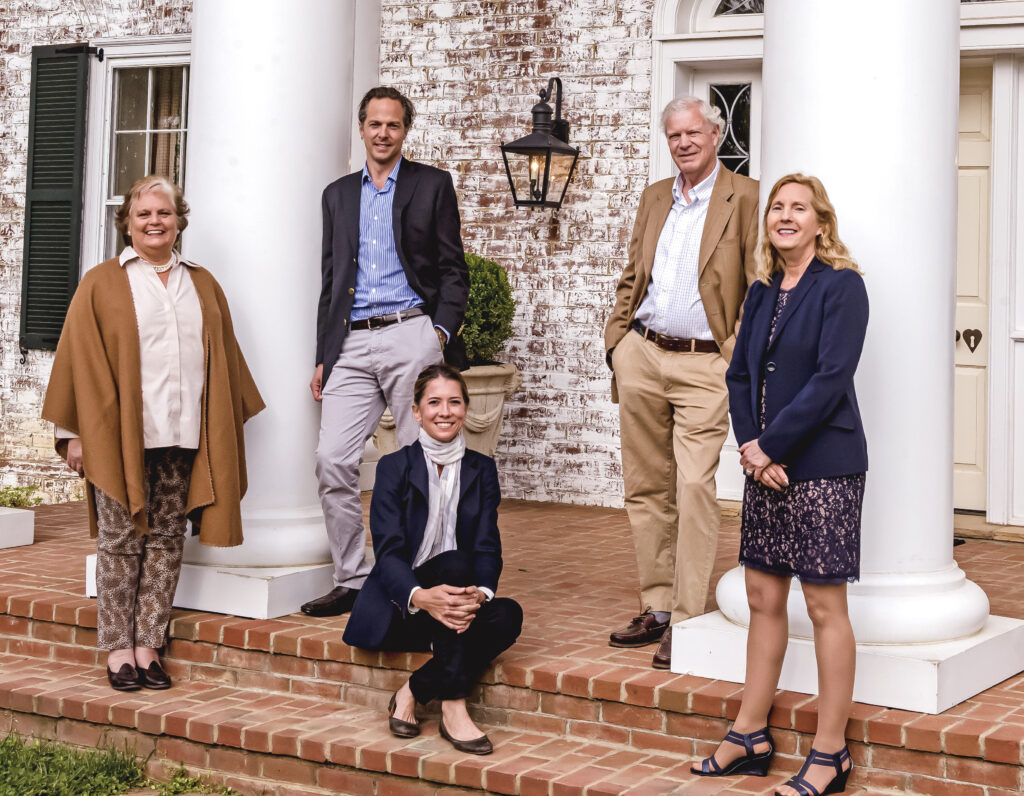 Bundles Murdock, Peter Pejacsevich, Laura Farrell John Coles and Joyce Gates. Photo By Joanne Maisano.
How has the Hunt Country market been during the Covid-19 pandemic? 
MacMahon: "Even throughout the whole frame of this, it has been busy. Before [the pandemic] hit it was chaotically busy; the market was great. Since it hit, we have had ups and downs, but it has been decent, and it is starting to get better." 
Farrell: "Active and we are in a strong market. Initially, when COVID hit mid-to-late March everyone was scared, and I was anticipating an economic slowdown across the board. But our Hunt Country market became more active each week as we moved through April and May." 
Pejacsevich: "When this all first happened, things definitely fell down, but the market has since picked backed up significantly. We are seeing many people trying to escape the city, which, of course, dramatically impacts our Hunt Country market. We are having much more traffic on listings than we would have anticipated, given the circumstances. Our sales are actually up 30% year-to-date."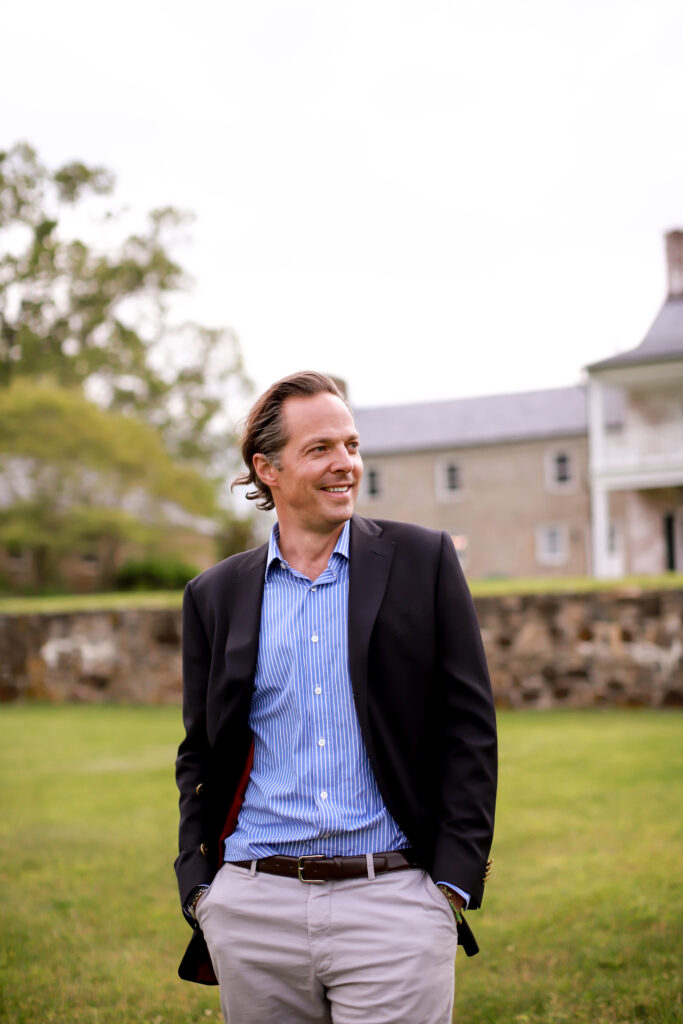 Peter Pejacsevich. Photo By Jennifer Gray.
In what ways has Covid-19 led to increased demand in Middleburg?
Murdock: "People want to come West, and they want to have security, knowing that there aren't large groups of people; there aren't crowds; it's just open countryside. And that is the reason people have always been attracted to the Middleburg area."
MacMahon: "We are seeing that telecommuting is going to become more of a factor in everyone's daily lives. And we have had some sales where people have left areas that are more infected—New York and several other major metropolitan areas—because people do want to get where they have some elbow room, potentially cleaner air, and maybe less cause for concern. And still close to an airport. I've got people coming from all over because they think it's going to be a safe environment." 
Gates: "I think people are getting back to the basics and realizing what's important, the basic enjoyment of life, to be healthy and to not be restricted. So, although there are wonderful things about living in a city, you want your kids to be safe and healthy, and it's nice to have more room to go outside, have a bigger yard, or just be able to take walks, bicycle rides, or go horseback riding out in this beautiful surrounding. So, I think we are going to see more people exiting the city."
How has the approach to property showings adjusted because of COVID-19?
Gates: "Just making sure everyone is safe. We are not riding in the same car [as our clients]. We are wearing facemasks and having extended conversations outside. When houses are being shown I wipe everything down, all the surfaces they might touch beforehand. And after [the potential buyer] leaves, I do the same thing to protect my client, the seller."
Coles: "We do whatever the owners want, and it's all over the board—masks, booties, gloves and wiping everything down when we leave." 
Farrell: "In the past couple of weekends, we have had people asking to drive by properties. So rather than going inside a stranger's house or allowing a stranger into houses, we've seen the drive-by trend from Washington clients. It's kind of a win-win because they don't go into the house, but if they like what they see, we know they are serious. Also interesting, I have sold five houses this year with the buyer signing a contract sight unseen."
 As more and more industries go contactless, are you seeing a shift to virtual?
Pejacsevich: "Our marketing strategy was already very focused online, but we have had a 50% increase in engagement on social media overall in the past two months. In fact, many showing requests are now coming from this avenue, even allowing for virtual showings where advisable. Even how we interact in our company has changed. We now have bi-weekly virtual meetings to stay up to speed with our agents. And honestly, it's gone better than expected. Internally, we almost feel more connected because we can have meetings for five minutes and don't have to drop everything to meet in the conference room for an hour."
Gates: "All types of businesses are having to make adjustments and rethink the way they operate; we are no exception. We are using the virtual aspects as much as we can. Instead of just pictures in your MLS listing, there are videos. Our agents, myself included, are going to the properties and shooting videos for our clients. I go through the house and the grounds, and I send the footage to the prospective buyers. Even the closings, the entire process for the buyer and seller, can be done electronically. We have adapted to make it seamless." 
MacMahon: "Even before this hit, this was kind of standard operating procedure. There are virtual tours available and drone videos. But I think now, because people are able to use that and Zoom conferences to interview, they are able to really fine tune what they are looking for. So, when they come out and look, instead of it being 10 properties, it's down to three. I've actually had a couple of interesting experiences, fairly recently, where people have put in offers on properties they have only seen online."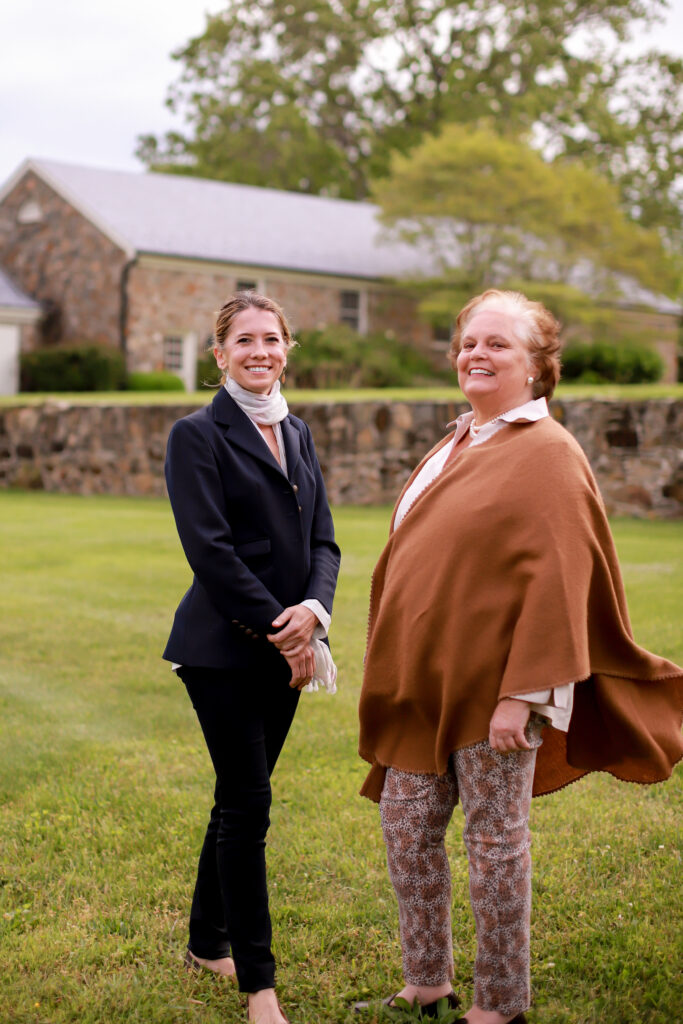 Laura Farrell and Bundles Murdock. Photo By Jennifer Gray.
Do you have any advice for sellers who are unsure of how to navigate the market during a pandemic?
Coles: "Set the right price. The buyer is very sophisticated because they look at everything on the computer, and the market is good, so it is important that properties are priced correctly. For properties that are overpriced, we are not getting calls, and we are not getting showings." 
Gates: "I am a very optimistic person. I follow the news, the science, the briefings, and I know this is going to pass. This will be behind us. So I would say to the majority of sellers, just wait a little longer, just a couple of weeks. If they can't wait, by all means there are safe and effective ways to have their house on the market." 
Murdock: "I think you need an agent who will show your house with common sense and respect. They should come prepared with wipes and masks."
What would you tell buyers looking to purchase in Hunt Country in the near future?
Gates: "It's more of a buyer's market right now. So if a buyer needs or wants to purchase a home, they are in a really great position. They have less competition, fewer buyers out looking, and there are phenomenal mortgage interest rates." 
MacMahon: "Interest rates are at a level that you are never going to see again. I think people are getting a better value when they buy here right now. Like I said, for some of these price ranges, the interest rate is very appealing. "
Pejacsevich: "I would say: Bring your mask and gloves, and be respectful of the people selling their home. Make sure that you are protecting yourself and others during walkthroughs. And truthfully, it's not a bad time to buy, because interest rates are extremely low right now, and the market is still rapidly moving forward."
Left: John Coles. Right: Peter Pejacsevich. Photos By Jennifer Gray.
Do you think Covid-19 has made any changes to the real estate industry that will endure beyond the pandemic?
Farrell: "I think there will be a trend to work from home. People may not want to go into other people's houses in the next few months. People want to protect themselves."
Pejacsevich: "I think the industry itself will mostly go back to business as usual, but there are some adaptations due to the pandemic, such as the shift to virtual and how we are approaching showings, that will last. Internet advertising and showing properties online are going to be stronger than they were before and will become the rule rather than the exception. Communication will be more like what it has now evolved into because it's faster and more convenient, allowing clients and agents to accomplish their transactions with greater ease."
Gates: "I think some of the changes that have happened are going to stick. They are going to be permanent because they work better. They're smarter. For instance, I've been on video conference calls for weeks now; this is how we are meeting. I can even talk with clients that way. Certain things just make more sense and are more efficient; those changes will stay. I think that, in general, the way people buy and sell homes is going to return to normal. We all want normal again." ML
This article first appeared in the June 2020 issue of Middleburg Life.